Recently on Cyclingnews.com
An interview with Tim Johnson, December 20, 2003
The Quiet American
One fine day in October this year changed Tim Johnson's life forever. As he makes the trip east to Spain to sign a two year contract with a Division I team, Cyclingnews' Anthony Tan speaks to the quiet American as he readies himself for the big time with Saunier Duval.
Tim Johnson
Age: 26
Born: August 5, 1977
Place of birth: Middleton, MA
Height: 5'9"
Resides: Knowlton, Québec, Canada
Marital status: Married to Lyne Bessette
Teams: Saunier Duval (2004- ), Saturn (2001-03)
Web site: www.timjohnson.net
Career highlights
2003 - Saturn
1st, Carter Lake Road Race
1st, KOM, The International (Tour de Toona)
1st, Points Compeition, Nature Valley Grand Prix
1st, Stage 9, 12 & GC, Vic Roads Herald Sun Tour
2nd, Stage 13, Vic Roads Herald Sun Tour
3rd, GC, Green Mountain Stage Race
3rd, Stage 3, The International (Tour de Toona)
6th, GC, Nature Valley Grand Prix
11th, GC, Tour of Queensland
12th, GC, Solano Bicycle Classic
2002 - Saturn
2nd, Stage 2, Fitchburg Longsjo Classic
3rd, Amherst International Cyclo-cross
2001 - Saturn
1st, KOM, Tour of Willamette, OR
1st, Mount Washington Hill Climb
1st, NCC Cyclo-cross Series
2nd, Downeast Cyclocross
2nd, ECV Cyclocross
2nd, National Cyclo-cross Championships
2nd, Super Cup, Chicago
2nd, Super Cup, Gloucester
3rd, Amherst International Cyclo-cross
2000
1st, Amherst International Cyclo-cross
1st, ECV Cyclo-cross
1st, Mt. Washington Hill Climb
1st, National Cyclo-cross Championships (Elite)
1st, Super Cup #3, Chicago
2nd overall, Super Cup Cyclo-cross Series
2nd, Monkey Hill Cyclo-cross
2nd, Pedro's Cyclo-cross
2nd, Super Cup #1, Boulder, CO
2nd, Super Cup #4, Kansas
3rd, Plymouth Cyclo-cross
3rd, Super Cup #2, Gloucester, MA
1999
1st, National Cyclo-cross Championships (U23)
1st, Pittsfield Cyclo-cross 1999
Bronze, World Cyclo-cross Championships (U23)
1998
1st, National Cyclo-cross Championships (U23)
1st overall, Super Cup Cyclo-cross Series (U23)
1997
1st overall, Super Cup Cyclo-cross Series (U23)
1995
1st, National Cyclo-cross Championships (Junior)
IT WAS THE FINAL DAY of the Vic Roads Herald Sun Tour, a testing, 13 stage end of season road tour held in Victoria in south-eastern Australia.
At the start of the stage, the 26 year-old American was lying third overall, 14 seconds behind former under 23 Australian champion Simon Gerrans and 39 seconds behind the overall leader, a tough young Aussie by the name of Luke Roberts. Roberts, also 26 years-old, was having the form of his life; just a few weeks before, he and his three team-mates smashed their previous world record in the team pursuit to once again go under the magical four minute barrier, this time by almost three seconds.
"That was me taking advantage of a good situation, and those guys taking advantage of someone who would kill himself trying to keep us away"
- Tim Johnson on his winning move that saw him take an eleventh-hour victory at the Herald Sun Tour
Despite the home-town advantage for Roberts and Gerrans, despite being one of only four Americans in a mostly Australian field, and despite the fact that there was only a handful of kilometres left in the race, the man from Massachusetts knew he was in with a shot, albeit a tiny one. The 81.6 kilometre stage around the Buningyong circuit - a testing 10.2 kilometre loop on predominantly dead country roads - was the same parcours used for the Australian Road Championships and had proved selective in the past. Perfect for a couple of opportunists.
Making a late challenge
Photo: © Shane Goss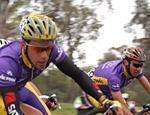 "Going up the road, I saw [Scott] Guyton and [Scott] Moninger, and I attacked on the last part of the climb to bridge across, and I gave it all I had to get to them," he recalls, sensing the move was his only chance to steal what would have been a enormously popular win for Roberts. "I knew he [Roberts] was physically able [to win] and really really wanted it... but once I was there, it was basically a 40 k, three-man time trial to the finish."
And time trial they did. Moninger was eager to prove his worth after serving a 12 month suspension for testing positive to an anabolic steroid metabolite; Guyton was keen to go out on a high after it was announced his Flanders/iTeamNova trade team had reached the end of the road (somewhat ironically, Guyton won the Tour of Southland one week later in almost identical circumstances); and with Johnson's Saturn team also calling it quits after 12 years of involvement, to find a more motivated group among the 74 survivors was highly unlikely.
"That was me taking advantage of a good situation, those guys taking advantage of someone who would kill himself trying to keep us away, and a lot of... basically killing ourselves to make that work," explains Johnson about the trio's simple but devastatingly effective race strategy, who went on to score not only the biggest and grandest win of his short pro career, but the opportunity of a lifetime. As I write, the 26 year-old is about to put pen to paper at Saunier Duval's offices in Madrid, where he will sign a two year contract to live and breathe "riding my bike as fast as I can" in Europe. Quite simply, a dream come true, and one he still speaks of with incredulity.
___________________
Ouch... winning hurts
Photo: © Shane Goss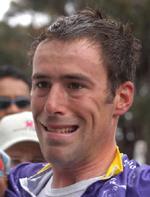 "Well, it's kinda funny you say that because when I went down to Australia, I went down with a very real goal in mind," says Johnson when asked if his trip to Australia was precipitated by the virtual impossibility of winning himself if he continued to ride out the rest of his season in the US. "There were 13 stages in the Sun Tour and eight stages in [the Tour of] Queensland, so out of those 21 stages, I said to myself and my coach that if I could be in the mix for at least four or five of those stages, going for the win or sprinting for the win or in a breakaway or whatever, then my trip would be worth it in a sporting sense, y'know, and that's what I went down with the idea of."
Prior to the Sun Tour in October, Johnson had ridden tirelessly at the service of his three team-mates, room-mate Nathan O'Neill, Chris Horner and US cycling's "next big thing", Tom Danielson. He did this for almost the whole season, putting in endless kilometres on the front at the disposal of these three men. It was a new experience for the third year professional, as his first two years on Saturn were characterised as having "no clearly-defined leader" (apart from Trent Klasna in 2001). All of a sudden, and with the experienced Polish-born directeur-sportif Andrzej Bek at the helm, they had three outright contenders in 2003. "So at the start of the year, my only goal was to help the team as much possible without question, staying healthy and staying fit," he says simply.
At the team's first serious outing, the UCI 2.2-ranked Le Tour de Langkawi, the change of role came as quite a shock to begin with: "I don't think we really knew how seriously Nathan and Tom were going to take it; personally my goal was just to ride for those guys a little bit and ride myself into shape being the beginning of the season," he says. However after the opening time trial, Saturn placed first, third and fourth; Johnson needed to adapt fast - he just had to. "I woke up the next morning and there we were riding tempo from k 1. And that hurt, let me tell ya!" he laughs.
"It's a totally different thing to call on your body to do. Hopefully with age, I'll be able to be that little bit stronger at the six hour mark"
- Johnson reflecting on the increased physical demands of racing in Europe
"But every kilometre I put in at the front for somebody else has paid back in spades, because I hadn't really had that pressure or that opportunity before. Mentally, it's also demanding, but there's also a payback because I was part of a winning team and every race we went to, we were the favourites and almost every single time, we came out on top."
Which is basically how the rest of the season eventuated for the team. Saturn were seen at the top of the podium more times than any of their rivals care to remember - from Langkawi to Redlands, from Solano to Sea Otter, from Georgia to Philly, from Minnesota to San Fran - the bumblebee-coloured North American outfit won them all. And despite the physical demands placed upon him, he says the effort "wasn't hard in a way that affected me negatively" - rather than idea of doing mile after mile on the front changed his outlook on winning himself. Says Johnson philosophically, "I knew that if I could spend hours on the front working for somebody else, I knew that someday I would be the one goin' for the win... it was training for that, basically."
___________________
Other stuff

Did you expect to be greeted by kangaroos when you hopped - pardon the pun - off the plane in Australia? "Y'know, that was my big search during the Sun Tour, to try and find some kangaroos. We had a kangaroo sighting, and we took the whole team to some farm during a transfer between one of the stages just so we could see actually see some in real life!"
Did you stay on and have some holidays after the Tour of Queensland? "Actually this year, I didn't do it quite right; I was kind of a last-minute participant, so I didn't have that much time to coordinate things, so I had to leave Lyne and home this time, which I definitely paid for. But next year, we're definitely going to come down and spend a few good solid weeks after Queensland."
I guess the phone rang hot as soon as you got home from Australia? "I couldn't really get a solid answer from anybody before the Sun Tour; after the Sun Tour it [my win] definitely made it easier to actually meet with somebody. So it really did help, but it'd be pretty funny to say that the phone was ringing off the hook!" (laughs)
The set-up and philosophy at Saunier Duval sounds very similar to Bjarne Riis and CSC in their early years - would you agree with that? "I think for you to make that comparison is awesome... I mean, that's the kind of program that I'd love to be a part of; Gianetti's like, 'One day you'll work for the team, one day they might work for you'. Leonardo Piepoli is the leader - he's got results for the last ten years and he's just an incredible climber - but it's a young team and it's not 25 or more guys where it'll be hard to get a shot [at winning], so hopefully... especially if I can get in some of those big races - then I might be able to have some success."
What are about your ambitions two to three years from now? "Two to three years from now, I'd love to have spent some time in Europe, doing some of the bigger races, getting the kilometres I need, getting the time on the bike I need, really grow in the sport. I was kind of like a latecomer to the sport and latecomer to being a pro road rider, but three years on Saturn has really done a lot for me and growing and being ready for that next step. Hopefully, by getting rides in some of the bigger races, I'll be able to grow as a rider and it'll all pay off."
So I guess you and Lyne will be moving house from Québec to Girona? "Yeah, that's the plan; I've been in contact with a couple of the boys who live over there and try and join the old network... there's so many North Americans over there - it's not just Lance and Tyler over there, it's the whole crew. But for Lyne, it's pretty nice actually. It's an Olympic year - she was planning on doing a lot of international racing already - so it's actually kinda nice and it won't seem like she's going away to race so much."
"Training" to win
Photo: © James Moro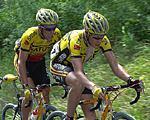 Shortly after the USPRO Championships in Philadelphia, a race he missed as consequence of an untimely crash the week before, Johnson's "training" began to pay off. It was mid-June at a four-day stage race in Minnesota, the Nature Valley Grand Prix, where some Johnson magic (or should that be Magic Johnson?) came to the fore with five Saturn riders including himself finishing in the top 10 overall, Johnson icing their domination with victory in the points competition. And as he puts it, the lights began changing colour.
"That really kicked it off; it wasn't so much 'peaking', it was learning how to deal with the load, learning how to use my energy, and the lights starting turning from yellow to green as the races went on," he says.
At his "favourite race of all time", the San Francisco Grand Prix (now the T-Mobile International), where a patriotic, estimated 500,000-strong crowd yelled themselves silly as their heroes danced up the brutal ascent of Fillmore Street, not even a serious bout of food poisoning could stop him. Despite no physical "digging power" and a few hours each day spent on the hotel toilet leading up to event, Johnson dug deep within himself and went in the early break. Three and a half hours later he was still there, but more importantly, his gutsy ride allowed his team-mate Chris Horner to sit comfortably in the peloton until it mattered. Remarkably, Johnson still managed to finish in the lead group, just over a minute down on Horner, who notched yet another convincing win.
Bad luck dogged him again at the World Road Championships with an 80 kilometre an hour crash on the very first lap, but the home-town advantage (Johnson lives in Québec, and jokes "the more crazy things that happen with politics in the US, the more I say I'm Canadian!") spurred him to a great ride in light of the circumstances.
"I got up; I had bad road rash on both hips and my back, my arms, my knees - everything was toast - but I got back on my bike, did all I could for the guys, and made it like 220 k," says Johnson proudly. "I got there in really good form to do what I could for George [Hincapie] and Freddy [Rodriguez] and Horner, and I think if I hadn't have crashed, I would have had a better race."
Mild mannered, but ferocious on the bike
Photo: © James Moro
The pain didn't end there; however, in his typical take-it-on-the-chin demeanour, Johnson now finds the incredibly uncomfortable situation amusing. "Eric [Wohlberg] and I and Dominique Perras - who was my team-mate at the Sun Tour - got on a plane the Monday after the World's in Toronto and went direct [to Australia]: Toronto-LA, LA-Sydney, Sydney-Melbourne - and we started the Sun Tour the next day... 30 hours on a plane with my scabs sticking into my jeans wasn't much fun, let me tell ya!" he hollers. "Y'know, when we first started that race, that 30 k crit after getting off the plane was probably the worst I'd ever felt during that whole Sun Tour!"
While his Sun Tour win was huge, Johnson's move from a Division III US-based outfit to most likely a Division I European team is perhaps more significant. On many occasions in the near future, particularly in World Cup events, he will be asked to go his hardest at the 200 kilometre mark - seldom do races even go as long as this in the US - and the extra time spent racing in the saddle will come as a shock to the system. However, the quiet American is well aware of what lies ahead: "It's a totally different thing to call on your body to do," admits Johnson. "Hopefully with age, I'll be able to be that little bit stronger at the six hour mark."
And the more one talks to him, the more you believe he is capable of meeting the challenge. His gracious and humble nature is at odds with the ferocity he shows on the bike, yet all are attributes that will allow him to grow and inevitably prosper in the sport.
Editor's note: Tim will be writing an exclusive diary for Cyclingnews in 2004
See also: December 2002 interview with Tim Johnson
Other Talking Cycling Interviews