Recently on Cyclingnews.com
An interview with Tim Johnson and Lyne Bessette
The Tim and Lyne show
Lyne Bessette
Age: 27
Born: 10/3/75
Place of birth: Knowlton, Québec, Canada
Resides: Middleton, MA Height: 5'10"
Weight: 135 lbs
Turned pro: 1999
Website: http://www.geocities.com/lynebessette/E/Home.html

Major Results
(Podium placings only)
2002 - Saturn
1st, Cyclocross GP de France in Nommay
1st, Fitchburg-Longsjo Classic
1st, Sea Otter Classic
2nd, Flèche Wallonne
2nd, McLane Pacific Downtown Grand Prix
2nd, Mt.Washington Hillclimb
2nd, Rocky Hill Road Race, 10th, Visalia Criterium, Sequoia Cycling Classic, CA
2nd, Solano Bicycle Classic, CA
Bronze, Time Trial, Canadian National Championships
Bronze, Time Trial, Commonwealth Games, Manchester
Voted Best Female Cyclo-cross rider, Cyclingnews reader poll
2001 - Saturn
1st overall, US National Racing Calendar
1st, Fitchburg-Longsjo Classic
1st, Hewlett Packard International Women's Challenge
1st, McLane Pacific Bicycle Classic, CA
1st, Road Race & Time Trial, Canadian National Championships
1st, Rocky Hill Road Race
1st, Stage 1, Tour de 'Toona
1st, Stages 3 & 4, Grand Prix Féminin International du Québec
1st, Tour de l'Aude
1st, Tour of Arlington
2nd, Stage 1, Tour de Suisse Féminin
3rd, Montreal World Cup
Canadian Cyclist of the Year

2000 - Saturn
1st, Fitchburg-Longsjo Classic
1st, Stage 3, 4th GC, Grand Prix Féminin Internationale du Québec
1st, Tour de 'Toona
2nd GC, Redlands Bicycle Classic
2nd, Men's Road Race, Quebec Provincial Championships
2nd, Road Race, 5th, Time Trial, Canadian National Championships
3rd GC, Tour de Willamette
3rd, last stage, 2nd GC, Killington Stage Race

1999 - Saturn
1st GC, Redland Classic Cycling Race
1st GC, Tour de L'Aude
2nd, Montreal World Cup, Québec
Silver, Time Trial, PanAm Games
1998
Gold, Commonwealth Games RR, Kuala Lumpur
Ladies and gentlemen, step right up - it's the show you've all been waiting for!
In the red corner, we have Tim Johnson from Middleton, Massachusetts, at five feet, nine inches, weighing in at 143 pounds. And in the blue corner, we have Lyne Bessette from Knowlton, Québec, at five feet, ten inches, weighing in at 135 pounds. Place your bets, because as Anthony Tan writes, it's going to be a beauty.
It didn't take much to get this vivacious couple from Saturn fired up. Just a brief question on what movies they're interested in led to a exchange that had both (including yours truly) in stitches.
Though it wasn't from a punch-up; it was more from laughing themselves silly after they recalled the time they saw their first movie together. Bessette walked out after ten minutes.
A match made in heaven
Photo: © CN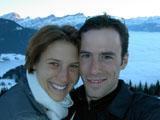 Says Johnson: "She doesn't go for the really intellectual English-language movies, because after a while, she can't keep up - they speak too fast and there's too many big words."
"For a Québec girl!" giggles Bessette.
"As you can tell, she's kind of got a short attention span," Johnson laughs. Bessette's still giggling.
Most likely, when Bessette and Johnson are together, this type of banter goes on all day, every day. I urge both, in the interests of our readers, to talk a little more about what they do on the bike.
And when I begin talking all things cycling, an immediate transformation occurs, revealing an inner-seriousness in both. After all, it would be fair to say that the couple have not had the most brilliant season this year.
Particularly Bessette. 10 big wins in 2001 - including the HP International Women's Challenge, the road race and time trial at the Canadian National Championships, and the overall in the US National Racing Calendar - was nothing short of magnificent for an aspiring, 26 year-old, third year pro.
Great things were always expected of Bessette, but what wasn't expected was such rapid success, and so repeatedly. Even more was thought possible in 2002, and while the form may have been there, the motivation was slightly amiss.
Bessette: needs to race a lot to win
Photo: © Rob Karman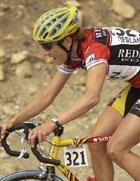 "I think it's pretty easy to explain," says Bessette, reflecting on her results to date. "This year, every time I raced, I had really good results, but I didn't race that much. So in the end, it doesn't seem like I had that great a season. I don't think it was my form, but mentally I think I suffered a little bit this year," she says.
Adds Bessette, "I decided to take a little break from Saturn and the pressure of the whole 'international' schedule, and try and focus on the Commonwealth Games and the Worlds."
Bessette attempts to justify the "break" by her bronze medal in the time trial in Manchester, but really, for an athlete the calibre of Lyne Bessette, anything other than the highest step on the podium would most likely be viewed as inadequate.
While relatively new to the sport of cycling, Bessette's athletic career began at age 10, and ran for almost a decade before she became bored and tired of it all. "I had to find something else to do," she says.
What is important here, however, is not what she did when she was bored, but the time she spent competing at an elite level, cocooned in her own little world - while others of similar age were most likely going to school and playing in the park in the afternoon. Certainly not running 10 miles a day anyway.
It is a problem often faced by child prodigies - be it sporting, musical, artistic or otherwise. Maturity at a mental level is (unknowingly at times) sacrificed for development at the physical level. And sometimes it requires an unfortunate set of circumstances to occur to bring them to their best, on both sides. Take a look at tennis prodigy Jennifer Capriati, for example.
Tim Johnson falls into a similar category.
Johnson's rough patch has also come in the elite ranks, and also in the same year as his partner Bessette. National Junior Cyclo-cross champion at 18, winner of the Under 23 division of the SuperCup at 20 and again at 21, twice National U23 Champion at 21 and 22 - then to top it all off, bronze at the 1999 World U23 Cyclo-cross Championships. That's one hell of a ride.
Tim Johnson
Age: 25
Born: August 5, 1977
Place of birth: Middleton, MA Resides: Middleton, MA
Height: 5'9"
Weight: 143 lbs
Turned pro: 2000
Website: http://www.timjohnson.net/

Major Results
(Podium placings only)

2002 - Saturn
2nd, Stage 2, Fitchburg Longsjo Classic
3rd, Amherst International Cyclo-cross
2001 - Saturn
1st, KOM, Tour of Willamette, OR
1st, Mount Washington Hill Climb
1st, NCC Cyclo-cross Series
2nd, Downeast Cyclocross
2nd, ECV Cyclocross
2nd, National Cyclo-cross Championships
2nd, Super Cup, Chicago
2nd, Super Cup, Gloucester
3rd, Amherst International Cyclo-cross
2000
1st, Amherst International Cyclo-cross
1st, ECV Cyclo-cross
1st, Mt. Washington Hill Climb
1st, National Cyclo-cross Championships (Elite)
1st, Super Cup #3, Chicago
2nd overall, Super Cup Cyclo-cross Series
2nd, Monkey Hill Cyclo-cross
2nd, Pedro's Cyclo-cross
2nd, Super Cup #1, Boulder, CO
2nd, Super Cup #4, Kansas
3rd, Plymouth Cyclo-cross
3rd, Super Cup #2, Gloucester, MA
1999
1st, National Cyclo-cross Championships (U23)
1st, Pittsfield Cyclo-cross 1999
Bronze, World Cyclo-cross Championships (U23)
1998
1st, National Cyclo-cross Championships (U23)
1st overall, Super Cup Cyclo-cross Series (U23)
1997
1st overall, Super Cup Cyclo-cross Series (U23)
1995
1st, National Cyclo-cross Championships (Junior)
Precociously talented
Photo: © Tim Mullin
With another two brilliant seasons at the elite level, it appeared Johnson would comfortably handle all expectations in both road and 'cross disciplines - which sort of happened at first.
Just one year after winning the under 23 crown, Johnson succesfully duked it out with the big boys, victorious in the Elite Men's category at National Cyclo-cross Championships. And in the space of two years, he clocked up over 20 podium places on the dirt and road - including back-to-back wins in the Mount Washington Hill Climb - and showing all signs of a successful future tour rider.
However, in 2002, Tim Johnson's name appeared nowhere as frequently at the top of the results listings as in previous years.
"My road season's taken a hit by focusing on 'cross," explains Johnson. "The thing that hurt me is that I haven't done enough road racing compared to the guys in Europe, so I've had to try and play catch-up."
Not that the focus wasn't worth it - Johnson feels he was closer than he had ever been to the top 'cross pros from Belgium, and at the 'cross Worlds in Zolder, Johnson was lying in 10th place before puncturing on the penultimate lap.
"I had a really, really good race," says Johnson, still brimming with confidence. "Sure, those guys [the Belgians and Dutch] were flying, but I was flying too. It's hard to quantify, because I didn't get to dice it up with those guys in front, but for me, I was closer than I ever had been before," he says.
When Johnson explains the arduous training regime undertaken before this year's World Cyclo-cross Championships, one sees a regime focused solely on intensity, in stark contrast to the five to six hour training rides prescribed by the European teams' road coaches over the winter.
"I would ride the computertrainer in the morning, doing high wattage, short-timed intervals for around three minutes, just under 400 watts," he remembers. "I was doing around four to five sets of 10, which was really hard. And when I wasn't going super hard, I was going easy at a high RPM."
Mentally and physically ready for 2003
Photo: © Rob Karman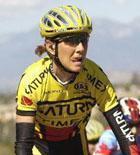 It appears therefore that while the road may be beneficial for 'cross racing, the reverse does not apply so well, and provides a compelling reason for Johnson's recent spate of non-results.
Hardly surprising then that Johnson has just come back from a holiday with his feisty other half, deciding not to compete in the upcoming 'cross Worlds in Italy early next year. "I've made sure that my body's rested in order to train properly for the road next year. And I need to sacrifice a shot at the Worlds in order to that," says Johnson.
On the subject of training, asked if they prefer to train alone or together, both starting giggling again before I can even finish the question.
"If Tim has a hard ride to do, he just leads the whole way and I follow," hoots Bessette, the not-so serious persona popping out once again, albeit for just a moment. "But most of the time, we have different training plans, so we stick with our own things."
Suddenly Bessette's giggling again when her partner mentions the running training they've been doing. "Lyne can't stand training with me because I run too fast - but I bonk after 19 minutes and she just blows by me at the end!" chuckles Johnson.
"We have a lot of fun training together and it's good," he says. "It's nice to go out for an nice, easy ride to catch up and look at all the pretty houses…"
"…and look at which one we'll get one day," finishes Bessette. More giggles. And the Tim and Lyne show starts all over again.
Johnson and Bessette's future as cyclists appears as promising as their relationship, although just like their relationship, the couple are still in developmental stages, and need to work hard and focus to realise their full potential.
The road is Johnson's oyster
Photo: © Ralph Rookey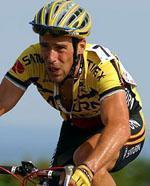 The important thing is that both are aware of this, and understand there are no short cuts in a sport as unforgiving as cycling. Says Johnson, "I don't want to be wishy-washy - the biggest goal that I have is to race Division I some day - and so long as I have this dream of becoming a successful road racer, I need to put all my eggs in one basket."
"And I'm prepared to do it," adds Johnson. "If I can be successful on the road, I'll be the happiest guy around."
Bessette echoes her partner's remarks, signaling her intention to be at the top of her sport once more, particularly in the longer tours, including the Tour L'Aude (a favourite) and the HP Women's Challenge, Fleche Wallone, the Montreal round of the World Cup - and, of course, the 2003 World Championships, to be held in her home country in Hamilton next year.
For anyone, that's plenty of racing, but as Bessette says, "every season I went really well I did a lot of racing."
Then a lot of racing it shall be for this bubbly character from Québec.
Editor's note: Cyclingnews will be providing detailed coverage of both the US National and World Cyclo-cross Championships
Personal stuff
The ensuing conversation turned out to be so hilarious, it has been published it in its entirety.
Good luck charms
Bessette (far L): No giggles on the bike
Photo: © Michel Schults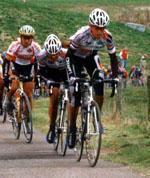 Cyclingnews: Anything special you wear to give you good luck?
Tim Johnson: Oooh, Lyne, do you want to grab that?
Lyne Besette: [just giggles]
CN: I'll make sure I won't publish it!
LB: I don't think I can trust you on that one! Actually, I have a little angel on my necklace; my parents gave it to me when I broke my collarbone in March.
TJ: Actually, I have a copper bracelet that Lyne gave me after I broke my collarbone, so I guess we both have our anti-breaking collarbone mojos!
Hobbies
CN: Tim, I noticed on your website two of your four hobbies are Lyne Bessette. Have you developed any more hobbies since then?
LB: [Butts in] No, he's better at cooking! [giggles]
TJ: You got to check out my motorcycle though...
LB: Chocolate chip cookies! [giggles again]
TJ: Yes Lyne, that too. It's an old 1970 BMW, really sweet - black, chrome tank, and Lyne and I like to go for a ride on it when we get the chance and when it's not freezing cold. We also like to go on vacation to really warm places on the beach.
CN: Funny you say that - a number of bike riders say they prefer doing nothing after traveling so much during the year.
TJ: Traveling for work and traveling for vacation are totally different; you can tell by the way we approach the ticket counter at the airport!
LB: And it doesn't matter if you're legs are big! [can't stop laughing]
Favourite movie/s or genre of movie
LB: Well my favourite movie is...
TJ: [makes snoring noises]
LB: [also laughs] That's because the first movie we saw together I stayed for ten minutes and left.
TJ: She doesn't go for the really intellectual English language movies because after a while she can't keep up because they speak too fast and too many big words...
LB: For a Quebec girl! [laughs]
TJ: As you can tell, she's kind of got a short attention span [laughs]. Actually, we just saw Roger Dodger, which I really liked, but Lyne probably prefers Harry Potter... which I like also.
LB: But that's not my favourite!
TJ: OK, what is your favourite?
LB: It's a French movie, it's called Le Grand Bleu.
TJ: The great blue?
LB: Yeah, it's this underwater movie, where they go diving and try and go and as far as they can.
CN: Oh yes, I believe it's called the Big Blue in English, with Jean Reno.
LB: Oui Oui Qui!
TJ: I think Breakfast at Tiffanys is my all-time favourite movie.
CN: So what was that movie that you saw where Lyne walked out?
TJ: Finding Forrester, y'know, that one with Sean Connery?
CN: So it wasn't because Tim forgot to shower after a ride before he met you then?
LB: [just giggles, keeps on giggling...]
Favourite food
Johnson: eats well, but choc-chip cookies must be full-fat!
Photo: © cyclocrossworld.com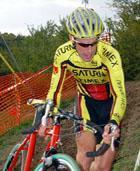 LB: I think cheese is the other thing that we kind of go for.
TJ: Lyne is actually a really, really good cook, so it's kind of difficult sometimes - actually it's not that difficult, because she cooks really healthy food, but sometimes we bust out and make the full fat version? My cookies MUST be the full-fat version, the real deal!
LB: We try and eat healthily, but we don't stress too much about it. But we won't eat fried stuff, and we never go to McDonalds or any other fast food places, never.
TJ: But the good thing is that Lyne is the spokesperson for a health food chain in Québec, and we get an allowance of free food for the year. It's awesome, all the stuff you always want but normally can't afford.
Favourite music
LB: I liked to listen to music when we drive - anything really - but Tim likes to listen to those news channels, and I can't stand those!
TJ: It's NPR - National Public Radio, and it's like the newspaper on the radio and it's good, and...
LB: [interjects] No it's not!
TJ: We have these battles sometimes.