Recently on Cyclingnews.com
An interview with Julian Dean, November 1, 2003
Into the wild
In 2003, Julian Dean had his best season ever, amassing more victories than any other rider on Team CSC and placed second only to Tyler Hamilton on UCI points gained. Why then, was the precociously talented, hard-working sprinter from New Zealand ignored? And does Dean have what it takes to become one of the best in the world? Anthony Tan goes searching for the answers.
Julian Dean
Born: January 28, 1975
Place of birth: Waihi, North Island, New Zealand
Marital status: Married to wife Carole
Teams: Credit Agricole (2004- ), Team CSC (2003), Team CSC Tiscali (2002), US Postal Service (1999-2001), Mercury (1998), Shaklee (1996-97)
Career highlights
2003 - Team CSC
1st, Wachovia Classic
1st, Stage 2, Circuit Franco-Belge
1st, Stage 4, 5 & GC, Tour de la Region Wallonne
1st, Stage 4, Vuelta a Castilla-Leon
2nd, Stage 2 & 9, Tour de Suisse
2nd, Stage 3, Quatre Jours De Dunkerque
2nd, Stage 3, Circuit Franco-Belge
3rd, USPRO Championship
3rd, Wachovia Invitational
3rd, Stage 5, Vuelta a España
3rd, Stage 2 & 3, Tour de Picardie
4th, Giro del Piemonte
4th, Stage 3, Vuelta a España
6th, Paris-Tours
6th, Tour de Qatar
9th, Danmark Rundt
2002 - Team CSC Tiscali
2nd, Stage 2, Ronde Van Nederland
2nd, Stage 3, Circuit Franco-Belge
2nd, Stage 1, Hessen Rundfahrt
2nd, Stage 6, Tour Down Under
3rd, Stage 2, Hessen Rundfahrt
10th, The World Championship
10th, Paris - Tours
2001 - US Postal Service
1st, First Union Classic
1st, Stage 4, Vuelta a Castilla-Leon
2nd, Stage 5, Volta a Catalunya
3rd, Stage 14, Vuelta a Espana
2000 - US Postal Service
2nd, Stage 3, Midi Libre
1999 - US Postal Service
1st, Tour of Wellington
1st, Stage 2A & 7B, Prutour
1st, Stage 11, Tour of Wellington
2nd, Stage 21, Vuelta a España
3rd, First Union Classic
1998 - Mercury
1st, Atlanta Grand Prix
1st, USPRO Criterium Championships
3rd, Stage 2, Vuelta a Asturias
1997 - Shaklee
3rd, Correstates Classic
A FEW DAYS BEFORE JULIAN DEAN STARTS HIS FINAL RACE OF THE YEAR, the PowerNet Tour of Southland, he's back home in New Zealand, couch-side at his temporary home in Rotorua, where the scent of sulphur permeates the air and acrid-smelling mud pools bubble and belch, creating a kaleidoscope of smell and colour.
His wife Carole is stationed in Rotorua for Operation Nest Egg - a program designed to help save New Zealand's national bird, the kiwi, from extinction. All six types of kiwi are now an endangered species, with ninety-five percent of chicks that hatch in the wild dying before adulthood, mostly killed by stoats or cats. By removing eggs from vulnerable nests and hatching eggs in captivity before releasing the youngsters into the wild, the kiwi is then at a size large enough to fend off predators, where their chances of survival increase eight-fold.
Beat the best at Region Wallonne
Photo: © AFP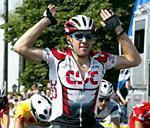 Coincidentally, her husband's story as a professional cyclist has followed a very similar vein. After careful nurturing in the US, Dean's last two seasons as a pro have been his most successful to date, and this year, he became Team CSC's winningest rider, highlighted by two stage wins and overall victory at the Tour de la Region Wallonne. However, like a kiwi released into the wild, Dean's had to fend for himself after being ignored by his team management, and will be heading to Credit Agricole for the 2004 season.
"I look back and realise I've come such a long way," says Dean as he reflects back to his days as a fresh-faced 21 year-old pro at Shaklee. "I spent a lot of time living in different parts of America and being a little bit of a gypsy, but I had team-mates who provided me with good support and a lot of encouragement; a lot of my team-mates were old professionals who had been around a long time and I think they saw in me something that I didn't really realise myself. So for that reason, they started pointing me in the right direction."
"I don't really know why they acted the way they did with me, so for that reason I felt quite disrespected about the whole issue."
- Dean talking about his end of season negotiations with CSC team management
Somewhat unusually, Dean tells me his early years on one of the biggest and most successful US-based cycling teams was something he was doing "more for fun than anything else". Unlike many other neo-pros, however, the Kiwi sprinter was successful right away, and in only his second year, Dean won over 20 races - it'd be hard not to enjoy yourself. "When you win that many races, it's almost like you can win any race you want", he says, revealing the confidence of a sprinter now in his prime.
America has brought Dean much success
Photo: © Jonathan Devich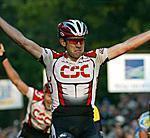 Less surprising was the move to Mercury in 1998, where his seemingly incessant winning streak continued, including two very big wins: the USPRO Criterium Championships and the Atlanta Grand Prix. In three years, Dean had conquered America - it was time to move into the wild, to truly began his foray into the big time with the United States Postal Service pro cycling team.
"It was definitely hard yards in my first year," he says. "Maybe the first year wasn't so hard, but the next year, the expectation increases. It wasn't an easy team to be on; there was a lot of pressure at times, especially the expectation on the team at some of the bigger races."
His initial results belie any uneasiness he may have felt. Two stage wins at the Prutour, a podium place at the First Union Classic and finishing his first Grand Tour, the Vuelta a España, in fine style - narrowly beaten into on the final stage into Madrid by Dutchman Jeroen Blijlevens. The year also happened to be team-mate Lance Armstrong's first Tour de France victory. However, the combination of Armstrong's success and Dean's ease of assimilation into the European peloton appeared to have cost him; it was two years before he won again.
"The biggest thing about being on the team that is so successful is when you come to people and tell them what team you ride for, they automatically know the team. You get a lot of recognition and a lot of respect being on the team because it's really well-known and they know it's a good organisation.
"I see myself more along the lines of [Erik] Zabel and [Baden] Cooke... I think I'm equally as fast as those guys."
"The other side to being on a team that is so successful is that you almost rest on your laurels," says Dean about the lackadaisical attitude that often follows success. "Lance is so successful, it means there's not as much pressure on the other riders and his success carries the team," he adds, explaining the need for talented riders like Hamilton, Julich and himself to step off the 'Blue train' in order to really test themselves.
Asked if being left out of the winning Tour de France team three years in a row also prompted the move to CSC-Tiscali in 2002, the farm boy from Waihi admits the exclusion had a part to play. "In my last year at US Postal Service, things started to change a little bit and I started to think a bit more - especially about doing the Tour and being successful at some of the biggest races in the world," he says.
"When I first joined the team, riding the Tour de France wasn't ever something that I had been planning to do; in fact, when I first turned professional, it wasn't even a forethought in my mind. Of course, I knew the Tour and the power the Tour carries, but it wasn't really something I thought about doing - it wasn't until after two or three years as a professional that I started thinking about the Tour and the importance of it, really."
Other stuff

Will you continue to live in Spain or move to France next year? "No, we're still looking in Spain. That's one of the good things about going to Credit Agricole - to kind of keep things as similar as possible."
Have you noticed an increased respect in the European peloton as a result of your success? "Yeah, definitely. People start to acknowledge you a little bit differently, and you become a little bit more of a familiar face within the peloton - so it's good for the confidence and morale."
What are some of your best memories you'll take with you from CSC? "I think we had a really good group of guys, especially for the Classics. One of the things with CSC is that it hasn't always been an easy run for us [the Classics riders], and I think for that reason, we've stuck a little closer together and been a little more close knit. We've got lots of good memories from racing in America and at the Tour Down Under in Australia, where we've also had excellent times outside of cycling."
How serious are you about the Tour of Southland? "For me, it's quite an important time for me because I don't get to race in New Zealand that much. I'll try and help the profile of cycling in New Zealand a bit and generate some interest more than anything... that's the motivation for going. I'd like to also look at riders who I might be riding the Olympics with next year and see a little bit for myself who the future talent might be from New Zealand, which is something I'd kind of like to get involved in."
Do you think it's possible for you to win overall? "No, I'm not counting on myself on winning overall; I've been on a bit of a down period with training and that, so I'll take it one day at a time and see and I'm going."
I've heard a story about you going for a ride in New Zealand where you had to go into a bike shop and ask for a spare tube after getting a puncture, but the shop owner wouldn't give you one because you didn't have any money - even after you told them your name was Julian Dean and you ride for Team CSC! In the end, a customer gave the shop owner the money so you could ride home. True or false? "Yeah, it was actually my chain, but it is a true story and I guess that's the culture, and err... what can you say about it... [laughs]. But the sport does struggle - maybe if I was world champion, things may have been a little bit different!
Any passions other than your bike... and wife? "We love to go travelling; we didn't really have time to this year, but love to take our backpacks and go on a small trip somewhere. Last year we went to Turkey and backpacked around Turkey for a few weeks, and the year before that it was Egypt and the year before it was Asia. That's something we really love to do and it's always an awesome experience - it's great for grounding too; a lot of the places we go are such a world away from where you are, y'know."
Would you like to have a family one day? "It's always something you talk about, but the life of a professional athlete makes it hard; you're always away from your families and the support you're used to when raising a family. But we're both starting to get a bit older... so no immediate plans, but sometime in the near future."
Good times Down Under
Photo: © Tom Balks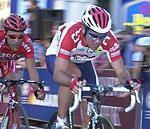 Dean's personal campaign to ride the Grand Boucle didn't begin well though. Shortly after the Tour Down Under, Dean broke his leg and was out for nearly half the season, taking him out of Tour contention, but the power-packed sprinter made amends with a string of podium places at the Ronde Van Nederland, Hessen Rundfahrt and Circuit Franco-Belge, before two tenth places at Paris-Tours and the World Road Championships capped off a solid return to form. This year, with injuries behind him and a chance to really let loose, Dean had his best season ever: four stage wins, the Wachovia Classic, and his biggest victory so far, the overall classification of the Tour de la Region Wallonne, a race where he beat in-form riders like Michele Bartoli, Yaroslav Popovych and Jurgen Van Goolen.
"If you had of asked me at the start of the year, I probably would have told you I would have never been able to win Region Wallonne," he says. "Now, things have changed and it's opened up my capacity for races that I could potentially win that I never really thought about before."
Adds Dean modestly, "It's not the biggest race in the world or anything like that [the race is rated by the UCI as a 2.3, on par with the Tour of Belgium and Tour Down Under], but it does seem to carry a lot of prestige because it's around the time all the Classics riders are starting to come back [to form]. But I think more than anything, it instilled a lot of confidence in myself as to my capacity and how far I think I can go. Especially on Postal Service, I was never given a lot of opportunities like that because of the structure of team - which is fine because they're probably the most successful team in the world because of the way they're structured - but on CSC, you're given the reigns to let go a little bit and you're allowed to take the opportunities when they're there."
So was it simply a change of team that's been the driving force behind his most successful season to date, or a strength and maturity that comes after eight years as a pro?
Athens on the agenda in 2004
Photo: © Tom Balks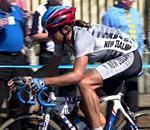 "I think it's a little bit of both," he says with only a hint of Kiwi accent that reveals his nationality. "If you look at my career, I haven't come from nowhere... it's been a gradual process. Having said that, I've also had a lot of bad luck, so it hasn't really been until this year that I've been consistently on my bike without injury and without any problems, and I think I've really benefited from that. But that also comes from having matured a bit and knowing my limitations."
Dean cites a certain familiarity and confidence with living and racing in Europe as another reason behind his recent accomplishments. This year was Dean's fifth in Spain, where he and his wife reside in the coastal village of Gandia near Valencia, and has now developed a similar affection towards the lifestyle and the style of racing as he has with the States, a place where he continues to enjoy great success.
Says Dean fondly, "For me, it's like doing my 'home races'. I think I've done the Philadelphia race seven or eight times, and I've seen lots of different scenarios pan out there. To say the races are easier is not really the case - especially the Wachovia Series - the thing is I feel confident because I've been there before. I know what I have to do and when to do it - and now that sort of thing is starting to happen to me in Europe; I feel confident at the races I'm going to and know I can be successful - and now I'm at the age and maturity where I can have a good four or five year run."
It's interesting to note that with former Tour winner Bjarne Riis as directeur-sportif, a number of his riders have really blossomed at Team CSC. Tyler Hamilton, Carlos Sastre, Jakob Pill and Dean himself have all had their best years under the helm of the Great Dane.
Though Dean doesn't think (or like to think) it has much to do with Riis at all: "All the riders you talk about are quality bike riders. I think no matter what environment you put them in, they'll be successful," he remarks defensively.
One needs only to look so far as the very personal duel between Paolo Bettini and Michele Bartoli at Mapei to see that isn't always the case, where protégé and maestro sadly became the fiercest of rivals. While nothing of the kind happened with Dean and any of his team-mates, he did appear to be left out in the cold, and was offered a contract "only half of what I was offered from other teams".
"I had good results for the team and I had more victories than anybody else. You do a good job for the team throughout the year, normally you would expect to be one of the first riders on the team to be offered a place," says Dean in a tone of both puzzlement and resentment. "It was almost like they made the offer because they felt they had to, y'know. I don't really know why that happened or was given an explanation as to why they acted the way they did with me, so for that reason I felt quite disrespected about the whole issue."
While the issue between Dean and Riis may never be resolved, he's managed to find what appears to be the perfect place at Credit Agricole, where Roger Legeay has signed the now 28 year-old as one of a handful of Classics specialists, a position made vacant after the departure of previous Australian champion Stuart O'Grady. However, Dean's quick to point out that he and the freckle-faced South Australian are very different.
"Obviously, one of the reasons they brought me in was to ride the Classics - I can do that and Stuart can also do that and he left - but I don't like to see myself as replacing Stuart, because he's got his specific abilities and I've got mine. I see myself more along the lines of [Erik] Zabel and [Baden] Cooke... I think I'm equally as fast as those guys," he says with confidence.
Dean's future is focused on three key objectives: a World Cup win, a stage in the Tour de France and the Olympic Games road race. Still coming to terms with his sixth place in Paris-Tours (he desperately wanted to finish on the podium), Dean knows the expectation will be there for him to reach a new level, and he must go to that level if he is to become one of the best sprinters in the world. But just like the adult kiwi, Dean is now big and strong enough to fend for himself and thrive in the wild.
See also: The Julian Dean story
Other Talking Cycling Interviews