Tales from the Peloton
The Julian Dean story
By Alan Messenger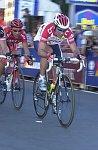 Driving it home in the 2002 TDU
Photo: © Tom Balks/CN
New Zealand's number one Professional Cyclist Julian Dean has put the frustrations of the previous year behind him and he has returned to Europe to rejoin his team CSC Tiscali for another year.
A serious leg injury suffered early in 2002 wiped out most of the season for the Kiwi but he finished the year on a high note with his 10th placing in the World Championship road race in Belgium.
Typically though, Dean was a little disappointed with his placing, and he believes that with a little bit of luck he could have won. For a brief moment in the finishing sprint he thought that he could win but for the tactics of eventual Winner Mario Cipollini's team.
"I remember there was a sharp turn eight hundred metres from the finish and I was closing in on Cipollini. It was then that I started to get bumped around by the support riders. All I could think about was how to stay upright, it's all you can do without any team mates around to help" Dean said.
Dean is of course proud of his 10th placing, the best ever by a New Zealander but he doesn't acknowledge any New Zealand involvement. "In terms of being from New Zealand and representing Cycling New Zealand, I would have been just as happy to have not worn a New Zealand Jersey that day. In every World Championship event that I've ridden I've fully funded myself and often through their mistakes (Cycling NZ) I've had to pay extra money. On one occasion, I had to buy an extra ticket because I missed my flight through their lack of organization. Even now that I am in the top ten in the World, there is still no funding. It's not as if there's no money, they're just pouring it all in the wrong places," he said.

Dean at the 2000 Olympics
Photo: © Tom Balks/CN
The Championship race undoubtedly enhanced Dean's reputation as a sprinter and helped in the negotiation of a new contract for the next twelve months with CSC Tiscali.
Will the contract get Dean a ride in the Tour de France? "I'm definitely part of the plan. Last year I was supposed to be in the Tour but the plans went a little bit off beat and I didn't make it to the line".
Dean is optimistic about his prospects this year. "All things going well I should make it this year, but nothing is guaranteed. We have eighteen riders looking for a place in the nine-man squad. I'm definitely not a certainty but I think I'm on the short list," he said.
Dean says that he has never harboured ambitions to ride Olympics, World Championships or the Tour. "Not really, my whole career has been a matter of taking the next step. I started racing in the Waikato, and the next step was to represent New Zealand. I then went to America and turned Pro, then I went on to Europe. My next step is to compete in World Cup races and in events such as the Tour de France. I'd also like to secure a major victory," he said.
There is no doubting that Dean has the talent and the attitude to make it in the big time so let us hope that 2003 will be his year.