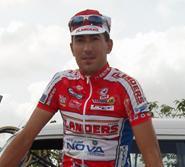 Photo: © Anthony Tan
Moving on up: The Trent Wilson Journal 2003
Welcome to the Trent Wilson Journal for 2003. The young iTeamNova rider was one of the six who made the cut when the Australian Div III team merged with RDM-Flanders to form Flanders-iTeamNova, and move into Division II.
Workin' it at Wachovia; back on track in Beauce
G'day,
It's a rainy July day in Gent, a good chance to update the diary. I just got off the phone to my parents in Australia, they had the coldest July day in Sydney for 11 years, but it was still a max of 12 degrees though. Must be hard to handle considering we had a few days in February over here that didn't get above freezing!
The three week trip in the US and Canada went as quick as I expected, and a good time was had on and off the bike. First on the agenda was the USPRO series in Philly. This time we flew British Airways, great service and we paid for no excess luggage, so I think we'll fly with them again in the future.
When we arrived in Philly the weather wasn't great, so a few times we got rained on and a few other times we just jumped on the ergo for training. We were back in the land where everything is BIG, nothing is sold small here. So while the weather was bad it was time to for some Grande Lattes at Starbucks. The hotel was a flash one, in the centre of Philly. The Americans had done another good job setting us up here after all the good hotels at the Tour of Georgia earlier this year. The breakfast was unbelievable and every morning we found ourselves holding ourselves back from over doing it. It was great to catch up with some fellow Aussies, 14 in this week's field, and an old training partner from Italy, American Daniel Ramsey.
Wachovia Invitational - June 3: Lancaster, PA, 146 km - 13 laps of 11.5 km
The first race was 13 laps of a fairly hard circuit with plenty of twists and turns and few nasty climbs. It was going to be a hard race, but when the rain didn't hold up it got even harder. I must of left my legs on the plane and didn't feel too good. Midway through the race, Scotty Guyton punctured and I did the domestique role of giving him my wheel; at the time it was single file and our team car was a long way back. It was the day over for me, but a few laps later it split to bits and there were only 30 riders left in the race anyway. The rain came down even harder and the riders continued to stop one by one. Alby was our sole finisher, finishing in the top 20.
Wachovia Classic - June 5: Trenton, NJ, 146 km - 14 laps of 10.5 km
Last year it was this race that had a downpour of rain, but this year we were blessed with great weather. From the start the whole team raced aggressively, not missing a break all day and starting a lot of them ourselves. Alby was away on this relatively flat course for about 10km and was attacking all day. Scotty Guyton picked up two large sprint primes to help the wallets and showed his Kiwi cunning. I felt great and was attacking a fair bit. It felt awesome to be able to attack instead of groveling in the bunch like I have for the past month, so the form was finally getting better. The man for the sprint was Bert Scheirlinckx, but unfortunately he crashed 10km out, though his brother Staf made the top 20.
The Big One: Wachovia USPRO Championship: Philadelphia, PA 250 km - 11 laps of 22.64 km
You start out with 10 laps of about 23kms and go up the infamous 'wall' every lap. This 'wall' is unbelievable; not only the steepness but the crowd. How do they pack 60,000 people on one short hill? The first lap you can't hear yourself think and by the last lap, once they've got a few beers into themselves its 'off tap'. The atmosphere is unbelievable. Then you finish off with three laps of Lemon Hill, a 5km circuit.
I was geed to get in the early move, but unfortunately I missed it. The next 200km I spent going with breaks, looking after the boys and attacking myself. One lap we tried to catch everybody out by lining it out before the wall, and doing the peel from the bottom: me doing the first turn, then Scotty and so on till we had five riders in a split of 20. It was too early though and it regrouped 5km later. I called it a day with 20km to go but when the bunch came around to finish the local laps we had five riders in the lead group of 50. It was looking good for us and it was good to see the return to form by Dom Perras, attacking off the front. It came to a bunch kick, the boys doing the lead out for Dave Macca. Unfortunately we hit the front too early, only to blow and get swamped 400m out. Zanini took the win.
We had a week to kill in between Philly and Tour of Beauce in Canada. We stayed at the Colavita Bolla's director house, Albert. We were near a small town in New Jersey called Summit. The terrain was beautiful and we got stuck into some good training while we were there. I now know why our director Franky Van Haesenbroucke lived here when he raced in the States... but he's a sprinter - this was climbers' territory! On our recovery day, it also gave us a chance to check out New York - slightly busier then Gent. Albert's hospitality was great; thanks mate.
GP Cycliste de Beauce
This tour is known to have bad weather but it was a great week for us this time around, apart from a 30 min downpour on day 3, but I can handle that. We also stayed in the same hotel for the whole week which makes things easier. We were in a little town call Saint Georges, 100km from Quebec. This tour, from what I remember from last year, doesn't have real long stages but the terrain makes up for it. It's up and down all day with unforgiving roads. Definitely one of the hardest tours in North America.v
Stage 1 - June 17: CMQ Lévis - Québec, 125 km
We dealt with two different circuits in this short stage. We started with four relatively easy 8km circuits, then rode across the bridge to Quebec where we did nine laps of a 8km circuit with a sharp 1km climb every lap.
It stayed together until we got to Quebec and that's where the race started. After a few laps of the hill the bunch split. We had five riders in the leading group of 17 so we were fairly happy with that. It was a hilltop finish, John Lieswyn taking the win and the yellow jersey. Bert was 5th and Dom 8th, also taking the first Quebec rider's green jersey.
Stage 2 - June 18: Lévis - Lévis, 169 km
I lost a bit of time yesterday so I was keen to get in an early break away and try for a stage win. I went with every break, determined to get away and it eventually happened when we got the right combination. We had Swindlehurst (Navigators) and Vana (ZVVZ) along with another three to make it a group of six. We worked well together all day but 7UP were not prepared to give us more than 5 minutes' lead. With 30km to go, I thought we had a chance to stay away, but when Health Net got a smell of victory they chased for their sprinter, Gord Fraser.
We eventually got caught with 15km to go and I was a mess, been a while since I've finished a race feeling that bad. Dave Macca finished third in the bunch kick with Drew in 7th. Scotty crashed hard with 3km to go, finishing the stage but then going away in the ambulance. It didn't look good at first but in the end he was OK and started the next day. I won both intermediate sprints and was the outright leader in this competition.
Stage 3 - June 19: Lac-Etchemin - Lac-Etchemin, 151 km
After yesterday I was allowed a day off to sit in the bunch. We went up to 900m altitude at the 90km mark, and with bad legs it worried me a bit. Drewy got in a break after about 70km. They went out to an 8min lead at one point and we were in a great position cause this meant Drewy was in the yellow jersey on the road. The bunch cruised over the hard climbs and then gave chase with 60km to go.
I and everyone else thought the tour was over, but riders stopped working in front due to team orders and Drewy was left to ride on the front with only a few helpers. The break got brought back with 10km to go and turned into a bunch kick. Once again there was a crash, this time it was in the wet. Alby went down and poor ol' Scotty went over the bonnet of a parked car; they were all OK though. Gord Fraser won the stage, with Dom holding onto the green jersey and Lieswyn holding onto yellow.
Stage 4 - June 20: Saint-Georges - Mont Mégantic, 172 km
This was the day where the race really starts. Up and down all day, then we finish on a 6km climb where most riders have a 26 cog. We through down a challenge to the yellow jersey, when Dave Macca got in the breakaway. He also had the yellow jersey on the road, but again the riders stopped working once this happened and he was forced to do most of the work by himself. The break was brought back at the bottom of the climb with 6km to go. I led the Nova train to the bottom of the climb getting all our GC riders to the front. I swung off, my job done, and rode to the top in the 23 cog. Bad move! We had three of the boys in the top ten, Bert, Dom and Al. Konecny took the stage, Lieswyn still in yellow and Dom holding onto the first Quebec rider's jersey.
Stage 5a - June 21: St-Jean de la Lande ITT, 15.5 km
For me it was a matter of cruising around and trying to make the time cut. Dom was the big surprise of the day, showing everyone he can time trial as well as climb, finishing around the top 10 and moving up a spot on GC. Al also rode a good time and Bert also kept in the top 10. Lieswyn held onto yellow, losing the TT by less then a second to Baldwin from Navigators. Scotty had to pull out with two broken ribs from the previous crashes.
Stage 5b - June 21: Saint-Georges Criterium, 60 km
This was a big stage for me as I had to defend the sprint comp lead. Unfortunately even tough Dave Macca gave me an awesome lead out my little climbers legs couldn't compete with the true sprinters in the field, so I lost the lead. With 4 laps to go, I snapped my chain and jumped on a Mavic spare bike that was too small for me. I gave Macca a hand till one lap to go and had to get outta there with the brakes around the wrong way and nearly riding on the top tube. Macca was in the top 10 somewhere.
Stage 6 - June 22: Saint-Georges - Saint-Georges, 154 km
This was an 11km circuit with a hard 1.5km climb. I was in trouble early but rode myself in and by the end of the race got in a move with Dionne. We were going across to the lead break but he was just going too strong. With 15km to go, he got across on the climb and I didn't. The break stayed away by 7 secs. Tesar won the stage, Lieswyn held onto the yellow jersey and Dom held the first Quebec leader's jersey. Dom, Bert and Al finished 7th, 9th and 11th on GC respectively. I was third in the sprint comp by the end. I am pretty happy at the end of the tour; it seems the form is finally coming back. The team rode well, especially Dom, riding like a man possessed in his home tour. He went on to win the Canadian champs a week later.
Now that I'm back in Belgium, I've had a really easy week to recover and get ready for the rest of the season that doesn't finish until the Tour of Queensland in mid-November. So its going to be a long end to the year. This week I'm back in training and heading to Italy for three one-dayers in Abruzzo. Then going to my old team house near Venice for a week of hard training in the mountains and catching up with old friends.
Keep you up to date,
Cheers Willo