18th GP Cycliste de Beauce - 2.3
Canada, June 17-22, 2003
Main Page Results Previous Stage Next Stage
Stage 2 - June 18: Lévis - Lévis, 169 km
Grishkine Too Quick
By Kristy Scrymgeour
7up/Maxxis out in front
Photo: © Communication GPCB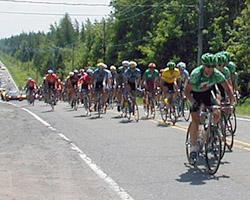 Oleg Grishkine (Navigators) won the bunch sprint today to win the second stage of the Grand Prix Cycliste de Beauce. In what was a long day in the wind for five riders in particular, the race came down to a bunch sprint and the Russian Navigator was too quick.
The stage was 169km making one large loop of 144 km before facing three laps of the same 8.5 km loop as yesterdays stage started on. It was a hot, windy day in Levis, the home town of Charles Dionne, and the course was open in many areas so that the wind had the potential to be a big factor.
Very early in the race, in fact only ten minutes after the start, a group of five went up the road and was allowed to ride away. The riders in this break were Trent Wilson (Flanders-IteamNova), Thomas Swimdlehurst (Navigators), Jindrich Vanna (Ed's System zvvz), Jeff Hanson (Atlas Cold Italpasta) and Cameron Evans (Canadian National Team). With such a long way left to ride, 7UP were not yet too worried about the break and the gap drew out to over five minutes.
7UP-Maxxis rode tempo on the front most of the way but it wasn't until about 50km to go that the chase really began. Health Net joined 7UP in the chase at one stage, realizing their chance for a stage win and before long the gap was quickly diminishing.
The breakaway
Photo: © Communication GPCB
Back in the break Hansen, who also had an aggressive race yesterday was feeling the long day in his legs and got dropped, eventually caught by the peloton just as they reached the closing laps with 25 kilometers remaining in the race. In a brave move from the front, Swindlehurst was feeling strong and realizing the danger of getting caught, attacked the break. With Wilson, Vanna and Evans being swallowed up by the bunch with 17 kilometers to go, Swindlehurst still had a 37 sec lead.
The speed of the bunch as teams prepared their sprinters for the finish was too much however, and Swindlehurst was caught with only 1 lap to go. Navigators immediately counter attacked, but all moves were quickly shut down. Health Net, 7UP-Maxxis and VW were all attempting to get their sprinter in place and it came down to a close finish, with Navigators winning out. Grishkine, backing up an already successful season took the stage over home town boy Charles Dionne and David McKenzie (Flanders-Iteam Nova).
John Lieswyn (7UP-Maxxis) keeps the leaders jersey going into tomorrow's stage which starts and finishes in Lac Etchemin and covers 151km of hilly terrain.
Photos
Images by Communication GPCB
Results

1 Oleg Grishkine (Rus) Navigators Cycling Team             4.01.21
2 Charles Dionne (Can) Canadian National Team                     
3 David McKenzie (Aus) Flanders - Iteamnova.com                   
4 Lubos Kejval (Cze) eD'system - ZVVZ                             
5 John Peters (USA) Prime Alliance Cycling Team                   
6 Jean-François Laroche (Can) Volkswagen - Trek                   
7 Jamie Drew (Aus) Flanders - Iteamnova.com                       
8 Fausto Esparza (Mex) Tecos - Mercurio                           
9 Shinri Suzuki (Jpn) Shimano Cycling                             
10 Dominique Rollin (Can) Équipe Québec                           
11 Danny Pate (USA) Prime Alliance Cycling Team                   
12 Christopher Baldwin (USA) Navigators Cycling Team              
13 Lubor Tesar (Cze) eD'system - ZVVZ                             
14 Czeslaw Lukaszewicz (Can) Équipe Québec                        
15 Joe Giuliano (Can) Atlas Cold / Italpasta                      
16 Alexandre Nadeau (Can) Équipe Québec                           
17 Ariel De Cardenas (Can) Équipe Québec                          
18 Pierre-Olivier Boily (Can) Équipe Québec                       
19 Jeff Louder (USA) Navigators Cycling Team                      
20 Gordon Fraser (Can) Health Net Cycling Team                    
21 Michal Precechtel (Cze) eD'system - ZVVZ                       
22 Greg Henderson (NZl) 7UP / Maxxis                              
23 Martin Gilbert (Can) Volkswagen - Trek                         
24 Jason Lokkesmoe (USA) Health Net Cycling Team                  
25 Alexandre Lavallée (Can) Volkswagen - Trek                     
26 Corey Jay (Can) Les Espoirs de Laval                           
27 David Whyman (NZl) Atlas Cold / Italpasta                      
28 Mark Walters (Can) Navigators Cycling Team                     
29 Jean-Francois Racine (Can) Les Espoirs de Laval                
30 John Lieswyn (USA) 7UP / Maxxis                                
31 Chris Isaac (Can) Canadian National Team                       
32 Petr Bencik (Cze) eD'system - ZVVZ                             
33 Frantisek Trkal (Cze) eD'system - ZVVZ                         
34 Eric Wohlberg (Can) Canadian National Team                     
35 Tomas Konecny (Cze) eD'system - ZVVZ                           
36 Antonio Aldape (Mex) Tecos - Mercurio                          
37 Yoshiyuki Abe (Jpn) Shimano Cycling                            
38 Dominique Perras (Can) Flanders - Iteamnova.com                
39 Hisafumi Imanisi (Jpn) Shimano Cycling                         
40 Bert Scheirlinckx (Bel) Flanders - Iteamnova.com               
41 Tomoya Kano (Jpn) Shimano Cycling                              
42 Bruno Langlois (Can) Volkswagen - Trek                         
43 Hidenori Nodera (Jpn) Shimano Cycling                          
44 Cory Lange (Can) Canadian National Team                        
45 Doug Ziewacz (USA) 7UP / Maxxis                                
46 Allan Iacuone (Aus) Flanders - Iteamnova.com                   
47 Kaoru Ouchi (Jpn) Shimano Cycling                              
48 Patrick Shea (Can) Atlas Cold / Italpasta                      
49 Andrew Davidson (Can) Jet Fuel Coffee                          
50 Craig Boileau (Can) Les Espoirs de Laval                       
51 Christopher McGovern (USA) Health Net Cycling Team             
52 Todd Herriot (USA) Health Net Cycling Team                     
53 Chistopher Pic (USA) 7UP / Maxxis                              
54 Brice Jones (USA) 7UP / Maxxis                                 
55 Frederic Millette (Can) Les Espoirs de Laval                   
56 Ryan Roth (Can) Jet Fuel Coffee                                
57 Irving Aguilar (Mex) Tecos - Mercurio                          
58 Alexandre Cloutier (Can) Volkswagen - Trek                     
59 Martin St-Laurent (Can) Volkswagen - Trek                      
60 Cameron J. Evans (Can) Canadian National Team                  
61 Warren Tilbrook (Can) Canadian National Team                   
62 Andrew Randell (Can) Jet Fuel Coffee                           
63 Joel Alamillo (Mex) Tecos - Mercurio                           
64 Dylan Sebel (Can) Health Net Cycling Team                      
65 Svein Tuft (Can) Prime Alliance Cycling Team                   
66 Jean-Sebastien Maheu (Can) Équipe Québec                       
67 Bryan Rusche (Can) Atlas Cold / Italpasta                      
68 Javier Paniagua (Mex) Tecos - Mercurio                         
69 David Salomon Alvarez (Mex) Tecos - Mercurio                   
70 Paulo Rego (Can) Atlas Cold / Italpasta                        
71 Stig Somme (Nor) Jet Fuel Coffee                               
72 Chris Wherry (USA) Navigators Cycling Team                     
73 Peter Sanowar (Can) Canadian National Team                     
74 Kevin Monahan (USA) 7UP / Maxxis                               
75 Alex Candelario (USA) Prime Alliance Cycling Team              
76 Christophe Cheseaux (Can) Les Espoirs de Laval                 
77 Mathieu Roy (Can) Les Espoirs de Laval                         
78 Domingo Gonzalez (Mex) Tecos - Mercurio                        
79 Matt Decanio (USA) Prime Alliance Cycling Team                 
80 Vassili Davidenko (Rus) Navigators Cycling Team                
81 Kevin Miller (Can) Jet Fuel Coffee                             
82 Scott Guyton (NZl) Flanders - Iteamnova.com                    
83 Andrew Pinfold (Can) Atlas Cold / Italpasta                    
84 David Clinger (USA) Prime Alliance Cycling Team                
85 Thomas Burke Swindlehurst (USA) Navigators Cycling Team    2.26
86 Jason McCartney (USA) 7UP / Maxxis                         2.57
87 Colin Burn (Can) Jet Fuel Coffee                           3.59
88 Rusty Beall (USA) Health Net Cycling Team                  4.40
89 Trent Wilson (Aus) Flanders - Iteamnova.com                4.41
90 Hughes Lapointe (Can) Équipe Québec                        6.28
91 Jindrich Vana (Cze) eD'system - ZVVZ                       8.04
92 Jeff Hansen (Can) Atlas Cold / Italpasta                  10.41
DNF Pascal Choquette (Can) Volkswagen - Trek                      
DNS Emiel Abraham (Tri) Team Maestro - Nella                      
DNS Paul Ellis (USA) Team Maestro - Nella                         
DNS Peter Fairbanks (USA) Team Maestro - Nella                    
DNS Andrew Roche (Irl) Team Maestro - Nella                       
 
 
General classification after stage 2
 
1 John Lieswyn (USA) 7UP / Maxxis                          7.02.02
2 Christopher Baldwin (USA) Navigators Cycling Team           0.05
3 Tomas Konecny (Cze) eD'system - ZVVZ                        0.17
4 Eric Wohlberg (Can) Canadian National Team                  0.21
5 Petr Bencik (Cze) eD'system - ZVVZ                          0.23
6 Danny Pate (USA) Prime Alliance Cycling Team                0.24
7 Mark Walters (Can) Navigators Cycling Team                      
8 Bert Scheirlinckx (Bel) Flanders - Iteamnova.com                
9 Dominique Perras (Can) Flanders - Iteamnova.com             0.27
10 David Clinger (USA) Prime Alliance Cycling Team            0.30
11 Allan Iacuone (Aus) Flanders - Iteamnova.com               0.32
12 Antonio Aldape (Mex) Tecos - Mercurio                      0.52
13 Jamie Drew (Aus) Flanders - Iteamnova.com                  1.11
14 Michal Precechtel (Cze) eD'system - ZVVZ                   1.45
15 Alexandre Lavallée (Can) Volkswagen - Trek                     
16 Doug Ziewacz (USA) 7UP / Maxxis                            1.52
17 David McKenzie (Aus) Flanders - Iteamnova.com              1.53
18 Gordon Fraser (Can) Health Net Cycling Team                1.59
19 Alex Candelario (USA) Prime Alliance Cycling Team              
20 Lubor Tesar (Cze) eD'system - ZVVZ                         2.54
21 Stig Somme (Nor) Jet Fuel Coffee                               
22 Alexandre Nadeau (Can) Équipe Québec                       2.56
23 Jeff Louder (USA) Navigators Cycling Team                      
24 Cameron J. Evans (Can) Canadian National Team              2.57
25 Fausto Esparza (Mex) Tecos - Mercurio                      2.58
26 Joe Giuliano (Can) Atlas Cold / Italpasta                      
27 Martin Gilbert (Can) Volkswagen - Trek                         
28 Shinri Suzuki (Jpn) Shimano Cycling                            
29 Chris Isaac (Can) Canadian National Team                       
30 Frantisek Trkal (Cze) eD'system - ZVVZ                         
31 Yoshiyuki Abe (Jpn) Shimano Cycling                            
32 Bruno Langlois (Can) Volkswagen - Trek                         
33 Cory Lange (Can) Canadian National Team                        
34 Javier Paniagua (Mex) Tecos - Mercurio                         
35 Jean-Sebastien Maheu (Can) Équipe Québec                       
36 David Salomon Alvarez (Mex) Tecos - Mercurio                   
37 Peter Sanowar (Can) Canadian National Team                     
38 Vassili Davidenko (Rus) Navigators Cycling Team                
39 Charles Dionne (Can) Canadian National Team                3.00
40 Jean-François Laroche (Can) Volkswagen - Trek              3.06
41 Corey Jay (Can) Les Espoirs de Laval                           
42 Christopher McGovern (USA) Health Net Cycling Team             
43 Scott Guyton (NZl) Flanders - Iteamnova.com                    
44 Dominique Rollin (Can) Équipe Québec                       3.10
45 Czeslaw Lukaszewicz (Can) Équipe Québec                        
46 Jason Lokkesmoe (USA) Health Net Cycling Team                  
47 Jean-Francois Racine (Can) Les Espoirs de Laval                
48 Todd Herriot (USA) Health Net Cycling Team                     
49 Hidenori Nodera (Jpn) Shimano Cycling                          
50 Kaoru Ouchi (Jpn) Shimano Cycling                              
51 Brice Jones (USA) 7UP / Maxxis                                 
52 Dylan Sebel (Can) Health Net Cycling Team                      
53 Christophe Cheseaux (Can) Les Espoirs de Laval                 
54 Domingo Gonzalez (Mex) Tecos - Mercurio                        
55 Lubos Kejval (Cze) eD'system - ZVVZ                        3.17
56 Oleg Grishkine (Rus) Navigators Cycling Team               3.18
57 Andrew Pinfold (Can) Atlas Cold / Italpasta                3.21
58 Andrew Randell (Can) Jet Fuel Coffee                       3.27
59 Svein Tuft (Can) Prime Alliance Cycling Team               3.29
60 John Peters (USA) Prime Alliance Cycling Team              3.33
61 Chris Wherry (USA) Navigators Cycling Team                 3.35
62 Hisafumi Imanisi (Jpn) Shimano Cycling                     4.02
63 Greg Henderson (NZl) 7UP / Maxxis                          4.29
64 Thomas Burke Swindlehurst (USA) Navigators Cycling Team    5.32
65 Pierre-Olivier Boily (Can) Équipe Québec                   7.26
66 Tomoya Kano (Jpn) Shimano Cycling                          7.28
67 Alexandre Cloutier (Can) Volkswagen - Trek                 7.31
68 Patrick Shea (Can) Atlas Cold / Italpasta                  7.35
69 Craig Boileau (Can) Les Espoirs de Laval                       
70 Joel Alamillo (Mex) Tecos - Mercurio                           
71 Kevin Miller (Can) Jet Fuel Coffee                         7.41
72 Frederic Millette (Can) Les Espoirs de Laval               7.45
73 Chistopher Pic (USA) 7UP / Maxxis                          7.48
74 Warren Tilbrook (Can) Canadian National Team                   
75 Bryan Rusche (Can) Atlas Cold / Italpasta                      
76 Kevin Monahan (USA) 7UP / Maxxis                               
77 Paulo Rego (Can) Atlas Cold / Italpasta                        
78 Mathieu Roy (Can) Les Espoirs de Laval                         
79 Ariel De Cardenas (Can) Équipe Québec                      7.56
80 Andrew Davidson (Can) Jet Fuel Coffee                          
81 Ryan Roth (Can) Jet Fuel Coffee                                
82 Irving Aguilar (Mex) Tecos - Mercurio                      8.16
83 Matt Decanio (USA) Prime Alliance Cycling Team             8.18
84 Trent Wilson (Aus) Flanders - Iteamnova.com                8.27
85 Jason McCartney (USA) 7UP / Maxxis                        10.42
86 Jindrich Vana (Cze) eD'system - ZVVZ                      11.55
87 Rusty Beall (USA) Health Net Cycling Team                 12.28
88 Martin St-Laurent (Can) Volkswagen - Trek                 14.39
89 David Whyman (NZl) Atlas Cold / Italpasta                 14.50
90 Hughes Lapointe (Can) Équipe Québec                       21.14
91 Jeff Hansen (Can) Atlas Cold / Italpasta                  25.31
92 Colin Burn (Can) Jet Fuel Coffee                          29.39
 
Points classification
 
1 Christopher Baldwin (USA) Navigators Cycling Team             19 pts
2 John Lieswyn (USA) 7UP / Maxxis                               17
3 Danny Pate (USA) Prime Alliance Cycling Team                  15
4 Oleg Grishkine (Rus) Navigators Cycling Team                  15
5 Charles Dionne (Can) Canadian National Team                   14
6 David McKenzie (Aus) Flanders - Iteamnova.com                 13
7 Tomas Konecny (Cze) eD'system - ZVVZ                          13
8 John Peters (USA) Prime Alliance Cycling Team                 13
9 Jamie Drew (Aus) Flanders - Iteamnova.com                     12
10 Eric Wohlberg (Can) Canadian National Team                   12
11 Lubos Kejval (Cze) eD'system - ZVVZ                          12
12 Bert Scheirlinckx (Bel) Flanders - Iteamnova.com             11
13 Mark Walters (Can) Navigators Cycling Team                   10
14 Petr Bencik (Cze) eD'system - ZVVZ                           10
15 Jean-François Laroche (Can) Volkswagen - Trek                10
16 Fausto Esparza (Mex) Tecos - Mercurio                         8
17 Dominique Perras (Can) Flanders - Iteamnova.com               8
18 David Clinger (USA) Prime Alliance Cycling Team               8
19 Shinri Suzuki (Jpn) Shimano Cycling                           7
20 Allan Iacuone (Aus) Flanders - Iteamnova.com                  6
21 Dominique Rollin (Can) Équipe Québec                          6
22 Trent Wilson (Aus) Flanders - Iteamnova.com                   6
23 Antonio Aldape (Mex) Tecos - Mercurio                         4
24 Thomas Burke Swindlehurst (USA) Navigators Cycling Team       4
25 Lubor Tesar (Cze) eD'system - ZVVZ                            3
26 Greg Henderson (NZl) 7UP / Maxxis                             3
27 Alexandre Lavallée (Can) Volkswagen - Trek                    2
28 Czeslaw Lukaszewicz (Can) Équipe Québec                       2
29 Irving Aguilar (Mex) Tecos - Mercurio                         2
30 Michal Precechtel (Cze) eD'system - ZVVZ                      1
31 Joe Giuliano (Can) Atlas Cold / Italpasta                     1
32 Cameron J. Evans (Can) Canadian National Team                 1
33 Svein Tuft (Can) Prime Alliance Cycling Team                  1
34 Jindrich Vana (Cze) eD'system - ZVVZ                          1
 
Teams classification
 
1 Flanders - Iteamnova.com                                21.07.29
2 eD'system - ZVVZ                                            1.07
3 Prime Alliance Cycling Team                                 1.36
4 Navigators Cycling Team                                     2.09
5 7UP / Maxxis                                                3.51
6 Canadian National Team                                      4.54
7 Tecos - Mercurio                                            5.25
8 Volkswagen - Trek                                           6.18
9 Health Net Cycling Team                                     6.52
10 Équipe Québec                                              7.41
11 Shimano Cycling                                            7.43
12 Les Espoirs de Laval                                       8.03
13 Atlas Cold / Italpasta                                    12.31
14 Jet Fuel Coffee                                           12.39