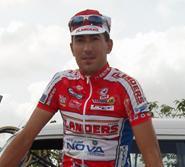 Photo: © Anthony Tan
Moving on up: The Trent Wilson Journal 2003
Welcome to the Trent Wilson Journal for 2003. The young iTeamNova rider was one of the six who made the cut when the Australian Div III team merged with RDM-Flanders to form Flanders-iTeamNova, and move into Division II.
Flat out like a lizard drinking*
Pino Cerami, Scheldeprijs and Georgia, April 10-27
G'day,
The end of April was spent in the US at the Tour of Georgia, but before that there was mixed fortunes and Belgian weather to deal with. I also gained a new room mate.
When I last wrote I was off to Pino Cerami, a UCI 1.3, the next day. That race was the first time I have ever raced in snow and it's nothing to be excited about. I rugged up enough and was okay but when it really started pouring with rain on top of the snow fall, my legs just froze and it was like trying to turn two blocks of wood.
I did 120km and headed for the showers where I thought I'd get a choice of warm water; it's just a pity another 100 riders had the same idea. Jamie Drew had a good ride to get amongst the front and show that he was well and truly back in form.
I was still a bit tired from riding two tours back to back, the Coppi-Bartoli week, and Three Days of De Panne. I decided to have another four day recovery day block. The day after Cerami I was so nailed I was full gas sitting on 28km/h out training. I spent four days doing a maximum two hours on the bike and sleeping 12 hours a night. I started to feel better and the day before Grote Scheldeprijs - Vlaanderen I had a few hit-outs and a longer ride with a mate of mine from Sydney, Anthony Chellanor, over here riding for the Maximise cycling team. I felt good and I just wanted to open up the legs before the next day's race. It was an awesome day, the temperature up in the mid 20s and training in a short sleeve jersey and knicks [that's shorts for non-Aussies - International Ed]. A bit of a change from the snow a few days earlier.
On the start line of Scheldeprijs, a UCI 1.1, and I was really motivated to try and get in an early move. The bunch had none of that as we motored to the first section of cobbles. It was a fast race but once again my legs were bad. To make matters worse I had stomach problems and had to see the race doctor to get something to stop the runs. I got to the 160km mark and stepped off, absolutely nailed.
That night it was another long sleep. The next few days I got worse with head spins when I stood up and a feeling as if I was fainting when I was walking. I had blood tests and everything seemed okay. Another three easy days and a day totally off and I seemed okay again. Very weird and it worried me a bit.
My new room-mate has arrived from Australia, good friend and fellow Parramatta club team-mate Kate Bates. It was good to have a bit of company, even if Jamie and Annabelle Drew are next door, less than two metres away. We had a few coffee shop stops to catch up on news back in Oz.
GP Pino Cerami results
Grote Scheldeprijs - Vlaanderen results
Tour de Georgia
We headed off to the US for the Tour of Georgia after the recovery days and it was good to go back to the states. We arrived a few days in advance - to adapt to the time difference - and found great weather. We were looked after well, with classy hotel and great food. We did a few longer rides and finished with a recovery ride the day before the tour started.
Prologue - April 22: Savannah, 4.2km
At the start of the prologue you could have been forgiven for thinking it was the start of a bunch ride in Sydney with guys like Ben 'Choco' Brooks, Brent Dawson, Jeff Hopkins and Nathan 'Chookman' Russell. The mouth was running dry with saliva trying to talk so quickly and put three months of action into two minutes. Back to the race, it was a technical circuit with 16 corners and a bit of wind around. I slipped in my brand new, never-been-ridden Mavic Carbon Cosmics. I grew other legs automatically but it wasn't enough, I finished 30 seconds behind the eventual winner, fellow Aussie Nathan O'Neill. Scotty Guyton rode a good time and cornered like he was on rails to finish 12th.
Stage 1 - April 23: Augusta - Macon, 223km
This long and lumpy road stage started with three 5km local laps and finished with three 5km hilly laps.
To make sure the promoters got a swift start to the tour they put down some big coin for the first three laps at the start. US$500 for the first sprint and then increasing by US$250 every lap after. The first sprint was taken out by Henk Vogels and behind there was a big crash in the main field. As it all came back together and bunched up I attacked with Troy White (Sierra Navada). We got a good gap and stayed away for both sprint primes. He collected the second one and grabbed the third and final one totaling US$1000. We got caught 15km later, chased down by 7UP who wanted to keep it together for the first time-bonus sprint.
As I come back through the bunch I was greeted by some very happy team-mates. It was like Christmas to us; it's about AUS$1700. The bunch mainly stayed together all stage with a few attacks off the front but as we hit the local laps Dave Macca slipped off the front in a break. We hit the local laps and there was a sharp, 1km climb. The bunch split up every lap. I was caught down the back on the first lap and never made it to the front again, finally getting dropped with a group last time over and losing 1min 30sec. Henk Vogels won the stage and Alby Iacoune was top 20.
Stage 2 - April 24: Macon - Columbus, 202km
This stage was on from the gun with a flurry of attacks. The next 30km was filled with dangerous attacks, even coming from the yellow jersey, Henk Vogels, and the whole Saturn team. A few dangerous breaks looked like going but never did. In the end a few smaller teams got a break going and stayed away for a while until the Navigators team rode tempo on the front and brought it back together for a bunch kick. Italian rider Di Biase won the stage. It was a super-quick stage and was over within four hours. My legs were very average all day, but I think a lot of other guys' were too.
Stage 3 - April 25: Pine Mountain/Callaway - Rome, 222km
Another long day but this one was made longer by the change of weather. Instead of getting burnt we were rugged-up and getting poured on by the rain. Again another small break went from the smaller teams, but this time it was Saturn that rode on the front to chase it don as Navigators pulled the bluff. It was all back together as we hit the three local laps of 3km. The lap had two very sharp 300m climbs, one after the other and was made more exciting from the rain. It meant it was harder to get grip from your tires up the climbs and you were doing wheel spins. Freddy Rodriguez won the stage in a dwindled bunch kick. Scotty Guyton was in the top 10 in the stage and is now 10th on GC. Alby and Drewy are also sitting pretty up in the top of the GC sheet. I lost about two minutes in the last 10km.
Stage 4 - April 26: Dalton - Gainesville, 176km
The longest day of the tour and definitely the toughest with two hard mountain passes. My legs finally felt a little better and I was gee'd to get in the early break. I had a few goes but it was Dom Perras that made the break. A break of seven hovered around three minutes before getting caught with 60km to go. So for me it was bidon duty and looking after Alby and Scotty. Unfortunately, Drewy woke up very sick and had to pull out; a shame 'cause his form was good. The first climb was okay and I felt okay. When we hit the second climb my legs were shabby and I found a good group. The leaders climbed up there at warp speed and Alby was right there with them. I cruised in with a big group of 70 riders over the last 60km that was very hilly towards the finish. Alby was third in an eight-up sprint, Fred Rodriguez winning again and Horner taking the yellow jersey. Scotty Guyton finished ninth, a few seconds in front of the second group. Alby and Scott were eighth and tenth on GC respectively.
Stage 5 - April 27: Atlanta Circuit Race, 142km
My legs were a mess but I still had a big job ahead of me. I had to lead Scotty out for the intermediate time bonus sprints to save him from getting caught from riders behind that were only a few seconds behind him. We also had to try and get Alby to gain a few seconds to move up a few positions, but realistically Scotty is a better sprinter and we wanted him to stay in the top ten. I got Scotty to the front with 500m to go and he fought both sprints out and finished fifth each time. He didn't gain any time but didn't lose any either.
A break went off the front for the third and final sprint so that spared me another lead-out but meant I had to help chase with 30km to go. There was a dangerous rider on GC in the break and I chased until I was shelled with 10km to go, and rolled to the finish, my job done! Scotty finished sixth in the stage but 10th on GC. David Clinger from Prime Alliance won the stage so he passed Scotty on GC.Scotty would have been 11th on GC except for the bad news about World MTB champ Roland Green. He crashed in the final stage, while in third place on GC and had to pull out.
So in the end Alby was seventh and Scotty 10th on GC. I finished with some very sore legs. It was a great tour, well organised, great prize money, awesome accommodation and good weather.
Now I'm back in Belgium, I'm having a few more easy days to recover from the tour and the travel. Then off to Koln-Bonn (UCI 1.3) on Sunday in Germany. A few days back here in Belgium, then off to the Peace Race (UCI 2.2), a nine day tour through the Czech Republic, Poland and Germany. I am definitely looking forward to this one, its just a pity I have to dedicate the majority of tomorrow to hanging round at the Czech and Polish embassies to get visas. Mind you, it's been an exciting and interesting few weeks, so a little boredom won't kill me!
Cheers
Willo