Tour of Georgia - 2.3
Georgia, USA, April 22-27, 2003
Main Page Results Previous stage Next stage
Stage 2 - April 24: Macon - Columbus, 202km
Di Biase discovers America; Vogels maintains lead
By Tim Maloney, European Editor in Columbus, Georgia
Navigators rides tempo to defend Vogels' lead
Photo: © Jon Devich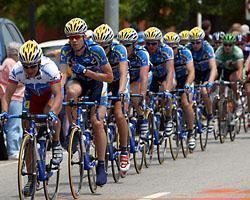 Like his countryman Cristoforo Columbo, Italian Moreno Di Biase of the Formaggi Pinzolo Fiave' team discovered America today in Stage 2 of the Tour de Georgia. Di Biase won today's stage in Columbus, Georgia with a dynamic sprint that propelled him on to the top rank of the podium. A diminutive fireplug of a sprinter, Di Biase now joins an elite club of pro riders who have won races on three continents as the Abruzzese rider has victories in Europe, Asia and now North America.
"I was very interested to come here and see what the racing was like", said 28 year old Di Biase. "It's been a great experience so far." Di Biase's victory came after an extremely rapid 202km stage from Macon, run at the incredible average speed of 49.1km/hr. "I knew I had good legs when I won the (KOM) sprint", he explained, "so I was confident that I could do well in the final. My teammates put me in a perfect position to win so I couldn't let them down."
Rollin'
Photo: © Jon Devich

Runner-up Fred Rodriguez (Vini Caldirola) had a shot at Di Biase, but his lead-out didn't go as well as he wanted. "We came into the finish but I got gapped and just couldn't close on Di Biase," said Rodriguez. Mexican sprinter Miguel Meza (Schroeder Iron) kept the Tour de Georgia sprint jersey, but got squeezed out in the final kilometer. "Some guy almost crashed me and I stayed up but lost my place," said the disappointed Meza post-race. USPS rider Floyd Landis was happier today after the finish than yesterday. "I felt good today again and I'm glad we raced harder today," said Landis.
Lead 'em out
Photo: © Jon Devich

Twenty-nine year old Aussie Henk Vogels (Navigators) was third in the sprint today and his four second time bonus kept him just ahead of Chris Horner (Saturn), while Vogels' Navigators team was tested all day with the responsibility of race leadership by Saturn. Right from the start in Macon, Saturn went on the attack and put the pressure on Navigators. "That is our strategy today," explained Saturn's directeur sportif Anje Bek. "We did a lot of work yesterday so they have do it today."
Here comes the cavalry
Photo: © Jon Devich

The first hour passed by at a breakneck pace, with 50km covered. After numerous multiple attacks, Saturn finally made one stick as Phil Zajicek made the right move and was joined by Erik Saunders (OFoto-Lombardi Sports) and Troy White (Sierra Nevada-Clif Bar) after 55km. Sitting sixth on GC, Zajicek became leader on the road as the trio pounded along the Johnnie L. Caldwell Highway. Up and down all day on another tough stage, the break headed towards the feed zone and gained a maximum lead of 2.50 after 90km, but Zajicek's dreams of glory began to fade as Navigators upped the pace and began to close on the leading trio as the road climbed the towards Appalachian fall line.
Horner attacks
Photo: © Jon Devich

After the feed zone, the Navigators-led group sucked up the break in Manchester as the Tour de Georgia peloton continued its torrid pace. As the group raced through the resort town of Warm Springs towards the sprint at the Little White House, Chris Horner's power move grabbed him sprint points and another three-second time bonus, putting him equal with Vogels for the race lead. Di Biase then powered to the KOM sprint in Warm Springs and as Columbus became ever closer, Sacramento, CA rider Russell Hamby (OFoto-Lombardi Sports) made the second break of the day for the ambitious San Francisco based team. Hamby gained up to 45 seconds in Waverly Hall 30km from Columbus, but when Eric Wohlberg (Saturn) tried to bridge across to the 24 year old Hamby, all hell broke loose. No way were Navigators going to let Saturn danger-man Wohlberg loose and their powerful chase pulled back both riders.
Approaching Columbus in the hamlet of Ellerslie Depot after 160km, Jason McCartney (7-Up) decided to try his hand and made a brave solo move, but the sprint was winding up behind and as the road began to descend down to the Chattahoochee River valley, the peloton was gaining momentum very fast. Vini Caldirola and Navigators were riding on the front and McCartney was swallowed up. As the group charged into Columbus's downtown and hit the red bricks of Broadway, Di Biase and his Formaggi Pinzolo Fiave' boys moved up and executed their leadout perfectly. The Italian came off his teammate Uros Murn's wheel and powered to the win.
Not the parcours
Photo: © Jon Devich

With thunderstorms expected for Friday's Stage 3, a 222km rolling ride from scenic Callaway Gardens in Pine Mountain to Rome, the bad weather could change the complexion of the Tour de Georgia as Saturn's directeur sportif Anje Bek will be looking to keep the pressure on Navigators to defend Vogel's lead, as will Rabobank. Up until now the Dutch team has been quiet, but both Marten Den Bakker and Remmert Wielinga like cold and wet weather conditions.
Read the Cyclingnews Live Coverage of this stage
Photography
Images by Jonathan Devich/thefastrack.com
Results
1 Moreno Di Biase (Ita) Formaggi Pinzolo Fiavé                4.07.45
2 Fred Rodriguez (USA) Caldirola-Sidermec-Saunier Duval
3 Henk Vogels (Aus) Navigators Cycling Team
4 Charles Dionne (Can) Saturn Cycling Team
5 Kevin Monahan (USA) 7UP / Maxxis
6 Matt Dubberley (USA) Sierra Nevada-Clif Bar
7 Uros Murn (Slo) Formaggi Pinzolo Fiavé
8 Alex Candelario (USA) Prime Alliance Cycling Team
9 Jeff Hopkins (Aus) Jittery Joe's Cycling Team
10 Bobbie Traksel (Ned) Rabobank
11 David Clinger (USA) Prime Alliance Cycling Team
12 Oscar Pineda (Gua) 7UP / Maxxis
13 Antonio Cruz (USA) US Postal presented by Berry Floor
14 Massimiliano Mori (Ita) Formaggi Pinzolo Fiavé
15 Jeff Louder (USA) Navigators Cycling Team
16 Roman Peter (Swi) Ofoto-Lombardi Sports
17 Gustavo Artacho (Arg) Colavita Bolla
18 Lionel Syne (Bel) Webcor Cycling Team
19 David O'Loughlin (Irl) Ofoto-Lombardi Sports
20 Russell Hambey (USA) Ofoto-Lombardi Sports
21 Gabriele Balducci (Ita) Caldirola-Sidermec-Saunier Duval
22 Benjamin Brooks (Aus) Jelly Belly
23 Nathan Russell (Aus) Colavita Bolla
24 Tim Larkin (USA) Ofoto-Lombardi Sports
25 Andy Bajadali (USA) Ofoto-Lombardi Sports
26 Eric Wohlberg (Can) Saturn Cycling Team
27 Chris Fisher (USA) Jelly Belly
28 Jeff Angermann (USA) Webcor Cycling Team
29 Jos Pronk (Ned) Dutch National Team
30 Kirk Albers (USA) Jelly Belly
31 Brent Dawson (Aus) Jelly Belly
32 Wouters Mol (Ned) Dutch National Team
33 Miguel Angel Meza Flores (Mex) Schroeder Iron Cycling Team
34 Chad Hartley (USA) Jittery Joe's Cycling Team
35 Mauro Radaelli (Ita) Caldirola-Sidermec-Saunier Duval
36 Jacob Erker (Can) Schroeder Iron Cycling Team
37 Christopher Pic (USA) 7UP / Maxxis
38 Vincent Van Rijn (Ned) Dutch National Team
39 Niko Biskner (USA) Sierra Nevada-Clif Bar
40 David De La Fuente (Spa) Caldirola-Sidermec-Saunier Duval
41 Maarten Den Bakker (Ned) Rabobank
42 Douglas Ziewacz (USA) 7UP / Maxxis
43 Jürgen Landrie (Bel) Flanders-IteamNova.com
44 Thorwald Veneberg (Ned) Rabobank
45 Chann McRae (USA) Schroeder Iron Cycling Team
46 Antonio Rizzi (Ita) Formaggi Pinzolo Fiavé
47 Ronald Mutsaars (Ned) Rabobank
48 Damon Kluck (USA) US Postal presented by Berry Floor
49 Grischa Niermann (Ger) Rabobank
50 Ben Jacques-Maynes (USA) Sierra Nevada-Clif Bar
51 Jason Bausch (USA) Schroeder Iron Cycling Team
52 Dirk Peetoom (Ned) Dutch National Team
53 Adam Livingston (USA) Schroeder Iron Cycling Team
54 Benjamin Sharp (USA) West Virginia Cycling Team
55 Kevin De Weert (Bel) Rabobank
56 Stirling Magnell (USA) Sierra Nevada-Clif Bar
57 Michael Barry (Can) US Postal presented by Berry Floor
58 Mark Fitzgerald (USA) Jelly Belly
59 David Zabriskie (USA) US Postal presented by Berry Floor
60 David McKenzie (Aus) Flanders-IteamNova.com
61 Jonathan Vaughters (USA) Prime Alliance Cycling Team
62 Todd Littlehales (USA) Sierra Nevada-Clif Bar
63 Vassili Davidenko (Rus) Navigators Cycling Team
64 Ciaran Power (Irl) Navigators Cycling Team
65 Svein Tuft (Can) Prime Alliance Cycling Team
66 Jamie Drew (Aus) Flanders-IteamNova.com
67 Erik Saunders (USA) Ofoto-Lombardi Sports
68 Alan Iacuone (Aus) Flanders-IteamNova.com
69 Phil Zajicek (USA) Saturn Cycling Team
70 Jon Erdelyi (USA) Ofoto-Lombardi Sports
71 Steve Larsen (USA) Webcor Cycling Team
72 Brice Jones (USA) 7UP / Maxxis
73 Scott Guyton (NZl) Flanders-IteamNova.com
74 Matt Decanio (USA) Prime Alliance Cycling Team
75 John Lieswyn (USA) 7UP / Maxxis
76 Addy Engels (Ned) Rabobank
77 Scottie Weiss (USA) West Virginia Cycling Team
78 Mariano Friedick (USA) Jelly Belly
79 Mark McCormack (USA) Saturn Cycling Team
80 Mauro Gerosa (Ita) Caldirola-Sidermec-Saunier Duval
81 Derek Wilkerson (USA) Jelly Belly
82 Danny Pate (USA) Prime Alliance Cycling Team
83 Dion Murk (Ned) Dutch National Team
84 Shawn Willard (USA) Colavita Bolla
85 John Peters (USA) Prime Alliance Cycling Team
86 Adham Sbeih (USA) Sierra Nevada-Clif Bar
87 Marco Gilli (Ita) Caldirola-Sidermec-Saunier Duval
88 Patrick Heaney (USA) Webcor Cycling Team
89 Dane Jankowiak (USA) Schroeder Iron Cycling Team
90 Conor Hurley (USA) West Virginia Cycling Team
91 Tom Danielson (USA) Saturn Cycling Team
92 Jonathan Hamblen (USA) West Virginia Cycling Team
93 Jonathan Sundt (USA) Jittery Joe's Cycling Team
94 Christopher Baldwin (USA) Navigators Cycling Team
95 Brian Forbes (USA) Jelly Belly
96 Jesse Lawler (USA) Jittery Joe's Cycling Team
97 Ted Huang (USA) Webcor Cycling Team
98 Nathan O'Neill (Aus) Saturn Cycling Team
99 David Wenger (USA) West Virginia Cycling Team
100 Pete Knudsen (USA) Schroeder Iron Cycling Team
101 Laurens Ten Dam (Ned) Dutch National Team
102 Dominique Perras (Can) Flanders-IteamNova.com
103 Roland Green (Can) US Postal presented by Berry Floor
104 Saul Raisin (USA) Ofoto-Lombardi Sports
105 Tyler Wren (USA) Colavita Bolla
106 Trent Wilson (Aus) Flanders-IteamNova.com
107 Floyd Landis (USA) US Postal presented by Berry Floor
108 Robbie Ventura (USA) US Postal presented by Berry Floor
109 Markus Wimmer (Aut) Formaggi Pinzolo Fiavé
110 Andrea Masciarelli (Ita) Caldirola-Sidermec-Saunier Duval
111 Remmert Wielinga (Ned) Rabobank
112 Jake Rosenbarger (USA) Jittery Joe's Cycling Team
113 Oleg Grishkine (Rus) Navigators Cycling Team
114 Gregory Henderson (NZl) 7UP / Maxxis
115 Tim Johnson (USA) Saturn Cycling Team
116 Massimo Amichetti (Ita) Formaggi Pinzolo Fiavé
117 James Mattis (USA) Webcor Cycling Team
118 Chris Horner (USA) Saturn Cycling Team
119 Michael H. Luther (USA) Colavita Bolla                       0.30
120 Chris Wherry (USA) Navigators Cycling Team
121 Aaron Olsen (USA) Schroeder Iron Cycling Team                0.35
122 Floris Goesinnen (Ned) Dutch National Team
123 Matteo Cappe' (Ita) Formaggi Pinzolo Fiavé
124 Glen Mitchell (NZl) Navigators Cycling Team
125 David Wyandt (USA) Webcor Cycling Team                       1.35
126 Jason Mccartney (USA) 7UP / Maxxis                           2.12
127 Karl Bordine (USA) Colavita Bolla                           15.18
128 Farnoud Van Groen (Ned) Dutch National Team
129 Chris Baumann (USA) Sierra Nevada-Clif Bar
130 Sebastian Alexandre (USA) Colavita Bolla
131 Andrew Deters (USA) Jittery Joe's Cycling Team
132 Dario Falquier (USA) Webcor Cycling Team                    17.31
133 Troy White (USA) Sierra Nevada-Clif Bar                     18.48
134 Wesley Seigler (USA) West Virginia Cycling Team             22.56
135 Jacob Fetty (USA) West Virginia Cycling Team
136 Michael Jones (USA) West Virginia Cycling Team
 
Teams
 
1 Formaggi Pinzolo                                           12.23.15
2 7 Up Maxxis
3 OFOTO Lombardi Sports
4 Vini Caldiroal Sidermec
5 Jelly Belly Carlsbad Clothing
6 Prime Alliance
7 Navigators
8 Sierra Nevada Clif Bar
9 Rabobank
10 Saturn
11 Dutch National
12 Schroeder Iron
13 Webcor
14 US Postal Service
15 Colavita Bolla
16 Jittery Joe:s Coffee
17 Flanders Iteamnova
18 West Virginia Pro Cycling
 
General classification after stage 2
 
1 Henk Vogels (Aus) Navigators Cycling Team                   9.40.57
2 Chris Horner (USA) Saturn Cycling Team                         0.04
3 Nathan O'Neill (Aus) Saturn Cycling Team                       0.05
4 John Lieswyn (USA) 7UP / Maxxis                                0.12
5 Phil Zajicek (USA) Saturn Cycling Team                         0.13
6 Eric Wohlberg (Can) Saturn Cycling Team                        0.14
7 Christopher Baldwin (USA) Navigators Cycling Team              0.16
8 Danny Pate (USA) Prime Alliance Cycling Team
9 Roland Green (Can) US Postal presented by Berry Floor
10 David Zabriskie (USA) US Postal presented by Berry Floor      0.17
11 Miguel Angel Meza Flores (Mex) Schroeder Iron Cycling Team
12 Scott Guyton (NZl) Flanders-IteamNova.com
13 Mark McCormack (USA) Saturn Cycling Team                      0.18
14 Tom Danielson (USA) Saturn Cycling Team
15 Vassili Davidenko (Rus) Navigators Cycling Team
16 Jeff Louder (USA) Navigators Cycling Team                     0.19
17 Michael Barry (Can) US Postal presented by Berry Floor
18 David Clinger (USA) Prime Alliance Cycling Team
19 Matt Decanio (USA) Prime Alliance Cycling Team                0.20
20 Jacob Erker (Can) Schroeder Iron Cycling Team                 0.21
21 David O'Loughlin (Irl) Ofoto-Lombardi Sports
22 Brent Dawson (Aus) Jelly Belly                                0.22
23 Tim Larkin (USA) Ofoto-Lombardi Sports
24 Douglas Ziewacz (USA) 7UP / Maxxis                            0.23
25 Andy Bajadali (USA) Ofoto-Lombardi Sports                     0.24
26 Chann McRae (USA) Schroeder Iron Cycling Team
27 Ben Jacques-Maynes (USA) Sierra Nevada-Clif Bar
28 Kevin Monahan (USA) 7UP / Maxxis                              0.25
29 Erik Saunders (USA) Ofoto-Lombardi Sports
30 Alex Candelario (USA) Prime Alliance Cycling Team             0.26
31 Steve Larsen (USA) Webcor Cycling Team
32 Jamie Drew (Aus) Flanders-IteamNova.com
33 Jason Bausch (USA) Schroeder Iron Cycling Team
34 Brice Jones (USA) 7UP / Maxxis
35 Saul Raisin (USA) Ofoto-Lombardi Sports
36 Ciaran Power (Irl) Navigators Cycling Team                    0.27
37 Chris Fisher (USA) Jelly Belly
38 John Peters (USA) Prime Alliance Cycling Team
39 Uros Murn (Slo) Formaggi Pinzolo Fiavé                        0.28
40 Grischa Niermann (Ger) Rabobank
41 Mariano Friedick (USA) Jelly Belly
42 Roman Peter (Swi) Ofoto-Lombardi Sports
43 Adam Livingston (USA) Schroeder Iron Cycling Team             0.29
44 Pete Knudsen (USA) Schroeder Iron Cycling Team
45 Damon Kluck (USA) US Postal presented by Berry Floor
46 Mark Fitzgerald (USA) Jelly Belly
47 Jonathan Sundt (USA) Jittery Joe's Cycling Team
48 Alan Iacuone (Aus) Flanders-IteamNova.com
49 Antonio Cruz (USA) US Postal presented by Berry Floor
50 Floyd Landis (USA) US Postal presented by Berry Floor
51 Benjamin Brooks (Aus) Jelly Belly                             0.30
52 Ronald Mutsaars (Ned) Rabobank
53 Scottie Weiss (USA) West Virginia Cycling Team
54 Svein Tuft (Can) Prime Alliance Cycling Team
55 Chad Hartley (USA) Jittery Joe's Cycling Team                 0.31
56 Christopher Pic (USA) 7UP / Maxxis                            0.32
57 Dane Jankowiak (USA) Schroeder Iron Cycling Team
58 Kevin De Weert (Bel) Rabobank                                 0.33
59 Derek Wilkerson (USA) Jelly Belly
60 Mauro Gerosa (Ita) Caldirola-Sidermec-Saunier Duval
61 Charles Dionne (Can) Saturn Cycling Team
62 Maarten Den Bakker (Ned) Rabobank
63 Antonio Rizzi (Ita) Formaggi Pinzolo Fiavé                    0.35
64 Jesse Lawler (USA) Jittery Joe's Cycling Team
65 Mauro Radaelli (Ita) Caldirola-Sidermec-Saunier Duval
66 Remmert Wielinga (Ned) Rabobank                               0.36
67 Fred Rodriguez (USA) Caldirola-Sidermec-Saunier Duval
68 Russell Hambey (USA) Ofoto-Lombardi Sports
69 Thorwald Veneberg (Ned) Rabobank                              0.37
70 Gabriele Balducci (Ita) Caldirola-Sidermec-Saunier Duval      0.38
71 Addy Engels (Ned) Rabobank
72 Dominique Perras (Can) Flanders-IteamNova.com                 0.41
73 Nathan Russell (Aus) Colavita Bolla                           0.42
74 David De La Fuente (Spa) Caldirola-Sidermec-Saunier Duval
75 Vincent Van Rijn (Ned) Dutch National Team                    0.43
76 Chris Wherry (USA) Navigators Cycling Team                    0.50
77 Glen Mitchell (NZl) Navigators Cycling Team                   0.57
78 Massimiliano Mori (Ita) Formaggi Pinzolo Fiavé                1.13
79 Jonathan Vaughters (USA) Prime Alliance Cycling Team          1.15
80 Andrea Masciarelli (Ita) Caldirola-Sidermec-Saunier Duval     1.18
81 Dion Murk (Ned) Dutch National Team                           1.30
82 Oleg Grishkine (Rus) Navigators Cycling Team
83 Adham Sbeih (USA) Sierra Nevada-Clif Bar
84 Oscar Pineda (Gua) 7UP / Maxxis                               1.34
85 Gustavo Artacho (Arg) Colavita Bolla                          1.35
86 Jürgen Landrie (Bel) Flanders-IteamNova.com                   1.37
87 Marco Gilli (Ita) Caldirola-Sidermec-Saunier Duval            1.39
88 Matt Dubberley (USA) Sierra Nevada-Clif Bar                   1.44
89 Gregory Henderson (NZl) 7UP / Maxxis                          1.48
90 Jonathan Hamblen (USA) West Virginia Cycling Team             1.50
91 David Wenger (USA) West Virginia Cycling Team                 1.52
92 Conor Hurley (USA) West Virginia Cycling Team
93 James Mattis (USA) Webcor Cycling Team                        1.54
94 Jake Rosenbarger (USA) Jittery Joe's Cycling Team             1.56
95 Bobbie Traksel (Ned) Rabobank                                 1.57
96 Patrick Heaney (USA) Webcor Cycling Team
97 Jeff Angermann (USA) Webcor Cycling Team
98 Massimo Amichetti (Ita) Formaggi Pinzolo Fiavé                1.58
99 Jos Pronk (Ned) Dutch National Team                           1.59
100 Benjamin Sharp (USA) West Virginia Cycling Team              2.00
101 Todd Littlehales (USA) Sierra Nevada-Clif Bar
102 Trent Wilson (Aus) Flanders-IteamNova.com                    2.01
103 Laurens Ten Dam (Ned) Dutch National Team                    2.03
104 Jeff Hopkins (Aus) Jittery Joe's Cycling Team                2.04
105 Ted Huang (USA) Webcor Cycling Team                          2.06
106 Shawn Willard (USA) Colavita Bolla                           2.08
107 Wouters Mol (Ned) Dutch National Team                        2.09
108 Lionel Syne (Bel) Webcor Cycling Team                        2.10
109 Aaron Olsen (USA) Schroeder Iron Cycling Team                2.15
110 Tim Johnson (USA) Saturn Cycling Team                        2.26
111 Michael H. Luther (USA) Colavita Bolla                       2.31
112 Robbie Ventura (USA) US Postal presented by Berry Floor      2.32
113 David McKenzie (Aus) Flanders-IteamNova.com                  2.34
114 Kirk Albers (USA) Jelly Belly                                2.35
115 Brian Forbes (USA) Jelly Belly                               2.36
116 Dirk Peetoom (Ned) Dutch National Team                       2.44
117 Jon Erdelyi (USA) Ofoto-Lombardi Sports                      2.46
118 Markus Wimmer (Aut) Formaggi Pinzolo Fiavé                   2.57
119 Floris Goesinnen (Ned) Dutch National Team                   3.25
120 David Wyandt (USA) Webcor Cycling Team                       3.37
121 Niko Biskner (USA) Sierra Nevada-Clif Bar                    3.50
122 Stirling Magnell (USA) Sierra Nevada-Clif Bar                3.53
123 Tyler Wren (USA) Colavita Bolla                              4.27
124 Jason Mccartney (USA) 7UP / Maxxis                           4.55
125 Moreno Di Biase (Ita) Formaggi Pinzolo Fiavé                 5.47
126 Matteo Cappe' (Ita) Formaggi Pinzolo Fiavé                   6.14
127 Sebastian Alexandre (USA) Colavita Bolla                    17.56
128 Farnoud Van Groen (Ned) Dutch National Team                 17.59
129 Chris Baumann (USA) Sierra Nevada-Clif Bar                  18.17
130 Troy White (USA) Sierra Nevada-Clif Bar                     19.18
131 Karl Bordine (USA) Colavita Bolla                           19.42
132 Andrew Deters (USA) Jittery Joe's Cycling Team              21.30
133 Dario Falquier (USA) Webcor Cycling Team                    22.14
134 Michael Jones (USA) West Virginia Cycling Team              23.17
135 Wesley Seigler (USA) West Virginia Cycling Team             25.03
136 Jacob Fetty (USA) West Virginia Cycling Team                25.35