Tour of Georgia - 2.3
Georgia, USA, April 22-27, 2003
Main Page Results Previous stage
Stage 5 - April 27: Atlanta Circuit Race, 142km
Chris Horner & Team Saturn dominate Tour de Georgia
Michael Barry
Photo: © Jon Devich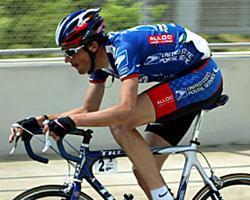 Rodriguez comes close; Clinger grabs great stage win in Atlanta
By Tim Maloney, European Editor in Atlanta, Georgia
In his biggest win to date, Chris Horner and his Saturn team battled with Henk Vogel's Navigators team and Fred Rodriguez's Vini Caldirola-Sidermec squad all through the inaugural edition of the Tour de Georgia and came out on top. Although they are registered with the UCI as a Division III squad, Saturn rode like a Division I team all week, making all the right moves at just the right times and confirming their domination of the US racing scene this season.
For Tour de Georgia GC winner and best climber Chris Horner, the satisfaction today was doubly sweet. Not only did Horner power to the biggest win of his career, the outspoken freckle-faced 31 year old rider from Bend, Oregon was able to finally exorcise the ghosts left over from the 1996 Olympic trials. "The Tour de Georgia was really a great race to win; I was finally able to show what kind of a rider I really am." Horner said that he was still bitter after his superb performance at the 1996 Olympic trials in Seattle and his non-selection for the squad. The controversial decision to select Greg Randolph over Horner has stuck in his craw ever since. "I learned then that there were politics in sport just like in life and since then, every race I win, every time I top the national rankings, I'm trying to prove a point." Today, despite a tough battle with Vini Caldirola-Sidermec's Fred Rodriguez, Horner did prove once and for all that he's the premier pro bike racer on the American domestic scene.
Into the light
Photo: © Jon Devich

But Horner couldn't do it alone. His Saturn team provided superb back-up all through the Tour de Georgia. Aussie Nathan O'Neill, like Horner and Tom Danielson newcomers on Team Saturn this year told Cyclingnews, "Today's final stage was a nervous day for us; we did the calculations about how far Fred Rodriguez was behind Chris and our game plan was to defend for Chris all the way." O'Neill also paid credit to Saturn's new director Anje Bek. "I can't explain how Anje has brought our team together exactly... he is so easy-going and a great guy; but he commands so much respect too. Anje is approachable but we know he's the boss."
Standing next to the 28 year old O'Neill in the post-race melee was 23 year old Tom Danielson, who was soaking all the new experiences in. "This is a big build-up for the Peace Race for me. I came here to learn and this was not a race for me; it was fast and flat, everything I'm absolutely not good at! The climbs here were not very hard so I'm looking forward to the Peace Race. There are some big climbs there and I want to race them really well." Based on Danielson's climbing on Saturday's Stage 4, the will be little peace in the Peace Race this when the road begins to ascend.
Saul Raisin
Photo: © Jon Devich

GC runner-up, sprint leader and double stage winner Fred Rodriguez clearly lived up to his nickname Fast Freddy this week. Rodriguez finished just 7 seconds behind Horner on GC thanks to time bonuses, after being penalized 20 seconds for briefly motor-pacing in stage 1 while trying to regain the bunch after a crash and wheel change on the Atlanta starting circuit. Fast Freddy was certainly happy with his performance at the Tour de Georgia but disappointed at the way the situation worked out. "If I hadn't gotten the time bonus and was closer on GC, I'm sure Saturn would have attacked me all over the place. But it's too bad that the race officials don't understand that this penalty was not appropriate. The crash happened in the first two miles of the stage and it didn't affect the outcome of the race at all. I hope that these officials can get some experience in Europe someday so they understand what bike racing is all about."
Rodriguez's direttore sportivo Vittorio Algeri echoed his rider's remarks, saying, "This was a great race; so well organized and managed. However, the penalty that was given to Fred was an exaggeration. He crashed on the non-neutral circuits and since the peloton was moving at 50km/h, he might have had to chase all day to get back on. It's normal in European racing to pace your riders back in this situation; you get a fine but not a penalty." With such a close race, Rodriguez's 20 second penalty did effect the final outcome of the Tour de Georgia; had this not occurred, the four-way racing between Saturn, Navigators, Vini Caldirola and USPS would have been a more exciting, closer race.
Navigator's Henk Vogels was positive after we spoke to him post-race, saying, "I've been going flat out for three months now. Today maybe I was a little tired; the team gave me a perfect lead-out and it was a perfect sprint for me." The Georgia tour wrapped up a relatively successful spring season for the ambitious American squad which will now focus on the USPRO championships in June. "We would like to go back to Europe again this year," explained team director Ed Beamon. "It depends on our budget so we'll see if August works for us."
Saturnalia
Photo: © Jon Devich

USPS had a respectable performance at the Tour de Georgia; Roland Green crashed out and abandoned, but Michael Barry and Dave Zabriskie were fourth and fifth respectively. Barry's dynamic attacking at the end of Stage 4 and Zabriskie's consistency were notable, while Floyd Landis is clearly on the comeback trail in only his second race of the season. Landis was 28th on GC and ended up powering a break on Stage 4 for 100km before being caught by Saturn's onslaught.
Dave Clinger's big win in today's final in Atlanta was a much needed break for the Prime Alliance squad. Clinger is great in uphill sprints and his squad put it down today with a perfect lead-out train that propelled the Woodland Hills, CA rider to victory. "I've been behind this season a bit," said Clinger. "I had knee surgery in the off season, and I've been a little slow to come around. But everything went perfectly for us today." Both Fred Rodriguez and third place Moreno Di Biase of the Formaggio Pinzolo Fiave' team were boxed until the final meters of the sprint, but Clinger would have been hard to beat in any case.
Colourful
Photo: © Jon Devich

Kudos to Flanders-Iteamnova, a small team that rode big in the Tour de Georgia. With two riders in the top 10 on GC (seventh-placed Alan Iacuone and Scott Guyton in tenth), this squad rode smart, stayed out of trouble and got the job done. John Lieswyn and his 7-Up / Maxxis team also cracked the top 10 on GC, as the cagy, experienced Lieswyn was always there except for the key break on Stage 4.
Rabobank may have underestimated the competition at the Tour de Georgia; directeur sportif Frans Maassen was very impressed with the competition at the American race. More props to consistent Ofoto-Lombardi Sports team that finished fourth in the teams competition. Tim Larkin, Irishman David O'Loughlin and best young rider Saul Raisin were all in the top 20 for a surprising, consistent performance at the Georgia tour.
Seven years after the Tour DuPont disappeared from the scene, the Tour de Georgia has emerged as an international stage race with a future. Despite some expected minor problems, the race went very smoothly for a first year event of this magnitude. The tour brought big-time bike racing to Georgia for the first time since the 1996 Olympics and promises much for 2004.
Photography
Images by Jonathan Devich/thefastrack.com
Results
1 David Clinger (USA) Prime Alliance Cycling Team              3.03.40
2 Fred Rodriguez (USA) Caldirola-Sidermec-Saunier Duval
3 Moreno Di Biase (Ita) Formaggi Pinzolo Fiavé
4 Miguel Angel Meza Flores (Mex) Schroeder Iron Cycling Team
5 Henk Vogels (Aus) Navigators Cycling Team
6 Scott Guyton (NZl) Flanders-IteamNova.com
7 Alex Candelario (USA) Prime Alliance Cycling Team
8 Troy White (USA) Sierra Nevada-Clif Bar
9 Uros Murn (Slo) Formaggi Pinzolo Fiavé
10 Chris Horner (USA) Saturn Cycling Team
11 Brice Jones (USA) 7UP / Maxxis
12 Erik Saunders (USA) Ofoto-Lombardi Sports
13 Chris Fisher (USA) Jelly Belly
14 Todd Littlehales (USA) Sierra Nevada-Clif Bar
15 Shawn Willard (USA) Colavita Bolla
16 Kevin De Weert (Bel) Rabobank
17 Addy Engels (Ned) Rabobank
18 Kevin Monahan (USA) 7UP / Maxxis
19 Conor Hurley (USA) West Virginia Cycling Team
20 Chad Hartley (USA) Jittery Joe's Cycling Team
21 Nathan O'Neill (Aus) Saturn Cycling Team
22 Matt Dubberley (USA) Sierra Nevada-Clif Bar
23 Grischa Niermann (Ger) Rabobank
24 Dion Murk (Ned) Dutch National Team
25 David McKenzie (Aus) Flanders-IteamNova.com
26 Brent Dawson (Aus) Jelly Belly
27 Jürgen Landrie (Bel) Flanders-IteamNova.com
28 Scottie Weiss (USA) West Virginia Cycling Team
29 Niko Biskner (USA) Sierra Nevada-Clif Bar
30 Christopher Pic (USA) 7UP / Maxxis
31 Jon Erdelyi (USA) Ofoto-Lombardi Sports
32 Vincent Van Rijn (Ned) Dutch National Team
33 Michael Barry (Can) US Postal presented by Berry Floor
34 Derek Wilkerson (USA) Jelly Belly
35 David O'Loughlin (Irl) Ofoto-Lombardi Sports
36 Thorwald Veneberg (Ned) Rabobank
37 Vassili Davidenko (Rus) Navigators Cycling Team
38 Antonio Cruz (USA) US Postal presented by Berry Floor
39 Matt Decanio (USA) Prime Alliance Cycling Team
40 Jeff Angermann (USA) Webcor Cycling Team
41 Jacob Erker (Can) Schroeder Iron Cycling Team
42 Mauro Gerosa (Ita) Caldirola-Sidermec-Saunier Duval
43 Mark Fitzgerald (USA) Jelly Belly
44 Gregory Henderson (NZl) 7UP / Maxxis
45 Saul Raisin (USA) Ofoto-Lombardi Sports
46 Phil Zajicek (USA) Saturn Cycling Team
47 Tim Larkin (USA) Ofoto-Lombardi Sports
48 Jonathan Hamblen (USA) West Virginia Cycling Team
49 Chann McRae (USA) Schroeder Iron Cycling Team
50 Ronald Mutsaars (Ned) Rabobank
51 James Mattis (USA) Webcor Cycling Team
52 Jake Rosenbarger (USA) Jittery Joe's Cycling Team
53 Alan Iacuone (Aus) Flanders-IteamNova.com
54 John Lieswyn (USA) 7UP / Maxxis
55 Brian Forbes (USA) Jelly Belly
56 Tom Danielson (USA) Saturn Cycling Team
57 Steve Larsen (USA) Webcor Cycling Team
58 David Zabriskie (USA) US Postal presented by Berry Floor
59 Eric Wohlberg (Can) Saturn Cycling Team
60 Kirk Albers (USA) Jelly Belly
61 Maarten Den Bakker (Ned) Rabobank
62 Tyler Wren (USA) Colavita Bolla
63 Adam Livingston (USA) Schroeder Iron Cycling Team
64 Floyd Landis (USA) US Postal presented by Berry Floor
65 Gustavo Artacho (Arg) Colavita Bolla
66 Danny Pate (USA) Prime Alliance Cycling Team
67 Laurens Ten Dam (Ned) Dutch National Team
68 Benjamin Brooks (Aus) Jelly Belly
69 Andy Bajadali (USA) Ofoto-Lombardi Sports
70 Adham Sbeih (USA) Sierra Nevada-Clif Bar
71 Jeff Louder (USA) Navigators Cycling Team
72 Andrea Masciarelli (Ita) Caldirola-Sidermec-Saunier Duval
73 David De La Fuente (Spa) Caldirola-Sidermec-Saunier Duval
74 Patrick Heaney (USA) Webcor Cycling Team
75 John Peters (USA) Prime Alliance Cycling Team
76 Ben Jacques-Maynes (USA) Sierra Nevada-Clif Bar
77 Mauro Radaelli (Ita) Caldirola-Sidermec-Saunier Duval
78 Mariano Friedick (USA) Jelly Belly
79 Dane Jankowiak (USA) Schroeder Iron Cycling Team
80 Tim Johnson (USA) Saturn Cycling Team
81 Massimiliano Mori (Ita) Formaggi Pinzolo Fiavé
82 Svein Tuft (Can) Prime Alliance Cycling Team
83 Dominique Perras (Can) Flanders-IteamNova.com
84 Douglas Ziewacz (USA) 7UP / Maxxis                             0.25
85 Gabriele Balducci (Ita) Caldirola-Sidermec-Saunier Duval       0.28
86 Mark McCormack (USA) Saturn Cycling Team
87 Jonathan Vaughters (USA) Prime Alliance Cycling Team
88 Pete Knudsen (USA) Schroeder Iron Cycling Team
89 Jos Pronk (Ned) Dutch National Team                            0.46
90 Chris Baumann (USA) Sierra Nevada-Clif Bar                     0.51
91 Dirk Peetoom (Ned) Dutch National Team                         1.09
92 Ciaran Power (Irl) Navigators Cycling Team                     1.14
93 Christopher Baldwin (USA) Navigators Cycling Team
94 Jason Bausch (USA) Schroeder Iron Cycling Team                 1.20
95 Wouters Mol (Ned) Dutch National Team                          1.33
96 David Wenger (USA) West Virginia Cycling Team                  1.41
97 Aaron Olsen (USA) Schroeder Iron Cycling Team
98 Marco Gilli (Ita) Caldirola-Sidermec-Saunier Duval             1.50
99 Markus Wimmer (Aut) Formaggi Pinzolo Fiavé
100 Trent Wilson (Aus) Flanders-IteamNova.com                     6.46
101 Jason McCartney (USA) 7UP / Maxxis
 
Teams
 
1 Sierra Nevada Clif Bar                                       9.11.00
2 Prime Alliance
3 Rabobank
4 Flanders Iteamnova
5 7 Up Maxxis
6 Jelly Belly Carlsbad Clothing
7 Saturn
8 OFOTO Lombardi Sports
9 Formaggi Pinzolo
10 Schroeder Iron
11 West Virginia Pro Cycling
12 Navigators
13 Vini Caldiroal Sidermec
14 Dutch National
15 US Postal Service
16 Colavita Bolla
17 Webcor
 
General classification after stage 5
 
1 Chris Horner (USA) Saturn Cycling Team                      23.01.36
2 Fred Rodriguez (USA) Caldirola-Sidermec-Saunier Duval           0.07
3 Nathan O'Neill (Aus) Saturn Cycling Team                        0.13
4 Michael Barry (Can) US Postal presented by Berry Floor          0.22
5 David Zabriskie (USA) US Postal presented by Berry Floor        0.25
6 Tom Danielson (USA) Saturn Cycling Team                         0.26
7 Alan Iacuone (Aus) Flanders-IteamNova.com                       0.28
8 David Clinger (USA) Prime Alliance Cycling Team                 1.29
9 John Lieswyn (USA) 7UP / Maxxis                                 1.38
10 Scott Guyton (NZl) Flanders-IteamNova.com
11 Danny Pate (USA) Prime Alliance Cycling Team                   1.41
12 Phil Zajicek (USA) Saturn Cycling Team                         1.42
13 Jeff Louder (USA) Navigators Cycling Team                      1.45
14 Tim Larkin (USA) Ofoto-Lombardi Sports
15 Jacob Erker (Can) Schroeder Iron Cycling Team                  1.47
16 David O'Loughlin (Irl) Ofoto-Lombardi Sports
17 Chann McRae (USA) Schroeder Iron Cycling Team                  1.50
18 Ben Jacques-Maynes (USA) Sierra Nevada-Clif Bar
19 Saul Raisin (USA) Ofoto-Lombardi Sports                        1.52
20 Uros Murn (Slo) Formaggi Pinzolo Fiavé                         1.54
21 Grischa Niermann (Ger) Rabobank
22 Chad Hartley (USA) Jittery Joe's Cycling Team                  1.57
23 Kevin De Weert (Bel) Rabobank                                  1.59
24 Steve Larsen (USA) Webcor Cycling Team
25 Mauro Gerosa (Ita) Caldirola-Sidermec-Saunier Duval
26 Vincent Van Rijn (Ned) Dutch National Team                     2.09
27 Mauro Radaelli (Ita) Caldirola-Sidermec-Saunier Duval          2.10
28 Floyd Landis (USA) US Postal presented by Berry Floor          2.13
29 Ronald Mutsaars (Ned) Rabobank                                 2.16
30 Andy Bajadali (USA) Ofoto-Lombardi Sports                      2.19
31 Thorwald Veneberg (Ned) Rabobank                               2.59
32 Andrea Masciarelli (Ita) Caldirola-Sidermec-Saunier Duval      3.03
33 Jonathan Hamblen (USA) West Virginia Cycling Team              3.25
34 Jonathan Vaughters (USA) Prime Alliance Cycling Team           9.32
35 Henk Vogels (Aus) Navigators Cycling Team                     12.28
36 Matt Decanio (USA) Prime Alliance Cycling Team                12.50
37 Antonio Cruz (USA) US Postal presented by Berry Floor         12.55
38 Adam Livingston (USA) Schroeder Iron Cycling Team             12.59
39 Benjamin Brooks (Aus) Jelly Belly                             13.00
40 Svein Tuft (Can) Prime Alliance Cycling Team                  13.07
41 Christopher Baldwin (USA) Navigators Cycling Team             14.09
42 David De La Fuente (Spa) Caldirola-Sidermec-Saunier Duval     14.22
43 Massimiliano Mori (Ita) Formaggi Pinzolo Fiavé                16.35
44 Adham Sbeih (USA) Sierra Nevada-Clif Bar                      20.06
45 Miguel Angel Meza Flores (Mex) Schroeder Iron Cycling Team    21.18
46 Eric Wohlberg (Can) Saturn Cycling Team                       21.26
47 Alex Candelario (USA) Prime Alliance Cycling Team             21.29
48 Vassili Davidenko (Rus) Navigators Cycling Team               21.30
49 Dane Jankowiak (USA) Schroeder Iron Cycling Team              21.35
50 Maarten Den Bakker (Ned) Rabobank
51 Derek Wilkerson (USA) Jelly Belly                             21.36
52 Kevin Monahan (USA) 7UP / Maxxis                              21.37
53 Erik Saunders (USA) Ofoto-Lombardi Sports
54 John Peters (USA) Prime Alliance Cycling Team                 21.39
55 Mark Fitzgerald (USA) Jelly Belly                             21.41
56 Scottie Weiss (USA) West Virginia Cycling Team                21.42
57 Christopher Pic (USA) 7UP / Maxxis                            21.44
58 Brice Jones (USA) 7UP / Maxxis                                21.48
59 Douglas Ziewacz (USA) 7UP / Maxxis                            22.00
60 Gabriele Balducci (Ita) Caldirola-Sidermec-Saunier Duval      22.09
61 Mariano Friedick (USA) Jelly Belly                            22.12
62 Pete Knudsen (USA) Schroeder Iron Cycling Team                22.19
63 Gustavo Artacho (Arg) Colavita Bolla                          22.47
64 Mark McCormack (USA) Saturn Cycling Team                      22.51
65 Jason Bausch (USA) Schroeder Iron Cycling Team                22.58
66 Matt Dubberley (USA) Sierra Nevada-Clif Bar                   23.04
67 Todd Littlehales (USA) Sierra Nevada-Clif Bar                 23.12
68 Conor Hurley (USA) West Virginia Cycling Team                 23.14
69 Laurens Ten Dam (Ned) Dutch National Team                     23.25
70 Jake Rosenbarger (USA) Jittery Joe's Cycling Team             23.43
71 Kirk Albers (USA) Jelly Belly                                 23.47
72 Patrick Heaney (USA) Webcor Cycling Team                      23.50
73 Dion Murk (Ned) Dutch National Team
74 James Mattis (USA) Webcor Cycling Team                        24.14
75 Brent Dawson (Aus) Jelly Belly                                24.17
76 Jeff Angermann (USA) Webcor Cycling Team
77 Chris Fisher (USA) Jelly Belly                                24.22
78 Shawn Willard (USA) Colavita Bolla                            24.28
79 Addy Engels (Ned) Rabobank                                    24.33
80 Dominique Perras (Can) Flanders-IteamNova.com                 24.35
81 Jon Erdelyi (USA) Ofoto-Lombardi Sports                       25.06
82 Ciaran Power (Irl) Navigators Cycling Team                    25.19
83 Jürgen Landrie (Bel) Flanders-IteamNova.com                   25.32
84 Gregory Henderson (NZl) 7UP / Maxxis                          25.42
85 Tyler Wren (USA) Colavita Bolla                               25.49
86 Jos Pronk (Ned) Dutch National Team                           26.00
87 Tim Johnson (USA) Saturn Cycling Team                         26.21
88 David McKenzie (Aus) Flanders-IteamNova.com                   26.29
89 Moreno Di Biase (Ita) Formaggi Pinzolo Fiavé                  27.05
90 Marco Gilli (Ita) Caldirola-Sidermec-Saunier Duval            27.24
91 David Wenger (USA) West Virginia Cycling Team                 27.28
92 Wouters Mol (Ned) Dutch National Team                         27.37
93 Aaron Olsen (USA) Schroeder Iron Cycling Team                 27.49
94 Markus Wimmer (Aut) Formaggi Pinzolo Fiavé                    28.42
95 Niko Biskner (USA) Sierra Nevada-Clif Bar                     29.42
96 Trent Wilson (Aus) Flanders-IteamNova.com                     32.42
97 Jason McCartney (USA) 7UP / Maxxis                            41.24
98 Troy White (USA) Sierra Nevada-Clif Bar                       43.13
99 Dirk Peetoom (Ned) Dutch National Team                        51.13
100 Brian Forbes (USA) Jelly Belly                               52.21
101 Chris Baumann (USA) Sierra Nevada-Clif Bar                 1.06.28