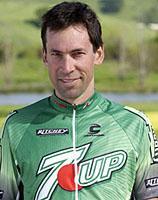 John Lieswyn
Photo: © 7Up/Maxxis
The John Lieswyn Diary
A pro racer who now mostly concentrates on the US domestic scene, John Lieswyn is one of Cyclingnews' most popular and sometimes controversial diarists. He has been racing since 1985 and a Cyclingnews diarist since 1999. John likes both criteriums and longer road races, and seems to particularly like it when the going is hard. He has raced in the Regio Tour, Peace Race, Tour of Poland, Vuelta a Guatemala, Tooheys GP and Commonwealth Bank Classic with success, as well as winning stages in the Sun Tour, Killington and Superweek. In 2003, he is once again riding for 7Up, this year co-sponsored by tyre maker Maxxis.
With a little help from my team
GP Cycliste de Beauce, Canada, June 17-22, 2003
In my last entry I explained why I nearly didn't attend this race. Good thing Jeff was so pursuasive.
Since I packed in a huge hurry after the Minneapolis race, I forgot pants, socks, and opted out of carrying my laptop. For the first time this year, I was going computer-less and I was going to love it. I figured I wouldn't have an access number in Quebec anyway. So I wasn't able to write timely, daily reports for you all, and most of you know what the final result is already. OK, fire up the Saeco, get caffeinated, and get on with the story…
Jason is still sick but his fever is gone and he made it through airport screening without coughing. Chris Wherry (Navigators) has been struggling with ailments all season and when the airport customs agents saw his vitamin kit they detained him for quite some time to test every pill and search every nook. Rather than catching a ride all the way down to St. George with Brenda (Prime Alliance soigneur and this weekend's combined team chaffeur- there is inter-team cooperation on stuff like this) Jason and I decided to take a taxi into Quebec City and save the drive back into town for tomorrow's opening stage. We got a four star hotel room with a view of the walled central city for the no-reservation walk-up rate of US$79 and had dinner at the self-professed best gourmet pizza house in town a couple city blocks away. We were asleep before the Prime Alliance van made it into St. George, I'm sure.
History
In its 18th year, the GP de Beauce takes place is the Beauce region of the French-speaking province of Quebec. As long as I've known the race it has been centered around St. George, about 50km north of the US/Canada border. The terrain is 1km up, 1km down, very challenging. I call it the race to the churches, since it seems that every time you crest a summit into a town, you are next to a church. You can see across a valley to another spire and that's inevitably where the race will be heading next.
A staple of the race is an opening stage of some sort (ITT, TTT, sprints, and this year a circuit race) in Quebec City, while another standard stage is the wicked ascent of Mont Megantic. It's as terrifying as the name of the mountain. The road is so steep there are signs warning drivers to use first gear for engine compression on the way down. While I've been racing mostly in the USA for 17 years, I'd only vaguely heard of the Tour de Beauce until a couple of years ago. As an up-and-coming rider on small teams, I wouldn't have been eligible to compete in the invitational race, which used to be national amateur teams and switched to open/pro in the early 90's. It is now a UCI 2.3 stage race, which is of medium stature in international ranking points. Many stage races don't even apply for UCI ranking although some deserve it. Very few UCI-ranked races offer categories for any riders other than elite/pro.
Last year I didn't finish due to falling sick for the umpteenth time. The 17th edition was won by Michael Rogers from from Mapei, at the time the number one team in the world. Mapei pretty much dominated the race although as is common at the Tour de Beauce the leader's jersey changed hands a bit, thanks to the variety of terrain and stages. On the final day they seemed to have found cooperation from at least two or three teams that were out of contention, basically turning the last stage into the type of parade usually only seen on the last day of the three-week Grand Tours. Or so it seemed to me as I sat on the sidelines watching.
2003 peloton
This year's field is missing the usual Division 1 hotshot teams, in fact there are just two European formations: the multinational Flanders/iTeamNova, registered in Belgium and directed by former Navigator pro Frankie Van Hasenbrouke; and the Czech team ZVVZ, featuring former winners of this race Tesar Lubor and Tomas Konecny (formerly of Div 1 Domo and a stage winner in the Tour of Spain). The latter would have to be considered the favorites here.
Navigators has a strong team with Chris Baldwin fresh off his US National Time Trial win and the sprinting duo of Oleg Grishkne and Vasily Davidenko.
Prime Alliance brought Tour de Toona winner and former U23 World Time Trial Champion Danny Pate and Georgia stage winner David Clinger for the GC, and Alex Candelario for the sprints, while their Svein Tuft had a breakout ride a few years back at this race when he won the final stage.
Saturn sent only Eric Wohlberg (also a former overall winner) and local hero Charles Dionne (formerly of Team 7UP), but they're riding for their National Team this week. The Canadian team will be looking to set up Charles for the sprints and Eric for the overall.
Healthnet has come with a strong squad to support their sprint ace Canadian Gord Fraser.
Mexico has their Tecos pro team here with aspirations of the GC and the mountain classifications. The rest of the teams are regional Canadian or Canadian "trade" (corporate sponsored) outfits.
Stage 1 - June 17: CMQ Lévis - Québec, 125 km
Four opening circuits, cross the bridge into Quebec City, eight large finishing circuits of the old team time trial course (reversed direction). Fairly steep hill each lap. Chad set us up with 26-tooth low gears for the steepest pitch, even if we would be using a 21 on the faster laps. On the opening circuits our Greg Henderson had gone up the road with a Tecos Mexican, and as we got into the city they still had nearly four minutes lead on the main bunch. Coming off a wide highway that parallels the river we swept into a 90 degree left turn and onto a narrow tree covered lane, climbing steeply around 18 percent towards a switchback after which the grade lessened to four percent and the acceleration towards the feed zone began. It was this easier pitch that hurt the most. A couple meter gap that opened on the "wall" would take ages to close on the false flat through the feed. For many riders, a two-bike-length gap would grow to an insurmountable deficit on that four percent section.
The hardest part of the race for me was when a large split had gotten away the lap prior, and I'd missed it. Clinger had missed it too, so I had my eye on him as we set up for the bottom corner into the hill. The lead group was 20 seconds or so ahead; bridgeable with a huge effort. Clinger went so hard I couldn't get his draft. I stayed a couple bike lengths off him over the steep bit, round the switchback, and all the way to the feed zone. He caught on to the lead group before I did; I never got a draft but having him just ahead did give me a pace and motivation to try and make it myself. I had to dig so deep that I felt like I usually only feel at the top of Philly's Manayunk Wall, last lap. It's like there's no blood left in the extremities, and the legs are turning the cranks through inertia rather than muscle contraction. There's only a few seconds left at this point: if you can't get in the draft and coast pretty darn quick, you'll be left floundering and coasting off the back of whichever rider you were trying to catch. I did make it, but only just.
Eventually Greg was caught (and dropped), Jason wasn't up to speed yet, Doug had done a bit too much work early on, and I was isolated in the lead group with three Flanders/IteamNova riders, three eD'system/ZVVZ Czechs, Wohlberg (Saturn/Canadian National), two Navigators, at least two Prime Alliances, and a handful of others. The danger here is that if I ride conservatively on the back of the group, there is the risk of getting split off from the leaders by a teammate of an attacker. Sometimes the best defense is offense, even when you are suffering and don't think you have the suds. This is how it went today.
We hit the bottom of the hill and I thought that attacking first would give me a gap that the strongest guys would have to ride up to instead of the reverse. Baldwin (Navigators) kinda started the ball rolling but I was surprised that he wasn't going too fast considering we were just 1.5 km to the finish line. Click click upshift and WHAM down onto my pedals with everything. Quick look back and hey! Look at that! I got a gap! I went at an unsustainable pace over the top, knowing that the bigger the gap the more likely that everyone else would hesitate ("you chase him, thereby leading me out" and "no, you chase him").
Baldwin wouldn't roll over so easily, though. As I went into oxygen debt and had to let off the pedals he closed the gap to me. And then there were two! The rest of the group was hesitating, and probably five seconds behind now. Baldwin must have seen me "blow up" and he just went right past me. It wasn't quite enough recovery time for me and while I did catch onto his draft I was just redlined holding his wheel. The flat ground gave way to a new pitch of about five percent and the 300m sign came up. He's just dieseling away from me now. Argh. A quick look back, still nobody close to me at least second place looks secure. 200m sign, last turn, the finish stage and banner is in sight now. Baldwin has dropped me but not by much. In the slow motion state that everything seems to be happening in now I contemplate the situation. I'm becoming more familiar with the thoughts and physical state that occur in this couple seconds. The voice in my head demands that I don't give up, that I win this for Dawn and for the team. Baldwin looks back, sees I'm dropped, and as he looks forward again I change up a few gears and go right past my redline into that anaerobic state that my track star teammate Greg Henderson says lasts about nine seconds, no more... and right past a fairly unsuspecting Baldwin, too. Hey, this is kinda weird - I just won a race that I didn't think I had the freshness to even attend?
Stage 2 - June 18: Lévis - Lévis, 169 km
For most of the stage my guys were on the front by themselves. We ran two in the initial pulls while we allowed the break some rope, and then added more men into the rotation as we wound it up and started hauling the break back in. Near the finish Gord threw in a few of his Healthnet guys, realizing that we didn't have to bring the breakaway all the way back. The leading team can allow a break of lower-placed (on the GC) riders to fight out the stage win, so if a sprinter's team wants to contest the finish they have to up the pace early enough to ensure the demise of the break. A huge crash at 1200m to go happens just ahead of me, and I just squeak around it. Every time that happens I get an intense shot of adrenaline: "yeah, I made it, guys falling down all around me and somehow I made it through the minefield!"
Stage 3 - June 19: Lac-Etchemin - Lac-Etchemin, 151 km
It rains today. We allow the break to go early, and plan to bring it back only so far as to lose the yellow jersey to someone in the break by 30 seconds or so. A lot will depend on the other teams: if we bring it too close then they will smell the line and finish the break off for their sprinters. We wait until we get the whole team over the mid-race major KOM of the stage before amping up our chase. In other words, we purposely go at an energy-conserving but time-losing 40kph or so before the climb. The break goes out to 9:25 lead on us thanks to this pace, but after we successfully get everyone on our team over the climb then we hit the gas and start reeling the break back in. We are helped in this by the distance of the race which takes it's natural toll on the speed of the break, and by the fact that the break usually begins to attack itself as the leading riders grow dissatisfied with those who aren't helping with pacesetting (or for any other number of reasons).
Today a few teams who have missed the break have decided that since they don't have to worry about getting over the mid-race climb anymore they'll add a few workers to the chase, and we end up with Charles Dionne's team contributing two and Prime Alliance contributing three or four guys, and three 7Up men. It helps to have friends too, as Czeslaw Lukaszewicz offers to help me. He says he needs the training for the upcoming Canadian road nationals, and that "sitting on" in the bunch isn't sufficiently hard to prepare himself. Soon ten guys are rotating hard on the front through the driving rain and we're absolutely flying. The gap is falling so fast that we realize our "lose the jersey" plan isn't going to work; the break will be caught well before the finish. I'm on the radio trying to get my guys to slow the rotation speed down, but it's to no avail. 20km to go and the break is caught.
There is a fifteen-man pileup into the front fender of a car whose elderly driver couldn't seem to understand the instructions of police and pulled a few meters into the roadway as we were winding up for the finish. We had a full head of steam from a downhill and were probably doing over 70kph, and when I saw that crash I was pretty mollified. It's under a kilometer to go so the rules say that everyone will get the same finish time as the winner when there is a mishap like that. I saw bib number 13 go down, unlucky number 13. That's IteamNova's Scott Guyton, he's the one who went to the hospital after yesterday's final kilometer pileup.
At the line it is Gord Fraser who delivers the win on a day when his team didn't work on the front to bring back the break. Funny how that can happen sometimes, seriously. Yesterday his team slaved on the finish circuits to nail back the early move, and Gord didn't have it for the finish.
Apparently the provincial government had a budget crisis so severe that they froze funding for post-winter road repair. The potholes are big enough to swallow a wheel whole, and I pity the guys in the peloton who don't have a dedicated team leading him safely around these booby traps. Today our Chris Pic was fighting his way back up after getting dropped on a climb and found out the hard way about one such pothole. The Mavic neutral support guys saw his solo crash and said it was scarily spectacular. Chris went face first into the road and the bike flipped 20 feet into the air. Luckily he suffered only scrapes, but the severity of the crash forced him to abandon. We are down to six men now.
Back at the van the guys realize that we're still in yellow and it will be another long day on the front for them tomorrow. They're more muted than usual on the drive back to the hotel.
Stage 4 - June 20: Saint-Georges - Mont Mégantic, 172 km
The guys are absolutely amazing today. It was hard for the first 25km since apparently everyone has figured out our tactics by now and everyone and his brother wants to be in the early break hoping today will be the day we crack and the early break succeeds. Rarely do real contenders try the early move with the stage finish on a steep mountain, but there are plenty of guys "in between", guys who are two minutes down on GC and who we are afraid of enough that we can't let them get in the early move. Navigators and ZVVZ are continuing their occasional verbal fight just behind my rear wheel; I know that the crosswinds and the position of my team on the road is making it hard enough that teams are fighting for the last few protected from the wind spots on the road behind me.
Prime Alliance doesn't have a man in the early move and so they put a few men on the front to reel in the break and ensure Danny Pate (Clinger didn't start Stage 3 after his injuries from the Stage 2 crash) gets a crack at me and the GC on the mountain. It's an epic lead-in to the climb with road construction that forces the race to do a preplanned dirt road diversion for about 2kms. Crews have watered the road down so it isn't dusty, and I didn't see anyone crash or flat. Prime's last few men are done. Our plan of saving Doug and Jason comes into play as Brice, Kevin and Greg are dropped. Doug and Jason set a fierce tempo for the final 10km and the peloton calms down with the steady pace-making they set.
Here comes the turn into Mont Megantic park, and in the final 500m before the climb Jason and Doug are swarmed. I feel so confident that starting from 15th or so isn't a worry, and I quickly punch it up to the front as the climb starts. I was able to respond to all attacks and even put in one of my own just to send the message that I wasn't cracking today. Konecny did his best, dropping everyone else but me. I thought about attacking him at 500m to go, but then he surged again and I could see why he was Virenque's leadout man in the Tour de France KOM competition last year. At that point all thoughts of trying for the stage went out the window and I just gritted my teeth and held on to the line. Still in yellow, by 13 seconds over Konecny.
Stage 5a - June 21: St-Jean de la Lande ITT, 15.5 km
I went pretty good this morning. Ate right, warmed up right, scouted the course, and gave it everything. It was a good enough effort to put some real time into the Czechs, Pate and Wohlberg. While I did lose to Baldwin, it was only by three-tenths of a second. That's a lot better than the 40 or so seconds he put into me at TT nationals.
Stage 5b - June 21: Saint-Georges Criterium, 60 km
The last lap was pretty exciting. I had slipped too far back and so I had to make up some serious ground on the hill. I was going about 10kph faster than everyone else when the door closed and I was out of real estate going into the turn at the top of the hill, so I jumped the curb and rode over the sidewalk to keep the momentum. It worked as I latched onto the GC leaders (but not the sprinters, who were another ten guys or so further up the line) but I didn't like having to do it that way; I heard a few shouts from behind, probably from guys who may have had to brake as I swerved off the sidewalk. Hey, it's a crit, dude. Then Baldwin (who was right in front of me) decided he couldn't make turn three and just about crashed before he straightened it out and pretty much went off course. Phew!
We're going to need some help early on tomorrow and rather than "buying" help as is fairly commonplace in pro sports we just scratched Gord's back for him. Instead of letting the break go we helped his team reel it back in and then Greg led Gord out for the finish. Davidenko was faster today though and notched another win for Navigators.
Stage 6 - June 22: Saint-Georges - Saint-Georges, 165 km
With Gord true to his word and the help of one of his Healthnet teammates we ran Kevin, Brice and Greg for the first ten laps, Jason and Doug in reserve again. It was good for Healthnet as well since their protected guys who weren't working got the right to sit on at the front where the "slinky" effect is minimal and road hazards are easier to spot.
It got hard a couple times when the Czechs lit it up on lap two in an effort to crack my guys (worked for a few minutes, but the 7UP boys fought back on) and again when they hit us hard at five laps to go. At that point we lost our early contingent. Healthnet put their GC man Todd Herriot into the break and now it was just up to Doug and Jason. They delivered me all the way to the line, it was all them, all the way. At the finish I held onto Konecny's wheel, thereby ensuring enough finish points to cement a win in the white jersey (aptly named the Points Jersey) as a bonus.
I was kinda hoping for more fireworks; like an opportunity to counterattack such as when Danny Pate hit the throttles a couple times, but the yellow jersey cannot do this (you'll lose your own domestiques) unless you are on a mountaintop finish. I'm really proud of the whole 7UP/Maxxis team: they suffered today far more than I had to. At the dinner banquet there was a cool slideshow of pics from the pro photographers and a highlights video. The announcer got up and asked each of the jersey winners, the top team (ZVVZ) and the top ten riders on GC to stand up. When he got to me he mentioned that it was the first time in Beauce history that a single rider held yellow start to finish, and when I stood there was a completely unexpected standing ovation. I was really embarrassed and tried to sit down quickly but Jeff nixed that. I weakly motioned at my teammates in a sort of attempt to deflect the applause off myself, it was truly a team effort. I was probably beet red, and I'm not usually shy in front of a crowd. It's great to get the appreciation of your peers; a big thank you to my competitors.
At the El Mundo bar that night I got to talk to the Czechs, one of whom spoke pretty good English. At first they only wanted to talk cycling but I wanted to know about them as people. I'd had several riders offer help over the week if I needed it (thanks to my team I didn't) just because they'd rather see me win than the Czechs, and that was going through my head as we stood there in the bar. Turns out they're great guys, of course. Two of them had newborn babies, families back home that they missed tremendously. We talked about the factory jobs that they would go to after cycling, and I talked about my hopes for a career somewhere within New Urbanism. Now that was hard to translate! I don't know how the bad boys of cycling do it, staying out all night drinking, but I shut it down before I got trashed and got a ride back to my hotel with Louder and Swindlehurst around midnight. And so concludes the week that almost didn't happen…
Email John at jlieswyn@cyclingnews.com