Recently on Cyclingnews.com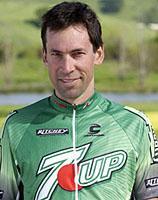 John Lieswyn
Photo: © 7Up/Maxxis
The John Lieswyn Diary
A pro racer who now mostly concentrates on the US domestic scene, John Lieswyn is one of Cyclingnews' most popular and sometimes controversial diarists. He has been racing since 1985 and a Cyclingnews diarist since 1999. John likes both criteriums and longer road races, and seems to particularly like it when the going is hard. He has raced in the Regio Tour, Peace Race, Tour of Poland, Vuelta a Guatemala, Tooheys GP and Commonwealth Bank Classic with success, as well as winning stages in the Sun Tour, Killington and Superweek. In 2003, he is once again riding for 7Up, this year co-sponsored by tyre maker Maxxis.
And then there were three
Nature Valley Grand Prix, Two Harbors-Virginia-Minneapolis-Winona-Stillwater, Minnesota, June 12-15, 2003
For its second year on the National Racing Calendar (NRC) the NVGP has grown into a five-stage four-day stage race now scored on time instead of points. With an expanded prize list, higher NRC ranking, and again with OLN TV coverage, this year's event promised to be bigger and better in every way.
After Philly: A mental break and the doggie gets out…
I got home from USPRO week late Sunday night. In desperate need of a mental break from the bike, my plan was to limit biking to commuting around town on the city bike. Like a kid on Christmas morning, I awoke on a gloriously sunny Monday morning (who needs that Northeastern rain, eh?) and cracked open the garage doors to continue work (play) on my roadster. Between the Benz and office paperwork I never noticed that my Doberman, Closer went missing from the backyard. Late afternoon rolled around and with a sudden hot panic flush I realized that I hadn't heard a whine from Closer in quite a while. Coincidentally my neighbor brought the escapee over by his collar, and I could tell by the way he was licking his chops that he'd been in someone's garbage cans. Why is this pertinent, you ask? Well, my wife Dawn was away in Charlotte, NC at a veterinary internal medicine conference until Friday night so the plan was for me to take Closer along to the race this weekend, a la Jonas Carney and his Siberians. Unfortunately for me, over the next few days Closer developed severe G.I. distress and was pooping blood every few hours. This would keep me awake at night, taking him out frequently and worrying about whether he had a huge foreign body blockage.
When you've just completed one of the hardest weeks in US cycling and are embarking on another stage race, lack of sleep isn't a great recipe for staying healthy. When the announcer found out that I'd come down sick he incorporated that into his schtick about me, going so far as to call me a known hypochondriac. Well, that's up to my readership and those who know me well to decide. What is for sure is that I'm a bit like the boy who cried wolf. Every time I tell my teammates that I'm ruined and sickly, they cheer and say that means I'm going to win.
Drivng North and the peloton is stricken
I packed the bikes and Closer into the Saab for the solo drive from central Iowa to northern Minnesota. Most of the trip is on Interstate 35, beginning with gently rolling cornfields. Later the farms give way to the sprawl of the twin cities and the traffic nightmare that is 35W or 35E. After the megalopolis fades in the rearview, it's another hour towards historic Great Lake bordering Duluth before we take the exit onto a country two lane road, headed towards the massive golf/ski/casino developments that characterize some parts in the low hills of northern Minnesota. It ends up taking me seven hours driving fairly flat out (except for the traffic snarls in the Twin Cities) to get to Virginia and the sports dormitory at the resort where most of the teams are staying. By the time I get there, my body has succumbed to whatever sickness seems to be ravaging the entire peloton. Half my team (and like numbers of the other teams) have come down with colds or fevers. I would have liked to stay home, but two of my teammates already called in sick; my wife is scheduled to fly into Minneapolis on Friday, between the morning and evening stages; and as defending champ and friend to the organizer, I felt obliged to attend the biggest NRC race near my home.
Stage 1 - June 12: Iron range road race, Two Harbors to Virginia, 98 miles
Our manager Jeff "Crusty" Corbett has rented a minivan. My two remaining teammates are Athens Twilight winner Dan Schmatz from Colorado and Michelin Classic Greenville Criterium winner Oscar Pineda. Solid guys who can sprint, but my ace hill lieutenant Jason McCartney can't get out of bed. The three of us and Jeff pile into the van and head eastward on scenic two lane Hwy 11, basically doing today's course in reverse. What we don't see are the hilly final kilometers and the finishing circuit, and we are lulled into the expectation of a field sprint.
Two Harbors is right on the Lake and it's a blustery, overcast afternoon. Everyone is bundled up in winter cycling gear. Let's have summer, please! (I'll regret that in a week). After a few neutral laps through town we take to the open road and within twenty minutes riding inland the temperature soars to a balmy 60F. All kinds of attacks are going and the two biggest teams in the race (Navigators and Saturn) are marking everything with equal representation. I'm riding horribly and can't seem to get to the front. After a while a solid break is established with two Navs, two Saturns, our Oscar, and a few others. Schroeder Iron is also fielding a full squad at this race but they've missed the move and spend most of the rest of the stage chasing. The open roads mean that we can see the break even at 1:30 up the road, and Schroeder finally brings the gap down to about 10 seconds as the skies unleash a cold rain on us. Newly minted USPRO road champ Mark McCormack (Saturn), neo pro and local favorite Adam Bergman (Jelly Belly) and Irishman Ciaran Power (Navigators) soldier on together as the rest of the break is absorbed. With normal legs I think it would have been a piece of cake, but today my best effort on a kilometer-long hill was good enough to shatter the peloton but not quite enough to catch the three leaders. I got close enough to see their bib numbers, but that was it. A couple kilometres later the gradually reforming peloton was left without escort at a highway overpass, and we all went the wrong way. The back of the bunch became the front, guys were baja'ing through the grass, and a ton of momentum was lost. I figure it cost us 45 seconds on the break.
On to the abysmally rough pavement finishing circuits in the town of Virginia. With a man each in the break, the top teams are all over the front and doing a great job slowing the pace in the corners. The three of us 7UP/Maxxis guys get on the front and do what we can to limit our losses. I know that by ourselves we aren't going to make much of a dent in our 1:10 deficit to the break, but I don't want to be ridden out of the GC on stage 1 either. Through misunderstanding I got into a brawl with the Saturn guys, who I felt were trying to separate Dan, Oscar and me during our chase. I nearly took wee Danielson down in anger and frustration, which telegraphed into the front wheel of Henk Vogels. Great, now I'm in the doghouse with both teams! Ciaran won the three up sprint and took yellow.
Stage 2 - June 13: Mesabi Trail ITT, 6 miles
I felt much better than yesterday. Already beating this cold, even with Closer preventing me from getting much sleep. I wonder if last winter's sinus surgery has helped me shrug off sickness lately. Even so, Danielson and the Russian Concussion eke out a narrow Saturn 1-2 victory over yours truly.
Oscar accompanies me in the Saab and watches the Trainspotting DVD on the two hour plus trip to Minneapolis and our host, Chris Smith of Time Sport. Chris has a beautiful home in an older close-in suburb. Leafy shade trees, sidewalks, narrow streets which keep cars moving slowly enough to encourage walking, and unique homes with garages on the back alleys pronounce that people (not cars) live here. On a round the block walk with Closer I pick up a home sale brochure for a 1500 sq ft (the average new home in the USA is now over 2000 sq ft) and note that plenty of other people must value these classic homes too: the price is $337,000. There is no time for a nap as I must go pick up Dawn at the airport. After two weeks apart, I'm pretty excited to see her!
Stage 3 - June 13: Minneapolis downtown criterium
Huge, HUGE, HUGE! Wow, what an awesome debut for this event! The flat course winds its way past packed outdoor eateries, cafes, and sidewalk shops. Minneapolis' downtown is like San Fran, Boston and NYC: vibrant with tax-paying city dwellers. It doesn't shut down at 5pm and this shows in the huge turnout for the race, despite the closure of so many streets. These fans either parked in adjacent parking structures or just live here. Close suburban streets and you'll get what we saw at the ill fated Irvine (California) Grand Prix; about 100 fans. What's even better is that our Dan Schmatz made the break with me and schooled everyone (including the three Saturn guys that sat on - not doing any work - the whole way) in the sprint. Way to go Dan! Winnning an NRC event in a big city, in front of thousands of people, on national TV, and against some of the nation's best riders. I was shattered after the finish; I'd made both breaks of the short but intense night of racing, and while I wasn't the "driver" (main proponent or worker) in either one I had been doing my share. Call it sleep deprivation. Dawn manages to miss the final lap because a still very ill Doberman pulls her away from the course toward a patch of grass. Her veterinarian friend from Scotland, Gillian, has driven up to catch the race, dinner, and party in the big city. Unfortunately Gill has been swamped at the vet school and arrives five minutes after the finish. I leave the two of them to our nice room at the Hilton and take Closer back to our gracious and accommodating host house for another fitful night with a sick dog.
Stage 4 - June 14: Winona road race, 106 miles
It's another warm sunny day, and I park the car under a tree in the park where we start and finish today's stage. I'm a bit worried about leaving Closer tethered to the car while I go racing and until Gill and Dawn arrive after a morning of shopping, but everything turns out OK. Such a good dog, he just sleeps all day.
Lap 1. Navigators sets tempo for yellow jersey Ciaran Power while Saturn sends Tim Johnson up the road with a Broadmark Capital rider. Tim is high enough in the GC that the Navs must keep him fairly close. We have four main climbs today and everyone figures the Saturn boys will wait until the Navs are good and tired before launching a big attack on the fourth and final climb.
Lap 2. Saturn takes us all by surprise by sneaking in a two-pronged attack before the third climb. I had just gotten on the radio to tell my guys to drop back and watch Mark McCormack (Saturn) who I'd noticed drifting towards the back of the bunch. Seconds later he comes blazing by 20km/h faster than the tempo pace being set by the Navs, led out by his teammate Ivan. The Navs don't flinch but they must be worried by this development. A few Broadmark/Schroeder attempts to bridge up to the rapidly escaping Saturn duo succeed only in winding the field up and cracking a couple Navigator domestiques. I know what's coming, and I warn Oscar to be ready for a very hard ascent. As soon as we hit the climb the remaining Saturn guys launch a full-on attack. After the climb we catch the break and Ciaran is still there… temporarily.
With the intent of helping him (and thereby helping myself, keeping more non-Saturns handy to fight the juggernaut) I come by Ciaran and say: "Get on!" (my draft). I go after one of the countless attacks the Saturn boys are launching against us. Moments later I hear something to the effect of "Stuff it!" and Ciaran's gone too. So as not to get him in trouble I'll say it was brutally hard in this crosswind section; only Bergman, Jacob Erker (Schroeder Iron) and I survived all the attacking from the four Saturn men. Quickly realizing that our only hope to stop the attacking was to start "rolling through", the seven of us began a smooth paceline. I tried to negotiate some sort of temporary moratorium on Saturn attacks, at least until after the next and final climb, but Klasna wouldn't go for it. In hindsight I should have listened to Jeff and had more confidence in myself. If I had attacked on the final climb the only two to be dropped would likely have been Klasna (having an off day, but faking it really well) and Johnson (having been out front all day). Then instead of four on three it'd have been two on three. We'll never know, and the chess match continued on another course. I formed a temporary alliance with Bergman and Erker. We would discount the tired Johnson and play a man to man defense. Erker on Danielson, Bergman on Rapinski, and me on Klasna.
Lap 3. Going into the final climb Klasna shows his true cards by calling for Danielson to slow it up, but I think all of us are now realizing that it is a really long way to go still, it's hot, and none of us are looking forward to losing any help in just getting to the bloody finish line.
Finishing Circuits. We are in no danger of being caught by a severely depleted, broken peloton, which appears to be in four main groups. Nothing much happens amongst the seven of us until Bergman attacks. He turns to see if he has a gap and while he's looking 'round he takes himself out into a curb. Nice one, Adam, sorry about that but we're too hot, tired, and selfish to wait around. We slow for about 2km but Adam isn't coming back so we go back to our 43kh/j average speed.
Last lap, finally some attacking. Klasna and Johnson are cooked but they try anyway. It ends up costing them a few seconds as they are dropped in the windup to the sprint, led out by Danielson for Rapinski. The Russian Concussion is too strong for me, and I must settle for second with Erker third. Well, second is better than I'd hoped for against four men from the same team. Dawn says it was painful for her to watch. She said that she could tell I was cramping up. Observant…
Stage 5 - June 15: Stillwater criterium, 70 minutes
Stillwater is a "destination" town about 45 minutes drive east of St. Paul. Why a destination? Its unique, family-owned sidewalk stores and restaurants are a welcome departure from the spirit-crushing, mind-numbing (to adopt a phrase from Trainspotting) bland and soulless big box corporate chain stores. Beautifully rehabilitated buildings made of stone and brick exude a sense of history and permanence, unlike the 20 year lifespan of "modern" American retailing.
Another great crowd has turned out. The best part of this race is that the organizers have wisely allowed the crowd to stand on the steep hill without barriers: it's like a European climb where the sportsmen (and women) are gutting it out literally inches from a thick boisterous crowd, lining the entire ascent on both sides of the road. I feel pretty good today. When I attack I'm able to open a pretty decent gap on everyone but Danielson, who is able to fight back onto my wheel within a few hundred meters of the summit. Unfortunately it isn't Oscar or Dan's course and I've no other help in maintaining any kind of steam over the top. When I slow, the dozen or so guys who have survived the attacks slow up right behind me. I can't seem to get off the front, and when I do I'm immediately attacked by one of the five Saturn guys. Ciaran may be completely out of the GC after yesterday's road race but he's still strong and gunning for a little bit of redemption in a podium finish for the day, so he's also attacking. Eventually I can't respond to every move they make and once again don't trust myself to continue going into the red zone, so I let Klasna go. He rides to a huge lead, the stage win, and leapfrogs Rapinski for the overall win as well, while I slip from second to third overall. I'm actually pretty satisfied with that, all things considered! Dawn and I bust for home, and make it before dark.
All evening I'm in a funk. I never miss races, no matter how bad I feel physically. But I'm really considering bagging on the Tour de Beauce, which starts Tuesday. I'll only have four hours to do laundry, pay bills, do errands, and find a ride to the airport. On top of that, I feel like I've been run over by a semi truck. Rest, I tell myself. Monday morning: As Dawn gets ready for work I tell her I'm taking the week off and staying home. I call Jeff, who is already in Quebec, and tell him I'm 90 percent against coming up. In a ten minute phone call he somehow manages to listen to me, be supportive, and at the same time convince me to come anyway. How'd he do that?
Next up: my third stab at the Tour de Beauce, which in its 18th year is the longest running UCI stage race in North America. And this year is one of only two UCI-sanctioned stage races, the other being the recently completed and very successful debut Tour de Georgia. Last year I got sick and DNF'd, while the year before I struggled through a bad sinus infection to finish ninth overall.
Email John at jlieswyn@cyclingnews.com