News for November 11, 2001
Vandenbroucke to Mercatone Uno?
Mercatone Uno is apparently chasing the Walloon Whirlwind, Belgian Frank Vandenbroucke.
Mercatone still haven't closed their roster for 2002 and after missing out on Richard Virenque who recently signed a two year contract with Domo-Farm Frites, the team is after VDB. The addition of Vandenbroucke, who when he is on form and mentally stable is likely to guarantee competitiveness for Mercatone. In a professional career that began in 1994, VDB picked up 51 wins in his first 5 years as a pro, including the Liege-Bastogne-Liege, Paris-Nice, Paris-Brussels, and Tour of Luxembourg. Since 1999 VDB has spent more time on the couch than the saddle due to a series of emotional landslides.
It is understood that the move towards VDB came from Mercatone manager and team leader Marco Pantani, who has a few points to prove himself in 2002.
The wild man tag-team of Pantani and VDB would be a sight to see, particularly in the early season races as Mercatone attempts to pick up a wild card entry to the Tour.
Arnell out, no matter the result
Sweden has been having a tough time lately as a number of doping cases have come to light. The most prominent has been former Alessio member Niclas Axelsson admitting that he took injections of erythropoietin (EPO).
Alongside Axelsson has been the case concerning U23 rider Emil Arnell, representing Italian amateur squad S.M. Podenzano Italfine. The inquiry is still open, however it appears that Arnell has chosen to end his career by quitting the cycling scene.
The UCI still won't reveal which substance Arnell has tested positive for. Arnell was tested during the amateur Giro d'Italia and the case was revealed just days before the World Championships where Arnell was one of the favorites having won the GP Tell just days before.
The UCI hasn't't banned Arnell yet since there is still a possibility that his test results could have some natural causes, however the explanation provided by Arnell has not convinced the UCI and now Arnell's B-sample will be analysed.
Arnell himself believes that a combination of stress and physical strain could have caused the raised hormone values.
Guilty or not, Arnell, who had a contract with CSC-Tiscali in his hand, has finished his career at age 22 claiming that he wasn't guilty of doping.
The Swedish Cycling Federation has already started a program to reduce the risk of further doping cases.
" The actual case shows that the testing system really works and with our new program we will reach even further", says federation president Ulf Näslund.
Just a couple of days before Axelsson's test results became public another doping story shook the Swedish sports scene when former Olympic hurdles champion, Ludmila Engqvist, admitted using steroids in her build up for the national bobsleigh team challenge for the winter Olympics in Slat Lake City this coming winter.
For more on the Arnell affair, see Cyclingnews.com News October 12
British Cycling Federation attempts to slip into Ireland?
By Tommy Campbell, Irish Independent/Evening Herald/Sunday Independent
After the success of Stephen Roche in 1987 when he won the Giro d'Italia, The Tour de France and the World Championships, the three Irish cycling bodies, the National Cycling Association (NCA), Northern Ireland Cycling Federation (NICF) and the Irish Cycling Federation (ICF) decided to form one organisation. This organisation would be recognised by the Union Cycliste Internationale (UCI). Unfortunately some members of the NICF decided that they would stay out.
Down the years they have organised events and the controlling body (ICF) have facilitated NICF members by allowing them participation in events and likewise they have offered the same facilities. This has worked very well for those who want competition and basically competitive cyclists are not interested in the mechanics of organisations.
A couple of years ago the NICF were recognised by the British Cycling Federation, which didn't go down well with the controlling body (ICF) in Ireland.
The latest twist to this intriguing position is that the BCF have agreed to place the Tour of the North on the BCF Premier Calendar. This event will be held at Easter next year and will certainly cause problems for the events, which have been on the go for years in the recognised jurisdiction (ICF), particularly the Tour of Munster which in a matter of years has increased its profile thanks to the efforts of its organisers.
It is unheard of that an outside organisation should come into a territory, which is recognised by the world controlling body UCI.
Oddly enough very little is known about this move and there has been little or no comment about this development. Expect to hear a lot more about this issue in future.
Acqua & Sapone get together
Cantina Tollo - Acqua e Sapone will have a 4 day "team bonding" exercise at l' Euro Hotel di Cascina, Pisa, beginning November 12. The get-together is to amalgamate the 22 riders and gives team directors Giuseppe Petito, Antonio Salutini, Enrico Paolini and Franco Gini their first chance to outline plans for 2002.
Acqua & Sapone Team Roster 2002
Claudius Astolfi
Daniele Bennati (neo-pro)
Mario Cipollini (former Saeco)
Gabriele Colombo
Roberto Conti
Martin Derganc (Slovenian former Telekom)
Cesar DI Cintio
Francisco Tomas Garci'a Rodriguez (former ONCE)
Cristian Gasperoni
Massimiliano Gentili
Massimo Giunti
Santos Gonza'les Capilla (former ONCE)
Alexander Kolobnev (neo-pro)
Ruben Lobato Elvira (neo-pro)
Giovanni Lombardi (former Telekom)
Miguel Martin Pierdiguero
Simone Masciarelli
Kyrylo Pospyeyev
Michele Scarponi (neo-pro)
Mario Scirea (former Saeco)
Filippo Simeoni
Guido Trenti
More on the demise of the Topcompetitie
The biggest Dutch series for amateurs, the Topcompetitie, will not be raced next year to a conflict between the KNWU (Dutch National Cycling Federation) and riders about age restrictions to be placed on the series.
KNWU spokesman Gudo Kramer said that the KNWU had proposed that the Topcompetitie bring in an rider age limit to provide more chances for young riders. The KNWU was planning to make the series an under 27 event.
However this wasn't well received by many of the riders, particularly an "older" group lead by John Talen. Talen's protests lead the KNWU to put the proposal to organisers and teams, who also weren't in favor of the age limit.
"For the KNWU two things are important with the Topcompetitie. We are organising it for riders, teams and organisations, to give them more publicity and indirectly money. We also want it to be a series of races where young riders can learn and develop. When the under 27 rule didn't have the support of the three most important groups involved, the board of the KNWU decided not to go on with this rule. Because a number of organisers chose to organise a under 23 race next year, there was no high quality competition possible with the same teams in competition races," said Kramer.
This in turn meant no Topcompetitie in 2002.
Whilst lamenting the lack of the Topcompetitie for next year, Kramer said that KNWU had negotiated for 9 races to be broadcast on national television for 2002. This publicity would make it possible for organisers to have well sponsored and organised races in 2002, and for teams to find the budget to develop young riders, said Kramer.
The KNWU wants to re-launch the series in 2003.
Chicago SuperCup a wide open affair
Johnson, D'Aluisio return to Washington Park's cruel "Six-Pack"
Where there were once a few dominant stars in American cyclocross there are now nearly a dozen favorites for the upcoming Chicago SuperCup cyclocross race, to be held November 17 at Washington Park.
Last year's winner Tim Johnson (Saturn) is the national champion. While he has had brilliant rides this season, he's also suffered defeat from three separate challengers. The emergence of other new names has stumped handicappers of this growing sport, dubbed the steeplechase of cycling.
In the prestigious New England Series, used to tune up for the SuperCups and national championships, Johnson was bounced by Seattle's Jonny Sundt (K2) in the opener. World Champion Erwin Vervecken (Spaar Select) of Belgium then defeated Johnson in the SuperCup opener in Boston. Since then he's lost to defending SuperCup champion Marc Gullickson (Mongoose/Hyundai) in an international race in Delaware and then to his Saturn/Timex teammate Mark McCormack, the 1998 SuperCup champion, at last week's Amherst International.
"I came here hoping to get fourth or fifth," said McCormack, who seemed unbeatable in 1998, after winning in Amherst. "It's just getting so much harder to win."
And there are a handful of other riders capable of beating Johnson. American cyclists who once dabbled in 'cross as an off-season workout are now becoming specialists capable of racing at the international level. The crowds for major U.S. cyclocross events now match those of the biggest domestic mountain bike races.
"I have clients who use road racing just to get ready for cyclocross," said Adam Myerson, a former national champion and highly sought coach. That focus, however, has elevated the game of several riders.
"There's a core of four or five guys who are always up there but there's loads of guys who could surprise you," said Gullickson, the 1999 national champion and two-time runner up of the Chicago SuperCup. "And Chicago is a good course for those guys because it's flat."
So flat is the Chicago course that promoters had to invent an obstacle to replace the run-ups, drop-offs and dismounts found in most cyclocross races. In 1999 course designer Tom Stevens trucked in a pile of spongy mulch, spread it along a 30-meter stretch of the course, and stacked up six barriers. Overconfident riders, with energy drawn from their legs, began to crash on the fifth barrier of this course featured dubbed "The Chicago Six Pack." To complicate matters, the six-pack is located just 300 meters from the finish line.
"It's super hard. It's such a long flat stretch into it that you really are going fast. And in those wood chips your footing is really unpredictable," said Gullickson.
In two years this course feature has reaped a grim harvest of bones, blood and teeth, as riders dare each other to hit it at faster and faster speeds.
Last year Johnson, famous for his footwork and fast re-mounts, dueled with Gullickson to the final lap and won the race in the six-pack. "How fast were we coming in? Fast enough to scare me," added Gullickson.
If ever there was a crap-shoot in the women's race, Chicago is it. Canadian Olympian on the road Lyne Bessette (Saturn) has gone undefeated since taking up 'cross this season. But Chicago favors packs instead of individuals, until the six-pack tangles up wheels and frames and body parts.
Carmen d'Aluisio (ClifBar) lost the first Chicago SuperCup to Ann Grande (Kona/Voicestream) due to a fall in 1999. She took advantage of a Grande crash last year, however, to return the favor and score her second SuperCup victory. D'Aluisio, Grande, and Gina Hall (Kona/Voicestream) have fought all season for the title of top American.
Sea Otter Classic 2002
The ever innovative and popular Sea Otter classic will again be held in Monterey California from March 21-24, 2002.
Calling itself an "unabashed celebration of the bicycle" the 2002 event will expand to include new cross-country categories, amateur mountain cross, and a mountain bike slick-tire criterium to be held on downtown Monterey's Cannery Row.
"We've never rested on our laurels," said co-founder of the Sea Otter Classic, Rick Sutton. "From the days when we dared to integrate road events into a mountain bike festival to the creation of the Big Jump contest, we have always tugged on the tent in any direction that will cover more riders. Last year's mountain cross proved such a hit that we've decided to open the gates for amateurs," he said.
Sea Otter has traditionally drawn strong road, off-road, downhill, dual slalom and BMX fields. However this year organisers will hand out awards in five year brackets instead of the traditional 10-year categories. The over 40 age group will also be catered for.
For more information visit Seaotterclassic.com.
Ducati, Litespeed Titanium, and Campagnolo
A menage a trois we want to be on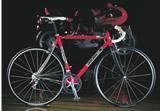 So,I'm the engine?
Photo: ©Litespeed
This is hardly your standard news story, but as fans of anything on two wheels, this item from Litespeed caught our eye.
Litespeed Titanium have worked with Campagnolo Components and the Ducati Motorcycle company to create a very unique Ducati bicycle.
The one-off bike was then sold at an auction at the Ducati REVS America weekend, held at the Las Vegas Motor Speedway, Las Vegas.
The Auction benefited the New York Disaster Relief Fund and Riders for Health (a charity focusing on teaching Doctors in Africa to fix and ride offroad motorcycles in areas, where patients can't be accessed with Jeeps)
The engine-less Duke was bought by current Superbike World Champion, Australian Troy Bayliss, who paid US$6000 for the bike. Full story
Recent results and new features on Cyclingnews
Major Races and Events
September 7-29, 2002: Vuelta a España (GT) - Preview, stage list
May 11-June 2, 2002: Giro d'Italia (GT) - Preview, stage list, photos
July 6-28, 2002: Tour de France (GT) - Full preview & official route details
December 8: Superprestige Rd 5 (Cat. 1) - Erwin Vervecken
November 29-December 4: Six Days of Noumea (6D) - Sassone/Neuville victorious
November 26-December 1: Six Days of Zurich (6D) - Day 6 - McGrory/Gilmore/Schnider win
December 1: Melbourne Cup on Wheels (IM) - Scott Moller, Keirin, Sprint, Support races
December 2: Cyclo-cross World Cup #2 (CDM) - Sven Nijs again
November 24-December 3: Juegos Deportivos Centroamericanos (JR) - Final results
December 8-9: Frankfurter Rad-Cross (Cat. 2) - Alex Mudroch, UK National Trophy Series #4 (Cat. 3) - Roger Hammond, Grote Prijs Industrie Bosduin - Kalmthout (Cat. 1) - Bart Wellens, Int. Radquer Obergösgen (Cat. 2) - Björn Rondelez, Trofeo Mamma e Papa Guerciotti (Cat. 3) - Enrico Franzoi, Premio Egondo (Cat 3) - David Seco, Irish cyclo-cross championships - Robin Seymour

Results: local racing
Australia - CycleWest Promotions Omnium Series #2, Eastern Suburbs Summer Criterium Series, Carnegie Caulfield Tuesday criterium, Southern Cross Junior Track Open & Madison Cup, Manly Warringah CC, George Town Track Carnival, Carnegie Caulfield CC, Randwick Botany CC, Gold Coast CATS CC, Caesar's Illawarra CC, Caesar's Illawarra (track)
Denmark - Danish cyclo-cross Post Cup #3
Italy - Gran Premio Città di Bassano
Luxembourg - GP De Kopstal
New Zealand - Cyco Criterium series
Spain - Elorrio cyclo-cross
USA - Georgia Cross Series Championship, Chimborazo Grand Prix cyclo-cross, Boulder Cross Rd 6, New Mexico State Cyclo-x Champs, Sorrento Cyclo-x & California State Champ's, Boulder Cross Rd 5, Verge New England series, Northampton CC Cyclo-cross Championships, Chris Cross International CycloCross


Recently on Cyclingnews
Latest Photos - Olympic Armstrong, Boulder & California 'cross, More Pan-Am, Canberra, Boston & REI 'cross (December 13)
Cyclingnews survey - Reader Poll 2001 - Vote for your favourite riders
Letters - VDB, Lance, Boring Tour, Coastal Post, Respect (December 13)
Cyclingnews Interview - Ryan Bayley - the KFC-fuelled world champ (December 13)
Cyclingnews Interview - David McKenzie - Macca's back (December 12)
Cyclingnews Interview - Laurent Jalabert - Jalabert looks ahead (December 11)
Cyclingnews Interview - Charly Wegelius - A coffee stop with Charly (December 8)
Cyclingnews Interview - Sven Montgomery - Moving up in the world (December 6)
Cyclingnews Interview - Rochelle Gilmore - Road scholar (December 6)
Tales from the Peloton - 12 Hours of Oleta - MTB endurance race in Miami (December 6)
Tales from the Peloton - Tony Cruz - back to his roots (December 7)
Marco Polo Diary - Tour du Faso - Part II - Nathan Dahlberg's report (December 3)
Tech maintenance - Wheels - how to keep them true and tight
Tech letters - Headsets, Pegoretti, Carbon cage, gloves & tubes (December 10)
Tech news - Navigators power-tap, Headsets, Carbon cages (December 7)
Tech- Recycling - How to protect your chainstay for free
Tech Reviews: Egg Beater pedals; Park Tool belt; Shimano shoes; Speedplay
Breaking the Chain  - Dope planning and testing - From Willy Voet's book


cyclingnews.com Copyright ©1995-2000 Knapp Communications
Systems:

Adrian Butterworth