2001 Ducati REVS weekend
Las Vegas, USA, Oct 27-28, 2001
Bayliss's new lightweight machine
By Gerard Knapp
The reigning World Superbike champion really wanted the one-off Litespeed-Ducati - for training rides.
Further to our report in Sunday's news about the special Litespeed-Ducati bicycle, it seems that the owner of the one-off special plans to put the machine to good use - going for training rides as he keeps his fitness for the next season.
It was purchased by Troy Bayliss, who won the 2001 World Superbike championship riding a Ducati. The Australian motorcycle racer was determined to secure the one-off and paid US$6000 for the "awesome" bike at a charity auction in Las Vegas.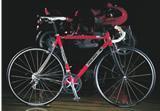 Bayliss to provide the engine
Photo: © Litespeed
"At the auction I was getting a sweat on, the adrenaline was flowing, just like being on the start line, honestly!" Bayliss wrote in his official web site. The bike is a Litespeed titanium built up with Campagnolo components and the made in close co-operation with the Ducati Motorcycle company, a company synonomous with Italian motorcycling but now owned by American investors.
Herbert Krabel from Litespeed said the "bike was then made available at an auction at the Ducati REVS America weekend, which was held at the end of October at the Las Vegas Motor Speedway, in Las Vegas.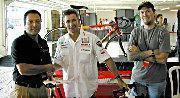 The motorcyclist secures the engineless Ducati Ti model from Litespeed.
Photo: © Litespeed
"The Auction benefited the New York Disaster Relief Fund and Riders for Health (a charity focusing on teaching Doctors in Africa to fix and ride offroad motorcycles in areas, where patients can't be accessed with four-wheel drive vehicles)," Krabel said.
The new owner of the Litespeed-Ducati is a keen cyclist and regularly gets out on his bike for training and pleasure. "I like to have a bicycle with me if I can and I recently bought this hard flightcase for it. You see people with flightcases for golf clubs or whatever, but being me, I've got one for my pushie," said the Australian motorcycling champion.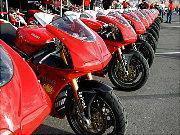 We're all indivuals.
Photo: © Litespeed
The intensity of motorcycle racing requires a very high level of fitness to continually wrestle with the 170bhp missiles. At the same time, most racers tend to be dealing with injuries as a result of spills. For Bayliss, cycling is an essential part of his fitness regime, as well as something he enjoys. "I've been out on my pushie while I've been in England these past few days. It's been a bit cool in the early mornings but I haven't got wet at all. I've been cycling for about five days now and it was a little bit tough the first couple of days but nowhere near as bad as I thought it might have been."
Krabel said that at the weekend gathering over 5000 Ducati riders from all over the USA descended on Las Vegas for the weekend, which included a tradeshow and appearances from other Ducati riders such as Ben Bostrom and Ruben Xaus. Apparently, Bayliss's manager had to collect his client several times when he found him in the Litespeed booth checking out the bikes and asking the staff lots of technical questions, rather than being at other functions.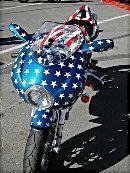 The gathering allowed American fans to show their feelings.
Photo: © Litespeed
"There was an auction where Ben ended up buying a new guitar and I bought an incredible new bike. It's just awesome, it's incredible, it's one of one and I just had to have it. I'm not used to paying for my pushies, but I ended up paying six grand for it, which seems a lot but the bike is great and the money all goes to charity.
"So Ben's got a new guitar and I've got a new bike and the charity made a bunch of money. I think the auction was about the best bit of the trip, that and standing between the drag cars, but at the auction I was getting a sweat on, the adrenaline was flowing, just like being on the start line, honestly!"
Got tech? Send press releases, news, and tech questions to the Cyclingnews tech-heads.