RESULTS
March 4 - 9, 2000
---
Stage 7 - March 8: Thredbo Road Circuit, 35.2 kms
By Jeff Jones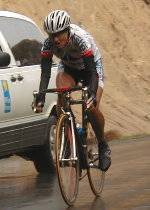 Feldhahn comes close
(click for larger image)
Photo: Jeff Jones
If stage 6 was in any way hard, stage 7 that followed a short while after was more so. Eight laps of a 4.4 kilometer circuit around the alpine village of Thredbo doesn't sound too hard, but when you throw in the wet and cold conditions, the damaged road surface in parts, and a steep one kilometer climb each lap, it was clear why most of the riders were not particularly motivated to race.
Of course, this did not matter, because there were some that wanted to spoil the party. The first attack was made on the second lap by AIS rider, Juanita Feldhahn (pronounced with a hard 'J'). Currently running ninth overall, she has had a solid tour and this circuit would suit her climbing abilities. Her team immediately marshalled at the front to slow things down when they could, allowing Feldhahn to establish a steady 20-30 second gap.
As each lap rolled by, the peloton was getting more thinly sliced by the climb, but there was still a fairly large group containing race leader Jeanson and second overall Gaudry. Off the front of these were four riders: Chantal Beltman (Ned, Pays Bas), Elizabeth Tadich (Aus, Jayco), and two of Jeanson's teammates, Anne Samplonius and Karren Kurreck. Despite their efforts, they could not close the gap to Feldhahn, who was having a brilliant ride.
These four had a 40 second gap to the peloton, but on the fifth lap there was a big move from Saturn rider, Dede Demet (USA) who took teammate Anna Wilson with her, as well as Rosalind Reekie-May (NZ), and Mirjam Melchers (Ned). They quickly bridged up to the four in front, with Demet dropping back after doing her job. A group of eight was never going to last long on this circuit, and the final few laps shredded them, courtesy of some hard riding by Kurreck and Reekie-May.
Although tired from this morning, Wilson was up to the task and went with Kurreck the last time up the climb. Out in front, Feldhahn was burying herself but it came to nought as she was captured over the top of the hill, having spent the best part of the race alone. She was devastated, as she knew with Wilson there, there would be no chance of a win.
True to form, Wilson once again sprinted home to her second stage victory of the day, from Karen Kurreck and a disappointed Feldhahn. Close behind, in fourth and fifth were New Zealand's Reekie-May and Holland's Melchers. Remnants of the break followed, with the main bunch being led home by Timex's Mari Holden in ninth, nearly 1:20 back.
The win, and the time bonus moved Wilson up into third place overall (from fifth this morning) and also into the points jersey. An excellent result for the rider who Stuey Doyle [race commentator] described last night as having "not the best of tours"(!)
"It was hard to get motivated after this morning, to get out in the rain again," she said. "Dede attacked and I followed, and thought 'Hey, I don't feel too bad'".
"Juanita Feldhahn had an awesome ride, as did Rosalind Reekie who was very strong. When Karen went on that last climb, I managed to hold her wheel and we caught Juanita over the top. Then it was just a matter of winding up the sprint again," she said.
Feldhahn, although third overall was obviously shattered: "I gave it everything mate. I thought I was going to fall off the bike, I was totally stuffed. When they caught me with 400-500 meters to go, I was devastated. Still, at the end I was happy with doing such a hard ride."
Karen Kurreck was shaking with the cold at the end, but was at least satisfied with her first good result in the tour: "I'm finally coming into some form, but I wasn't happy to see Anna up there when I attacked," she shivered. "I'll aim for a stage win tomorrow maybe, and then definitely the World Cup on Sunday."
In terms of the GC, Tracey Gaudry probably gave up her chance to make any inroads into Geneviève Jeanson's 1:41 lead. She was totally at home on the steep climb, while Gaudry had to follow. "I'm feeling good, I have have good legs and it was a good day," she said cheerily. "This morning was hard, and there was fierce competition with Tracey making many attacks. This afternoon, everyone had warmed down a bit and it was nice."
The young star has almost achieved her first major victory in a senior women's road competition, and it will give her confidence and her chances of Olympic selection a huge boost. The challenge will be to correctly time her run into the Games, should this occur, but she is certainly an amazing talent.
Tomorrow's last day again has two stages, but these won't be as tough as today. First of all, there is a 97 kilometer run from Thredbo to Cooma via Jindabyne, and then an evening circuit race in Cooma of 30 kilometers. The points and QOM jerseys will be decided then.
1 Anna Wilson (Aus) Saturn                              59.53 (35.27 km/h)
2 Karen Kurreck (USA) Canada 
3 Juanita Feldhahn (Aus) AIS-ACTAS 
4 Rosalind Reekie-May (NZl) New Zealand                  0.05
5 Mirjam Melchers (Ned) Pays Bas-Holland                 0.07
6 Elizabeth Tadich (Aus) Jayco-VIS                       0.58
7 Chantal Beltman (Ned) Pays Bas-Holland                 0.59
8 Anne Samplonius (Can) Canada                           1.04
9 Mari Holden (USA) Timex                                1.17
10 Priska Doppman (Swi) Master Team/Carpe Diem
11 Kristy Scrymgeour (Aus) AIS-ACTAS
12 Sara Carrigan (Aus) AIS-ACTAS
13 Kym Shirley (Aus) AIS-ACTAS
14 Kim Smith (USA) Timex
15 Jacinta Coleman (NZl) New Zealand
16 Katie Mactier (Aus) Jayco-VIS
17 Arenda Grimberg (Ned) Pays Bas-Holland
18 Alison Wright (Aus) AIS-ACTAS
19 Margaret Hemsley (Aus) Bicisport-NSWIS
20 Marcia Eicher Vouets (Swi) Master Team/Carpe Diem
21 Marielle Van Scheppingen (Ned) Pays Bas-Holland
22 Sarah Ulmer (NZl) New Zealand
23 Susy Pryde (NZl) Saturn
24 Dede Demet (USA) Saturn
25 Tracey Gaudry (Aus) Timex
26 Geneviève Jeanson (Can) Canada
27 Lucy Vignes (Aus) Sydney Water
28 Sandy Espeseth (Can) Canada
29 Vanessa Cheatley (NZl) New Zealand
30 Natalie Bates (Aus) Bicisport-NSWIS
31 Mirella Van Melis (Ned) Pays Bas-Holland              1.33
32 Annabelle Vowels (Aus) Velobelles
33 Naomi Williams (Aus) Jayco-VIS
34 Sanna Lehtimaki (Fin) Timex
35 Jodie Vaassen (Aus) Velobelles
36 Annalisa Farrell (NZl) New Zealand
37 Julie Hooper (Aus) Southern Regional Team
38 Geraldine Denham (Aus) Jayco-VIS
39 Hayley Rutherford (Aus) AIS-ACTAS
40 Katia Longhin (Ita) Master Team/Carpe Diem
41 Honi Geysen (Aus) Southern Regional Team
42 Emma James (Aus) Sydney Water
43 Kirsty Robb (NZl) Team 2001                           1.46
44 Mika Ogishima (Jpn) Northern Regional Team            1.51
45 Ghita Beltman (Ned) Pays Bas-Holland                  1.53
46 Angela Hillenga (Ned) Pays Bas-Holland                1.54
47 Sigrid Corneo (Ita) Master Team/Carpe Diem            2.02
48 Belinda Probert (Aus) Bicisport-NSWIS                 2.44
49 Odessa Gunn (Can) Timex                               3.41
50 Jessica Amy (Aus) Jayco-VIS                           4.40
51 Erin Carter (Can) Canada                              6.01
52 Erin Veenstra-Mirabella (USA) Timex
53 Benita Douglas (NZl) Team 2001                        6.14
54 Fiona Scarff (Aus) Velobelles                         6.46
55 Nadia Frischknecht (Aus) Sydney Water
56 Ayumi Ootsuka (Jpn) Japan
57 Natalie Beetson (NZl) Team 2001
58 Karen Sumpton (Aus) Southern Regional Team
59 Dellys Franke (Aus) Jayco-VIS
60 Susan Hefler (USA) Canada                             9.15
61 Rebecca Cleveland (Aus) Southern Regional Team
62 Bianca Netzler (Sam) Northern Regional Team
63 Sophie Freshwater (Aus) Saturn
64 Akemi Morimoto (Jpn) Japan
65 Kerry Ellen Hellmuth (USA) Master Team/Carpe Diem
66 Kanako Nishi (Jpn) Northern Regional Team
67 Anna Bayliss (Aus) Southern Regional Team
68 Miho Oki (Jpn) Japan                                 10.28
69 Alexandra Ka Wah Yeung (HKg) Bicisport-NSWIS         11.34
70 Tracey Bowyer (Aus) Velobelles                       11.41
71 Fanny Lavierrie (NZl) Team 2001                      11.53
72 Bridget Evans (Aus) Master Team/Carpe Diem           15.26

Stage points:

1 Anna Wilson (Aus) Saturn                                  5 pts
2 Karen Kurreck (USA) Canada                                3
3 Juanita Feldhahn (Aus) AIS-ACTAS                          2
4 Rosalind Reekie-May (NZl) New Zealand                     1

General classification after stage 7:

1 Geneviève Jeanson (Can) Canada                     10.40.26
2 Tracey Gaudry (Aus) Timex                              1.41
3 Anna Wilson (Aus) Saturn                               6.27
4 Kym Shirley (Aus) AIS-ACTAS                            7.18
5 Mari Holden (USA) Timex                                7.35
6 Jacinta Coleman (NZl) New Zealand                      8.53
7 Mirjam Melchers (Ned) Pays Bas-Holland                 9.29
8 Rosalind Reekie-May (NZl) New Zealand                  9.56
9 Juanita Feldhahn (Aus) AIS-ACTAS                      10.16
10 Dede Demet (USA) Saturn                              12.31
11 Susy Pryde (NZl) Saturn                              13.23
12 Chantal Beltman (Ned) Pays Bas-Holland               16.45
13 Kim Smith (USA) Timex                                19.46
14 Sandy Espeseth (Can) Canada                          19.47
15 Alison Wright (Aus) AIS-ACTAS                        20.18
16 Priska Doppman (Swi) Master Team/Carpe Diem          21.59
17 Karen Kurreck (USA) Canada                           22.11
18 Marcia Eicher Vouets (Swi) Master Team/Carpe Diem    23.51
19 Sara Carrigan (Aus) AIS-ACTAS                        24.11
20 Julie Hooper (Aus) Southern Regional Team            24.48
21 Sarah Ulmer (NZl) New Zealand                        24.57
22 Margaret Hemsley (Aus) Bicisport-NSWIS               27.52
23 Marielle Van Scheppingen (Ned) Pays Bas-Holland      28.04
24 Emma James (Aus) Sydney Water                        29.35
25 Katie Mactier (Aus) Jayco-VIS                        30.37
26 Sanna Lehtimaki (Fin) Timex                          31.38
27 Erin Carter (Can) Canada                             31.39
28 Katia Longhin (Ita) Master Team/Carpe Diem           32.01
29 Arenda Grimberg (Ned) Pays Bas-Holland               33.21
30 Jodie Vaassen (Aus) Velobelles                       33.29
31 Erin Veenstra-Mirabella (USA) Timex                  33.43
32 Annalisa Farrell (NZl) New Zealand                   34.11
33 Anne Samplonius (Can) Canada                         34.31
34 Karen Sumpton (Aus) Southern Regional Team           35.00
35 Anna Bayliss (Aus) Southern Regional Team            35.42
36 Elizabeth Tadich (Aus) Jayco-VIS                     35.45
37 Hayley Rutherford (Aus) AIS-ACTAS
38 Annabelle Vowels (Aus) Velobelles                    36.03
39 Nadia Frischknecht (Aus) Sydney Water                36.05
40 Vanessa Cheatley (NZl) New Zealand                   36.16
41 Natalie Bates (Aus) Bicisport-NSWIS                  36.37
42 Ghita Beltman (Ned) Pays Bas-Holland                 36.53
43 Mika Ogishima (Jpn) Northern Regional Team           37.09
44 Kirsty Robb (NZl) Team 2001                          37.31
45 Benita Douglas (NZl) Team 2001                       37.39
46 Geraldine Denham (Aus) Jayco-VIS                     41.55
47 Lucy Vignes (Aus) Sydney Water                       44.07
48 Fiona Scarff (Aus) Velobelles                        45.54
49 Honi Geysen (Aus) Southern Regional Team             46.18
50 Odessa Gunn (Can) Timex                              46.44
51 Ayumi Ootsuka (Jpn) Japan                            47.15
52 Belinda Probert (Aus) Bicisport-NSWIS                48.37
53 Jessica Amy (Aus) Jayco-VIS                          48.39
54 Angela Hillenga (Ned) Pays Bas-Holland               48.53
55 Kerry Ellen Hellmuth (USA) Master Team/Carpe Diem    49.18
56 Akemi Morimoto (Jpn) Japan                           50.22
57 Kristy Scrymgeour (Aus) AIS-ACTAS                    52.22
58 Sigrid Corneo (Ita) Master Team/Carpe Diem           54.34
59 Mirella Van Melis (Ned) Pays Bas-Holland             54.35
60 Naomi Williams (Aus) Jayco-VIS                       55.58
61 Sophie Freshwater (Aus) Saturn                       58.10
62 Rebecca Cleveland (Aus) Southern Regional Team     1.00.31
63 Bianca Netzler (Sam) Northern Regional Team        1.02.50
64 Dellys Franke (Aus) Jayco-VIS                      1.04.52
65 Susan Hefler (USA) Canada                          1.08.27
66 Natalie Beetson (NZl) Team 2001                    1.09.09
67 Tracey Bowyer (Aus) Velobelles                     1.12.42
68 Miho Oki (Jpn) Japan                               1.14.50
69 Fanny Lavierrie (NZl) Team 2001                    1.19.52
70 Kanako Nishi (Jpn) Northern Regional Team          1.26.07
71 Bridget Evans (Aus) Master Team/Carpe Diem         1.41.26
72 Alexandra Ka Wah Yeung (HKg) Bicisport-NSWIS       2.11.51

Points classification:

1 Anna Wilson (Aus) Saturn                                 18 pts
2 Mirjam Melchers (Ned) Pays Bas-Holland                   10
3 Geneviève Jeanson (Can) Canada                            8
4 Kim Smith (USA) Timex                                     6
5 Tracey Gaudry (Aus) Timex                                 5
6 Mari Holden (USA) Timex                                   5
7 Susy Pryde (NZl) Saturn                                   4
8 Jacinta Coleman (NZl) New Zealand                         3
9 Sarah Ulmer (NZl) New Zealand                             3
10 Kym Shirley (Aus) AIS-ACTAS                              3
11 Hayley Rutherford (Aus) AIS-ACTAS                        3
12 Karen Kurreck (USA) Canada                               3
13 Juanita Feldhahn (Aus) AIS-ACTAS                         2
14 Rosalind Reekie-May (NZl) New Zealand                    1
15 Natalie Bates (Aus) Bicisport-NSWIS                      1
16 Sara Carrigan (Aus) AIS-ACTAS                            1
17 Alison Wright (Aus) AIS-ACTAS                            1

Mountains classification:

1 Geneviève Jeanson (Can) Canada                           26 pts
2 Tracey Gaudry (Aus) Timex                                22
3 Kym Shirley (Aus) AIS-ACTAS                              10
4 Mari Holden (USA) Timex                                   8
5 Jacinta Coleman (NZl) New Zealand                         6
6 Anna Wilson (Aus) Saturn                                  4
7 Susy Pryde (NZl) Saturn                                   3
8 Kim Smith (USA) Timex                                     2
9 Dede Demet (USA) Saturn                                   2
10 Mirjam Melchers (Ned) Pays Bas-Holland                   2
11 Juanita Feldhahn (Aus) AIS-ACTAS                         2
12 Hayley Rutherford (Aus) AIS-ACTAS                        1