General
Mountain streams overflowing with trout, amazing vistas, bushland filled with Australian birds and animals, crisp mountain air that fills your lungs and wonderful large lakes are what the Snowy Mountains are known for - not counting out the fantastic skiing attractions for everyone.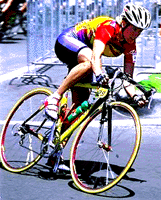 Road cycling is challenging in the Snowy Mountains
In winter these mountains are covered with snow and ice, a dreamscape for any skiiers wishing to experience the slopes. They are just as magnificent when they are covered with an abundance of wildflowers, making bush walking an experience to be enjoyed by everyone.
Kosciuszko National Park is located within the Snowy Mountains and consists of 690,000 hectares. During winter this is the area which is home to all of the ski fields in New South Wales, as it becomes completely snow covered.
The major Ski resort towns are Thredbo, Perisher Blue, Charlotte Pass and the Selwyn Snowfields. At Thredbo village, you can ride the Crackenback chairlift (open every day throughout the year) and walk to the top of Mount Kosciuszko. There is also an 8.5 km ride on the skitube train, which goes through Australia's largest tunnel - 6.3 km is underground, and this takes you up to Perisher Valley and also to Mt. Blue Cow. Other land activities include road cycling, mountain bike riding, horse riding and visiting the Yarrangobilly limestone caves, inlcuding swimming in the naturally heated thermal pool outside.
Cycling
The cycling is fantastic around the Snowy's, although you may require some low gears for the hilly terrain. For example, starting from Jindabyne, which is a convenient base for many activities, you can ride 40 km up to Charlotte's Pass or a similar distance to Thredbo. Be prepared for long, climbs with some steep sections, however the run back is worth it.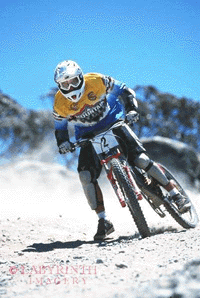 Great country for mountain biking
Alternatively, there is flatter terrain to the North and East of Jindabyne, and you can ride as far as you wish around here. The towns of Adaminaby and Cooma are also useful starting points for cycling tours, and these feature in the Tour de Snowy race.
Near Adaminaby, there are the options of trout fishing, swimming, or sailing in Lake Eucumbene. Similarly, the towns of Berridale, Bombala, and Tumut offer visitors excellent accomodation, as well as tours, historic sites and access to all the natural attractions.
Of course, mountain biking is very popular in the Snowy Mountains, and there are many options. You can either explore yourself, through hiring a bike or bringing your own. Otherwise there are several companies that organise tours in the area.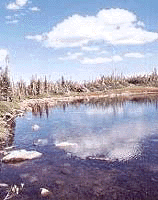 Beautiful lakes to canoe on
There are tours of the Snowy Mountains Hydro-Electric Scheme, which generates electricity using water to help operate the turbines. This water then flows into the Murray and Murrambidgie River and is also used for irrigation purposes. Tours are available of the great Tumut 3, the beautiful Murray or the amazing underground station Tumut 2.
The park has spectacular views, and plenty of wildlife and history and legends have evolved from these grounds. The Aboriginies were the first to explore the area where it was given the name Tar Gan Gil (Mt Kosciuszko). It therefore contains a many of their ceremonial grounds and sacred features such as graves, trees and objects.
The famous 'Man from Snowy River' forms part of Australia's identity and culture and so what better place to visit than this, if you want to experience the dangerous and exciting wild bush of Australia.
Getting there:
The Snowy Mountains are situated midway between Sydney and Melbourne, approximately 6 hours drive from each. Alternatively, you can fly to Cooma, which is 85 km from Thredbo, followed by a bus trip or car hire. Buses also operate directly out of Sydney or Melbourne.
Climate:
In summer and spring, when the Tour de Snowy is held, the temperature ranges from 14 - 24 degrees celsius, making for pleasant conditions for all outdoor activities. In addition, rainfall is generally not too heavy at this time of year.