Results
1999 Stage 6 winner: Anna Wilson
RESULTS
March 4 - 9, 2000
---
Stage 6 - March 8: Jindabyne - Thredbo, 35.9 kms
By Jeff Jones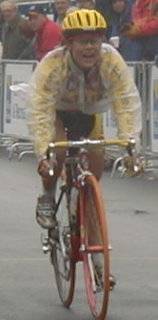 Wilson takes her second
(click for larger image)
Photo: Jeff Jones
Another short stage, but all uphill as the riders had to climb some 400 meters from Jindabyne to the Alpine Ski village of Thredbo. Once again, the conditions were wet and cold, making for a hard day despite the fact that there would only be an hour or so of racing. Race leader, Geneviève Jeanson would probably not relish the conditions, but the terrain was to her liking. The climb was not too steep, but it was up and that's what counts.
The Dutch team decided that they would get a head start to the hotel at Threbo, and put the hammer down from the beginning. However, once the riders turned up the first incline, it was clear who was boss. Jeanson's distinctive red shorts and leaders jersey were seen at the head of the bunch, closely marked by Tracey Gaudry in her green and yellow Timex colours. The first climb was short, but it was enough to put several riders out the back, including half the Dutch squad. Just 4 kilometers into the stage, and already the legs of Geneviève were stretching the "elastic band" to the back of the peloton.
In the valley that followed, there was a partial regrouping before the day's only categorised climb at 17 kilometers (category 2). Timex had attempted to put pressure on in betwen, sending Erin Veenstra and Kim Smith up the road, but they could not gain more than a few hundred meters. There were points and seconds to be had on the climb, and both Gaudry and Jeanson could gain by being first to the top. Predictably, it was Jeanson who crested first, followed by Gaudry, Kim Shirley (AIS), Jacinta Coleman (NZ), and Anna Wilson (Saturn). A little group were close behind, and managed to regain them on the descent that followed.
This 3 kilometer downhill offered Gaudry the opportunity to attack, as she is a better descender than Jeanson and it was wet to boot. Instead however, it was Saturn's Anna Wilson who took the initiative, emerging with a 15 second gap at the bottom. The fifteen strong lead group, that also contained fourth placed Mari Holden did not want to let her get too far, especially as a 20 second stage bonus could put Wilson in front of Holden if she maintained a reasonable lead. Other riders in the group included Karen Kurreck (Canada), Kim Smith (Timex), Mirjam Melchers (Pays Bas), Juanita Feldhahn (AIS), Rosalind Reekie-May (NZ) and Susy Pryde (Saturn).
Wilson was caught after about 5 kilometers on her own, and Feldhahn tried her hand. A promising gap, but the leaders were still edgy enough to give chase and she was captured with 5 kilometers to go. A series of attacks followed on the gradual uphill undulations into Thredbo - each time Guadry went though, Jeanson was straight onto her. It was no problem for the diminuitive Canadian to mark her rival.
The sprint into Thredbo was led out by Gaudry, who was determined to snare a bonus from Jeanson. But, the Canadian had the last say and overtook Gaudry on the line, although it was close. Of course, this was only for second and third place, as Saturn's Anna Wilson powered around these two to take another stage win, this time in the wet and misty conditions of Thredbo Alpine Village.
"Everyone thought this would be a hard stage," said Wilson afterwards. "Tracey was a bit nervous today, and didn't attack as much as we thought. After the first hill, no-one was able to attack Geneviève Jeanson, so I had the stage in mind."
"It was a good sprint after being led out by Tracey, but I had the 11 turning and I knew I could win," she smiled. "I'll go and get ready for this afternoon's circuit race now. Saturn will be really aggressive, and it should suit us. Hopefully I can win another stage."
We shall see, with another 35 kilometer stage in the wet. It will be 8 laps of a 4.4 kilometer circuit, with a couple of climbs each lap. Certainly no easier than the morning's stage.
1 Anna Wilson (Aus) Saturn                           1.05.16  (33.00 km/h)
2 Geneviève Jeanson (Can) Canada 
3 Tracey Gaudry (Aus) Timex 
4 Kym Shirley (Aus) AIS-ACTAS 
5 Jacinta Coleman (NZl) New Zealand 
6 Priska Doppman (Swi) Master Team/Carpe Diem 
7 Mirjam Melchers (Ned) Pays Bas-Holland 
8 Juanita Feldhahn (Aus) AIS-ACTAS 
9 Karen Kurreck (USA) Canada 
10 Rosalind Reekie-May (NZl) New Zealand
11 Chantal Beltman (Ned) Pays Bas-Holland
12 Susy Pryde (NZl) Saturn
13 Sarah Ulmer (NZl) New Zealand
14 Mari Holden (USA) Timex
15 Kim Smith (USA) Timex
16 Arenda Grimberg (Ned) Pays Bas-Holland                2.48
17 Marielle Van Scheppingen (Ned) Pays Bas-Holland
18 Alison Wright (Aus) AIS-ACTAS
19 Sara Carrigan (Aus) AIS-ACTAS
20 Katie Mactier (Aus) Jayco-VIS
21 Lucy Vignes (Aus) Sydney Water
22 Honi Geysen (Aus) Southern Regional Team
23 Julie Hooper (Aus) Southern Regional Team
24 Kristy Scrymgeour (Aus) AIS-ACTAS
25 Benita Douglas (NZl) Team 2001
26 Marcia Eicher Vouets (Swi) Master Team/Carpe Diem
27 Annabelle Vowels (Aus) Velobelles
28 Emma James (Aus) Sydney Water
29 Elizabeth Tadich (Aus) Jayco-VIS
30 Annalisa Farrell (NZl) New Zealand
31 Natalie Bates (Aus) Bicisport-NSWIS
32 Sandy Espeseth (Can) Canada
33 Vanessa Cheatley (NZl) New Zealand
34 Jodie Vaassen (Aus) Velobelles
35 Fiona Scarff (Aus) Velobelles
36 Sanna Lehtimaki (Fin) Timex
37 Dede Demet (USA) Saturn
38 Erin Veenstra-Mirabella (USA) Timex
39 Erin Carter (Can) Canada
40 Katia Longhin (Ita) Master Team/Carpe Diem
41 Anne Samplonius (Can) Canada
42 Kirsty Robb (NZl) Team 2001
43 Karen Sumpton (Aus) Southern Regional Team
44 Jessica Amy (Aus) Jayco-VIS                           3.46
45 Sigrid Corneo (Ita) Master Team/Carpe Diem            6.16
46 Mirella Van Melis (Ned) Pays Bas-Holland
47 Margaret Hemsley (Aus) Bicisport-NSWIS                6.20
48 Akemi Morimoto (Jpn) Japan                            6.31
49 Mika Ogishima (Jpn) Northern Regional Team
50 Ayumi Ootsuka (Jpn) Japan
51 Nadia Frischknecht (Aus) Sydney Water
52 Odessa Gunn (Can) Timex
53 Fanny Lavierrie (NZl) Team 2001
54 Kerry Ellen Hellmuth (USA) Master Team/Carpe Diem
55 Anna Bayliss (Aus) Southern Regional Team
56 Rebecca Cleveland (Aus) Southern Regional Team
57 Naomi Williams (Aus) Jayco-VIS
58 Geraldine Denham (Aus) Jayco-VIS
59 Natalie Beetson (NZl) Team 2001
60 Hayley Rutherford (Aus) AIS-ACTAS
61 Ghita Beltman (Ned) Pays Bas-Holland
62 Sophie Freshwater (Aus) Saturn
63 Angela Hillenga (Ned) Pays Bas-Holland                9.08
64 Belinda Probert (Aus) Bicisport-NSWIS                 9.44
65 Miho Oki (Jpn) Japan                                 12.25
66 Tracey Bowyer (Aus) Velobelles                       13.19
67 Bridget Evans (Aus) Master Team/Carpe Diem           13.23
68 Susan Hefler (USA) Canada
69 Bianca Netzler (Sam) Northern Regional Team
70 Dellys Franke (Aus) Jayco-VIS                        18.27
71 Alexandra Ka Wah Yeung (HKg) Bicisport-NSWIS
72 Kanako Nishi (Jpn) Northern Regional Team

Stage points:

1 Anna Wilson (Aus) Saturn                                  5 pts
2 Geneviève Jeanson (Can) Canada                            3
3 Tracey Gaudry (Aus) Timex                                 2
4 Kym Shirley (Aus) AIS-ACTAS                               1

Mountain prime:

Ivo's Farm, category 2 - 17.1 km

1 Geneviève Jeanson (Can) Canada                            6 pts
2 Tracey Gaudry (Aus) Timex                                 4
3 Kym Shirley (Aus) AIS-ACTAS                               3
4 Jacinta Coleman (NZl) New Zealand                         2
5 Anna Wilson (Aus) Saturn                                  1

General classification after stage 6:

1 Geneviève Jeanson (Can) Canada                      9.39.16
2 Tracey Gaudry (Aus) Timex                              1.41
3 Kym Shirley (Aus) AIS-ACTAS                            7.18
4 Mari Holden (USA) Timex                                7.35
5 Anna Wilson (Aus) Saturn                               8.04
6 Jacinta Coleman (NZl) New Zealand                      8.53
7 Mirjam Melchers (Ned) Pays Bas-Holland                10.39
8 Rosalind Reekie-May (NZl) New Zealand                 11.13
9 Juanita Feldhahn (Aus) AIS-ACTAS                      11.43
10 Dede Demet (USA) Saturn                              12.31
11 Susy Pryde (NZl) Saturn                              13.23
12 Chantal Beltman (Ned) Pays Bas-Holland               17.03
13 Kim Smith (USA) Timex                                19.46
14 Sandy Espeseth (Can) Canada                          19.47
15 Alison Wright (Aus) AIS-ACTAS                        20.18
16 Priska Doppman (Swi) Master Team/Carpe Diem          21.59
17 Karen Kurreck (USA) Canada                           23.43
18 Marcia Eicher Vouets (Swi) Master Team/Carpe Diem    23.51
19 Sara Carrigan (Aus) AIS-ACTAS                        24.11
20 Julie Hooper (Aus) Southern Regional Team            24.32
21 Sarah Ulmer (NZl) New Zealand                        24.57
22 Erin Carter (Can) Canada                             26.55
23 Anna Bayliss (Aus) Southern Regional Team            27.44
24 Margaret Hemsley (Aus) Bicisport-NSWIS               27.52
25 Marielle Van Scheppingen (Ned) Pays Bas-Holland      28.04
26 Erin Veenstra-Mirabella (USA) Timex                  28.59
27 Emma James (Aus) Sydney Water                        29.19
28 Karen Sumpton (Aus) Southern Regional Team           29.31
29 Nadia Frischknecht (Aus) Sydney Water                30.36
30 Katie Mactier (Aus) Jayco-VIS                        30.37
31 Sanna Lehtimaki (Fin) Timex                          31.22
32 Katia Longhin (Ita) Master Team/Carpe Diem           31.45
33 Benita Douglas (NZl) Team 2001                       32.42
34 Jodie Vaassen (Aus) Velobelles                       33.13
35 Arenda Grimberg (Ned) Pays Bas-Holland               33.21
36 Annalisa Farrell (NZl) New Zealand                   33.55
37 Anne Samplonius (Can) Canada                         34.44
38 Hayley Rutherford (Aus) AIS-ACTAS                    35.29
39 Annabelle Vowels (Aus) Velobelles                    35.47
40 Elizabeth Tadich (Aus) Jayco-VIS                     36.04
41 Vanessa Cheatley (NZl) New Zealand                   36.16
42 Ghita Beltman (Ned) Pays Bas-Holland                 36.17
43 Mika Ogishima (Jpn) Northern Regional Team           36.35
44 Natalie Bates (Aus) Bicisport-NSWIS                  36.37
45 Kirsty Robb (NZl) Team 2001                          37.02
46 Fiona Scarff (Aus) Velobelles                        40.25
47 Kerry Ellen Hellmuth (USA) Master Team/Carpe Diem    41.20
48 Geraldine Denham (Aus) Jayco-VIS                     41.39
49 Ayumi Ootsuka (Jpn) Japan                            41.46
50 Akemi Morimoto (Jpn) Japan                           32.24
51 Lucy Vignes (Aus) Sydney Water                       44.07
52 Odessa Gunn (Can) Timex                              44.20
53 Jessica Amy (Aus) Jayco-VIS                          45.16
54 Honi Geysen (Aus) Southern Regional Team             46.02
55 Belinda Probert (Aus) Bicisport-NSWIS                47.10
56 Angela Hillenga (Ned) Pays Bas-Holland               48.16
57 Sophie Freshwater (Aus) Saturn                       50.12
58 Kristy Scrymgeour (Aus) AIS-ACTAS                    52.22
59 Rebecca Cleveland (Aus) Southern Regional Team       52.33
60 Sigrid Corneo (Ita) Master Team/Carpe Diem           53.49
61 Mirella Van Melis (Ned) Pays Bas-Holland             54.19
62 Bianca Netzler (Sam) Northern Regional Team          54.52
63 Naomi Williams (Aus) Jayco-VIS                       55.42
64 Dellys Franke (Aus) Jayco-VIS                        59.23
65 Susan Hefler (USA) Canada                          1.00.29
66 Tracey Bowyer (Aus) Velobelles                     1.02.18
67 Natalie Beetson (NZl) Team 2001                    1.03.40
68 Miho Oki (Jpn) Japan                               1.05.39
69 Fanny Lavierrie (NZl) Team 2001                    1.09.16
70 Kanako Nishi (Jpn) Northern Regional Team          1.18.09
71 Bridget Evans (Aus) Master Team/Carpe Diem         1.27.17
72 Alexandra Ka Wah Yeung (HKg) Bicisport-NSWIS       2.01.34

Points classification:

1 Anna Wilson (Aus) Saturn                                 13 pts
2 Mirjam Melchers (Ned) Pays Bas-Holland                   10
3 Geneviève Jeanson (Can) Canada                            8
4 Kim Smith (USA) Timex                                     6
5 Tracey Gaudry (Aus) Timex                                 5
6 Mari Holden (USA) Timex                                   5
7 Susy Pryde (NZl) Saturn                                   4
8 Jacinta Coleman (NZl) New Zealand                         3
9 Sarah Ulmer (NZl) New Zealand                             3
10 Kym Shirley (Aus) AIS-ACTAS                              3
11 Hayley Rutherford (Aus) AIS-ACTAS                        3
12 Natalie Bates (Aus) Bicisport-NSWIS                      1
13 Sara Carrigan (Aus) AIS-ACTAS                            1
14 Alison Wright (Aus) AIS-ACTAS                            1

Mountains classification:

1 Geneviève Jeanson (Can) Canada                           26 pts
2 Tracey Gaudry (Aus) Timex                                22
3 Kym Shirley (Aus) AIS-ACTAS                              10
4 Mari Holden (USA) Timex                                   8
5 Jacinta Coleman (NZl) New Zealand                         6
6 Anna Wilson (Aus) Saturn                                  4
7 Susy Pryde (NZl) Saturn                                   3
8 Kim Smith (USA) Timex                                     2
9 Dede Demet (USA) Saturn                                   2
10 Mirjam Melchers (Ned) Pays Bas-Holland                   2
11 Juanita Feldhahn (Aus) AIS-ACTAS                         2
12 Hayley Rutherford (Aus) AIS-ACTAS                        1