Results
1999 Stage 6 winner: Anna Wilson
RESULTS
March 4 - 9, 2000
---
Stage 3 - March 5: Talbingo Time Trial, 8.9 kms
By Jeff Jones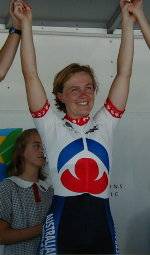 Kristy Scrymgeour: champion time trialist (click for larger image)
Photo: Jeff Jones
After the morning's shake up, the riders tackled the afternoon 8.9 kilometer time trial along the shores of Lake Talbingo. A beautiful course, slightly warmer but with a stiff headwind on the way home. It was a chance for the GC to sort itself out a little, before tomorrow's tough stage up to Cabramurra.
The Australian Institute of Sport team have made time trialling their specialty over the years, and it showed today. Third rider off, Margaret Hemsley (Bicisport, although she does ride with the AIS), set the quickest early time at 13:04.03. Soon after, AIS rider, Alison Wright came through with a 13:01.39, a time which held for quite a while.
However, halfway down the field, another AIS rider and also the current national time trial champion, Kristy Scrymgeour, set a blazing time of 12:34.99, averaging over 42.437 km/h. Even race favourite, Mari Holden (Timex USA) was unable to better this (12:59.52), obviously feeling the effects from the morning's efforts. Next best was Juanita Feldhahn (AIS) who set 12:43.97 - not good enough to beat Scrymgeour, but quite sufficient to keep her in second place.
One by one, the riders started and finished, and it came down to race leader Anna Wilson (Aus, Saturn) and last year's winner Tracey Gaudry (Aus, Timex) to try and better Scrymgeour's time. The wind was a little stronger at this point, but it was unlikely to have made the difference as Gaudry posted 12:43.20 for second place, and Wilson a 12:46.15 for fourth.
Kristy Scrymgeour, who had crashed out of the race last year, was declared the winner, and was extremely pleased against such formidable opposition: "I'm very happy with this result...I just got my new time trial bike, and it felt very fast. It's a nice course for me, fairly flat and a bit of wind. I was really keen to do well in this race."
Tracey Gaudry was satisfied with her second place, commenting that "I took things fairly conservatively on the way out, not wanting to push too much for the run home. This is really good for this time of year, and I'm aiming at the stages in the next couple of days to make a move. We will see some aggressive racing tomorrow."
Third placed Feldhahn described the conditions as quite hard, because of the wind and uphill coming home: "I thought I'd had an ordinary ride, but I think everyone found it hard. The result was really pleasing considering," she said.
"I'm climbing strongly, and am hoping for a top 10 finish tomorrow. As long as it's not raining or snowing, then I'm happy," she laughed. There was no danger of that today as the temperatures were once again around the 30 degree mark. Anything can happen further up the mountains though, and tomorrow will be one of the decisive stages for the field. The cyclists will tackle 110 kilometers from Khancoban to Cabramurra, Australia's highest settlement, with two climbs en route, and a lot of uphill.
1 Kristy Scrymgeour (Aus) AIS-ACTAS                         0:12:35 (42.437 km/h)
2 Tracey Gaudry (Aus) Timex                                    0.08
3 Juanita Feldhahn (Aus) AIS-ACTAS                             0.09
4 Anna Wilson (Aus) Saturn                                     0.11
5 Geneviève Jeanson (Can) Canada                               0.20
6 Mari Holden (USA) Timex                                      0.25
7 Sara Carrigan (Aus) AIS-ACTAS                                0.25
8 Alison Wright (Aus) AIS-ACTAS                                0.26
9 Margaret Hemsley (Aus) Bicisport-NSWIS                       0.29
10 Erin Carter (Can) Canada                                    0.36
11 Erin Veenstra-Mirabella (USA) Timex                         0.40
12 Karen Kurreck (USA) Canada                                  0.46
13 Sandy Espeseth (Can) Canada                                 0.49
14 Susy Pryde (NZl) Saturn                                     0.49
15 Jacinta Coleman (NZl) New Zealand                           0.50
16 Sarah Ulmer (NZl) New Zealand                               0.51
17 Dede Demet (USA) Saturn                                     0.53
18 Chantal Beltman (Ned) Pays Bas-Holland                      0.53
19 Natalie Bates (Aus) Bicisport-NSWIS                         0.56
20 Kym Shirley (Aus) AIS-ACTAS                                 0.57
21 Annalisa Farrell (NZl) New Zealand                          1.00
22 Elizabeth Tadich (Aus) Jayco-VIS                            1.01
23 Kirsty Robb (NZl) Team 2001                                 1.02
24 Odessa Gunn (Can) Timex                                     1.03
25 Mirjam Melchers (Ned) Pays Bas-Holland                      1.06
26 Fjelda Lee (Aus) Bicisport-NSWIS                            1.11
27 Vanessa Cheatley (NZl) New Zealand                          1.13
28 Geraldine Denham (Aus) Jayco-VIS                            1.19
29 Emma James (Aus) Sydney Water                               1.22
30 Lucy Vignes (Aus) Sydney Water                              1.22
31 Ghita Beltman (Ned) Pays Bas-Holland                        1.23
32 Benita Douglas (NZl) Team 2001                              1.23
33 Rosalind Reekie-May (NZl) New Zealand                       1.25
34 Marielle Van Scheppingen (Ned) Pays Bas-Holland             1.26
35 Fanny Lavierrie (NZl) Team 2001                             1.27
36 Katie Mactier (Aus) Jayco-VIS                               1.30
37 Arenda Grimberg (Ned) Pays Bas-Holland                      1.31
38 Julie Hooper (Aus) Southern Regional Team                   1.33
39 Nadia Frischknecht (Aus) Sydney Water                       1.40
40 Karen Sumpton (Aus) Southern Regional Team                  1.44
41 Honi Geysen (Aus) Southern Regional Team                    1.45
42 Mirella Van Melis (Ned) Pays Bas-Holland                    1.46
43 Marcia Eicher Vouets (Swi) Master Team/Carpe Diem           1.46
44 Belinda Probert (Aus) Bicisport-NSWIS                       1.46
45 Sanna Lehtimaki (Fin) Timex                                 1.49
46 Miho Oki (Jpn) Japan                                        1.52
47 Anna Bayliss (Aus) Southern Regional Team                   1.56
48 Jessica Amy (Aus) Jayco-VIS                                 1.58
49 Hayley Rutherford (Aus) AIS-ACTAS                           2.00
50 Bianca Netzler (Sam) Northern Regional Team                 2.01
51 Angela Hillenga (Ned) Pays Bas-Holland                      2.04
52 Anne Samplonius (Can) Canada                                2.05
53 Jodie Vaassen (Aus) Velobelles                              2.09
54 Ayumi Ootsuka (Jpn) Japan                                   2.09
55 Kim Smith (USA) Timex                                       2.11
56 Annabelle Vowels (Aus) Velobelles                           2.12
57 Kerry Ellen Hellmuth (USA) Master Team/Carpe Diem           2.16
58 Dellys Franke (Aus) Jayco-VIS                               2.22
59 Katia Longhin (Ita) Master Team/Carpe Diem                  2.25
60 Naomi Williams (Aus) Jayco-VIS                              2.25
61 Susan Hefler (USA) Canada                                   2.30
62 Natalie Beetson (NZl) Team 2001                             2.34
63 Alexandra Ka Wah Yeung (HKg) Bicisport-NSWIS                2.35
64 Tracey Bowyer (Aus) Velobelles                              2.36
65 Rebecca Cleveland (Aus) Southern Regional Team              2.36
66 Fiona Scarff (Aus) Velobelles                               2.36
67 Akemi Morimoto (Jpn) Japan                                  2.37
68 Bridget Evans (Aus) Master Team/Carpe Diem                  2.38
69 Karen Dekryger (Ned) Team 2001                              2.41
70 Priska Doppman (Swi) Master Team/Carpe Diem                 2.42
71 Simone Jacobs (Aus) Sydney Water                            2.47
72 Kaori Iida (Jpn) Japan                                      2.49
73 Sigrid Corneo (Ita) Master Team/Carpe Diem                  2.50
74 Kanako Nishi (Jpn) Northern Regional Team                   2.59
75 Sophie Freshwater (Aus) Saturn                              2.59
76 Mika Ogishima (Jpn) Northern Regional Team                  4.20
77 Avril Swan (Aus) Sydney Water                               DNS

Stage points:

1  Kristy Scrymgeour (Aus) AIS-ACTAS                              5 pts
2  Tracey Gaudry (Aus) Timex                                      3
3  Juanita Feldhahn (Aus) AIS-ACTAS                               2
4  Anna Wilson (Aus) Saturn                                       1

General classification after stage 3:

1 Anna Wilson (Aus) Saturn                                  2.07.29
2 Kristy Scrymgeour (Aus) AIS-ACTAS                            0.27
3 Tracey Gaudry (Aus) Timex                                    0.29
4 Mari Holden (USA) Timex                                      0.31
5 Juanita Feldhahn (Aus) AIS-ACTAS                             0.36
6 Geneviève Jeanson (Can) Canada                               0.43
7 Sara Carrigan (Aus) AIS-ACTAS                                0.47
8 Alison Wright (Aus) AIS-ACTAS                                0.48
9 Margaret Hemsley (Aus) Bicisport-NSWIS                       0.56
10 Mirjam Melchers (Ned) Pays Bas-Holland                      0.57
11 Sarah Ulmer (NZl) New Zealand                               1.03
12 Erin Carter (Can) Canada
13 Erin Veenstra-Mirabella (USA) Timex                         1.07
14 Susy Pryde (NZl) Saturn                                     1.16
15 Sandy Espeseth (Can) Canada
16 Jacinta Coleman (NZl) New Zealand                           1.17
17 Dede Demet (USA) Saturn                                     1.20
18 Chantal Beltman (Ned) Pays Bas-Holland
19 Natalie Bates (Aus) Bicisport-NSWIS                         1.23
20 Kym Shirley (Aus) AIS-ACTAS                                 1.24
21 Elizabeth Tadich (Aus) Jayco-VIS                            1.28
22 Kirsty Robb (NZl) Team 2001                                 1.29
23 Odessa Gunn (Can) Timex                                     1.30
24 Fjelda Lee (Aus) Bicisport-NSWIS                            1.38
25 Vanessa Cheatley (NZl) New Zealand                          1.40
26 Geraldine Denham (Aus) Jayco-VIS                            1.46
27 Emma James (Aus) Sydney Water                               1.49
28 Lucy Vignes (Aus) Sydney Water
29 Rosalind Reekie-May (NZl) New Zealand                       1.50
30 Benita Douglas (NZl) Team 2001
31 Ghita Beltman (Ned) Pays Bas-Holland
32 Marielle Van Scheppingen (Ned) Pays Bas-Holland             1.52
33 Katie Mactier (Aus) Jayco-VIS                               1.54
34 Arenda Grimberg (Ned) Pays Bas-Holland                      1.57
35 Karen Sumpton (Aus) Southern Regional Team                  2.07
36 Mirella Van Melis (Ned) Pays Bas-Holland                    2.12
37 Belinda Probert (Aus) Bicisport-NSWIS                       2.13
38 Marcia Eicher Vouets (Swi) Master Team/Carpe Diem
39 Anna Bayliss (Aus) Southern Regional Team                   2.23
40 Jessica Amy (Aus) Jayco-VIS                                 2.25
41 Hayley Rutherford (Aus) AIS-ACTAS                           2.27
42 Anne Samplonius (Can) Canada                                2.32
43 Ayumi Ootsuka (Jpn) Japan                                   2.36
44 Jodie Vaassen (Aus) Velobelles
45 Annabelle Vowels (Aus) Velobelles                           2.39
46 Angela Hillenga (Ned) Pays Bas-Holland                      2.49
47 Dellys Franke (Aus) Jayco-VIS
48 Katia Longhin (Ita) Master Team/Carpe Diem                  2.52
49 Fiona Scarff (Aus) Velobelles                               3.03
50 Akemi Morimoto (Jpn) Japan                                  3.04
51 Priska Doppman (Swi) Master Team/Carpe Diem                 3.09
52 Kaori Iida (Jpn) Japan                                      3.16
53 Julie Hooper (Aus) Southern Regional Team                   3.54
54 Sophie Freshwater (Aus) Saturn                              4.10
55 Mika Ogishima (Jpn) Northern Regional Team                  4.47
56 Bianca Netzler (Sam) Northern Regional Team                 2.34
57 Honi Geysen (Aus) Southern Regional Team                    4.50
58 Karen Kurreck (USA) Canada                                  4.53
59 Annalisa Farrell (NZl) New Zealand                          5.07
60 Nadia Frischknecht (Aus) Sydney Water                       5.15
61 Sanna Lehtimaki (Fin) Timex                                 5.56
62 Naomi Williams (Aus) Jayco-VIS                              6.07
63 Kim Smith (USA) Timex                                       6.18
64 Kerry Ellen Hellmuth (USA) Master Team/Carpe Diem           6.23
65 Sigrid Corneo (Ita) Master Team/Carpe Diem                  6.57
66 Tracey Bowyer (Aus) Velobelles                              7.18
67 Susan Hefler (USA) Canada                                   8.33
68 Rebecca Cleveland (Aus) Southern Regional Team              9.02
69 Fanny Lavierrie (NZl) Team 2001                             9.48
70 Miho Oki (Jpn) Japan                                       11.17
71 Bridget Evans (Aus) Master Team/Carpe Diem                 12.08
72 Kanako Nishi (Jpn) Northern Regional Team                  17.34
73 Simone Jacobs (Aus) Sydney Water                           18.22
74 Natalie Beetson (NZl) Team 2001                            20.05
75 Karen Dekryger (Ned) Team 2001                             22.42
76 Alexandra Ka Wah Yeung (HKg) Bicisport-NSWIS               47.48
77 Avril Swan (Aus) Sydney Water                               DNS

Queen of the mountains classification:

1 Tracey Gaudry (Aus) Timex                                       6 pts
2 Geneviève Jeanson (Can) Canada                                  4
3 Anna Wilson (Aus) Saturn                                        3
4 Mirjam Melchers (Ned) Pays Bas-Holland                          2
5 Mari Holden (USA) Timex                                         1

Points classification:

1 Anna Wilson (Aus) Saturn                                    8 pts
2 Mirjam Melchers (Ned) Pays Bas-Holland                      5
3 Mari Holden (USA) Timex                                     4
4 Sarah Ulmer (NZl) New Zealand                               3
5 Sara Carrigan (Aus) AIS-ACTAS                               1
6 Alison Wright (Aus) AIS-ACTAS                               1