RESULTS
March 4 - 9, 2000
---
Stage 2 - March 5: Tumut - Talbingo, 42.3 kms
By Jeff Jones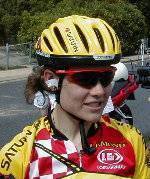 Anna wins the stage and the lead (click for larger image)
Photo: Jeff Jones
Although short, the 42.3 kilometer stage from Tumut to Talbingo still had the potential to cause some damage in the bunch, containing one second category climb starting just 10 kilometers out of town. With time bonuses (6-4-3-2-1 seconds) for a category 2 climb, plus a 20 second bonus for the stage win, the overnight lead of Dutch rider, Mirjam Melchers was anything but assured.
The climb indeed proved to be important, in more ways than one. After a steady start out of town with no attacks, the riders began the 5 km climb with some aggression. Just a few hundred meters into it, there was a large hole created in the bunch by a crash. Although no-one was seriously hurt, the damage was done in time, as the bunch split into serveral groups. Worst off was Canada/USA rider, Karen Kurreck, who was almost last back on her bike and had to engage in an ultimately fruitless chase for the rest of the stage.
First over the top, and looking very impressive was Timex rider, Tracey Gaudry, who led Canada's Genevieve Jeanson and Anna Wilson for the points. About 30 riders made it over in the front group, but this later swelled to over 40 as more regained on the short descent.
Following this, the tempo was kept high without any serious attacking. Indeed, two chasing groups closed within striking distance with approximately 18 kilometers to go. However, just as it looked like coming together, the group hit another small rise and the gap blew out again.
Things were looking set up for another sprint finish with 13 kilometers to go, but there was more drama in the front bunch. This time it was Timex rider, Mari Holden, one of the big race favourites, who experienced mechanical difficulties with her chainring partially coming off. She needed a spare bike - generously supplied by teammate, Sanna Lehtimaki (Fin) who used an AIS bike to chase. Holden regained the bunch quickly, but Lehtimaki was not so lucky (she had also damaged her knee in the crash), and was forced to finish alone.
Inside the last 10 kilometers, the attacks really started with the Dutch, Timex, and the AIS teams being prominent. Saturn, with their small numbers were content to just watch carefully and hope for a bunch sprint so that Anna Wilson could take a bonus. The only significant move came from New Zealand's Jacinta Coleman who went at about 8 km out, but she was caught by the combined Dutch and Timex train with 2 kilometers to go.
The sprint was actually led out by Holden, who was keen to gain some time coming into the next stage. However, the sprint was too long and it was Anna Wilson who won, with New Zealand's Sarah Ulmer taking second from Holden. The win, plus her position yesterday gave Wilson the overall lead from Melchers, who was unable to place highly today.
She was surprised afterwards to have taken it, but recognised that the coming stages would be more important: "It was a short, sharp stage at a very high pace - I certainly didn't find it easy."
"The Dutch were really motivated coming into the finish, but I was determined not to get caught in the gutter like I did last year. Once I had the position, the win was straightforward. There's no pressure coming into this afternoon's time trial, as tomorrow will be the crux of the race," she said.
Second placed Ulmer was not caught in the crash, but said that she "was right beside it...it was a puncture or something, but it caused a big cut in the bunch. Only two thirds finished up the front, which was surprising."
Tracey Gaudry became the first Queen of the Mountains leader, while Melchers will wear the points jersey. This afternoon's time trial is 8.9 km, and quite flat, favouring riders like Wilson, Gaudry, Holden, and Kurreck, who unfortunately lost several minutes today.
1 Anna Wilson (Aus) Saturn                             1.10.33
2 Sarah Ulmer (NZl) New Zealand 
3 Mari Holden (USA) Timex 
4 Sara Carrigan (Aus) AIS-ACTAS 
5 Dede Demet (USA) Saturn 
6 Elizabeth Tadich (Aus) Jayco-VIS 
7 Chantal Beltman (Ned) Pays Bas-Holland 
8 Odessa Gunn (Can) Timex 
9 Alison Wright (Aus) AIS-ACTAS 
10 Katia Longhin (Ita) Master Team/Carpe Diem
11 Mirjam Melchers (Ned) Pays Bas-Holland
12 Kristy Scrymgeour (Aus) AIS-ACTAS
13 Margaret Hemsley (Aus) Bicisport-NSWIS
14 Kym Shirley (Aus) AIS-ACTAS
15 Tracey Gaudry (Aus) Timex
16 Priska Doppman (Swi) Master Team/Carpe Diem
17 Ghita Beltman (Ned) Pays Bas-Holland
18 Arenda Grimberg (Ned) Pays Bas-Holland
19 Susy Pryde (NZl) Saturn
20 Genevieve Jeanson (Can) Canada
21 Jacinta Coleman (NZl) New Zealand
22 Sandy Espeseth (Can) Canada
23 Erin Carter (Can) Canada
24 Juanita Feldhahn (Aus) AIS-ACTAS
25 Marielle Van Scheppingen (Ned) Pays Bas-Holland
26 Ayumi Ootsuka (Jpn) Japan
27 Katie Mactier (Aus) Jayco-VIS
28 Anne Samplonius (Can) Canada
29 Dellys Franke (Aus) Jayco-VIS
30 Marcia Eicher Vouets (Swi) Master Team/Carpe Diem
31 Rosalind Reekie-May (NZl) New Zealand
32 Erin Veenstra-Mirabella (USA) Timex
33 Akemi Morimoto (Jpn) Japan
34 Geraldine Denham (Aus) Jayco-VIS
35 Vanessa Cheatley (NZl) New Zealand
36 Annabelle Vowels (Aus) Velobelles
37 Anna Bayliss (Aus) Southern Regional Team
38 Fiona Scarff (Aus) Velobelles
39 Emma James (Aus) Sydney Water
40 Lucy Vignes (Aus) Sydney Water
41 Jessica Amy (Aus) Jayco-VIS
42 Hayley Rutherford (Aus) AIS-ACTAS
43 Natalie Bates (Aus) Bicisport-NSWIS
44 Belinda Probert (Aus) Bicisport-NSWIS
45 Kirsty Robb (NZl) Team 2001
46 Kaori Iida (Jpn) Japan
47 Mika Ogishima (Jpn) Northern Regional Team
48 Jodie Vaassen (Aus) Velobelles
49 Fjelda Lee (Aus) Bicisport-NSWIS
50 Karen Sumpton (Aus) Southern Regional Team
51 Sophie Freshwater (Aus) Saturn
52 Julie Hooper (Aus) Southern Regional Team
53 Bianca Netzler (Sam) Northern Regional Team
54 Honi Geysen (Aus) Southern Regional Team
55 Naomi Williams (Aus) Jayco-VIS
56 Nadia Frischknecht (Aus) Sydney Water
57 Annalisa Farrell (NZl) New Zealand
58 Tracey Bowyer (Aus) Velobelles
59 Mirella Van Melis (Ned) Pays Bas-Holland
60 Benita Douglas (NZl) Team 2001
61 Angela Hillenga (Ned) Pays Bas-Holland                  0.18
62 Kim Smith (USA) Timex                                    3.4
63 Fanny Lavierrie (NZl) Team 2001
64 Karen Kurreck (USA) Canada
65 Susan Hefler (USA) Canada
66 Sigrid Corneo (Ita) Master Team/Carpe Diem
67 Rebecca Cleveland (Aus) Southern Regional Team
68 Kerry Ellen Hellmuth (USA) Master Team/Carpe Diem
69 Sanna Lehtimaki (Fin) Timex
70 Bridget Evans (Aus) Master Team/Carpe Diem              6.13
71 Miho Oki (Jpn) Japan                                    8.58
72 Simone Jacobs (Aus) Sydney Water                       10.53
73 Natalie Beetson (NZl) Team 2001
74 Kanako Nishi (Jpn) Northern Regional Team
75 Avril Swan (Aus) Sydney Water
76 Karen Dekryger (Ned) Team 2001                         15.19
77 Alexandra Ka Wah Yeung (HKg) Bicisport-NSWIS           37.18

Mountains:

Category 2 - 15.3 km

1 Tracey Gaudry (Aus) Timex                                   6 pts
2 Genevieve Jeanson (Can) Canada                              4
3 Anna Wilson (Aus) Saturn                                    3
4 Mirjam Melchers (Ned) Pays Bas-Holland                      2
5 Mari Holden (USA) Timex                                     1

Stage points

1 Anna Wilson (Aus) Saturn                                    5 pts
2 Sarah Ulmer (NZl) New Zealand                               3
3 Mari Holden (USA) Timex                                     2
4 Sara Carrigan (Aus) AIS-ACTAS                               1

General classification after stage 2:

1 Anna Wilson (Aus) Saturn                              1.54.43
2 Mirjam Melchers (Ned) Pays Bas-Holland                   0.02
3 Mari Holden (USA) Timex                                  0.17
4 Sarah Ulmer (NZl) New Zealand                            0.23
5 Tracey Gaudry (Aus) Timex                                0.32
6 Sara Carrigan (Aus) AIS-ACTAS                            0.33
7 Alison Wright (Aus) AIS-ACTAS 
8 Genevieve Jeanson (Can) Canada                           0.34
9 Odessa Gunn (Can) Timex                                  0.38
10 Erin Veenstra-Mirabella (USA) Timex
11 Dede Demet (USA) Saturn
12 Susy Pryde (NZl) Saturn
13 Jacinta Coleman (NZl) New Zealand
14 Vanessa Cheatley (NZl) New Zealand
15 Rosalind Reekie-May (NZl) New Zealand
16 Kirsty Robb (NZl) Team 2001
17 Benita Douglas (NZl) Team 2001
18 Chantal Beltman (Ned) Pays Bas-Holland
19 Ghita Beltman (Ned) Pays Bas-Holland
20 Arenda Grimberg (Ned) Pays Bas-Holland
21 Mirella Van Melis (Ned) Pays Bas-Holland
22 Marielle Van Scheppingen (Ned) Pays Bas-Holland
23 Elizabeth Tadich (Aus) Jayco-VIS
24 Geraldine Denham (Aus) Jayco-VIS
25 Dellys Franke (Aus) Jayco-VIS
26 Katie Mactier (Aus) Jayco-VIS
27 Jessica Amy (Aus) Jayco-VIS
28 Emma James (Aus) Sydney Water
29 Lucy Vignes (Aus) Sydney Water
30 Margaret Hemsley (Aus) Bicisport-NSWIS
31 Natalie Bates (Aus) Bicisport-NSWIS
32 Belinda Probert (Aus) Bicisport-NSWIS
33 Fjelda Lee (Aus) Bicisport-NSWIS
34 Juanita Feldhahn (Aus) AIS-ACTAS
35 Kristy Scrymgeour (Aus) AIS-ACTAS
36 Kym Shirley (Aus) AIS-ACTAS
37 Hayley Rutherford (Aus) AIS-ACTAS
38 Ayumi Ootsuka (Jpn) Japan
39 Kaori Iida (Jpn) Japan
40 Akemi Morimoto (Jpn) Japan
41 Priska Doppman (Swi) Master Team/Carpe Diem
42 Marcia Eicher Vouets (Swi) Master Team/Carpe Diem
43 Katia Longhin (Ita) Master Team/Carpe Diem
44 Anne Samplonius (Can) Canada
45 Sandy Espeseth (Can) Canada
46 Erin Carter (Can) Canada
47 Annabelle Vowels (Aus) Velobelles
48 Jodie Vaassen (Aus) Velobelles
49 Fiona Scarff (Aus) Velobelles
50 Mika Ogishima (Jpn) Northern Regional Team
51 Karen Sumpton (Aus) Southern Regional Team
52 Anna Bayliss (Aus) Southern Regional Team
53 Angela Hillenga (Ned) Pays Bas-Holland                  0.56
54 Sophie Freshwater (Aus) Saturn                          1.22
55 Julie Hooper (Aus) Southern Regional Team               2.34
56 Bianca Netzler (Sam) Northern Regional Team             2.57
57 Honi Geysen (Aus) Southern Regional Team                3.17
58 Naomi Williams (Aus) Jayco-VIS                          3.53
59 Nadia Frischknecht (Aus) Sydney Water                   4.18
60 Sanna Lehtimaki (Fin) Timex
61 Kim Smith (USA) Timex
62 Annalisa Farrell (NZl) New Zealand
63 Sigrid Corneo (Ita) Master Team/Carpe Diem
64 Kerry Ellen Hellmuth (USA) Master Team/Carpe Diem
65 Karen Kurreck (USA) Canada
66 Tracey Bowyer (Aus) Velobelles                          4.53
67 Susan Hefler (USA) Canada                               6.14
68 Rebecca Cleveland (Aus) Southern Regional Team          6.37
69 Fanny Lavierrie (NZl) Team 2001                         8.33
70 Miho Oki (Jpn) Japan                                    9.36
71 Bridget Evans (Aus) Master Team/Carpe Diem              9.41
72 Kanako Nishi (Jpn) Northern Regional Team              14.46
73 Avril Swan (Aus) Sydney Water                          15.46
74 Simone Jacobs (Aus) Sydney Water
75 Natalie Beetson (NZl) Team 2001                        17.42
76 Karen Dekryger (Ned) Team 2001                         20.12
77 Alexandra Ka Wah Yeung (HKg) Bicisport-NSWIS           45.24

Queen of the mountains classification:

1 Tracey Gaudry (Aus) Timex                                   6 pts
2 Genevieve Jeanson (Can) Canada                              4
3 Anna Wilson (Aus) Saturn                                    3
4 Mirjam Melchers (Ned) Pays Bas-Holland                      2
5 Mari Holden (USA) Timex                                     1

Points classification:

1 Anna Wilson (Aus) Saturn                                    8 pts
2 Mirjam Melchers (Ned) Pays Bas-Holland                      5
3 Mari Holden (USA) Timex                                     4
4 Sarah Ulmer (NZl) New Zealand                               3
5 Sara Carrigan (Aus) AIS-ACTAS                               1
6 Alison Wright (Aus) AIS-ACTAS                               1