First Edition Cycling News, May 26, 2009
Edited by Les Clarke
Sastre promises sustained Giro fight
By Gregor Brown in Monte Petrano, Italy
Carlos Sastre (Cervelo) wins stage 16 after a bold attack up the final mountain
Photo ©: Roberto Bettini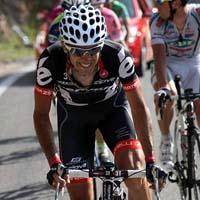 Carlos Sastre has vowed to maintain the attacks on his Giro d'Italia rivals following a dominant performance in the race's toughest day. The 2008 Tour de France Champion won the 16th stage to Monte Petrano and jumped from fifth to third overall.
"We still have some hard climbs. I am here to try to win the Giro and I will fight to the end," said the Spaniard following his emphatic stage win.
Two days after Cervélo teammate Simon Gerrans took a stage win, Sastre made his move on the fourth and final climb of the day. He followed the initial attacks of his former teammate Ivan Basso and then made his bid for victory with seven kilometres remaining.
"I had 220 kilometres in the legs and I didn't know what was going to happen. I didn't think too much, the opportunity was there. I had to try to take the maximum advantage of the situation."
Coming up on
Cyclingnews will cover the 60th edition of the Dauphiné Libéré live as of stage 4 on Wednesday, June 10, at approximately 15:00 local Europe time (CEST)/ 23:00 Australian time (CDT)/ 9:00 (USA East).

WAP-enabled mobile devices: http://live.cyclingnews.com/wap/

Sastre maintained his advantage and threatened the overall leaders. Menchov and second placed Danilo Di Luca rode defensively to finish 25 seconds behind. With the 20-second win bonus, Sastre is now only 2:19 behind Menchov and 1:40 behind Di Luca.

"When you overcome it all the satisfaction is great; when you are in good condition, you don't think about the kilometres and when you cross the finish line it's something so big."

Sastre won the 2008 Tour de France with a similar move on the famous Alpe d'Huez climb. Following Tuesday's rest day in Chieti, he has two more mountaintop finishes to make another push for the race leader's maglia rosa.

The riders face an 18-kilometre finishing climb to Blockhaus on Wednesday and a 13-kilometre climb up the Vesuvio volcano on Friday.

"Will I erupt on Vesuvio? I am calm when I ride - it will be the last chance for me in this Giro."
Cervélo critics silenced
Serge Pauwels (Cervelo) in the breakaway
Photo ©: Sirotti

Just a day after its tactics were criticised, the Cervélo TestTeam hit back with a stunning victory to silence those who had questioned the squad's decisions on the road.
With Serge Pauwels looking to contest the finale in the 15th stage, Cervélo director Jean-Paul Van Poppel ordered the Belgian back to help team leader Carlos Sastre, who was isolated in the gruppo maglia rosa. That decision was vindicated the following day after the Spaniard made his move up Monte Petrano to slot into third overall.
Sastre was quick to praise his teammates - particularly Pauwels - after his win, given that they had sacrificed their chances of glory for the good of his overall classification contention. "It's a very important day for the whole team," said the 2008 Tour de France champion, who now looks good to take a podium place in Rome on May 31.
"The 16th stage of this year's Giro has been a very important day for me and the rest of the team. Thanks to the whole team's hard work I was able to secure a very satisfying and very important stage victory," he continued.
"I felt protected by my teammates throughout the day, who were close by at all times, giving me water when I needed it. Then, in the last part of the race, Serge Pauwels made a very important play that allowed me to see that some riders were struggling. That made me ride on stronger upon seeing a chance to get past the odd rider and earn important time against riders who were ahead of me in the general classification," explained Sastre.
Sastre realises that he timed his big effort to perfection, coming before the Giro's second rest day, setting him up for a strong push towards Rome. "Tomorrow is the second rest day of this Giro, which will come in really useful for many of us.
"This race won't finish until we reach Rome; there are two mountain finish stages left and anything could happen. I came to this Giro with the intention of really going for it and I'm here to continue doing so," he said.
Menchov cautious after success on Monte Petrano
By Gregor Brown in Monte Petrano, Italy
Denis Menchov (Rabobank)
Photo ©: Roberto Bettini

Denis Menchov isn't letting his guard down following a strong defense of his overall lead in Monday's Giro d'Italia stage to Monte Petrano.
Menchov finished in second, 25 seconds behind Sastre, while 2007 Giro winner Di Luca finished third.
"It's too early to say [if I have won], we still have some important stages ahead of us," said Menchov. "This stage was most important because it was very long and with lots of climbs. Things turned out well, but the race isn't won until the final day."
The Russian leads the Giro by 39 seconds over Italian Danilo Di Luca. Carlos Sastre moved into third overall at 2:19 following his solo attack and subsequent stage win at Monte Petrano.
"At the moment, I can't say if I feel really confident or not. There is still the final day's time trial and two important mountain stages ahead. It's too early to relax," explained Menchov.
When Sastre attacked with seven kilometres remaining, Menchov displayed the experience that delivered him two overall wins in the 2005 and 2007 editions of the Vuelta a España. He limited his losses and marked immediate rival Di Luca on the 10.4km climb. The pair put time into Levi Leipheimer, who lost ground with eight kilometres to race and consequently will start stage 17 in fifth place overall.
"Sastre is always very dangerous, he said he was going to try and he did it; we expected it early from Carlos today," said Menchov.
"At the bottom of the climb, what I tried to do was take advantage of the situation. I waited to see what happened with the other rivals, like Di Luca and Leipheimer. Leipheimer was in difficulty, but Di Luca showed well."
The race continues Wednesday after a rest day in Chieti. The riders face two more mountain stages - Blockhaus and Vesuvio - and the final time trial in Rome on May 31.
Boonen to return in Dauphiné
Tom Boonen will return to racing in the Dauphiné Libéré, June 7-14. Team Quick Step had placed him on inactive status following his positive test for cocaine this spring.
Team manager Patrick Lefevere told the SID news agency that he had spoken with race organiser Charly Mottet. "He told me that he would follow the UCI's rules. Tom didn't dope, he hasn't been punished. He has other problems."
Lefevere further hopes to take his top sprinter to the Tour de France. Christian Prudhomme, head of that race, has already said that he will not allow Boonen to start there. Boonen has said that he will go to court to force his participation.
The UCI cannot challenge Boonen on doping charges, as the use of cocaine out of competition is not prohibited under sporting rules. However, the UCI said that he would have to face a disciplinary action for damaging the sport's reputation and could receive a one-to-six month suspension. Boonen must also answer to the Belgian court system. (SW)
2010 Worlds launched in Melbourne
Phil Anderson presents John Brumby, Premier of Victoria,
Photo ©: Jump Media

The Australian state of Victoria will be the focus of the cycling world when its capital Melbourne and major city Geelong host the 2010 UCI Road World Championships next year, according to the state's Premier, John Brumby.
Two-time Tour de France runner up and Barwon Heads local, Cadel Evans, said he was looking forward to competing in Melbourne and Geelong next year.
"It's great to have a top-level bike race in Australia and particularly for me to have it in Geelong," said Evans.
"The course is suited to the all-round strengths of the Australian team maybe more than any of the other countries. It's one of the best courses there has been for an Australian team since Zolder in 2002.
"There should be a great ambience on the course with a big crowd and I know there will be heaps of Europeans coming to Australia for it."
Phil Anderson being pushed up the hill
Photo ©: Jump Media

Cycling Australia President Mike Victor sees hosting the UCI Road World Championships as a crowning achievement for Australian cycling.
"Australia has previously hosted the track, mountain bike and BMX world championships, and this year will again host the mountain bike and BMX worlds. Hosting this blue riband event shows how much confidence the UCI has in our ability to organise a world class event," Mr Victor said.
"It also recognises the extraordinary growth of the sport in Australia and is a fitting reward for our road cyclists whose international performances have moved Australia into the top three ranked nations in the world.
"Cycling Australia is extremely grateful for the support of the Victorian Government in the growth of cycling and we look forward to witnessing the world's best road cyclists in action."
Unveiling the scenic course schedule at Federation Square, Mr Brumby said Australian stars Cadel Evans, Stuart O'Grady and Robbie McEwen would join more than 1200 riders from 60 countries in the five-day championships.
"The Victorian Government is taking action to attract sporting events that boost Melbourne's international status as a major events capital, drive jobs, investment and grow tourism," Mr Brumby said.
"The UCI Road World Championships stand at the pinnacle of the world cycling calendar, ranking alongside the Tour de France as one of the most coveted prizes in cycling.
"Next year's race is a major coup for Victoria - it is only the sixth time the race has been hosted outside Europe and will shine an international spotlight on our state, with an expected global television audience of 400 million."
"Starting at Federation Square, the race will showcase iconic parts of Melbourne before completing 11 laps of the circuit around the streets of the Geelong region," he said.
For more information about the championships go to www.melbourne2010.com.au.
What's hot on the forum
Pantani - most overrated cyclist of all time
The debate about his doping I think it needs to be placed in proper light: namely that his competition was all on jet fuel and he was the fastest up hill till he was caught. Thus I think it's a bit naive to question his talent, as you do, simply because he was doped.

Then there was the Pantani mystique, and not just among Italians. It was the way he, and only he, who could set ablaze the course with such bravura and style. For this Indurain, after his mental illness and death, called him a tragic genius.

Pantani, whether you like him or not, was no ordinary cyclist. There was something aesthetic about how he soared away. Simoni called him a Picasso on the bike. His methods were what they were, in a sport though, where everyone participated in the arms race. To think otherwise is just stupid. Just damn stupid. - rhubroma

To be a one of the "Greats" you dont need to win. Pantani was fantastic for cycling in the 90's when the TDF was dominated by Indurain. And unlike Armstong and other GT contenders Pantani used to ride the classics too. Pantani entertained everyone. He was an exciting cyclist and one that will be missed.

A great read that really tells you a bit more about his personal life is, "The Death of Marco Pantani" by Matt Rendell. - ukpaul
Kohl retires
At only 27 years old, is he really retiring because he is tired of living a lie? Or is it a legal tactic to lessen criminal justice problems? Or does he not think he will be able to return to a top level team after his ban is completed? - BroDeal

The two reasons he named in the press conference were:

1. If you break the omerta, you're not getting offers from any teams. Which says quite a lot about how the people in charge see doping;
2. As much as fans would love to think otherwise, It's currently impossible to win a major race without doping - issoisso

His comments are interesting.

"I have voluntarily doped - in a system in which you can't win without doping. Talent, training and iron discipline just aren't enough at some point. Doping becomes the rule. A clean sport is unfortunately an exception."

Either his comments are just that or is he setting up all the other riders or even the Labs? He sounds very disgusted that he was the one that was caught. Well, you play with fire and you get burned. I don't believe him, saying he retires. He is just disgusted with the penalty. He will be back. - quadsRme
Celebrate with Cyclingnews' Giro Sweepstakes
The centenary edition of the Giro d'Italia has started off with exciting finishes, beautiful terrain and great performances by the superstars of cycling. We're celebrating the Giro in the best way we know how – working the race to bring you daily race reports, photos, features and live coverage.
Thanks to our friends at BMC, you can share in the celebration – simply enter our BMC-Cyclingnews Giro d'Italia Sweepstakes for a chance to win.
One lucky Grand Prize winner will receive a BMC SLC01 Pro Machine road bike frame – the same frame ridden by the riders on the US-based BMC Racing Team – as well as an Assos-made BMC team jersey, cap and socks.
Enter the contest at http://contests.cyclingnews.com/BMCGiroDItalia.php. All you have to do is answer two questions and complete the entry form – you don't have to buy anything! Please only enter once and good luck!
Entries close May 31, 2009, at 11:59PM Pacific time.
Additional editorial assistance by Susan Westemeyer.
(All rights reserved/Copyright Future Publishing (Overseas) Limited 2009)