Latest Cycling News, January 23, 2009
Edited by Gregor Brown
McQuaid states delay could give green light to Schumacher
UCI may be forced to give licence due to AFLD delay
By Shane Stokes
German Stefan Schumacher uncertain for 2009
Photo ©: Stephen McMahon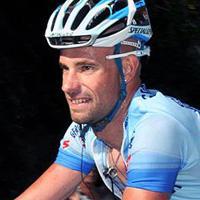 It's now over three months since the French anti-doping agency (AFLD) announced Stefan Schumacher as positive for doping with blood booster Erythropoietin CERA, yet the International Cycling Union (UCI) may be forced to give him a 2009 racing licence due to delays with the sanctioning process. According to UCI President Pat McQuaid, the governing body needs to wait for the AFLD to move on the case and, until then, must act as if Schumacher is innocent.
"This is nothing to do with UCI at the moment," he said to Cyclingnews on Friday morning. "I don't know why it is taking this long. This test is one that was done in a national race in France, so therefore the results management is done by the national agency.
"Currently the results management on this case is being processed by the AFLD. As far as I am aware the process is in place. We are waiting for the outcome of that and then we will make a decision."
Schumacher won two stages in the Tour de France and held the leader's yellow jersey. After the race, the AFLD tested his blood samples and declared him positive for CERA. He had already signed a new 2009 racing contract with Belgian team Quick Step.
The Bund Deutscher Radfahrer (BDR, the German cycling federation) said this week that Schumacher had applied for a licence, but that it needed several questions to be answered before it would hand one out.
Coming up on
Cyclingnews will cover the 60th edition of the Dauphiné Libéré live as of stage 4 on Wednesday, June 10, at approximately 15:00 local Europe time (CEST)/ 23:00 Australian time (CDT)/ 9:00 (USA East).

WAP-enabled mobile devices: http://live.cyclingnews.com/wap/
BDR vice-president Udo Sprenger told Muax.de that it wanted the UCI to confirm if his registration and, if so, what team he is registered with. It wants the National Anti-Doping Agency (NADA) to contact the AFLD to determine the current status of the investigation, and it wishes to ascertain if Schumacher has a valid contract with Quick Step.
While he didn't want to voice his own opinion about whether or not Schumacher doped, the McQuaid appears willing to take things further if necessary. "If they make the decision to give a sanction to Schumacher, the UCI will recognise that sanction.
"Right now, we must wait for the outcome of the AFLD results management. If we are unhappy with it, we will ask for the file, study it and decide ourselves what to do. In other words if they decided not to give a sanction, we would obviously study the file to see why not."
Despite the positive tests, Schumacher has continued to insist he did nothing wrong and that he is entitled to both a racing licence and his contract with Quick Step. It would appear that until the AFLD makes a decision, the UCI may not be able to prevent the former from happening.
"In the meantime, strictly speaking – as in proper civil law – everyone is innocent until proven guilty," McQuaid said.
As regards Quick Step's contract, it would appear to depend on the details and clauses. "I don't know the terms of the contract with Quick Step," he said. "But once the process opens up, the team may have something in the contract that says that in the case of an A sample being positive, that the rider is suspended or something like that."
In October Quick Step's manager Patrick Lefevere suggested as such and said that the team would not recognise the deal.
"The contract that he signed on the eve of the Worlds in Varese will take effect on January 1, but I consider it as null and void," Lefevere said to Gazet van Antwerpen. "I have already written a statement for the moment that I will be officially informed about his positive test."
Schumacher has maintained his innocence, but all of the other riders deemed positive at the Tour de France by the AFLD for CERA have admitted their guilt.
Meyer a future fraternal dynasty
By Les Clarke in Adelaide, Australia
Travis Meyer, l, in stage four
Photo ©: Mark Gunter

The brothers Meyer have certainly been visible during racing in this week's Tour Down Under in Australia. After elder sibling Cameron went on the attack late in the stage to Victor Harbor, younger brother Travis got in on the act with a -plus-kilometre break during stage four.
Having dislocated his shoulder on the stage to Stirling, Garmin-Slipstream's Meyer impressed his more experienced colleagues with a gutsy display in his first professional stage race. He took part in a breakaway that included Lance Armstrong during the third day of the race.
Not wanting to be outdone, the younger Meyer broke away in the second kilometre of racing as the peloton began its journey to Angaston on day four and aimed for a stage victory. "I had a look at Cam on the TV, and I was really impressed by the way he rode," Travis Meyer said to Cyclingnews.
"It doesn't surprise me; I've seen my brother do that plenty of times. I definitely wanted to get my face up there – I've been in hiding in the peloton pretty much all week. I initiated the break and it didn't quite work out, but I got my name up there."
Despite not being a ProTour team, the UniSA-Australia composite formation has been outstanding in the Tour Down Under thanks to the likes of young, development squad riders Jack Bobridge and Travis Meyer, and experienced-hand Matt Wilson animating the racing this week.
"We're making an impression on this race," said Meyer. "I think being the early season and racing with the pros gives us even more of an opportunity to get up there and mix it with them. Not to say we couldn't when they're going as well, but definitely in the early part of the season we can give it to them we showed that with Cam yesterday, and Jack Bobridge, who's obviously been strong all week."
Of his escape during stage four, Meyer said, "Until the hill, I was really feeling quite good, and it was quite easy; it suits my style of riding just to chop off all day in a small group.
"Obviously the hill took it out of us a bit and it started to get windy and there were deader roads. Through the Barossa it got to us, and it was pretty hard towards the end. It was quite nice at the start, though."
Given the pedigree of both these riders, it won't be last time we see more special performances from these two young Aussie riders at the highest level.
Rojas wants a win Down Under
By Greg Johnson in Adelaide, Australia
José Rojas hopes to have another chance
Photo ©: Mark Gunter

José Joaquín Rojas of Team Caisse d'Epargne is hopeful of taking a stage win before leaving the Tour Down Under in Australia. He lined up against four Australians in stage four's sprint finish, but couldn't overcome stage winner Allan Davis or Graeme Brown, who won yesterday's stage.
"The Australian sprinters are very strong and of course very motivated for racing at home," Rojas said. "But I am very motivated too and I am getting closer everyday to victory. There are still two stages left to race. ... It will be very important to take advantage of every opportunity."
Tomorrow's Willunga stage will be a difficult one for Rojas to win. In addition to two laps over the treacherous Willunga Hill climb, the Spanish sprinter will need to overcome the ambitious Australians locked in a battle for overall honours. A stage win will mean even more with a boost in the overall classification thanks to the time bonuses offered for the top placings.
"I know my legs are good enough to win a stage," he said. "I hope I will be lucky enough to reach my goal."
Sunday's final stage – the 90-kilometre long Adelaide City Council Circuit race – will be Rojas' best chance at a stage victory. Rojas' Caisse d'Epargne team has been fairly quiet throughout the race, with Luis León Sánchez's presence in yesterday's break the only other noteworthy accomplishment.
Can O'Grady three-peat?
By Greg Johnson in Adelaide, Australia
Stuart O'Grady with Lance Armstrong.
Photo ©: Mark Gunter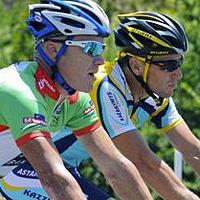 On the eve of Tour Down Under's decisive stage to Willunga, Stuart O'Grady of Team Saxo Bank holds third place just 15 seconds behind race leader Allan Davis. If O'Grady can overcome the deficit on tomorrow's 148-kilometre stage, it will take the local rider to his third Tour Down Under win in the event's 11-year history. But has he got what it takes for the race win?
"I think with the form Alby's got at the moment I really can't see him being beaten," said O'Grady on the Hilton Hotel's pool deck. "I think he's proven that he's powerful enough on the climb into Stirling the other day. I think there's going to be quiet a few of us with the same kind of climbing form and I think probably guys like Matt Lloyd, Luis León Sánchez and Michael Rogers are going to have to unleash everything up the climb and then it's just a matter of if we can get organised behind and catch them before the finish. That's how I see the race."
With just 15 seconds covering the top three riders – including second placed Graeme Brown of Team Rabobank – there's a chance the event could be decided on time bonuses. There's 10 seconds on offer for the stage win tomorrow, but O'Grady isn't so sure his home ProTour event will be decided with a sprint.
Read the full O'Grady feature.
AG2R's new Eastern star is Alexandre Pliushin
By Jean-François Quénet in Adelaide, Australia
AG2R's new Eastern star is Alexandre Pliushin
Photo ©: Jean-François Quénet
He hasn't had spectacular results yet, but the pedalling style of AG2R La Mondiale's Alexandre Pliushin hasn't gone unnoticed by the other riders of the Tour Down Under. The 22-year-old Moldavian looks at his ease and shows a lot of promise for the future.
Last year, he was supposed to begin his professional career at the Tour de Langkawi, but a broken collarbone delayed his start and he was also sick for the following three months. Moldova might not be a real force in the world of cycling, but the compatriot Ruslan Ivanov won the Malaysian race.
AG2R La Mondiale is known for its open door policy toward cyclists from Eastern Europe ever since it signed Estonia's Jan Kirsipuu and Kazakhstan's Alexander Vinokourov in the 1990s. Nowadays young Kazakhs are linked to Astana; Russia has created Katusha for its up and coming talents; Ukraine has a lot of hopes with the new Italy-based ISD team; but it doesn't mean French team is left with no request from Russian-speaking cyclists.
Pliushin won the U23 Tour of Flanders in 2007 under the AG2R La Mondiale's feeder team Chambéry CF. Last year he took part in the Beijing Olympics as a track pursuiter.
"He's very versatile and it's hard to say what kind of rider he is for the future," team manager Vincent Lavenu said. "I'd rather see myself as a time trialist," Pliushin said at the start of stage four of the Tour Down Under.
Last year he came 10th at the Ster Elektrotoer in the Netherlands. "When a rider like him has showed exceptional capacities in the young categories, we expect a quick confirmation in the pro ranks," Lavenu said. "He's serious, determined and committed. He's very careful about what he eats and how he trains.
"Here in Australia, he's already in the right rhythm. We can't compare with 'Vino' though because he didn't turn pro at the same age." Vinokourov had already passed his 24th birthday when he started his professional career with Casino-Ag2r at the 1998 Etoile de Bessèges. "The first day, he kept attacking. Every time he saw the shadow of another rider next to him, he attacked again and again. In the evening on the massage table he wondered optimistically if he could win the stage the next day."
Pliushin might be more stylish and less aggressive than Vinokourov for now, but he can be considered as a possible successor. He wears the colours of his country after winning the national championship contested by about fifty riders last year when the minister for sport was still Andrei Tchmil.
Now the former winner of many Classics has resigned to take the post of financial manager of the new Katusha team. "Tchmil is a good friend of mine and he gave me some advice as well, but he realised I have a mentor already in the person of Daniel Gisiger, so he doesn't interfere in my career," Pliushin said.
The young Moldavian also stated that Gisiger, a former Swiss professional, is not his coach as he plans his training by himself.
Helicopter crashes on finish line in San Luis
By Kirsten Robbins in San Luis, Argentina
Helicopter crashes on finish line in San Luis
Photo ©: Kirsten Robbins

An ESPN news helicopter crashed just metres away from the Tour of San Luis stage four finish line on Thursday. The helicopter pilot tried to land close to the La Carolina mountaintop finish and narrowly missed the edge of a cliff, crashing on its side down below. Doctors reported the pilot and passenger on board to be uninjured.
Neben skips Equipe training camp
By Susan Westemeyer on Mallorca, Spain
World Time Trial Champion Amber Neben is not at the Equipe Nürnberger training camp on Mallorca, Spain. She chose to stay home and train in California, USA.
"There is no point in her leaving the warm weather in California for the cool winter weather here in Europe," said Equipe director Jochen Dornbusch. "She has trained there alone the last few years and then had successful seasons."
Neben will fly to Germany for the team presentation the beginning of March and then return to the USA for her season opener, the Redlands Classics later that month.
Win an autographed Team Columbia jersey
Enter Cyclingnews' contest to win a unique piece of cycling history – a 2008 team-issue Team Columbia jersey signed by the entire 2009 men's team, gathered in Mallorca, Spain for its December 2008 training camp.
The Team Columbia jersey appeared on the top step of the podium 85 times in the 2008 season, more than any other professional team, with stage wins at the Giro d'Italia, Tour de France, Tour of California, Tour de Georgia, Dauphiné Libéré, Tour of Germany and Tour of Ireland plus victories in one-day events such as Flèche Wallonne and Scheldeprijs Vlaanderen.

The contest's winner will be selected at random from all correct answers to a Team Columbia trivia question.

Hurry now and enter to be in the draw. Good luck!
(All rights reserved/Copyright Future Publishing (Overseas) Limited 2009)