Tour de San Luis - 2.1
Argentina, January 19-25, 2009
Main Page Results Overall standings Previous Stage Next Stage
Stage 4 - January 22: San Luis - La Carolina, 159 km
Serpa steals a victory in the final kilometre
Lucero maintains lead
By Kirsten Robbins in San Luis, Argentina
Jose Serpa (Diquigiovanni) takes the win
Photo ©: Roberto Bettini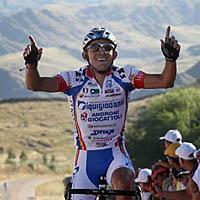 Opportunity knocked for Columbian José Serpa (Diquigiovanni) when he took a flyer with one kilometre to go and narrowly won the Tour of San Luis stage four ahead of a bunch sprint. Danish sprinter Matti Breschel (Saxo Bank) flew in for second place ahead of the stage one winner Mattia Gavazzi (Diquigiovanni).
"We've been having a great race here in San Luis," said Serpa regarding his team placing two riders on the podium and taking a second stage win this week. "My team did a similar tactic to what we tried a couple of days ago on the Mirrador climb. We had one of my teammates attack and then another counter. I waited until the last kilometre to go. I really didn't think I would be able to stay away. It was very hard. I'm happy to have a stage win here."
The final climb up to La Carolina was more than twenty kilometres long on a gradual incline. It looked tough on paper but in reality it was not steep enough to shed the sprinters from contending the finish. Team's Saxo Bank, Liquigas, Bissell, Colavita-Sutter Home and Diquigiovanni rallied for best position. In the end it was Breschel who crossed the line first in the bunch kick.
"The climb wasn't really that hard and I had good legs today," said Breschel who placed third in the Varese World Championships last September. "We tried to do everything to try to win today. JJ [Haedo] and I were talking about who was going to sprint today. In the end we didn't manage to come together. Unfortunately we ended up second and eighth."
San Luis native Alfredo Lucero continues to lead the overall by more than one and a half minutes ahead of his second placed teammate Jorge Giacinti and third placed Sebastian Haedo (Colavita-Sutter Home).
"I have a lot of faith in my team and I know they can do a good job to defend the jersey here," said Lucero who safely sat protected in the bunch while his teammates manned the front of the peloton for most of the stage. "I'm from San Luis so this jersey means a lot to me and I will work as hard as I can to keep it. I think I can do well in the climbs here."
The Argentina-A team protect the lead
Photo ©: Roberto Bettini

Tour of San Luis stage four offered the riders 159 kilometres of relentlessly undulating terrain. Starting at the Casa de Gobierno, the race travelled out to three large circuits around the scenic El Trapiche/La Florida, local vacation hot spots. The 20-kilometre loop incorporated several climbs per lap before veering off to start the ascent to La Carolina.
Several breakaways gained small margins on the field. The bunch was largely controlled by team Argentina and its leader Lucero. All breakaway attempts were reeled in before the first intermediate sprint where Haedo took full points. Eric Baumann (Sparkasse) counter attacked and jumped ahead in a solo move. He picked up first placed points in the second intermediate sprint, leaving second place to Haedo. The Argentinean speedster leads the sprinter's competition by four points ahead of Ben Jacques-Maynes (Bissell).
The most significant break of the day formed 70 kilometres into the stage. It included Alessandro Vonti (Liquigas), Andy Guptill (Colavita-Sutter Home) and Nazaret Prado (Brazil). Prado pushed the pace on the climb to take full points at the first KOM. He currently leads the climber's competition by two points ahead of Haedo. He was also the highest ranked rider on the general classification, several minutes behind Lucero.
The trio was later joined by Lasse Bøchman (Saxo Bank), Martin Garrido (Palmerias-Resort), Yordenis Crespo (Cuba) and Luis Sepulveda (Team Chile). Xavier Tondo (Andalucía-Cajasur) proved to be the most aggressive rider of the day when he time trialled away from his companions on the final climb to La Carolina. A promising chase group of two formed behind that included time trialist Dirk Muller (Sparkasse) and talented climber Jackson Rodriguez (Diquigiovanni). They never connected with Tondo.
Tondo (Andalucia-Cayasur) on the attack.
Photo ©: Roberto Bettini

"I like to time trial and I thought I had to try and see if I could make it to the end," said Tondo a former winner of the Tour of Portugal. "It was a good try, very hard and it's too bad that I didn't make it just a couple of kilometres more."
Team Argentina set tempo at the front of the field and swallowed up the remnants of the initial break within the last ten kilometres. Tondo continued on. The Spaniard is better known for his time trial skill, which was apparent after he spent more than 20 kilometres solo in a bid for the victory. He valiantly fought off a sprint ready peloton and was caught with two kilometres to the line, leaving the door open for Serpa to counter attack.
Photography
For a thumbnail gallery of these images, click here
Images by Roberto Bettini/www.bettiniphoto.net
Images by Pablo Cersosimo Photography
Results
1 Jose Rodolfo Serpa Perez (Col) Diquigiovanni                   3.57.53 (40.104 km/h)
2 Matti Breschel (Den) Saxo Bank                                    0.06
3 Mattia Gavazzi (Ita) Diquigiovanni                                    
4 Oscar Gatto (Ita) Team ISD                                            
5 Murilo Fischer (Bra) Liquigas                                         
6 Manuel Belletti (Ita) Diquigiovanni                                   
7 Ricardo Serrano González (Spa) Fuji-Servetto                          
8 Juan José Haedo (Arg) Saxo Bank                                       
9 Jose Alberto Benitez (Spa) Fuji-Servetto                              
10 Lucas Sebastian Haedo (Arg) Colavita Sutter Home                     
11 Andy Maynes (USA) Bissell Pro Cycling                                
12 Andry Grivko (Ukr) Team ISD                                          
13 Ignacio Pereyra (Arg) Argentina National Team U23                    
14 Alejandro Marque (Spa) Palmeiras Resort - Tavira                     
15 Péter Kusztor (Hun) Atlas - Romer's Hausbäckerei                     
16 David Blanco (Spa) Palmeiras Resort - Tavira                         
17 Carlos José Ochoa (Ven) Diquigiovanni                                
18 Andreas Schillinger (Ger) Nutrixxion Sparkasse                       
19 Alessandro Proni (Ita) Team ISD                                      
20 Javier Ramirez (Spa) Andalucía - Cajasur                             
21 Jorge Giacinti (Arg) Argentina National Team A                       
22 Luis Amaran (Cub) Colavita Sutter Home                               
23 Gerardo Fernadez (Arg) Argentina National Team A                     
24 Alfredo Lucero (Arg) Argentina National Team A                       
25 Gustavo Lopez (Arg) Argentina National Team U23                      
26 Marco Arriagada (Chi) Chile National Team A                          
27 David De La Fuente Rasilla (Spa) Fuji-Servetto                       
28 Ben Maynes (USA) Bissell Pro Cycling                                 
29 Tom Zirbel (USA) Bissell Pro Cycling                                 
30 Davide Frattini (Ita) Colavita Sutter Home                       0.17
31 Ivan Basso (Ita) Liquigas                                            
32 Renato Seabra (Bra) Brazil National Team                         0.27
33 Jackson Rodriguez (Ven) Diquigiovanni                                
34 Josue Moyano (Arg) Argentina National Team U23                       
35 Dirk Müller (Ger) Nutrixxion Sparkasse                               
36 Gaston Agüero (Arg) Argentina National Team U23                      
37 Bernardo Colex Tepoz (Mex) Mexico National Team                      
38 Edwin Avila (Col) Colombia National Team                             
39 Juan Magallanes (Mex) Mexico National Team                           
40 Vincenzo Nibali (Ita) Liquigas                                   0.31
41 Kjell Carlström (Fin) Liquigas                                       
42 Pablo Alarcon (Chi) Chile National Team B                            
43 Samuel José Caldeira (Por) Palmeiras Resort - Tavira                 
44 Patricio Almonacid (Chi) Chile National Team A                       
45 Jesus Rosendo Prado (Spa) Andalucía - Cajasur                    0.37
46 Eric Baumann (Ger) Nutrixxion Sparkasse                          0.43
47 Benat Intxausti Elorriaga (Spa) Fuji-Servetto                    0.46
48 Hernan Cline (Uru) Uruguay National Team                             
49 Kurt-Asle Arvesen (Nor) Saxo Bank                                    
50 Nelson Vitorino (Por) Palmeiras Resort - Tavira                      
51 Nestor Pias (Uru) Uruguay National Team                              
52 Jesús Del Nero (Spa) Fuji-Servetto                                   
53 Luis Fernando Macías (Mex) Mexico National Team                      
54 Reldeys Perez (Cub) Cuba National Team                               
55 Antonio Cabrera (Chi) Chile National Team B                          
56 Tyler Wren (USA) Colavita Sutter Home                                
57 Luis Bravo (Chi) Chile National Team A                               
58 Gabriel Brizuela (Arg) Argentina National Team B                     
59 Nazaret Prado (Bra) Brazil National Team                             
60 John Fredy Parra (Col) Colombia National Team                        
61 Arles Castro (Col) Colombia National Team                            
62 Kirk O'Bee (USA) Bissell Pro Cycling                                 
63 Richad Mascaranas (Uru) Uruguay National Team                    0.59
64 Rida Cador (Hun) Atlas - Romer's Hausbäckerei                        
65 Florian Solzinger (Ger) Atlas - Romer's Hausbäckerei                 
66 Alexander Gonzalez (Col) Colombia National Team                      
67 Nico Schneider (Ger) Atlas - Romer's Hausbäckerei                    
68 Mauricio Morandi (Bra) Brazil National Team                          
69 Andy Guptill (USA) Colavita Sutter Home                              
70 Fabricio Morandi (Bra) Brazil National Team                          
71 Francisco Jose Martinez Perez (Spa) Andalucía - Cajasur              
72 Cesar Oliva (Chi) Chile National Team B                              
73 Burke Swindlehurst (USA) Bissell Pro Cycling                         
74 Antonio Aldape (Mex) Mexico National Team                            
75 Frank Scherzinger (Ger) Atlas - Romer's Hausbäckerei                 
76 Alejandro Alberto Borrajo (Arg) Colavita Sutter Home             1.13
77 José Antonio Carrasco Ramirez (Spa) Andalucía - Cajasur          1.15
78 Milton Brito (Chi) Chile National Team A                         1.17
79 Pablo Seisdedos (Chi) Chile National Team B                          
80 Brian Vandborg (Den) Liquigas                                        
81 Juan Gaspari (Arg) Argentina National Team A                         
82 Roberto-Antonio Richeze (Arg) Argentina National Team B              
83 Martin Garrido (Arg) Palmeiras Resort - Tavira                   1.51
84 Ljungqvist Marcus (Swe) Saxo Bank                                    
85 Aaron Olson (USA) Colavita Sutter Home                               
86 Juan Curuchet (Arg) Argentina National Team A                        
87 Lars Wackernagel (Ger) Nutrixxion Sparkasse                          
88 Anibal Andres Borrajo (Arg) Colavita Sutter Home                     
89 Lasse Bøchman (Den) Saxo Bank                                        
90 Mariano De Fino (Uru) Uruguay National Team                          
91 Ramiro Cabrera (Uru) Uruguay National Team                       2.07
92 Luca Celli (Ita) Diquigiovanni                                   3.12
93 Vasiliev Krasimir (Bul) Palmeiras Resort - Tavira                3.26
94 Marcel Fischer (Ger) Nutrixxion Sparkasse                        3.52
95 Jean Schuter (Ger) Nutrixxion Sparkasse                              
96 Jason McCartney (USA) Saxo Bank                                  4.23
97 Alessandro Vanotti (Ita) Liquigas                                4.24
98 Leonardo Scarselli (Ita) Team ISD                                5.16
99 Yordenis Crespo (Cub) Cuba National Team                             
100 Xavier Tondo (Spa) Andalucía - Cajasur                          5.31
101 Pedro Palma (Chi) Chile National Team B                         7.57
102 Alonso Lisuandi (Cub) Cuba National Team                        9.28
103 Luis Sepulveda (Chi) Chile National Team A                          
104 Yans Arias (Cub) Cuba National Team                            10.43
105 Pablo Pintos (Uru) Uruguay National Team                            
106 Luis Mansilla (Chi) Chile National Team A                      11.14
107 Emanuel Guevara (Arg) Argentina National Team U23              12.20
108 Dmytro Grabovsky (Ukr) Team ISD                                14.40
109 Cristopher Mansilla (Chi) Chile National Team B                     
110 Claudio Claveles (Arg) Argentina National Team B               15.35
111 Carlos Uran (Col) Colombia National Team                            
112 Joao Correira (Por) Bissell Pro Cycling                             
113 Jorge Soto (Uru) Uruguay National Team                         16.00
114 Gonzalo Miranda (Chi) Chile National Team A                    17.07
115 Ariel Maximiliano Richeze (Arg) Argentina National Team U23         
116 Walter Perez (Arg) Argentina National Team A                        
117 Gustabo Borcard (Arg) Argentina National Team U23                   
118 Sergio Godoy (Arg) Argentina National Team U23                      
119 Alvaro Tradaguila (Uru) Uruguay National Team                       
120 Enzo Cesario (Chi) Chile National Team B                            
121 Noslen Funes (Cub) Cuba National Team                          18.07
122 Guillermo Brunetta (Arg) Argentina National Team B             19.41
123 Maximiliano Badde (Arg) Argentina National Team B                   
124 Diego Vera (Chi) Chile National Team A                              
125 Ariel Lucero (Arg) Argentina National Team B                        
126 Jose Aravena (Chi) Chile National Team B                       20.14
 
Mountains
 
Alto La Florida (Cat. 3) km. 74.70
1 Nazaret Prado (Bra) Brazil National Team                             3 pts
2 Alessandro Vanotti (Ita) Liquigas                                    2
3 Andy Guptill (USA) Colavita Sutter Home                              1
 
Alto De La Pancanta (Cat. 2) km. 141.40
1 Xavier Tondo (Spa) Andalucía - Cajasur                               6 pts
2 Jackson Rodriguez (Ven) Diquigiovanni                                4
3 Dirk Müller (Ger) Nutrixxion Sparkasse                               2
4 Alessandro Proni (Ita) Team ISD                                      1
 
Sprints
 
El Durazno, km. 47.6
1 Lucas Sebastian Haedo (Arg) Colavita Sutter Home                     3 pts
2 Ben Maynes (USA) Bissell Pro Cycling                                 2
3 Alejandro Alberto Borrajo (Arg) Colavita Sutter Home                 1
 
El Trapiche, km. 57
1 Eric Baumann (Ger) Nutrixxion Sparkasse                              3 pts
2 Lucas Sebastian Haedo (Arg) Colavita Sutter Home                     2
3 Francisco Jose Martinez Perez (Spa) Andalucía - Cajasur              1
 
Teams
 
1 Diquigiovanni                                                 11.53.51
2 Team ISD                                                          0.06
3 Fuji-Servetto                                                         
4 Bissell Pro Cycling                                                   
5 Argentina National Team A                                             
6 Colavita Sutter Home                                              0.17
7 Argentina National Team U23                                       0.27
8 Palmeiras Resort - Tavira                                         0.31
9 Liquigas                                                          0.42
10 Saxo Bank                                                        0.46
11 Nutrixxion Sparkasse                                             1.04
12 Chile National Team A                                            1.11
13 Mexico National Team                                             1.28
14 Andalucía - Cajasur                                              1.30
15 Colombia National Team                                           1.47
16 Atlas - Romer's Hausbäckerei                                     1.52
17 Brazil National Team                                             2.00
18 Chile National Team B                                            2.04
19 Uruguay National Team                                            2.19
20 Cuba National Team                                              15.18
21 Argentina National Team B                                       17.26
 
General classification after stage 4
 
1 Alfredo Lucero (Arg) Argentina National Team A                12.40.39
2 Jorge Giacinti (Arg) Argentina National Team A                    1.36
3 Lucas Sebastian Haedo (Arg) Colavita Sutter Home                  1.49
4 Jose Rodolfo Serpa Perez (Col) Diquigiovanni                      2.03
5 Andry Grivko (Ukr) Team ISD                                       2.12
6 Tom Zirbel (USA) Bissell Pro Cycling                              2.33
7 Ben Maynes (USA) Bissell Pro Cycling                              2.37
8 Ivan Basso (Ita) Liquigas                                         2.40
9 Ignacio Pereyra (Arg) Argentina National Team U23                 2.57
10 Luis Amaran (Cub) Colavita Sutter Home                           3.04
11 Gerardo Fernadez (Arg) Argentina National Team A                 3.07
12 Carlos José Ochoa (Ven) Diquigiovanni                            3.15
13 Gustavo Lopez (Arg) Argentina National Team U23                  3.16
14 Alejandro Marque (Spa) Palmeiras Resort - Tavira                 3.28
15 Dirk Müller (Ger) Nutrixxion Sparkasse                           3.29
16 David Blanco (Spa) Palmeiras Resort - Tavira                     3.33
17 Jackson Rodriguez (Ven) Diquigiovanni                            3.52
18 Gabriel Brizuela (Arg) Argentina National Team B                 3.54
19 Marco Arriagada (Chi) Chile National Team A                      3.58
20 Renato Seabra (Bra) Brazil National Team                         4.01
21 Nazaret Prado (Bra) Brazil National Team                         4.04
22 Vincenzo Nibali (Ita) Liquigas                                   4.11
23 Javier Ramirez (Spa) Andalucía - Cajasur                         4.47
24 Jesus Rosendo Prado (Spa) Andalucía - Cajasur                    4.59
25 Tyler Wren (USA) Colavita Sutter Home                            5.23
26 Brian Vandborg (Den) Liquigas                                    5.24
27 Josue Moyano (Arg) Argentina National Team U23                   5.30
28 Gaston Agüero (Arg) Argentina National Team U23                  5.38
29 Lasse Bøchman (Den) Saxo Bank                                    5.55
30 Nestor Pias (Uru) Uruguay National Team                          6.18
31 Jesús Del Nero (Spa) Fuji-Servetto                               6.26
32 Andy Maynes (USA) Bissell Pro Cycling                            6.28
33 Jose Alberto Benitez (Spa) Fuji-Servetto                         6.40
34 Murilo Fischer (Bra) Liquigas                                    6.57
35 Alessandro Proni (Ita) Team ISD                                  6.58
36 Ricardo Serrano González (Spa) Fuji-Servetto                     7.04
37 David De La Fuente Rasilla (Spa) Fuji-Servetto                   7.06
38 Kjell Carlström (Fin) Liquigas                                   7.23
39 Edwin Avila (Col) Colombia National Team                         7.49
40 Roberto-Antonio Richeze (Arg) Argentina National Team B          7.51
41 Davide Frattini (Ita) Colavita Sutter Home                       7.52
42 Juan Gaspari (Arg) Argentina National Team A                     8.06
43 Juan Magallanes (Mex) Mexico National Team                       8.17
44 Hernan Cline (Uru) Uruguay National Team                         9.16
45 Andreas Schillinger (Ger) Nutrixxion Sparkasse                   9.17
46 Andy Guptill (USA) Colavita Sutter Home                          9.21
47 Péter Kusztor (Hun) Atlas - Romer's Hausbäckerei                 9.24
48 Patricio Almonacid (Chi) Chile National Team A                   9.26
49 Fabricio Morandi (Bra) Brazil National Team                      9.31
50 Arles Castro (Col) Colombia National Team                        9.35
51 Martin Garrido (Arg) Palmeiras Resort - Tavira                   9.36
52 Alexander Gonzalez (Col) Colombia National Team                  9.54
53 Rida Cador (Hun) Atlas - Romer's Hausbäckerei                   10.03
54 Florian Solzinger (Ger) Atlas - Romer's Hausbäckerei            10.12
55 Mauricio Morandi (Bra) Brazil National Team                     10.15
56 Juan Curuchet (Arg) Argentina National Team A                   10.20
57 Matti Breschel (Den) Saxo Bank                                       
58 Juan José Haedo (Arg) Saxo Bank                                 10.22
59 Bernardo Colex Tepoz (Mex) Mexico National Team                 10.23
60 Benat Intxausti Elorriaga (Spa) Fuji-Servetto                   10.24
61 Luis Fernando Macías (Mex) Mexico National Team                 10.40
62 Reldeys Perez (Cub) Cuba National Team                          10.50
63 Burke Swindlehurst (USA) Bissell Pro Cycling                    11.03
64 Jason McCartney (USA) Saxo Bank                                 11.07
65 Richad Mascaranas (Uru) Uruguay National Team                   11.12
66 Nico Schneider (Ger) Atlas - Romer's Hausbäckerei               11.21
67 José Antonio Carrasco Ramirez (Spa) Andalucía - Cajasur         11.43
68 Kurt-Asle Arvesen (Nor) Saxo Bank                               11.48
69 Eric Baumann (Ger) Nutrixxion Sparkasse                         11.58
70 Kirk O'Bee (USA) Bissell Pro Cycling                            12.01
71 Xavier Tondo (Spa) Andalucía - Cajasur                          12.20
72 Ramiro Cabrera (Uru) Uruguay National Team                      12.24
73 Antonio Cabrera (Chi) Chile National Team B                     12.39
74 Milton Brito (Chi) Chile National Team A                        12.44
75 Mariano De Fino (Uru) Uruguay National Team                     12.55
76 Anibal Andres Borrajo (Arg) Colavita Sutter Home                13.12
77 Francisco Jose Martinez Perez (Spa) Andalucía - Cajasur         13.13
78 Nelson Vitorino (Por) Palmeiras Resort - Tavira                 13.16
79 Cesar Oliva (Chi) Chile National Team B                         13.25
80 John Fredy Parra (Col) Colombia National Team                   14.01
81 Oscar Gatto (Ita) Team ISD                                      14.21
82 Lars Wackernagel (Ger) Nutrixxion Sparkasse                     14.24
83 Luis Bravo (Chi) Chile National Team A                          14.28
84 Frank Scherzinger (Ger) Atlas - Romer's Hausbäckerei            14.49
85 Ljungqvist Marcus (Swe) Saxo Bank                               14.51
86 Jean Schuter (Ger) Nutrixxion Sparkasse                         14.58
87 Mattia Gavazzi (Ita) Diquigiovanni                              15.01
88 Antonio Aldape (Mex) Mexico National Team                       15.14
89 Aaron Olson (USA) Colavita Sutter Home                          15.23
90 Pablo Seisdedos (Chi) Chile National Team B                     15.26
91 Vasiliev Krasimir (Bul) Palmeiras Resort - Tavira                    
92 Pablo Alarcon (Chi) Chile National Team B                       15.27
93 Alejandro Alberto Borrajo (Arg) Colavita Sutter Home            15.28
94 Marcel Fischer (Ger) Nutrixxion Sparkasse                       15.32
95 Manuel Belletti (Ita) Diquigiovanni                             15.51
96 Samuel José Caldeira (Por) Palmeiras Resort - Tavira            17.19
97 Alessandro Vanotti (Ita) Liquigas                               17.29
98 Leonardo Scarselli (Ita) Team ISD                               17.54
99 Dmytro Grabovsky (Ukr) Team ISD                                 18.12
100 Yordenis Crespo (Cub) Cuba National Team                       18.25
101 Alonso Lisuandi (Cub) Cuba National Team                       19.04
102 Luca Celli (Ita) Diquigiovanni                                 19.57
103 Pablo Pintos (Uru) Uruguay National Team                       20.58
104 Luis Sepulveda (Chi) Chile National Team A                     21.21
105 Pedro Palma (Chi) Chile National Team B                        23.01
106 Luis Mansilla (Chi) Chile National Team A                      23.15
107 Sergio Godoy (Arg) Argentina National Team U23                 24.00
108 Jorge Soto (Uru) Uruguay National Team                         25.54
109 Joao Correira (Por) Bissell Pro Cycling                        27.15
110 Emanuel Guevara (Arg) Argentina National Team U23              27.17
111 Guillermo Brunetta (Arg) Argentina National Team B             27.27
112 Claudio Claveles (Arg) Argentina National Team B               27.43
113 Gustabo Borcard (Arg) Argentina National Team U23              28.54
114 Walter Perez (Arg) Argentina National Team A                   29.32
115 Alvaro Tradaguila (Uru) Uruguay National Team                  31.29
116 Maximiliano Badde (Arg) Argentina National Team B              31.36
117 Yans Arias (Cub) Cuba National Team                            32.30
118 Cristopher Mansilla (Chi) Chile National Team B                32.38
119 Gonzalo Miranda (Chi) Chile National Team A                    32.43
120 Ariel Maximiliano Richeze (Arg) Argentina National Team U23    33.16
121 Ariel Lucero (Arg) Argentina National Team B                   33.50
122 Noslen Funes (Cub) Cuba National Team                          35.23
123 Enzo Cesario (Chi) Chile National Team B                       35.43
124 Diego Vera (Chi) Chile National Team A                         37.34
125 Carlos Uran (Col) Colombia National Team                       37.59
126 Jose Aravena (Chi) Chile National Team B                       51.13
 
Mountains classification
 
1 Nazaret Prado (Bra) Brazil National Team                            13 pts
2 Lucas Sebastian Haedo (Arg) Colavita Sutter Home                    11
3 Alfredo Lucero (Arg) Argentina National Team A                       9
4 Xavier Tondo (Spa) Andalucía - Cajasur                               7
5 Jose Rodolfo Serpa Perez (Col) Diquigiovanni                         5
6 Carlos José Ochoa (Ven) Diquigiovanni                                4
7 Jackson Rodriguez (Ven) Diquigiovanni                                4
8 Ben Maynes (USA) Bissell Pro Cycling                                 3
9 Alessandro Proni (Ita) Team ISD                                      3
10 Dirk Müller (Ger) Nutrixxion Sparkasse                              2
11 Josue Moyano (Arg) Argentina National Team U23                      2
 
Sprint classification
 
1 Lucas Sebastian Haedo (Arg) Colavita Sutter Home                    11 pts
2 Ben Maynes (USA) Bissell Pro Cycling                                 7
3 Josue Moyano (Arg) Argentina National Team U23                       5
4 Eric Baumann (Ger) Nutrixxion Sparkasse                              3
5 Alfredo Lucero (Arg) Argentina National Team A                       3
6 Nazaret Prado (Bra) Brazil National Team                             3
7 Jesus Rosendo Prado (Spa) Andalucía - Cajasur                        2
8 Francisco Jose Martinez Perez (Spa) Andalucía - Cajasur              1
9 Alejandro Alberto Borrajo (Arg) Colavita Sutter Home                 1
 
U23 classification
 
1 Ignacio Pereyra (Arg) Argentina National Team U23                     
2 Gustavo Lopez (Arg) Argentina National Team U23                       
3 Josue Moyano (Arg) Argentina National Team U23                        
4 Gaston Agüero (Arg) Argentina National Team U23                       
5 Edwin Avila (Col) Colombia National Team                              
 
Teams classification
 
1 Argentina National Team A                                     38.06.47
2 Diquigiovanni                                                     4.09
3 Palmeiras Resort - Tavira                                         4.37
4 Colavita Sutter Home                                              5.22
5 Bissell Pro Cycling                                               6.03
6 Liquigas                                                          6.14
7 Argentina National Team U23                                       6.19
8 Team ISD                                                          7.58
9 Andalucía - Cajasur                                               8.26
10 Brazil National Team                                            10.17
11 Saxo Bank                                                       10.49
12 Fuji-Servetto                                                   13.57
13 Chile National Team A                                           16.32
14 Nutrixxion Sparkasse                                            18.58
15 Uruguay National Team                                           19.58
16 Colombia National Team                                          20.28
17 Mexico National Team                                            24.30
18 Atlas - Romer's Hausbäckerei                                    24.44
19 Argentina National Team B                                       29.24
20 Chile National Team B                                           30.27
21 Cuba National Team                                              42.52