Latest Cycling News, January 21, 2009
Edited by Bjorn Haake
Un-plugged Armstrong attacks Down Under
By Greg Johnson in Adelaide, Australia
Armstrong jumped off the front today
Photo ©: Roberto Bettini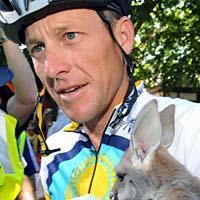 Lance Armstrong (Astana) attacked the peloton on stage 2 of Tour Down Under, showing his talk of taking any opportunity on offer was more than just words. The 37-year-old rider teamed up with Australian youngster Jack Bobridge (UniSA) to shoot away from the peloton on the second lap. The pair pulled out a 10-second margin, before being shut down by the bunch.
Armstrong admitted he and Astana team director Johan Bruyneel hadn't planned on the attack. In fact Armstrong said it wasn't the smartest strategic move on his part.
"No, and Johan doesn't know this yet, but my radio was unplugged at that moment," he smiled. "We had this debate this morning because he wanted to tape the cable into the radio and I said 'no, no, no, no, you don't need to tape it'. Since he's sitting here I'll go ahead and tell him that it kept coming unplugged. I should have learnt over the last 10 years but I didn't hear anything at that point.
"I was following Michael Rogers and a few other guys," explained Armstrong. "It was probably not the smartest thing we could have done tactically. Nonetheless it was fun to be out the front of a race again. What do they say here? 'Give it a twist'? … oh, 'give it a crack'."
Bruyneel is already impressed with Armstrong's fitness. The Belgian knew his American rider was in good shape, but wanted to wait for the race to begin to see how good he was compared to the other riders.
"It's good," said Bruyneel. "I mean, we didn't speak about the race yet, but I heard on the radio he was following some attacks. Obviously we're going to see more on day number five. But I think he's in the top of the bunch. There's definitely a few guys who prepared for this race specifically to win it, but it's very good.
"It's better than I expected," he added. "I mean, I knew he was in good physical shape, but you still have to wait and see how you are compared to the competition and it gives me a good feeling."
Courageous McEwen carries on
By Les Clarke in Adelaide, South Australia
Robbie McEwen doesn't mind getting close to spectators as long as it is not in the sprint
Photo ©: Mark Gunter

Tenacity has always been a hallmark of Robbie McEwen's career, and during stage two of the Tour Down Under it came to the fore again. Having collided with a camera held by a spectator in the final 150 metres of the first day - leaving him with heavy bruising and a laceration - he was back on the bike and in the top 10 on day two.
Before the stage start in Hahndorf, McEwen briefly explained the previous day's events. "It shows how in sport you can go from good to bad pretty quickly," he began. "It was a shame, because I was really going for the stage win and was just about to make my big run to the line as Greipel was trying to come past; from the moment I hit the camera it was all over.
"I kept trying a bit, but it was all done. It's a shame, because my form was obviously pretty good," he added.
Many riders may have considered dropping out of the race, but with McEwen's evergreen form at its best and Tour Down Under stage win number 14 on offer, he was lining up in Hahndorf for a crack at the victory.
"Unless it was actually snapped in half I was always going to start today. I think I'll be able to get through, it's just obviously not ideal," he explained.
He sent a gentle reminder to spectators by saying, "Please keep them [cameras] inside the barriers. Maybe some people aren't experienced at bikes races and don't realise how fast we're actually coming and the damage that can be done.
We're really vulnerable; any other sport you see fans behind barriers and fences, they don't get anywhere near the action. Here they're very lucky they can get so close. On the other hand they need to just keep inside the barriers to let the race go on as it should."
McEwen rode to eighth place on the stage, and it was a mark of his tenacity that he was vying for the stage win rather than just try and survive with his injured arm unscathed. "I was still on the front of the group until the last kilometres but I didn't have the legs to challenge for the win today," he explained.
He remained upbeat about his chances of taking another stage at the Tour Down Under, considering the damage done to his arm on day one. "Given my form at the moment, I'd put myself at 85 percent I suppose, or 80 percent. I've still got a little way to go until I've got the get up for a finish like that and go for the win," said McEwen.
"I just didn't quite have the legs but maybe it had a little bit to do with the swelling and trauma to the body… sometimes it makes you feel a little bit average the next day. Hopefully tomorrow I'll have a better day again and go for the win.
"I came through alright. I lost a little bit of time right near the finish – I just sat up and there was a gap between myself and the front part of the group. I'm not really worried about the overall classification; if I see that I'm not going to win the stage I'll roll on through and try to win the next day. We'll have a go tomorrow."
Bruyneel pleased with Davis win
By Greg Johnson in Adelaide, Australia
Allan Davis took over the GC lead and pleased both Bruyneel and Armstrong today
Photo ©: Roberto Bettini

Astana team director Johan Bruyneel said he's delighted that his former employee Allan Davis was able to win a Tour Down Under stage today for his new team. Davis outsprinted his rivals from a select bunch on today's stage to take the race's overall lead.
The Quick Step rider rode for Bruyneel's Discovery Channel squad in its final season in 2007.
"I'm very happy for him, it's been a very hard one and a half years for him," said Bruyneel. "Honestly, I didn't think, I mean, we all thought it wasn't going to be a sprinter's stage today. But for him to be able to win the stage after all the difficulties he had it's very good to see.
"Obviously if we couldn't win today, we were happy to see him win at least," he added.
Davis was implicated in the Spanish Operación Puerto investigation in 2006, along with four of his Astana-Würth team mates. The rider was subsequently cleared of any involvement with the doping inquiry that brought down riders like Ivan Basso, who was also to ride for Discovery Channel in 2007 before admitting his involvement in the case.
Lance Armstrong, who was a part owner in Discovery Channel in 2007 and was racing in today's event, also said he was proud of Davis. Armstrong compared his own situation with that of Davis.
"Obviously he got caught up in Puerto, and when you have things like that some people are guilty and some people kind of just get caught up in it," he said. "Seems to me, I don't know all the details, but it seems to me it looks like he might have been one of those ones that just got tarnished because of the team he was on and you hate to see that.
"But hell, these guys, they persevere, if they don't have a team or they are on a very small team they continue to focus and train hard and then they come back," added Armstrong. "It's not that different to what someone like me has gone through, you have a year and you're out, people say you're done, and they don't give you chances, then you come back and you come back with vengeance. So for me I'm proud of him."
Davis now leads the race heading into tomorrow's stage 3. He has a three-second lead over German André Greipel (Team Columbia - High Road), who led the race heading into today's stage.
French rookie in search of lost time Down Under
By Jean-François Quénet in Adelaide
Neo-pro Guillaume Blot shows the efforts of his first 'pro break'
Photo ©: JF Quenet

Guillaume Blot put his name down for the race reports for the first time when he attacked at the beginning of stage 2 in the Tour Down Under. The Cofidis rider went away with Euskaltel-Euskadi's Mikel Irizar and Aaron Kemps from UniSA. It was obvious the stocky blond French guy enjoyed every moment in the front as he rode in an aggressive way.
He regretted it wasn't the case for everybody up there. In defence of the lead of his teammate Andoni Lafuente's KOM prize, Irizar asked for the permission to pass in first position at the top of the first climb. His two companions agreed but after the hill, he stopped taking turns.
"There were some arguments from team car to team car," Cofidis' Directeur Sportif Francis Vanlondersele admitted.
"But I'm happy anyway," Blot said. "This kind of breakaway will help me improve on my foundations as a pro rider. This year compared to the amateur ranks, I definitely need my physique to go one level higher in terms of power and freshness in the finale."
Hailing from the historical pirate city of Saint-Malo in Brittany where the Tour de France held the start of stage 3 last year, Blot was poised as a very young rider to become France's next top sprinter. From the age of 16, he was personally trained by cycling legend Cyrille Guimard. Guimard eventually got disappointed by the progress of his protégé when Blot was around 20 years old.
In six seasons, Blot frequented three different clubs (VC Roubaix, Côtes d'Armor and USSA Ste-Austreberthe) and finally signed with a professional team at the age of 24, after a successful trial as a trainee with Cofidis last year.
"At the end of stage 1 in the Tour Down Under, I led Alexandre Usov out in the first bunch sprint finish," Blot remembered. "But I had lost him, he wasn't on my wheel. Had I done the sprint for myself, I feel I could have finished between fifth and tenth. But I'm not riding as a sprinter for my first pro season. I'll go for breakaways again in order to become stronger."
Meyer down, not out
By Les Clarke in Adelaide, South Australia
Garmin-Slipstream rider Cameron Meyer will continue in the Tour Down Under tomorrow despite dislocating his shoulder in a crash during today's second stage from Hahndorf to Stirling.
Directeur Sportif Matt White confirmed Meyer's injury and said that it was most likely he would start tomorrow's stage.
"He popped it back in and continued to finish the stage," White told Cyclingnews. "It's obviously causing him some pain but he should start tomorrow."
In his first ProTour race Meyer spent another day working hard to get sprinter Julian Dean to the finish in the first group, and although the team suffered this injury to one of its riders and Dean didn't feature in the finale, it should start tomorrow's proceedings with a full complement and ready to look for a win.
Boonen looking to Milano-Sanremo
Tom Boonen wants La Primavera
Photo ©: Takashi Nakazawa

Tom Boonen has his eye on Milano-Sanremo, and said that he has trained so often on the Poggio climb in that race, "I could now possibly ride it blindfolded."
The Quick-Step rider told sporza.be that he has targeted the Primavera this year, and that "if it comes to a sprint, Marco Velo must be there to help me with his experience."
To prepare for the race, the former World champion will again ride Tirreno-Adriatico, as he did last year, instead of Paris-Nice. "The stages in Tirreno are somewhat longer, with more climbing."
His winter so far "was almost perfect," Boonen said. He opens his season at the Tour of Qatar the beginning of February. "I hope not to be in form too early," he noted. "It is my intention to come into top for the Ronde van Vlaanderen and Paris-Roubaix.(SW)
Kohl will not appeal two-year ban
Bernhard Kohl has accepted his punishment
Photo ©: Roberto Bettini
Bernhard Kohl has said that he will not appeal his two-year ban from cycling, and once again apologised for his "big mistake."
In a press release issued Wednesday morning, the Austrian said that he had received the written judgment from the National Anti-Doping Agency (NADA Austria), which confirms his ban from racing until July 3, 2010. Kohl tested positive for the new generation EPO product CERA during the Tour de France, and he later confessed to having used the illegal product.
"My mistake will accompany me all my life, and will always hang around my neck," Kohl wrote. "I know, of course, that I didn't help cycling any with my behaviour, but I am also not responsible for the general situation in cycling."
In accepting the two-year ban, the former Gerolsteiner rider noted that he expected the longer ban although he had hoped for a shorter one.
Kohl pointed out that he had never promised to disclose the name of the person who provided him with the product. "I always said that I would give all details from obtaining the product to using it. That is what I did."
Disclosing the name of his supplier "would neither have uncovered a doping ring nor uncovered the doping of another athlete."
The 27-year-old further noted that with 18 months ahead of him, it was "too early" to speak of a possible comeback, but that he would keep himself fit in order to keep that possibility open. "The fact is that at my age I have my complete working life ahead of me and my financial situation doesn't allow me to simply train for a year and a half." He will seek work for that period, even though at the moment he didn't know in which field it may be.(SW)
Sastre and Contador in Castilla and León
Alberto Contador (Astana) won the Vuelta Castilla and León last year
Photo ©: Roberto Bettini

Alberto Contador and Carlos Sastre will race in the Vuelta a Castilla y León (March 23-27) like they did in 2008. Olympic Champion Samuel Sánchez and Russian Denis Menchov will add to an illustrious field.
Organiser José Luis López Cerrón was happy with the quality signings for the race, he told EFE. "We cannot complain about the level of the participation." Cerrón added that the dates are good for the race. "The timing fits many teams very well in the preparation of the Grand Tours. Also, the stages are not extremely difficult and there are mountains, a time trial and flat stages. They also like the good organisation and the quality of the hotels."
Cerrón already picked a favourite. "Carlos Sastre will start the race in better condition because this year he wants to race the Giro d'Italia and for that he has to come here in better form."(AS)
Waste Management Team announces 2009 elite riders
Team Waste Management established itself as one of the top amateur cycling teams in the United States during the 2008 season competing on the national circuit. Team WM has now announced their eight-man elite squad for 2009 that consists of five members who are also part of the US National U23 Team racing in Europe.
The 2009 team roster has three returning members, Stevie Cullinan, Grant Van Horn, and Sean Mazich. New members include Larry Warbasse, Carter Jones, Kevin Soller, Scott Stewart and David Talbot. A staff of three is responsible for the medical purposes. Barney King continues as the race director.
In preparation for the 2009 calendar, which will include most western NRC races and BC Superweek in Canada, the team has just completed a successful training camp in San Marcos, California, where they assembled for testing, analysis, planning, team building, and a little bit of saddle time on the new team bikes and Sugoi clothing. Look Bicycles has been selected for the team in 2009 with additional support from Ritchey. The training camp was also a chance for the team to meet and work with their professional affiliates at Jelly Belly Professional Cycling and that team's director Danny Van Haute.
Team WM and Jelly Belly will continue their affiliation in 2009 after a successful cooperation this past year which saw top young amateur Keil Reijnen move up from Team WM to Jelly Belly with a pro contract. Reijnen was just one of three Team WM members to sign pro contracts at the end of the 2008 season. Alex Boyd (Rock Racing) and Jon Parish (Kenda) also moved to pro teams.
"Team Waste Management's primary focus is supporting amateur cycling and helping talented young riders take the step to the next level," said team President Steve Cullinan. "We have assembled a team of great people to develop a very strong amateur team for 2009, and we anticipate our Jelly Belly relationship will further advance our goals of taking our kids to the next level with the talent on our 2009 roster!"
Team WM is a youth development organised under the non-profit RacelabU23 Cycling Team. The team continues to receive primary sponsorship from Waste Management. Team WM is focused on supporting and developing U25 cyclists to get them to next level of cycling.
Ride the Giants of the Alps with Procycling
Enjoy the mountains with Procycling
Photo ©: AFP

Procycling Magazine is giving its bike fans the chance to join the magazine's editorial team, including their ex-pro bike testers Marcel Wüst and Frankie Andreu, climbing some of the biggest and most spectacular passes in the French and Italian Alps on a week-long trip they're dubbing "The Giants of the Alps".
On June 14–20, Procycling is teaming up with renowned travel company Thomson Bike Tours for a seven-day trip tackling a series of classic climbs made famous by the Tour de France and Giro d'Italia. Starting and finishing in Turin, the trip covers more than 400 miles and a huge 16,000 metres-plus of climbing on roads that are mostly very light on traffic and staggeringly beautiful.
Included on the itinerary are the Colle delle Finestre, with its famous section of dirt road towards the summit, the climb to the resort of Sestriere, where Claudio Chiappucci and Lance Armstrong claimed famous Tour victories, the trio of monster ascents that featured on 2008's Tour route – the Colle d'Agnello, Col de Lombarde and Col de la Bonette-Restefond, the highest road pass in Europe – and both sides of the Col d'Izoard.
The trip will be fully supported by Thomson Bike Tours' expert guides and fully-equipped support team. The trip will also feature a number of other special events courtesy of Procycling. Numbers are limited, so register your interest as soon as possible at www.thomsonbiketours.com
Win an autographed Team Columbia jersey
Enter Cyclingnews' contest to win a unique piece of cycling history – a 2008 team-issue Team Columbia jersey signed by the entire 2009 men's team, gathered in Mallorca, Spain for its December 2008 training camp.
The Team Columbia jersey appeared on the top step of the podium 85 times in the 2008 season, more than any other professional team, with stage wins at the Giro d'Italia, Tour de France, Tour of California, Tour de Georgia, Dauphiné Libéré, Tour of Germany and Tour of Ireland plus victories in one-day events such as Flèche Wallonne and Scheldeprijs Vlaanderen.

Twenty five riders signed the jersey, including

- Mark Cavendish, four-time 2008 Tour de France stage winner, three-time 2008 Giro d'Italia stage winner
- Bert Grabsch, 2008 World TT Champion
- Marcus Burghardt, 2008 Tour de France stage winner
- Edvald Boasson Hagen, 2008 Critérium International stage winner, three-time 2008 Tour of Britain stage winner
- George Hincapie, 2008 Tour of California stage winner, two-time US national champion
- Kim Kirchen, 2008 Tour de France yellow jersey and green jersey wearer, 2008 Flèche Wallonne champion
- Marco Pinotti, 2008 Giro d'Italia stage winner, 2008 Tour of Ireland champion

The contest's winner will be selected at random from all correct answers to a Team Columbia trivia question.

Hurry now and enter to be in the draw. Good luck!
(Additional editorial assistance by Susan Westemeyer and Antonio J. Salmerón.)
(All rights reserved/Copyright Future Publishing (Overseas) Limited 2009)