Special News Feature, January 10, 2004
Introducing Rory Sutherland
Part of the Canberra Cycling Clan
Rory Sutherland
Photo ©: Bert Geerts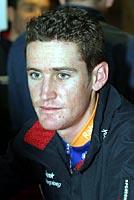 Rory Sutherland, who finished second in Round 2 of the Jayco Bay Classic, is one of the quieter talents of Australian cycling. Based in Europe for the last three years with the Rabobank U23 squad, Rory is aiming for a pro career with Rabobank in 2005, as Mark Carter writes.
Rory Sutherland will be back riding for the Rabobank U23 team this year after another strong season, culminating in an impressive ride in the U23 World Championships Road Race, only to be robbed of a certain top 10 placing while in the winning break when the lock ring on his cluster gave way, ending his chances with 20km left to race in the 174km race.
"The road race was going really well, I had a lot of fun and it was an awesome course," recalled Sutherland. "It was a bloody hard race, however it was good weather. There were a couple of guys away and it was getting towards the end of the race. We'd lost a lot of riders and it was about time for stuff to start happening, so I hit out on one of the climbs with another guy and we formed a group and stayed out there with a good gap. That ended up being the break that made it, however I had a bit of a mechanical with my back wheel and by the time I changed wheels the peloton was back on me."
However despite his misfortune, the directors of Rabobank were very aware of just how well Sutherland had ridden and that a possible rainbow jersey had slipped through his grasp. There were plenty of congratulations along with commiserations when Sutherland crossed the line in the main field in 37th place, just nine seconds behind the winner Sergey Lagutin of Uzbekistan.
Sutherland put it in perspective succinctly, when reflecting on the race and the overall grand plan "...but that's life, you get over it, but I've signed up for another year, which I'm really, really happy about".
This season will be Sutherland's final year in the U23 ranks and if he keeps improving at the rate he has been over the past few years, he should be in good stead to take the step up to the Pro team for 2005. Sutherland said "Rabobank would certainly be my first pick for a pro team, if there was more than one offer on the table."
For 2004 Rory will move his base from the northwest (near Antwerp) across to the east near Maastricht, near where fellow Canberran and Rabobank rider Mathew Hayman lives. "Its awesome training down there and there are a lot of pros and also a lot of my mates down there as well, so I'm really looking forward to the move."
Rory's website: www.rorysutherland.com.