MTB world championships - CM
Rotorua, New Zealand, August 22-27, 2006
Main Page Results Overall standings Previous Race Next Race
Race 9 - August 26: Junior men downhill
Victory at last for the home team as Kiwi juniors go one-two
By Rob Jones
Cameron Cole (New Zealand)
Photo ©: Mikkeli Godfree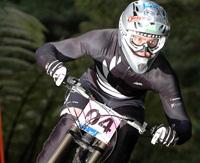 In the Junior men's race Cameron Cole of nearby Hamilton was the fastest rider on both the upper and lower sections of the course. Starting sixth from last, Cole recorded a near identical time to his qualification run. This was enough to win, when the other top qualifiers either crashed or had to slow down in the windy conditions.
Fellow Kiwi Sam Blenkinsop was over 12 seconds slower then his seeding run, but managed to hold onto silver, while Great Britain's Brendan Fairclough, one of the favourites after top finishes on the World Cup circuit and winning the European championships, finished a distant 17th.
France's Antoine Badouard took the bronze medal.
Photography
For a thumbnail gallery of these images, click here
Images by Mikkeli Godfree/Cyclingnews.com
Results, 2.2km
Final
 
1 Cameron Cole (New Zealand)                     3.28.29 (38.02km/h)
2 Samuel Blenkinsop (New Zealand)                3.29.45
3 Antoine Badouard (France)                      3.29.84
4 Ralph Jones (Great Britain)                    3.30.14
5 James Maltman (Australia)                      3.36.12
6 Steve Smith (Canada)                           3.36.22
7 Mitchell Delfs (Australia)                     3.37.26
8 Robin Wallner (Sweden)                         3.38.13
9 Ben Bel (Australia)                            3.39.93
10 Andrew Pierce (USA)                           3.40.08
11 Lars Peyer (Switzerland)                      3.40.17
11 Alex Swann (Australia)                        3.40.17
13 Logan Binggeli (USA)                          3.41.05
14 Benny Strasser (Germany)                      3.42.33
15 Nicola Casadei (San Marino)                   3.42.63
16 Daniel Wolfe (Ireland)                        3.43.24
17 Brendan Fairclough (Great Britain)            3.44.54
18 Hank Cadle (USA)                              3.44.84
19 Nejc Rutar (Slovenia)                         3.45.17
20 Cristian Soto (Chile)                         3.46.39
21 Franco Emanuel Riva (Argentina)               3.47.24
22 Marco Bugnone (Italy)                         3.47.38
23 Sho Kadowaki (Japan)                          3.48.49
24 Tim Price (USA)                               3.48.63
25 Edward Masters (New Zealand)                  3.49.87
26 James Brodie (Australia)                      3.50.92
27 Joel Bain (Australia)                         3.51.51
28 Michael Langford (New Zealand)                3.52.91
29 Zac Williams (New Zealand)                    3.53.06
30 Michael Davis (New Zealand)                   3.54.81
31 Daniel Hultgen (USA)                          3.55.06
32 Luke Gowen (Australia)                        3.55.23
33 Matthew Scoles (New Zealand)                  3.55.42
34 Anssi Koskinen (Finland)                      3.55.48
35 Wesley Augustyn (Republic of South Africa)    3.56.74
36 Elias Somvi (Italy)                           3.57.39
37 Jyunya Nagata (Japan)                         3.58.30
38 Justin Novella (Republic of South Africa)     3.58.69
39 Joris Bigoni (France)                         3.58.92
40 Reuben Miller (New Zealand)                   3.59.73
41 Erik Irmisch (Germany)                        4.05.97
42 Travis Browning (Republic of South Africa)    4.06.72
43 Richard Smith (Ireland)                       4.11.39
44 Greg Saharin (Republic of South Africa)       4.17.59
45 J. Van Castricum (Republic of South Africa)  16.30.16
 
Seeding run - 2200m Av. 40.12 Kmh
 
1 Samuel Blenkinsop (New Zealand)                3.17.4 (40.12 Km/h)
2 Brendan Fairclough (Great Britain)             3.19.4
3 Steve Smith (Canada)                           3.19.6
4 Ben Bel (Australia)                            3.23.9
5 Joris Bigoni (France)                          3.26.9
6 Cameron Cole (New Zealand)                     3.28.4
7 Joel Bain (Australia)                          3.30.5
8 Alex Swann (Australia)                         3.30.7
9 Nicola Casadei (San Marino)                    3.30.8
10 Andrew Pierce (USA)                           3.30.9
11 Erik Irmisch (Germany)                        3.31.2
12 James Maltman (Australia)                     3.31.6
13 Mitchell Delfs (Australia)                    3.31.7
14 Antoine Badouard (France)                     3.33.2
15 Richard Smith (Ireland)                       3.34.0
16 Luke Gowen (Australia)                        3.34.9
17 Lars Peyer (Switzerland)                      3.37.6
18 Logan Binggeli (USA)                          3.38.3
19 Matthew Scoles (New Zealand)                  3.38.4
20 Daniel Hultgen (USA)                          3.38.7
21 Benny Strasser (Germany)                      3.39.0
22 Cristian Soto (Chile)                         3.39.1
23 Hank Cadle (USA)                              3.39.3
24 Wesley Augustyn (South Africa)                3.39.4
25 Daniel Wolfe (Ireland)                        3.41.9
26 Edward Masters (New Zealand)                  3.42.3
27 Elias Somvi (Italy)                           3.42.5
28 Reuben Miller (New Zealand)                   3.43.0
29 Tim Price (USA)                               3.43.4
30 Zac Williams (New Zealand)                    3.43.5
31 Jyunya Nagata (Japan)                         3.43.8
32 Anssi Koskinen (Finland)                      3.43.9
33 Franco Emanuel Riva (Argentina)               3.44.2
34 Marco Bugnone (Italy)                         3.44.8
35 Ralph Jones (Great Britain)                   3.45.0
36 Travis Browning (South Africa)                3.49.8
37 Michael Davis (New Zealand)                   3.51.3
38 Sho Kadowaki (Japan)                          3.51.5
39 Michael Langford (New Zealand)                3.51.7
40 James Brodie (Australia)                      4.01.4
41 Greg Saharin (South Africa)                   4.03.9
42 Nejc Rutar (Slovenia)                         4.08.9
43 Justin Novella (South Africa)                 4.21.2
44 Van Castricum J (South Africa)                4.21.9
45 Robin Wallner (Sweden)                        4.24.8
DNS Leonardo Griebler (Brazil)