MTB World Championships - CM
Livigno, Italy, August 31-September 4, 2005
World's best come to Italy for tight clampionships
The world mountain bike championships is underway in Livigno, Italy, starting yesterday with the team relay event and over the next few days awarding rainbow jerseys in cross-country, downhill, four-cross and trials disciplines.
Some events are almost sure lock-ins for riders who have dominated for the last several years, while others are wide open as new talent rises to the top or old stagers bow out.
A happy Gunn-Rita Dahle in 2004
Photo ©: Birke Ulrich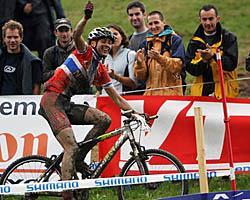 In the cross-country, reigning champion Gunn-Rita Dahle has had another stellar year, winning most of the world cups and recently the longer-distance marathon world championship. The only rider who has been able to threaten her this year is Canada's Marie-Hélène Premont, winner of her home World Cup in Mont St Anne in June. Germany's Sabine Spitz, the 2003 world champion is a likely podium finisher, but it will take a superhuman effort from either Spitz or Premont – or a large dose of luck – to unseat Dahle.
Christoph Sauser (Siemens Cannondale)
Photo ©: Rob Jones

In the men's cross-country Switzerland's Christophe Sauser has been the most consistent rider this year, winning three of the last four World Cups – but in this division season-long consistency does not always indicate world championship form. France's Julian Absalon may have been quietly planning to peak for the world's after his two World Cup wins early in the year, while neither Jose-Antonio Hermida (Spain) nor Belgium's Roel Paulissen can be written off. Of Nother Americans, only Geoff Kabush (Canada) has displayed world-beating form this year, with a strong second place at the last world cup round.
Greg Minnaar (RSA)
Photo ©: Marek Lazarski

The gravity events are trickier to pick because a small mechanical problem or crash can end a fancied rider's chances. South African Greg Minnaar has the World Cup series pretty much sewn up and must be a favourite to repeat his 2003 rainbow jersey ride, but Australian wunderkind Sam Hill has landed two World Cup wins this year out of just four starts and could add a senior world's gold to his 2003 junior victory. If either of those two falter, any of a dozen riders could get their crack at a world championship, including France's Fabian Barel, Britain's Steve Peat and Geo Atherton and a seemingly vast horde of Australians including Nathan Rennie, and NORBA champion Jared Graves.
Anne-Caroline Chausson
Photo ©: Red Bull

Anne-Caroline Chausson has only ridden three World Cups this year, but won all of them, and it's hard to tip anyone else but the eight-time senior world champion as favourite at the world's. Chausson's compatriot Sabrina Jonnier and Britain's Tracy Mosely are perhaps the two best of a very small number of riuders who can threaten Chausson, but all seem more likely to share the podium with her than to knock her off the top step.
In the four-cross discipline, Annette Beerten of the Netherlands leads thwe World Cup on points but has been beaten in their last four World Cup meetings by Jill Kintner of the USA, who looks like one of the USA's two best chances for a gold medal at these world's. The other is also a four-cross specialist, Brian Lopes. However, competition is fiercer in the men's division, and Michal Prokop of the Czech Republic and France's Cedric Gracia are all serious contenders.