MTB world championships - CM
Rotorua, New Zealand, August 22-27, 2006
Main Page Results Overall standings Previous Race Next Race
Race 12 - August 27: Elite men trials
Hosel breaks Charral's run in 20in trials
By Mikkeli Godfree
Marco Hosel
Photo ©: Mikkeli Godfree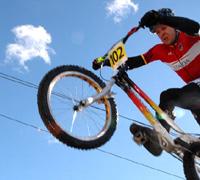 Three-time world champion Marco Hosel made it number four this morning in Rotorua beating Spanish duo Carles Diaz Codina and 2003, 2004 and 2005 World Champion Benito Ros Charral. Hosel rode strategically on a course which had many unpassable sections by dabbing where he had to and riding smartly. Other weren't so lucky, getting frustrated with the courses, getting flustered and racking up the points.
Hosel was ecstatic after breaking Charral's world championship run saying, "It was a hot competition today. You needed to ride with a clever head and work out when to put your foot down. I thought about it, did it and now I'm World Champion. It's crazy, now I'm very happy."
Regarding the course he said, "Yeah, I think it was good, not perfect, 90% but I put my foot down strategically for the other bits and I won."
One big happy family.
Photo ©: Mikkeli Godfree

The Spanish duo hot on the heels of Hosel had mixed emotions about the 20" Elite Final, Carles Diaz Codina explained, "I'm half happy, half not happy. Half because this is my first time on the podium in the world championships and I know it is difficult. But Marco [Hosel] was the best today. The other half, I'm not happy fully because I feel today that it was possible to win. It is a strange feeling. I know in the end that it is difficult and I'm happy."
Three times world champion Benito Ros Charral had slightly different feelings about adding a bronze medal to his collection, "I am not unhappy because I know it is difficult to be perfect in the final. I thought I might be able to repeat my efforts from the last three years, but in the semi final I was 8th and then I realised I was not on my best… so third is good for me today."
The two Spaniards then went off to recover for two hours before the 26in final this afternoon.
Belaey bounces to 26in title
By Mikkeli Godfree
Kenny Belaey
Photo ©: Mikkeli Godfree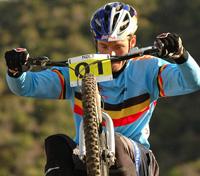 Kenny Belaey (Belgium) yelled his way around the trials courses this afternoon and absolutely dominated the World Championship in the 26" division making only four dabs throughout the whole competition. It was Belaey's 3rd Elite World Championship win and he beat the current World Cup leader Vincent Hermance (France) into second by one point.
Belaey, who has had a rough year with injury and sickness was extremely happy with his win, "It feels really, really great. I had a bad year: I had injuries and I was sick, it was very bad for my preparation. I didn't want to lose my jersey so I fought really hard for it and worked really hard for it - I trained five hours a day. This was my only goal for this year so I'm very happy."
Hermance was frustrated with his day, feeling that his position at the top of the World Cup table this year put him in good stead for the gold, "The was very technical so it was an interesting competition. I made two stupid mistakes so I finished second. It was very close. The course was maybe a little bit too easy so the points were close. Congratulations to Kenny though because he was very good today."
"This year Kenny only beat me once, I beat him in all the other World Cups. It is a shame, because this is only one you have to win!"
Hermance, Belaey and Coustellier
Photo ©: Mikkeli Godfree

During competition, Belaey had the crowd absolutely psyched as he yelled before his runs, when he pulled off hard moves and when he cleared a zone perfectly. The crowd fed off it and even drew people away from the Elite men's XC race which saw a ding-dong battle between Julien Absalon and Christoph Sauser.
Belaey and Hermance now look to next year where Belaey hopes he can "keep on winning, stay motivated and have fun!" and where Hermanence will "train harder and harder because I've been second in the World Championships three times now and it's very frustrating…it drives me crazy! Sure France won the teams event but it's not important for me, I want to be World Champion individually!"
Photography
For a thumbnail gallery of these images, click here
Images by Mikkeli Godfree/Cyclingnews.com
Results

26in
 
1 Kenny Belaey (Belgium)                 4 pts
2 Vincent Hermance (France)              5
3 Giacomo Coustellier (France)           8
4 Marc Caisso (France)                   8
5 Daniel Comas Riera (Spain)             9
6 Benito Ros Charral (Spain)            20
7 Carles Diaz Codina (Spain)            30
8 Thibault Veuillet (France)            38
9 Thomas Mrohs (Germany)                30
10 Thomas Öhler (Austria)               32
11 Sebastian Hoffmann (Germany)         35
12 Wesley Belaey (Belgium)              36
13 Andrei Burton (Great Britain)        41
14 Andrew Dickey (Australia)            42
15 Roger Keller (Switzerland)           45
16 Jan Sidlik (Slovakia)                63
17 Jeremy Vanschoonhoven (USA)          64
18 Wilko Brandt (Germany)               65
19 Cameron Kowall (USA)                 75
20 Nathan Goodhue (USA)                 80
21 Mike Hickman (New Zealand)           80
21 Craig Pearce (Australia)             80
23 Tim Jurgens (New Zealand)            80
24 John Oregan (New Zealand)            80
25 Lindsey Colla (Australia)            80
26 Joel Whitburn (Australia)            80
DNS Tomasz Kramarczyk (Poland)            
DNS Adam Kelly (Australia)                
 
20in
 
1 Marco Hösel (Germany)                 10 pts
2 Carles Diaz Codina (Spain)            14
3 Benito Ros Charral (Spain)            15
4 Marc Caisso (France)                  17
5 Rafal Kumorowski (Poland)             18
6 Daniel Comas Riera (Spain)            22
7 Sebastian Hoffmann (Germany)          24
8 Peter Bartak (Slovakia)               27
9 Thomas Öhler (Austria)                29
10 Juan Antonio Linares Moya (Spain)    31
11 Stefan Moor (Switzerland)            32
12 Felix Heller (Germany)               33
13 Roger Keller (Switzerland)           33
14 Karol Serwin (Poland)                35
15 De La Peña Catalan J.D. (Spain)      35
16 Diego Barrio Roa (Spain)             41
17 Thomas Mrohs (Germany)               42
18 Walter Belli (Italy)                 50
19 Rick Koekoek (Netherlands)           52
20 Tomasz Kramarczyk (Poland)           67
21 Craig Pearce (Australia)             80
22 Peter Hellenbrand (USA)              80
23 William Hendrickson (USA)            80


Junior men 26in
 
1 Aurélien Fontenoy (France)                                                           9 pts
2 Ben Slinger (Great Britain)                                                         11
3 Matthias Mrohs (Germany)                                                            17
4 Nicolas Vuillermot (France)                                                         18
5 Joseph Brewer (Australia)                                                           20
6 Iciar Van Den Bergh (Belgium)                                                       28
7 Loris Braun (Switzerland)                                                           28
8 Eduard Planas Nuñez (Spain)                                                         38
9 Edward Gildea (USA)                                                                 73
                                                                                        
Junior men 20in                                                                         
                                                                                        
1 Marco Thomä (Germany)                                                                6 pts
2 Aurélien Fontenoy (France)                                                          14
3 Matthias Mrohs (Germany)                                                            16
4 Loris Braun (Switzerland)                                                           17
5 Eduard Planas Nuñez (Spain)                                                         18
6 Ben Slinger (Great Britain)                                                         19
7 Dominik Burger (Germany)                                                            24
8 Nicolas Vuillermot (France)                                                         35
9 Francesco Policante (Italy)                                                         31
10 Marc Schröder (Germany)                                                            41
11 Marek Bielowka (Poland)                                                            45
12 Jan Mossemann (Germany)                                                            74
 
Teams
 
1 France                                                                             372 pts
 Marc Caisso/Nicolas Vuillermot/Vincent Hermance/Aurélien Fontenoy/Julie Pesenti        
2 Germany                                                                            340 
 Marco Hösel/Marco Thomä/Sebastian Hoffmann/Matthias Mrohs/Ann-Christin Bettenhausen    
3 Spain                                                                              339 
 Benito Ros Charral/Daniel Comas Riera/Eduard Planas Nuñez/Mireia Abant Condal        
4 Switzerland                                                                        323 
 Stefan Moor/Loris Braun/Roger Keller/Karin Moor                                     
5 Poland                                                                             205 
 Rafal Kumorowski/Marek Bielowka/Tomasz Kramarczyk/Katarzyna Kramarczyk              
6 USA                                                                                116 
 William Hendrickson/Jeremy Vanschoonhoven/Edward Gildea/