MTB world championships - CM
Rotorua, New Zealand, August 22-27, 2006
Main Page Results Overall standings Previous Race Next Race
Race 10 - August 26: Elite women downhill
Jonnier inherits Chausson's jersey
By Rob Jones
Your new World Champion
Photo ©: Mikkeli Godfree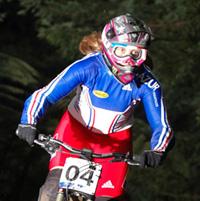 For the elite categories, the high winds that had plagued the Juniors died down, but as the women were about to start heavy cloud cover began to roll in, and everyone started to worry about rain. Thankfully, the rain held off, as France's Sabrina Jonnier won the world title that has eluded her during the reign of countrywomen Anne-Caroline Chausson. Chausson retired last year, after a string of consecutive victories stretching back to 1993 - interrupted only in 2004 when she crashed in training and could not race the Worlds.
In the absence of Chausson, the list of potential winners was long, and included Jonnier, World Cup leader Tracy Moseley (Great Britain), young French threat Emmeline Ragot, 2004 world champion Vanessa Quin from host New Zealand, and Brits Fionn Griffiths and Rachel Atherton - last year's Junior champion.
Jonnier admitted to feeling the pressure of following in Chausson's tracks. "It is pretty hard, yes. Everyone always talks about Anne-Caroline, and I have ridden in her shadow for so long. I wanted to win very much this year, and I prepared all winter for this race. I've waited for this for so long, it is like a dream."
Moseley set the fastest time in qualifying, followed by Jonnier and American Melissa Buhl. The first rider off - Rika Olivier (South Africa) - set a time which stood up for five riders before countrywoman Anka Martin shaved off four and a half seconds. Australian Claire Whiteman took over a couple of riders later, and was in turn displaced by New Zealander Sheryl Macleod.
Tracy Moseley (Great Britain)
Photo ©: Mikkeli Godfree

Canadian Claire Buchar was next to take the lead, but was immediately replaced by another Kiwi, Amy Laird. These changes in the lead were a few seconds at a time, but Griffiths was the next rider down, and knocked a cool 18 seconds off the lead.
But Griffiths' time in the lead was short, as Atherton became the first woman to go under four minutes, with a 3:57.80 . The young British rider's time was all the more remarkable given the fact that she had dislocated her shoulder in training, and was wearing a sling the day before the race.
"It was pretty painful, and I thought after it happened that I wouldn't be able to race. But I rested up and used the sling, and I had some pretty good painkillers..."
It would take Jonnier to displace Atherton, and she did it convincingly, taking a further seven and a half seconds off the top time. It was up to Moseley, the final rider, and she came up three and a half seconds short.
"To be honest, I had a pretty good run" said Moseley. "I think that I probably was too cautious in the trees at the bottom, and lost a bit of time there. Of course i'm disappointed, but I'm happy too - I've never had a world championship medal before."
Fourth placed Melissa Buhl (USA)
Photo ©: Mikkeli Godfree

Jonnier said that she held nothing back in her run: "I pedaled like a crazy woman! I started so fast, and just backed off a little bit for the woods. Before the rock garden at the bottom I made a mistake and slid a little bit, but I think everybody had some problems, so my run was almost perfect."
Photography
For a thumbnail gallery of these images, click here
Images by Rob Jones/www.canadiancyclist.com
Images by Kristine Seeto
Images by Mikkeli Godfree/Cyclingnews.com
Results, 2.2km
Final
 
1 Sabrina Jonnier (France)              3.50.32 (34.39 Km/h)
2 Tracy Moseley (Great Britain)         3.53.83
3 Rachel Atherton (Great Britain)       3.57.80
4 Melissa Buhl (USA)                    4.00.40
5 Emmeline Ragot (France)               4.01.03
6 Fionn Griffiths (Great Britain)       4.02.22
7 Vanessa Quin (New Zealand)            4.04.20
8 Céline Gros (France)                  4.04.94
9 Jennifer Makgill (New Zealand)        4.05.47
10 Kathleen Pruitt (USA)                4.07.53
11 Scarlett Hagen (New Zealand)         4.09.71
12 Helen Gaskell (Great Britain)        4.09.88
13 Danika Schroeter (Canada)            4.16.04
14 Amy Laird (New Zealand)              4.20.25
15 Claire Buchar (Canada)               4.25.13
16 Sheryl Macleod (New Zealand)         4.25.62
17 Claire Whiteman (Australia)          4.26.79
18 Adrienne Miller (Canada)             4.27.37
19 Jacqueline Harmony (USA)             4.34.14
20 Lauren Campbell (New Zealand)        4.37.40
21 Anka Martin (South Africa)           4.39.42
22 Rika Olivier (South Africa)          4.43.95
23 Emma McNaughton (Australia)          4.46.28
24 Anita Molcik (Austria)               4.48.03
25 Olivia Johnston (New Zealand)        4.51.77
26 Sarah Booth (Australia)              5.09.45
27 Hannah Latta (New Zealand)           5.38.74
28 Diana Marggraff (Equador)            6.03.14
  
Seeding run
 
1 Tracy Moseley (Great Britain)         3.41.6 (35.74 Km/h)
2 Sabrina Jonnier (France)              3.44.9
3 Melissa Buhl (USA)                    3.48.4
4 Danika Schroeter (Canada)             3.49.0
5 Emmeline Ragot (France)               3.49.8
6 Vanessa Quin (New Zealand)            3.51.0
7 Céline Gros (France)                  3.51.0
8 Helen Gaskell (Great Britain)         3.54.6
9 Jennifer Makgill (New Zealand)        3.55.6
10 Rachel Atherton (Great Britain)      3.56.1
11 Kathleen Pruitt (USA)                3.58.9
12 Scarlett Hagen (New Zealand)         4.00.3
13 Fionn Griffiths (Great Britain)      4.00.5
14 Amy Laird (New Zealand)              4.04.2
15 Claire Buchar (Canada)               4.06.5
16 Adrienne Miller (Canada)             4.10.0
17 Lauren Campbell (New Zealand)        4.10.9
18 Anita Molcik (Austria)               4.13.3
19 Sheryl Macleod (New Zealand)         4.17.6
20 Jacqueline Harmony (USA)             4.20.6
21 Olivia Johnston (New Zealand)        4.25.0
22 Claire Whiteman (Australia)          4.25.6
23 Anka Martin (South Africa)           4.29.2
24 Diana Marggraff (Equador)            4.34.1
25 Emma McNaughton (Australia)          4.36.7
26 Hannah Latta (New Zealand)           4.49.2
27 Sarah Booth (Australia)              4.49.3
28 Rika Olivier (South Africa)          5.03.8
DNS Marielle Saner (Switzerland)
DNS Mio Suemasa (Japan)