MTB & 'cross news & racing round-up for August 18, 2006
Edited by Steve Medcroft
U.S. Pros let their hair down at NORBA finals
By Steve Medcroft
Adam Craig and Ross Schnell
Photo ©: Susan Candee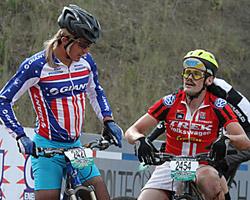 The US NORBA National Series came to close at Snowmass Ski Resort in Aspen, Colorado last weekend. Series champions were crowned in five disciplines; Cross Country, Short Track, Downhill, Mountain Cross, Super D and Marathon. Jeremy Horgan-Kobelski (Subaru/Gary Fisher) took the overall series win in men's cross-country while last year's cross-country and short-track champion, Geoff Kabush (Team Maxxis), won the short-track overall and Aussie Sam Hill (Monster Energy/Iron Horse).
But besides the settling of the series championships, the final NORBA was a time for riders to get loose from the pressure of performing every weekend (Ross Schnell wearing a wig, kiddie helmet and short shorts in the short-track race and Adam Craig in fish nets and a blond wig in Super D are the most prominent examples).
The best time of all was had by Jeremiah Bishop though, who was able to get around the road blocks of Jeremy Horgan-Kobelski and Geoff Kabush. Bishop says he was especially pleased to win at altitude. "It has been years since my fear of racing the NORBA Nationals at altitude was overwhelming," Bishop wrote on his Web site. "Some 10 years later, I slayed the dragon. Not only did I win, but I took the 2-up battle against a faster-than-ever JHK at 9,000 Ft! YES."
Bishop gained the advantage on the course's rocky downhills, pushing the pace while co-race leader Horgan-Kobelski took a more conservative approach. After just less than two hours of racing, Bishop crossed the line with no other rider in sight. Forty-two seconds later, Horgan-Kobelski crossed the line for second. The win was only Bishop's second NORBA victory since taking the 2005 season opener in Waco, Texas
For complete results, photos and race reports, click here
Naef and Dahle-Flesjaa take Marathon World Championships
In Oisans, France, Multivan-Merida teammates Ralph Näf and Gunn-Rita Dahle-Flesjaa won their respective Marathon World Championships.
While Dahle outclassed her competitors, winning by a margin of more than eight minutes, Näf rode a tactically perfect race, distancing second-placed Colombian Leonardo Paez by about a minute. At the finish, Näf could not believe his victory, having tears in his eyes as he was interviewed by TV stations. He had controlled the men's race from the start, riding with Thomas Frischknecht and Christoph Sauser in the very beginning. Frischknecht had to let the leaders go early on, and Sauser even dropped out of the race due to a mechanical. So it was Colombia's marathon specialist Leonardo Paez who joined Näf in leading the race – but he could not match the Swiss rider's speed on the descents. "Everything went perfectly for me: The course, the weather and the tactics all simply fitted in", Näf said at the finish.
Dahle-Flesjaa dominated her race in her trademark fashion: After just thirty minutes of racing, she had already built up a solid three-minutes lead, which she continued to expand to eight minutes. "I was everything but sure about my pace during the race. Due to the relentless cold I never knew exactly how far I could push myself", the Norwegian said. The victory in Oisans is Dahle-Flesjaa's sixth world championship title in total and her third marathon gold medal.
Both riders will be competing at next week's MTB World Championships in Rotorua, New Zealand.
For full results from Oisains Marathon World Championships, click here..
TransRockies wrap-up
By Paul Done/TransRockies Challenge
Ever get the feeling
Photo ©: Dan Hudson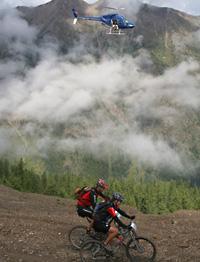 The 2006 TransRockies Challenge wrapped up at Panorama Mountain ski resort in the Purcell Mountains in British Columbia, Canada on Saturday.
Though the last stage of the race was the shortest, the nearly 1,700 metre climb to the top of Paradise Ridge would test the remaining riders one more time before they were eligible for the finisher t-shirt. With intermittent hail and rainshowers throughout the day only added to the drama atop the 2500 metre high Ridge which provides epic views into the 3000 metre peaks of the Purcell Wilderness Conservancy, one of the most spectacular mountain ranges in the Rockies.
While the 7th stage produced no major changes in the overall standings, a superb effort by the third-placed United Cycles team of Tim Heemskerk and Evan Sherman put the leading duo of Andreas Hestler and Seamus McGrath (Rocky Mountain Business Objects/Felt Racing) in big trouble as the stomach problems that Hestler had been fighting for a couple of days left him unable to follow on the climbs. As they switched into survival mode, their 10 minute overall lead started shrinking quickly as the stage wore on.
With gritty effort, they held on to their lead. At the finish line, they held onto barely two minutes of that original gap and it was enough to give Hestler his third straight TransRockies overall win-remarkably, accomplished with three different partners. "The best thing about winning three times is that I have ended up better friends with my partners after the race than before," said Hestler. The TransRockies is definitely the best thing I have ever done on a bike."
For a full report on stage seven, click here. For reports, results and photos from each day's racing:
Schedule
No change in Jeep KOM standings
Jill Kintner
Photo ©: Jeep KOM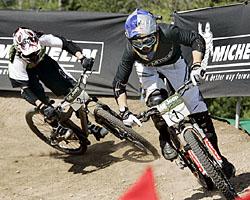 A phenomenal display of racing prowess by the top racer in the US, Eric Carter, and an inspiring comeback from injury by Dutch competitor Anneke Beerten were the stories of the day at the Jeep® King of the Mountain (www.jeepsports.com) 2006 Mountain Biking World Professional Championships in Elkhart Lake, Wis., but in the end, the world's top-ranked male and female racers, Michal Prokop and Jill Kintner, were able to fight off adversity and bring home titles for the second time in as many events.
The race day atmosphere was as exquisite as the racing itself, with several thousand Jeep enthusiasts lining the Y-cross racecourse at Road America to witness the athletes battling one another while also navigating a layout that featured parallel giant slalom and downhill disciplines with a multitude of bumps, jumps, banked turns, tabletops, step-downs and rollers thrown in for good measure.
From the number of bike-to-bike collisions and over-the-handlebar crashes beginning in the first round and lasting through the Championship Heat, it was evident that the invited athletes were eager to not only bring home the lion's share of the series' record $100,000 cash purse, but to position themselves for the overall title of World Professional Champion and drive away with the keys to a new 2007 Jeep Compass.
Prokop, who has won four of the first five races of the 2006 UCI World Cup season as well as a World Championship, European Championship and National Championship, started the day with a win over Jon Watt of Broomfield, Colo., a former National Collegiate Champion and Colorado State Champion. He then faced off against archrival Brian Lopes of San Clemente, Calif., a three-time World Champion, five-time World Cup Champion and nine-time National Champion, where a hard-fought win earned him a place in the Championship Heat.
For the full results, race report and photos from round two of the Jeep KOM series, click here.
Closer to the bottom of the MTB wheel size brouhaha...
A couple of months ago, James Huang reported on the progress of a Cyclingnews project to get to the bottom of the wheel size debate in mountain biking. Advocates of the newer '29-inch' size (based on 700C wheels) claim it rolls better over rough terrain, increasing speed and saving energy. To test this idea, we set up two bikes that were as near to identical as possible, but used different wheel sizes. We were deluged with feedback from the 29er and traditional camps, which has led to some changes in the bikes and test protocols, as James reports:
Seven IMX 29er version 2.0,
Photo ©: James Huang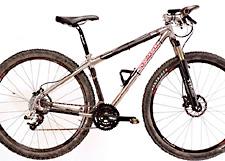 If I've learned just one thing from this project so far, it's that 29er aficionados are a rather, er, passionate bunch. After posting Part One of this series, we received gobs of mail, both good and bad, logical and occasionally nonsensical. If you're reading this looking for our conclusions you'll have to accept our apologies as we're still not there yet. However, we do have some revisions in our test setups to tell you about with which we think you'll all be quite satisfied, regardless of your own personal choice in wheel size.
We need more power!
One common theme of many of your emails was the need to add power meters to our pair of Seven IMX test sleds. The people have spoken, and we concede. The folks at Ergomo and Gita Bike, Ergomo's US distributor, pitched in with an ISIS-compatible power meter for each bike plus a head unit to share between the two. The Ergomo is a particularly interesting unit for this project because it measures power at the bottom bracket, rather than the rear wheel or in the crank. That made it an elegant solution to the problem of measuring power on our bikes.
We're still in the learning phase in getting these things setup and dialed in, but it'll clearly add a very useful additional parameter with which to complete our analysis. The handlebars on these bikes are getting awfully crowded, though; that Garmin Edge 305 GPS unit and the Ergomo head take up a lot of real estate! The pair of little electronic boxes also provides a dizzying array of data points to analyze. Sheesh, I feel like I'm in grad school again.
Read all of Part two of the Cyclingnews 26 vs 29-inch MTB comparison.
Bakker out of another bike race
Suspended mountain biker Erwin Bakker was once again refused entry in an elite mountain-bike race while suspended. Earlier this season, he was caught riding in the Vulkan Bike Marathon in Germany under his brother's name after he won the event (a German journalist recognized Erwin Bakker on the podium picture). This time, organizers of the Grand Raid Cristalp marathon in Switzerland, who found Bakker on their registration rolls, struck him from the participants list before the event ever started.
Bakker is on suspension for testing positive for performance-enhancing products twice during the 2005 season: once in March in the Vuelta a Valladolid for testosterone then again in Canada in June for EPO. Bakker was then given a lifelong ban from racing by International Court of Arbitration for Sports in Lausanne.
World Masters MTB Championships returns to the Rockies
For the second consecutive year, the promoters of the World Masters MTB Championship have chosen the Sun Peaks Resort in the Canadian Rockies. Held over Labour Day weekend (September 2-3) near Kamloops, British Colombia, more than 250 athletes, 30 years old and over, will vie for the titles of UCI Masters World Champions.
Both downhill and cross-country titles in various age categories will be awarded at the championships. The downhill course will follow Bromont's traditional downhill trail, famous for its length (last year's best time was almost five minutes) and its finish that offers a spectacular view of the Canadian Rockies. For the cross-country race, promoters have decided to bring back the 2004 course.
For more information on the UCI World Masters Mountain Bike Championships, check out the promoter's Web site at http://mondialduvelo.com.
Victoria local MTB schedule heats up
Race promoter Full Gas Promotions released it 2006/07 regional mountain-bike competition schedule this week. On tap are both short and long-form events. The Kona Week In - Weak Out Dirt Crits are a chance to have a mid-week ride at a uber-urban park; every Thursday night in 2006 at Westgate Park, Port Melbourne. Registration is open for the Subaru Interactive @ Docklands Melbourne 12hr MTB Enduro; solo riders or teams of up to six people may compete. The Kona 24hr offers 70-percent single track and 30-percent firetrail to challenge everyone from elite solo's to beginners.
More information is available at http://www.fullgaspromotions.com.au/.
Hagens Berman elite 'cross team for 2006/07
The Hagens Berman law firm announced it's commitment to the sport of cycling through the sponsorship of an elite cyclo-cross program. The team will contest the entire US Gran Prix of Cyclo-cross calendar along with select Northwest cyclo-cross events. Hagens Berman has been making inroads into cycling sponsorship with the co-title sponsorship of the elite road program Broadmark Capital/Hagens Berman this year. "We have had a tremendous amount of success and satisfaction with our sponsorship of the Broadmark road cycling program and wanted to take it to the next level and get involved in one of the most exciting types of bike racing there is," states Steve Berman.
The Hagens Berman Elite Cyclo-cross program will consist of Jonny Sundt, Morgan Schmitt, and Dan Neyens. Jonnny Sundt, 32, has been a fixture on the national and Northwest cyclo-cross scene for the past ten years taking key wins at several UCI level events and the 2002 Star Crossed Cyclo-cross race. Morgan Schmitt, 21, is the up-and-coming powerhouse on the team with a 4th place at the 2005 U23 Cyclo-cross Nationals. Morgan has also had a breakout year on the road with winning multiple Washington State Championships and the Best Young Rider Competition at The Tour De Nez. Dan Neyens is also another young rider to watch as he comes to the team as the youngest member. He brings several podium finishes across the nation and was a member of the US World Cyclo-cross Championship team this past year.
Running out of air; the Kristin Danielson diary
'Nooooooooo, not again!' is what was screaming through my head as I felt my rear wheel rim slamming against the rocks under my deflated tire. Uggghhh…… as much as I love mountain bike racing it is SUPER frustrating when a mechanical prevents you from obtaining your aspirations. I'm sure about every other mountain bike racer can relate to how I have felt after my past two cross country national races. At the national race in Sonoma, California I felt pretty good and was maintaining a good position when a pssssssttttttt sound came rotating through a gash in my tire. Since this was my first flat in a race I was frantic about changing it. As I ripped open my seat pack all my tire levers and CO2 cartridge went flying into knee high weeds. Sweat poured down my face as I searched for my missing tools, eventually I found them and was able to gather some sort of control so that I could at least get down the hill. I knew I had to be in last place and wasn't sure if I should even continue to race. I decided to continue. 'I didn't travel all this way to DNF' I thought to myself. I had flash backs from racing in Madrid, just trying to catch as many women as I could.
During the three weeks in between Sonoma and Brian Head, I rode with friends on new trails that wound around, up and over the high San Juan Mountains. I absolutely love riding in the high country. Other than feeling dizzy due to lack of oxygen, the wildflowers are absolutely beautiful. The air (what is up there) is so clean and fresh and the trails are tacky and fast. What more could a person ask for? Along with exploring new trails, I participated in a regional road race located in Salida, Colorado. I had a great time competing in the three day stage race. I felt awesome and it was a perfect training tool for my up coming NORBA races (Brian Head NORBA and Snowmass NORBA).
Read the entire Kristin Danielson diary here.
(All rights reserved/Copyright Knapp Communications Pty Limited 2006)