MTB index page for all MTB content
US ProXCT #1 and Kenda Cup West #2 - Fontana National - 3
Fontana, California, USA, March 28-29, 2009
Race 1 - March 28: Four cross
Kintner, Holmes take Fontana 4X
By Dave McElwaline in Fontana, California
Jill Kintner (Red Bull/Intense)
Photo ©: Dave McElwaine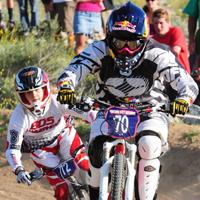 Former World 4X Champion Jill Kintner (Red Bull/Intense) returned to the sport today and beat Ashley Verhagen (BOS Hammerheads) in the women's race, with Melissa Buhl (KHS) claiming third. Kintner had concentrated on BMX racing last season, when she represented the United States of America at the Beijing Olympic Games.
Kintner got off to a great start followed by Buhl and Verhagen. It appeared that would be the finishing order until Verhagen passed Buhl just feet before the finish line.
"My bikes were running pretty smooth," said Kintner. "It's my first race back post reconstructive surgery on my knee so there were a few kinks to work out.
"I haven't been on mountain bikes for over a year and a half so to come back and be competitive with Melissa who is a reigning world champion and Ashley who has been on the BMX bike," she added. "I feel pretty good to know where I'm at."
The race was held on a course that had been newly redesigned by Eric Carter (GT). "It's got a couple of technical rhythm sections and they built up some of the jumps higher," said Buhl. "It's kind of [like a] BMX [track] and I like that style.
"As you hit the bottom of the course you're out of elevation so you're generating all that speed by yourself," she added. "It can get quite tiring on the last three straight-aways."
Dale Holmes (KHS) cornering
Photo ©: Dave McElwaine

Dale Holmes (KHS) rode across the finish line alone in the men's race, due to a crash at the bottom of the course that claimed the other riders. Everyone was able to get back on their bikes and finish, with Blake Carney (Yeti) taking second, Eric Carter (GT) third, and Mitch Ropelato (GT) fourth. Some heated words were exchanged at the finish line as to who had caused the crash.
"I liked the course," said Holmes. "Eric Carter built a new course last week and made it a little bit more challenging with more places to pass.
"It was a good day, I felt strong," he added. "I knew it was going to be a good final with a couple young guys and Eric Carter…not the guy you want behind you."
Racing will resume at Fontana on Sunday, when most of the 4X racers will be competing in the downhill events. Stay tuned to Cyclingnews.com for full coverage.
Photography
For a thumbnail gallery of these images, click here
Images by Dave McElwaine/www.trailwatch.net
Results
Elite men

1 Dale Holmes               
2 Blake Carney              
3 Eric Carter               
4 Mitch Ropelato            
5 Craig Harvey              
5 Daniel Cortina            
5 Dave Langford             
5 Erik Nelson               
5 Evelio Suarez             
5 Jake Kinney               
5 James Schwanke            
5 Jarrod Jakubiak           
5 Jeff Burchar              
5 Joey Schusler             
5 Joshua Hubbard            
5 Kayman Benetti            
5 Mark Shaw                 
5 Petr Hanar                
5 Szymon Kowalski           
5 Taylor Cuisinot           
5 Trevor Hallenbeck         

Elite women

1 Jill Kintner              
2 Ashley Verhagen           
3 Melissa Buhl              
4 Joy Martin                
5 Jessica Vogt              
5 Sondra Williamson         

Expert men 18 & under
1 Garrett Rose              
2 Anthony Marino            
3 Charlie Meynet            

Expert men 19-26

1 Ryan Esqusquiza           
2 Troy D'Elia               
3 Josef Duller              
4 Ian Ferguson              
5 Andrew Curtis             
5 Daniel Godard             
5 John Clark                
5 Kamper Jeffrey            
1 Josh Graham               
2 Todd Hood                 
3 Jason Simpson             
4 Robert Burnes             

Expert men 40+

1 Barry Wilson              
2 Craig Bonner              
3 Tad Lent                  

Sport men 18 & under

1 Austin Boswell            
2 Garrett Carney            
3 Gregory Rea II            
4 Andrew Beck               
5 Anthony Castellana        
6 Will Ojeda                

Sport men 40+

1 Jason Gibb                
2 Scott Swanson             
3 Mike Jones                
5 Robert Raymonde           

Beginner men 14 & under

1 Jeremy Call               
2 Tasso Daoussis            
3 Devin Jones               
4 Cole Atamendi             
5 Laird Grant               
5 Nick Vold                 
5 Elliot Grant              
5 Cole McCarty              
5 Chad Becker               
5 Drew Becker               

Beginner men 19-40

1 Kenyon Kluye              
2 Jason Croteau             
3 Kody Hutchins             

Beginner men 40+

1 Thomas McCormack          
2 Art Vold                  

Open women

1 Robin Vold                
2 Julia Zavala              
3 Angela Mijares