MTB index page for all MTB content
US ProXCT #1 and Kenda Cup West #2 - Fontana National - 3
Fontana, California, USA, March 28-29, 2009
Schedule
First US PRO XCT – Kabush undefeated in Fontana
By Dave McElwaine in Fontana, California
Riders will have quite a view to enjoy while racing
Photo ©: Dave McElwaine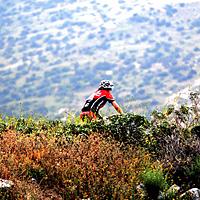 The second stop on the Kenda Cup West Series, part of the U.S. Cup presented by Specialized, will take place at a familiar venue this weekend in Fontana, California. It will also be the scene of the first Pro XCT racing ever. For most of the pro racers, this will be their fourth time racing at Fontana as it was the site of previous NMBS races. In addition to cross country, the weekend will include Super D, Downhill, and 4X racing for both amateurs and pros.
For much of this past winter, it appeared that there may not be a national pro series in 2009. Thanks to the efforts of Sho Air's Scott Tedro and USA Cycling, the Pro XCT series was born. The series consists of six races that piggyback onto selected US Cup venues, plus a series finale in Las Vegas to take place at the conclusion of Interbike.
Attendance at the Fontana venue has grown every year, particularly in 2008 when the number of spectators seemed to explode. This year is expected to be even busier as the Fontana City race has been included in the Kenda Cup West series.
For three consecutive years, Geoff Kabush (Team Maxxis) has dominated the men's race. In 2007 he admittedly did not have the best legs in the race but the challengers kept letting him back on the train. Typically he has won on the final climb, just before some downhill singletrack where passing is nearly impossible. U.S. Champion Adam Craig (Giant), Ryan Trebon (Kona), Jeremy Horgan Kobelski (Gary Fisher/Subaru), Olympian Todd Wells (Specialized), Barry Wicks (Kona), Carl Decker (Giant), and Jeremiah Bishop (Cannondale/Monavie) typically can be counted on to battle for the podium spots.
Geoff Kabush (Rocky Mountain/Maxxis)
Photo ©: Dave McElwaine

However, there are also a crop of young riders who are determined to knock off some of the favorites. Last year, both Sam Jurecovic and Max Plaxton made the podium. This season, along with wily veteran Sid Taberlay and endurance specialist Manny Prado, they are team-mates on the newly beefed up Sho-Air Team. As a foursome, they can be expected to do some major damage. Sam Schultz (Gary Fisher/Subaru) who took second place last weekend at the Pan Am Continental Championships certainly will be a threat. Andy Schultz (Kenda/Tomac), and Kris Sneddon (Kona) can be added to the young riders who will be vying for top finishes.
To make the racing more spectator friendly, the course has been shortened to a distance similar to World Cup courses. It is expected that the pros will do at least six laps on a course that will only include one major climb not far from the start, and will be far less technical than in years past. Gone will be the back side of the course that featured technical rocky singletrack, two additional minor climbs, and descents full of braking bumps.
Now riders will face that difficult first climb six times, which could open the door to some pure climbers. The nearly dead flat last kilometer will provide some entertaining drag racing. Anyone who puts a foot down on the final technical rise will surely lose.
Georgia Gould (Luna Women's MTB)
Photo ©: Dave McElwaine

In the women's race, Georgia Gould (Luna Women's MTB), the NMBS series champion and Olympian, has been in a class of her own the past two years. Typically she rides on her own far out in front of the competition. The most likely challenger is her own team-mate, Catherine Pendrel, who is coming off a win at the Pan American Continental Championships where she bested Gould by over four minutes. Pendrel also finished 6th in the World Championships and won the World Cup race at Bromont, Quebec. However, Gould has been nearly invincible on American soil, and the course changes seem to work to her strengths.
Expected to be absent this is weekend are two other potentially serious challengers. U.S. Champion Mary McConneloug (Kenda/Seven) is concentrating on her preparation for international competition, while Katerina Nash (Luna Women's MTB) is starting her season at the Sea Otter Classic to give her damaged knee time to fully heal.
Pushing hard for repeat podium spots this weekend will be Wendy Simms (Kona) and Emily Batty (Trek Bicycle Shop). Kelli Emmett (Giant) just missed the podium last year and will be trying to make amends. The Gary Fisher duo of Heather Irmiger and Willow Koerber will be both hoping to get the season off to a better start than last year.
Super D
U.S. Champion Adam Craig (Giant)
Photo ©: Dave McElwaine

With the absence of a short track event this weekend, it is expected that many of the pros will take part in Saturday evening's Super D race. The Le Mans start is typically part-way up a small mountain on the cross country course. After reaching their bikes, racers are then required to run with their bikes to the start line before entering some singletrack. Shortly thereafter, riders face a lung burning climb that makes competing on any semblance of a downhill bike next to impossible. Once they reach the summit they are treated some spectacular downhill singletrack, then a long flat run-in to the finish.
Barry Wicks (Kona), who won last season's Fontana race, will be attempting to repeat. U.S. Super D Champion Adam Craig will also be competing along with team-mate Carl Decker. Both are capable of winning the race, and may have a drafting advantage if they decide to work together on the flats. Bryan Fawley, also a gifted Super D racer, will still be looking for his first national victory.
Another Giant rider, Kelli Emmett, appears to be the odds on favorite to repeat as the winner in the women's race. While she is an elite cross country racer and a decent climber, Emmett can probably descend faster than many of the men. Kathy Sherwin (Sobe/Cannondale) who trains on the steep slopes of Deer Valley, Utah, took second place last year. Sherwin can put her head down and time trial with the best of them. Sue Butler, who had her best year ever in 2008, is gunning to make the podium again. After a very long domestic and European cyclo-cross season, Butler is now rested and ready to go.
Downhill
Melissa Buhl (KHS)
Photo ©: Dave McElwaine

The short but challenging Fontana downhill course will bring out many World Cup caliber racers including US Champion Melissa Buhl (KHS) who won the event last year. This weekend's racing is a final tune-up for an exciting start to the downhill World Cup season in Pietermaritzburg, South Africa.
Since the course abuts a large suburban housing development, many of the spectators will have never before witnessed bicycle racing, let alone riding the steep, rocky mountain behind their homes. Since the course is a fraction of the length of a typical World Cup course, the riders are fully on the gas every second in an anaerobic dash to the finish. Even one mistake can cost a rider several finishing positions since there is no time to recover.
Expected challengers for Buhl will be an international field that includes Joanna Petterson (Maxxis) who won NMBS events last season where Buhl was absent. Lisa Mylak (Spyder/Fox) and Canada's Clair Buchar (Intense) will also be targeting the top steps on the podium.
The men's event last season was dominated by the Australian and New Zealand riders. Chris Kovarik (Chain Reaction/Intense) and Nathan Rennie (Santa Cruz Syndicate) finished first and second for Australia. Justin Leov (Yeti/Fox), Sam Blenkisop (Yeti/Fox), and Cameron Cole (Maxxis) took the remaining podium spots for New Zealand.
4X
Joanna Petterson (Maxxis)
Photo ©: Dave McElwaine

World and US Champion Melissa Buhl (KHS) will headline the 4X competition this weekend. She was undefeated on American courses all last year. Her explosive power and speed in the pedaling sections typically puts her in front of the other riders. However, last year's Fontana runners-up will be looking to knock off the champion. These include Great Britain's Fionn Griffiths (Norco World Team), and South Africa's Joanna Petterson (Maxxis).
US Champion Eric Carter (Mongoose) will be looking to avenge a fifth place finish at Fontana last year. Ross Milan (Yeti/Fox), winner of last year's event, Erik Nelson (Thor/Michelin) will have something to say about that, along with Dale Holmes (KHS), and Petr Hanak (Totally Wired).
The 4X course at Fontana does not have much vertical drop but the racers report that it is fun to ride. Spectators can watch the entire course from many vantage points right next to the start/finish area.
A festival in Fontana
The women's field
Photo ©: Dave McElwaine

The U.S. Cup organizers have made a conscious attempt to put together an entertaining weekend with something for everyone. There will be a Tech Zone with many bicycle industry booths, and food vendors that typically include Bar-B-Q and Mexican chow. In-and-Out Burgers will be on hand to feed complimentary meals to hundreds pre-registered racers.
Andy and Sam Schultz will be conducting an on-the-bike clinic for juniors and kids.
Mountain biking legend Ned Overend (Specialized) will be leading a "Just for Fun" ride open to anyone who wants go for a spin on the cross country course.
Krista Park (Incycle/No Tubes), winner of the first Kenda Cup West race will be giving a sit-down talk and Q&A for aspiring racers at the Beginner and Sport Level. The talk will include advice on equipment, coaching, nutrition, and tips on how to become a better racer.
Jason Britton is going to perform a motorcycle "No Limit Stunt Show" which is sure to be one of the most highly attended events of the weekend.
Finally, the organizers of the U.S. Cup and Pro XCT series have promised a "major announcement" to be made at the Fontana race. Stay tuned to Cyclingnews this weekend for full coverage of the racing from Fontana.
Photography
For a thumbnail gallery of these images, click here
Images by Dave McElwaine/www.trailwatch.net