MTB index page for all MTB content
US ProXCT #1 and Kenda Cup West #2 - Fontana National - 3
Fontana, California, USA, March 28-29, 2009
Main Page Results Previous Race Next Race
Race 4 - March 28: Super D
Team Giant dominates Super D
By Dave McElwaine in Fontana, California
Carl Decker (Giant)
Photo ©: Dave McElwaine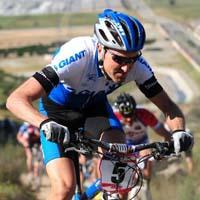 On a beautiful afternoon with temperatures in the low 80s (degrees Fahrenheit), the Giant riders put on another show in the Fontana Super D - in both the men's and women's races. Carl Decker beat teammate Adam Craig by less than a bike length to take the men's victory. Travis Livermon (Champion) was third, followed by Aaron Bradford (Onsite ULT) in fourth, and Ryan Woodall (Dedicated) in fifth. In the women's race, Giant's Kelli Emmett took top honors.

The Fontana Super D course starts near the top of a small mountain used for the downhill events. The modified Le Mans began with riders seated on the ground, facing away from the course. At the gun they had to get up, turn around, run 30 feet to claim their bikes, then run about 100 feet to the start line where they could get on their bikes.

The first part of the course headed straight up a steep climb that prompted many of the top finishers to ride a hardtail bike. After the climb, riders snaked down rolling singletrack where passing was nearly impossible. Eventually the trail dumped the riders out onto a fairly flat fire road that took them back to the start finish area. A final bit of singletrack finished off the course.

Bikes lay on the ground
Photo ©: Dave McElwaine

Craig had a poor start and found himself in about tenth place at the crest of the hill. "I followed Nate Byrom (Northstart) down the descent and we hit some jumps…pretty sweet," said Craig. "Then I tried to catch up with Carl and got up to him somewhere around the canal. I probably would have been O.K. if I hadn't blown the last corner. One of these days I have to win one of the sprints here in Fontana."

Unlike his teammate, Decker got the hole shot and seemed to quickly get a gap on the field. However, Craig was quickly moving up.

"I sat up when I saw someone coming up to me. I didn't know it was Adam," said Decker. "He was kind enough to drag me the last little bit then the door opened and I went through when Adam had some trouble with the final corner."
Emmett with quick lead in women's race
Kelli Emmett (Giant)
Photo ©: Dave McElwaine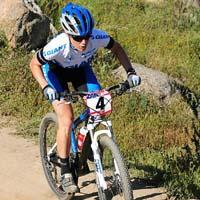 In the women's race, Giant's Kelli Emmett took a large lead right from the start.

"I knew that this course was a hardtail and that you could gain some time on the first little bit, so I had to go hard at the beginning and get a gap," said Emmett. "I took it a little conservative [on the descent]. We have a big race tomorrow so I wanted to conserve energy."

Sue Butler (MonaVie/Cannondale) took second place, followed by Anina Aaron (Kenda/KMC) in third. It appeared for the first half of the race that Aaron was simply biding her time and waiting for the right moment to attempt a pass. But once they hit the flat, Butler motored away.

Butler, who competed in a long cyclo-cross season that included the World Championships said, "I think my cyclo-cross lungs paid off with the running. It was good to get in the first interval of the year. This was only the second time riding my mountain bike all year."
Photography
For a thumbnail gallery of these images, click here
Images by Dave McElwaine/www.trailwatch.net
Results

Elite men

1 Carl Decker (Giant MTB Team)              10.05
2 Adam Craig (Giant MTB Team)                0.00
3 Travis Livermon (Champion System)          0.17
4 Aaron Bradford (Onsite Ultrasound)         0.31
5 Ryan Woodall (Dedicated Athlete)           0.33
6 Trevor Downing (Team Devo)                 0.41
7 Robert Marion (Kenda/KMC/Hayes)            0.44
8 Nate Byrom (Northstar/Giant)               0.46
9 Alex Ryan (CCN/Cannondale)                 1.10
10 Eric Bierman (Steven K Sports)            1.13
12 Matthew Wittler (Lost Coast Brewery)      1.16
13 Joel Baty (Olympic Bike Shop)             1.17
14 Will Ross (Kaladi Bros/Subway)            1.25
15 Sam Benedict (Specialized)                1.35
16 Matthew Connors (Fisher 29Er Crew)        1.36
17 Derek Hermon (Bear Valley Bikes)          1.45
19 Ray Storm (Pronghorn)                     2.55
20 Richard Houseman (Intense)                3.19

Elite women

1 Kelli Emmett (Giant MTB Team)             12.14
2 Susan Butler (Monavie/Cannondale)          0.29
3 Anina Aaron (Kenda/Kmc/Hayes)              0.37
4 Maureen Kunz (Lost Coast Brewery)          1.09
5 Sarah Kaufmann (Titus/Roaring Mouse)       1.23
6 Jamie Stamps (Bicycle Planet)              1.56
7 Philicia Marion (Kenda/KMC/Hayes)          1.57
DNF  C Michelle Rivera (Steven K Sports)         

Junior men

1 Russell Finsterwald (Procycling)          11.29
2 Ryan Geiger (Bionicon/Schwalbe)            0.15
3 Max Houtzager (Whole Athlete)              0.43
4 Will Patterson                             0.46
5 Casey Williams (Bear Valley Bikes)         1.05
6 Tommy Bitner (Soul Cycles)                 1.13
7 Bryce Semonian (661/Spy Optics)            1.25
8 Kyle Willett (Absolute Bikes)              2.12
9 Tyler Coplea (Adrenalin Titus)             2.28
10 Michael Suggs                             2.39
11 Luke Stark (Team Kinetic Cyles)           3.04
12 Harrison Davis (Platinum Performance)     5.56
DNS Tyler Sandoval (Voodoo Cycles)               

Senior men 19-29

1 Jordan Lopez (WTB/Santa Cruz)             11.37
2 Brian Crooks (Pure Power Outhguard)        0.21
3 Scott Johnson (KHS Bicycles)               0.29
4 Chris Thibodeau (Sierra Express Racing)    0.29
5 Ryan Labar                                 1.41
6 Ari Henning                                1.44
7 Stephen Marshall (Bear Valley Bikes)       1.44
8 John Valera (X-Fusion Shox)                2.28
9 D.J. Limardi (Velo Pro)                    2.54
10 Joshua Kompa                              3.49
11 Billy Jones                               4.56
DNS Philippe Mickelson                           

Master men 30-39

1 Brant Hatton (Kenda)                      12.06
2 Josh Bosschieter (Chumba Racing)           0.19
3 Bradley Newby                              0.39
4 Steve Schmidt (Team Kenetic Cyles)         0.44
5 Corey Coplea (Red Rock)                    1.14
6 Jeff Stanners (Dons Bikes)                 1.35
7 Tim Vangilder (Troupe Racing)              2.26
8 Michael Page                               3.30
9 Shane Scrimager                            4.50
10 Craig Lassen                              5.09
11 Adam Day                                  5.13
DNF  Binh Dang (Team Jarritos)                   

Master men 40-49

1 Paul Romero (Bear Vally Bikes)            11.56
2 Jeff Burcar                                0.36
3 Stephen Smith (Team MBS)                   0.43
4 Mitch Tolson (Velo Pro)                    1.00
5 Rob Whyte (Switch Bank)                    1.32
6 Andrew Hart (Bear Valley Bikes)            1.55
7 Randy Rush (Backbone)                      2.11
8 Darrell Mcinroe (Team D.M.C.)              2.55
9 Mike Abbott (Chicken)                      3.16

Master men 50-59

1 Ed Brown (Velo Pro)                       13.48
2 Rich Fersch (Race Haus)                    1.46
3 Jeffrey Harbison (Veloprocycle)            4.01
4 Michael Stewart                            4.02

Master men 60+

1 Jurgen Leiser                             11.17
DNF  James Van Manen                             

Senior women 19-29

1 Lisa Crowe (Dons Bikes)                   13.50
2 Lizzy English                              0.11
3 Vanessa Humic (Backbone Adventure)         0.49

Master women 30-39

1 Kelly Brunson                             24.28