MTB index page for all MTB content
South African National Cup Series #1 - 2
Jonkershoek, South Africa, January 10-11, 2009
Main Page Results Previous Race
Race 2 - January 11: Downhill
Neethling savours hometown victory
Andrew Neethling pushes the limits on his first run,
Photo ©: Gary Perkin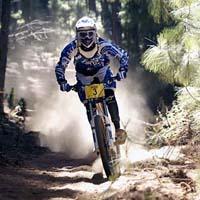 Cape Town's Andrew Neethling (Trek) responded well to hometown pressure when he won the first round of mountain biking's MTN National Cup Series downhill event in Stellenbosch, South Africa on Sunday. Neethling, who ended 2008 ranked 14th in the world according to the UCI and who finished 11th in the 2008 UCI World Cup, clocked a time of two minutes and 11.34 seconds for the fast, narrow descent through the forests of Jonkershoek.
Johann Potgieter (Cannondale) secured second place, just less than five seconds back with Neethling's younger brother, Jonty Neethling (Morewood Fox), rounding out the top three places in front of a large, enthusiastic crowd that had braved the hot, dusty conditions.
Riding a brand new Trek Session 88, which was only released from customs last Wednesday, Neethling set out on his first of two runs to get familiar with the bike with the intention of improving his time with his second and final run.
"I made a few small mistakes near the top on the first run but was really pushing hard in what was basically a 'feeler' run, which I felt was necessary since I was riding not only a new bike, but a new brand and haven't done a race for quite a while," said Neethling who ended up clocking his winning time with that run.
Rika Olivier's sub-three-minute time gave her a comfortable win
Photo ©: Gary Perkin

"On the second run, I went out a bit harder at the top, overshot a turn on what is a really narrow course and had a small crash. I thought I could still rescue the run, but a couple of errors further on left me well off my first run time.
"Luckily my first run was a solid one! There are some big expectations when you come home to do a race. You are expected to win so it's quite a relief, although the aborted second run left me feeling a bit frustrated. It's still feels good to win, especially in front of friends and family."
South Africa's 2008 World Cup champion Greg Minnaar, missed the event as he is currently in the United States.
In the women's event, Rika Olivier eclipsed Gina Nixon and Vicky Phillips to claim the victory.
The next round of the South African MTN National Cup will take place in Mankele, Nelspruit, on February 7-8.
Photography
For a thumbnail gallery of these images, click here
Images by Gary Perkin
Results
Overall (all categories)

1 Andrew Neethling          2.11.34
2 Johann Potgieter          0.04.91
3 Jonty Neethling           0.06.81
4 Gary Barnard              0.08.34
5 Pierre Van Der Merwe      0.09.24
6 Luke Davis                0.10.71
7 Kenneth Sinclair          0.11.20
8 Jarryd Haley              0.12.62
9 Greg Saharin              0.12.81
10 Darryn Stow              0.14.22
11 Dirk Van Schalkwyk       0.14.54
12 Hayden Brown             0.15.66
13 Kelvin Purchase          0.15.92
14 Dane Olsen               0.16.80
15 Timothy Bentley          0.17.09
16 Myles Kelsey             0.17.31
17 Mark Hopkins             0.17.45
18 Andries Nortier          0.17.72
19 Chris Nixon              0.18.20
20 Andrew Guess             0.18.59
21 Andries Van Schalkwyk    0.18.66
22 Benjamin Scharfetter     0.18.81
23 Jaco Veldsman            0.18.91
24 Simon Dinkelman          0.19.18
25 Justin Novella           0.19.41
26 Thomas Rood              0.19.65
27 Travis Browning          0.19.87
28 Adriano Silver           0.20.57
29 Duran Van Eeden          0.20.82
30 Gerard Walsh             0.21.34
31 Matt Smith               0.22.24
32 Nils Hansen              0.22.27
33 Gustav Kros              0.22.85
34 Pieter Rossouw           0.22.91
35 Tiaan Odendaal           0.23.29
36 Steven Reiche            0.23.34
37 Kyle Gifford             0.24.65
38 Tyrone Van Rooyen        0.24.93
39 Wade Allcock             0.25.43
40 Johnty Human             0.25.65
41 Matthew Hofmeyer         0.25.84
42 Mark Malherbe            0.26.34
43 Luke Borg                       
44 Doug Du Plessis          0.27.64
45 Daniel Walsh             0.28.24
46 Adriaan Smit             0.28.62
47 Dominic Bright           0.29.19
48 Loubser Claassen         0.29.29
49 Malcolm Wetmore          0.29.39
50 Dan Forsyth              0.29.52
51 Riaan Bosman             0.29.75
52 David Dinkelman          0.29.77
53 Devon Katzen             0.30.72
54 Ryan Franklin            0.30.90
55 Andre Van Rooyen         0.30.95
56 Jason Gorman             0.31.06
57 Duane Searle             0.31.07
58 Adriaan Van Der Merwe    0.31.77
59 Shaun Thomlinson         0.32.40
60 Kyle Davids              0.32.45
61 Deon Ebel                0.32.54
62 Eckhardt Conradie        0.32.78
63 Christo Venter           0.33.18
64 Bennet Nel               0.33.91
65 James Nuttall            0.34.18
66 Niclas Reichwein         0.35.41
67 Paul Van Der Riet        0.36.50
68 Vincent Muir             0.36.85
69 James Kennedy            0.37.27
70 Jannie Van Rhyn          0.37.61
71 Devin Chadbourn          0.37.74
72 Karl Ebel                0.37.81
73 Andrew Little            0.37.85
74 Matthew Fraser           0.37.88
75 Paul Morris              0.38.31
76 Keith Calder             0.38.61
77 Rika Olivier             0.38.68
78 Alan Hatherly            0.39.89
79 Adi Van Der Merwe        0.41.06
80 Eugene Snyman            0.44.22
81 Norman Hatherly          0.44.31
82 Carel Meyer              0.44.94
83 Andries Brink            0.45.37
84 Raynandt Swanepoel       0.46.59
85 Lee Stopforth            0.47.35
86 Stefan Louw              0.48.81
87 Riaan Van Schalkwyk      0.52.62
88 Mark Sydney              0.52.91
89 Eugene Haley             0.53.52
90 David Hartley            0.54.03
91 Jacques Laubscher        0.54.19
92 Julian Burke             0.55.85
93 Brett Kriedemann         0.56.08
94 Grant James              0.56.53
95 Peter Bentley            0.56.58
96 Mark Carr                0.56.92
97 Gina Nixon               0.58.09
98 Luke Evans               0.59.00
99 Craig Wapnick            0.59.94
100 John Herman             1.00.88
101 Mark Dorfling           1.00.94
102 Neil Evans              1.01.76
103 Conrad Davies           1.04.12
104 Christopher Rigby       1.04.27
105 Wikus Van Jaarsveld     1.05.00
106 Duane Bosch             1.05.13
107 Noel Preston-Whyte      1.05.30
108 Stuart Munro            1.05.59
109 Jeroen Oosthuizen       1.06.29
110 Victoria Phillips       1.06.49
111 James Park-Ross         1.11.15
112 Ronald Christie         1.11.49
113 William Keith           1.13.68
114 Bernard Esterhuizen     1.17.84
115 Christiaan Combronk     1.21.01
116 Christi Van Eeden       1.23.09
117 Jean-Pierre Coetzen     1.37.93
118 Louis-Bresler Knipe    11.39.16

Elite women

1 Rika Olivier              2.50.02
2 Gina Nixon                0.19.41
3 Vicky Phillips            0.27.81

Elite men

1 Andrew Neethling          2.11.34
2 Johann Potgieter          0.04.91
3 Jonty Neethling           0.06.81
4 Gary Barnard              0.08.34
5 Jarryd Haley              0.12.62
6 Greg Saharin              0.12.81
7 Darryn Stow               0.14.22
8 Dirk Van Schalkwyk        0.14.54
9 Hayden Brown              0.15.66
10 Kelvin Purchase          0.15.92
11 Dane Olsen               0.16.80
12 Myles Kelsey             0.17.31
13 Andries Nortier          0.17.72
14 Andrew Guess             0.18.59
15 Benjamin Scharfetter     0.18.81
16 Jaco Veldsman            0.18.91
17 Justin Novella           0.19.41
18 Thomas Rood              0.19.65
19 Travis Browning          0.19.87
20 Adriano Silver           0.20.57
21 Nils Hansen              0.22.27
22 Gustav Kros              0.22.85
23 Matthew Hofmeyer         0.25.84
24 Adriaan Smit             0.28.62
25 David Dinkelman          0.29.77
26 Devon Katzen             0.30.72
27 Ryan Franklin            0.30.90
28 Jason Gorman             0.31.06
29 Eckhardt Conradie        0.32.78
30 Bennet Nel               0.33.91
31 James Kennedy            0.37.27
32 Devin Chadbourn          0.37.74
33 Raynandt Swanepoel       0.46.59
34 Mark Carr                0.56.92
35 Conrad Davies            1.04.12
36 Louis-Bresler Knipe     11.39.48

Sport men

1 Steven Reiche             2.34.68
2 Kyle Gifford              0.01.31
3 Luke Borg                 0.03.00
4 Loubser Claassen          0.05.95
5 Malcolm Wetmore           0.06.05
6 Andre Van Rooyen          0.07.61
7 Deon Ebel                 0.09.20
8 Jannie Van Rhyn           0.14.27
9 Karl Ebel                 0.14.47
10 Andrew Little            0.14.51
11 Eugene Snyman            0.20.88
12 Carel Meyer              0.21.60
13 Andries Brink            0.22.03
14 Lee Stopforth            0.24.01
15 Riaan Van Schalkwyk      0.29.28
16 David Hartley            0.30.69
17 Jacques Laubscher        0.30.85
18 Julian Burke             0.32.51
19 Brett Kriedemann         0.32.74
20 Grant James              0.33.19
21 Craig Wapnick            0.36.60
22 John Herman              0.37.54
23 Mark Dorfling            0.37.60
24 Duane Bosch              0.41.79
25 Noel Preston-Whyte       0.41.96
26 Jeroen Oosthuizen        0.42.95
27 William Keith            0.50.34
28 Christiaan Combronk      0.57.67
29 Christi Van Eeden        0.59.75
 
Sub junior men

1 Alan Hatherly             2.51.23
2 Stefan Louw               0.08.92
3 Peter Bentley             0.16.69
4 Luke Evans                0.19.11
5 Christopher Rigby         0.24.38
 
Youth men

1 Tiaan Odendaal            2.34.63
2 Kyle Davids               0.09.16
3 Niclas Reichwein          0.12.12
4 Adi Van Der Merwe         0.17.77
5 Wikus Van Jaarsveld       0.41.71
6 Ronald Christie           0.48.20
DNS Brendon Davids                 
 
Junior men

1 Pierre Van Der Merwe      2.20.58
2 Luke Davis                0.01.47
3 Kenneth Sinclair          0.01.96
4 Timothy Bentley           0.07.85
5 Andries Van Schalkwyk     0.09.42
6 Simon Dinkelman           0.09.94
7 Duran Van Eeden           0.11.58
8 Gerard Walsh              0.12.10
9 Johnty Human              0.16.41
10 Mark Malherbe            0.17.10
11 Doug Du Plessis          0.18.40
12 Daniel Walsh             0.19.00
13 Shaun Thomlinson         0.23.16
14 Christo Venter           0.23.94
15 James Nuttall            0.24.94
16 Matthew Fraser           0.28.64
17 James Park-Ross          1.01.91
18 Bernard Esterhuizen      1.08.60
19 Jean-Pierre Coetzen      1.28.69
 
Sub veteran women

1 Gina Nixon                3.09.43
 
Sub veteran men

1 Mark Hopkins              2.28.79
2 Matt Smith                0.04.79
3 Pieter Rossouw            0.05.46
4 Tyrone Van Rooyen         0.07.48
5 Wade Allcock              0.07.98
6 Dominic Bright            0.11.74
7 Dan Forsyth               0.12.07
8 Riaan Bosman              0.12.30
9 Duane Searle              0.13.62
10 Adriaan Van Der Merwe    0.14.32
11 Mark Sydney              0.35.46
DNS Greg Smit                      
 
Veteran men

1 Chris Nixon               2.29.54
2 Paul Van Der Riet         0.18.30
3 Vincent Muir              0.18.65
4 Paul Morris               0.20.11
5 Keith Calder              0.20.41
6 Norman Hatherly           0.26.11
7 Eugene Haley              0.35.32
8 Neil Evans                0.43.56
9 Stuart Munro              0.47.39