MTB index page for all MTB content
South African National Cup Series #1 - 2
Jonkershoek, South Africa, January 10-11, 2009
Race 1 - January 10: Cross country
Stander dishes out a world-class hiding
Burry Stander confirmed his world-class status when he charged to a dominant victory
Photo ©: Gary Perkin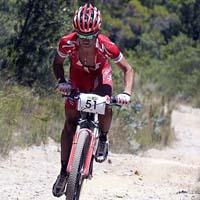 Africa's top cross-country mountain bike racer, Burry Stander (Specialized), dished out a world-class hiding when he won the first round of the MTN National Cup Series by more than seven minutes in Stellenbosch, South Africa on Saturday.
Resplendent in his new red Specialized team kit, Stander, the 2008 Under 23 World Cup champion, was in no mood for company and took the lead early on, completing the six laps of the technical 8.2 kilometre course through Jonkershoek in a quick two hours, 15 minutes and 24 seconds.
Renay Goustra (GT) and Johnny Kritzinger (Schwinn) rounded out the men's pro-elite podium positions in second and third respectively, but were the first two elite men home.
"I had some pressure on me after having a really good year of international results in 2008, so I was kind of the guy with a target on his back today. I wanted to prove a point in my first race and I think I managed that," smiled Stander.
"Renay (Goustra) took the start out really fast, and by halfway through the first lap, I took the lead and kept that same pace going. But it seems the other guys must have faded a bit," said Stander, who was happy racing on his new S-Works bike on a worn-in course.
In the women's race, local regional champion, Sara Muhl (Jeep) gave her large home crowd good reason to cheer when she captured a comfortable victory over Tania Raats (Bell Equipment), with Julia Colvin (Maverick) a close third.
Julia Colvin (third), Sara Muhl (first) and Tania Raats (second)
Photo ©: Gary Perkin

Muhl, a regular member of the South African national team, clocked one hour, 55 minutes and four seconds for the four-lap race to get her year off to a triumphant start and secure 30 UCI points.
Raats, who is the 2008 national 30-34 year category cross-country champion, but is back in the elite category following a return to fitness after a knee injury, finished just under three minutes later, less than half a minute ahead of Colvin. The first Under 23 woman home was Janneke Leask, who was fourth overall.
Current national champion, Rourke Croeser (Mr Price Scott) had his hopes of success dashed by a puncture on the first lap, leaving Adriaan Louw to top the junior men's podium with an emphatic victory. And in the junior women's event, Candice Neethling triumphed after a hotly contested three-lap battle with Caitlin de Wet (Mr Price Scott).
Round two of the South African National Cup Series will happen on February 7-8 in Mankele, Nelspruit.
Photography
For a thumbnail gallery of these images, click here
Images by Gary Perkin
Results
Overall Elite and U23 men (briefs from merged categories)

1 Burry Stander (Specialized)    2.15.24
2 Renay Goustra (GT)                7.05
3 Johnny Kritzinger (Schwinn)       8.32
4 Max Knox (DCM Chrome)            10.02
5 Craig Paul (Jeep)                10.49

Elite Men (full results)

1 Renay Groustra              2.22.29
2 Johnny Kritzinger              1.27
3 Craig Paul                     3.44
4 Roan Exelby                    5.20
5 Geddan Ruddock                 6.08
6 Melt Swanepoel                 8.25
7 Brandon Stewart               10.26
8 Petrus Malherbe               10.30
9 Johan Van Zyl                 12.23
10 David Leiman                 17.28
11 Erik Kleinhans               20.41
12 Jan Scannell                 21.20

Behind one lap

13 Dion Froneman                     
14 Gerard Dirks                      
15 Hannes Neethling                  
16 Paul Loynes                       
17 Gavin Rossouw                     
18 Bunnie Loubser                    
19 Ico Schutte                       
20 Renier Van Jaarsveld              
21 Bernard Viljoen                   
DNF Andrew Warr                      
DNF Marthinus Esmeyer                
DNF Neel Breitenbach                 
DNF Andre Van Der Merwe              
DNF Jacques Rossouw                  
DNF Andrew Hill                      
DNF Robin Moore  

Under 23 Men (full results)

1 Burry Stander               2.15.24
2 Max Knox                      10.02
3 Philip Buys                   15.53
4 Matthys Beukes                17.07
5 Dominic Calitz                19.00
6 Bryce Munro                   20.45
7 Jacques Janse Van Rensburg    21.13
8 Renier Bellingan              29.06
9 Stephan Strauss               29.09

Behind one lap

10 Warrick Black                     
11 Heiko Redecker                    
12 Hilton Frost                      
13 Bernard Venter                    
14 Jason Peach                       

Behind two laps

15 Ruaan Louw                        
16 Kyle Symons                       
DNF Francois Theron                  
DNF Jaco Venter                      
DNF Dylan Keyter                     
DNS John-Michael Du Preez            
DNS Timothy Stark  

Overall Elite and U23 women (briefs from merged categories)

1 Sara Muhl (Jeep)               1.55.04
2 Tania Raats (Bell Equipment)      2.59
3 Julia Colvin (Maverick)           3.36
4 Janneke Leask                     4.08
5 Genee Steyn                      11.00
                  
Elite Women (full result)

1 Sara Muhl                   1.55.04
2 Tania Raats                    2.59
3 Julia Colvin                   3.36
4 Samantha Oosthuizen            5.20
5 Shawna Thunder                 7.05
6 Hilana Marais                  9.05
7 Shale Exelby                  14.42
DNF Shannon Van Der             

Under 23 Women (full results)

1 Janneke Leask               1.59.12
2 Genee Steyn                    6.52
3 Bianca Grotepass              12.20
4 Melanie Palframan             17.19
DNF Heletje Van Staden               

Junior Men

1 Adriaan Louw                2.02.44
2 James Reid                     5.02
3 Ruan Du Toit                   8.45
4 Colin Brent                   14.04
5 Travis Walker                 16.58
6 Jeandre Fourie                18.52
7 Derek Taylor                  18.53
8 Warrick Waldeck               22.15
9 Justin Pictor                 29.03
10 Carl Lippert                 30.24
11 Michael Casey                33.27
12 Sbo Ntombela                 37.29

Behind one lap

13 Aaron Adler                       
14 Petri Van Jaarsveld               
15 Ruan Van Staden                   
16 Chevaan Patience                  
17 Herman Bester                     
18 Darryn Purtell                    
19 Patrick Reimers                   
20 Simon Adler                       
21 Timo Cooper                       
DNF Shaun-Nick Bester                
DNF Rourke Croeser                   
DNS Matthew Fraser                   
DNS Ruan Van Staden                  

Junior Women

1 Candice Neethling           1.26.17
2 Caitlin De Wet                 2.19
3 Mariske Strauss               11.32
DNF Klara Rossouw  
 
Sport Men

1 Paul Winter                   57.04
2 Nicholas Bodenstein            0.48
3 Martin Hattingh                1.09
4 Louis Du Pisani                8.54
5 Henry Hoepfner                14.30
6 Pieter Rossouw                15.07
7 Pieter Visser                 19.52
8 Nico Lotteri                  20.19
9 Hannes Slabbert               21.58
10 Ian Watson                   23.09

Sport Women

1 Colette Victor              1.11.49
2 Vanessa Wiesenmaier            8.24
 
Nipper Boys

1 Matthew Dinham                36.02
2 David Botha                    1.16
 
Nipper Girls

1 Jessi Nixon                 1.08.16
 
Sprog Boys

1 Matthew Lombardi            1.08.33
2 Dieter Blom                    4.32
3 Herbert Peters                 7.28
4 Manie Lubbe                   22.26
 
Sprog Girls

1 Megan Smith                 1.55.22
 
Sub Junior Girls

1 Catharine Anderson          1.44.18
 
Sub Junior Boys

1 Frans Grotepass             1.24.32
2 Alexander Frogley              2.33
3 Jannes Buijs                   7.00
4 Ivan Venter                   10.15
5 Alan Hatherly                 13.57
6 Neil Robinson                 14.57
7 Jaco Pelser                   18.42
8 Martin Freyer                 19.47
9 Liam Doult                    35.14

Behind one lap

10 Sybrand Strauss                   
11 Kyle Walker                       
DNF Zillan Du Pisani                 
DNS Louw Kriel                       
 
Youth Women

1 Hayley Smith                1.33.40
2 Vera Adrian                    0.46
3 Courtenay Riggien             15.18
4 Ane Hoepfner                  20.25
5 Tayla Odendaal                24.18
6 Siobhan Walker                44.05                  

Sub veteran women

1 Leigh Mccluskey             1.37.18
2 Mylene Loumeau                 3.59
3 Dorette Crous                  4.04
 
Veteran Women

1 Woudie Saaiman              1.30.58
2 Helen Gibbings                 8.09
3 Lauralyn Purchase             16.48
4 Debbie Hughes                 22.15
DNS Karen Stark                      
 
Master Women

1 Fran Ferreira               1.32.48
2 Bridget O'Meara               18.29
3 Liesbet Delport               21.43
 
Singlespeed men

1 James Dawson                  51.46
2 Daniel Dobinson                2.45
3 Jens Brodreck                  3.32
4 Henning Van Wyk                3.54
5 William Keith                  5.39
6 Roland Williams               10.03
7 Paul Van Woudenburg           10.20
8 Stev Shapiro                  35.52

Behind one lap

9 Juan Mason                         
10 Shaun Weber                       
 
Youth Men

1 Arno Du Toit                1.40.24
2 Brendon Davids                 3.51
3 Michael Hughes                 7.55
4 Luke Roberts                   8.01
5 Gert Heyns                     9.54
6 Richardt Ferreira             11.54
7 Jac-Johann Steyn              19.00
8 Johann Strombeck              23.01
9 Ruan Erasmus                  26.27
10 Cameron Taylor               27.45
11 Albert Anderson              34.33
12 Johann De Bod                47.23
DNF Delano Du Pisani                 
DNF Ryan Stevens                     
 
Sub Veteran Men

1 Shane Jansen Van Vuuren     2.11.23
2 Chris Smit                     1.15
3 Dennis Du Toit                 1.25
4 Anton Smal                     3.31
5 Neil Gardiner                  4.11
6 Gawie Du Plessis               4.28
7 Piers Morgan                   7.23
8 Daniel Paul                    9.15
9 Hendrik De Kock               12.10
10 Jason Whyte                  13.58
11 Jack Randall                 18.53
12 Frikkie Hartog               24.53
13 Laurence Lindeque            25.30
14 Jacques Van Staden           30.36

Behind one lap

15 Steven Johnstone                  
DNF Stuart Carliell                  
DNF Jakkie Leibenberg                
DNF Carel Bezuidenhoud               
 
Veteran Men

1 Doug Brown                  1.42.00
2 Bob Schuiling                  4.43
3 Frans Du Preez                 5.20
4 Johann Wykerd                  8.19
5 Robert Sim                    11.02
6 Chris Nel                     11.04
7 Colin Van Zyl                 13.44
8 Sean Quinn                    15.08
9 Riaan Boshoff                 16.06
10 Gary Neethling               18.44
11 William Keith                19.38
12 Stephen Wells                21.14
13 Andre Ferreira               22.07
14 Arnold Barnardo              29.26
15 Cameron Middleton            36.00
16 Michael Winterbottom         53.13
17 Mark Frogley               1.02.29

Behind one lap

18 Craig Vorster                     

Behind two laps

19 Arie Olivier                      
20 Allen Dinham                      

Behind three laps

21 Carth Briggs                      
DNF Garth Robinson                   
 
Master men

1 Linus Van Onselen           1.21.46
2 Chris Brand                    1.21
3 Bryan Strauss                  3.12
4 Tony Stark                     5.16
5 De Wet Marais                  6.47
6 Colin Gibbings                 7.44
7 Charles Stander                8.02
8 Clive Gaven                   12.51
9 Arrie Rossouw                 13.45
10 Nico Smith                   14.27
11 Jan Delport                  20.36
12 Charles Roberts              28.10
DNF Bernd Reimers                    
DNF Bernd Reimers                    
 
Grand Master men

1 Manuel Fernandes            1.08.32
2 Fred Van Zyl                   1.41
3 Cobus Du Plessis               6.15