MTB index page for all MTB content
MTB World Cup XC, DH & 4X #1 - CDM
Pietermaritzburg, South Africa, April 10-12, 2009
Main Page Results Previous Race Next Race World Cup standings
Race 6 - April 11: Elite men cross country
Hermida back on top
By Rob Jones in Pietermaritzburg
A happy Jose Hermida
Photo ©: Rob Jones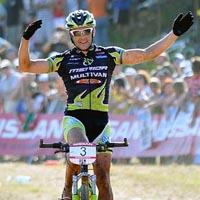 Spain's José Hermida (Multivan Merida Biking Team) took the season opener and his fourth World Cup victory from a determined but "unable" Julian Absalon, while local favourite Burry Stander (Specialized Factory Racing) was third.
Hermida was the obvious strongman in the 32.9 km, seven-lap race, and came out of the blocks with an explosive 16-minute first lap. The pace never really eased, and while Canada's Geoff Kabush (Maxxis-Rocky Mountain) led on the first climb, he paid for the effort later, fading to finish 30th.
"I took advantage of my start position [on the front row]," said Kabush "but I had to back off in the heat. It's obviously not as well as I had hoped to do, but at least it will mean that I still have a reasonable start position for the European races."
A big pileup shortly after the start took down a number of riders including Canada's Raphael Gagne (Maxxis-Rocky Mountain) and Jeremy Horgan-Kobelski (Subaru-Gary Fisher), whose race was over with a trashed rear wheel.
By the second lap an elite group had formed at the front: Hermida, Absalon, Stander, world champion Christoph Sauser (Specialized), Olympic silver medalist Jean-Christophe Peraud (Massi), Olympic bronze medalist Nino Schurter (Scott-Swisspower), Martin Gujan (Cannondale) and Florian Vogel (Scott-Swisspower).
Riders began dropping off under the relentless pace, which was exacerbated by Absalon's attack on the first climb of lap four. When the dust settled there were three left at the front - Absalon, Hermida and Stander, with Sauser and Schurter at 20 seconds, followed by Peraud, who was fading. Moving up steadily was Wolfram Kurschat (Topeak Ergon), who had won on the circuit a week earlier.
South Africa's Burry Stander
Photo ©: Rob Jones

A lap later, and Hermida decided to test his lead companions, and quickly opened a 10-second gap on Absalon, with Stander struggling to stay in touch with the French rider. Hermida continued to put time into Absalon through the rest of the race, eventually finishing 32 seconds ahead.
"I could feel my legs were very good, after last week's race on this course," said Hermida. "I think I made a very good plan with my training to prepare for this race, and came here more rested than some of the other riders. For me this is a fantastic result, it is only my fourth World Cup victory in 12 years! I will try now to keep the jersey through the next races."
Stander yo-yo'd behind Absalon, spurred on by the cheers of his compatriots. He pulled to within six seconds at one point, but would always fade back on the climbs. Nevertheless, he finished a strong third, and won the Under 23 category. Sauser hung on for fourth, just ahead of Kurschat.
Absalon, although he lost the leader's jersey, said "I am still really happy with this result, because my goal here was a top five result. Hermida was just faster today, and when he attacked mid race I could not stay with him. And then with Burry [Stander] always behind, he was always pushing ... It was very hard."
Stander agreed that the crowd was a huge spur for him. "It was incredible, it motivated me so much, with that awesome crowd driving me to catch back each time. It was a three-way battle, and Hermida was attacking so hard. I came back a few times, but then I cracked a bit on the fifth and just couldn't close the gap."
Photography
For a thumbnail gallery of these images, click here
Images by Rob Jones/www.canadiancyclist.com
Images by Gary Perkin
Images by
Images by Sven Martin
Results
1 José Antonio Hermida Ramos (Spa) Multivan Merida Biking Team                 1.55.03
2 Julien Absalon (Fra) Orbea                                                      0.32
3 Burry Stander* (RSA) Specialized Factory Racing                                 0.52
4 Christoph Sauser (Swi) Specialized Factory Racing                               1.17
5 Wolfram Kurschat (Ger) Topeak Ergon Racing Team                                 1.20
6 Nino Schurter (Swi) Scott-Swisspower MTB-Racing                                 2.01
7 Jean-Christophe Peraud (Fra) Massi                                              3.40
8 Lukas Flückiger (Swi) Trek World Racing                                         3.56
9 Roel Paulissen (Bel) Cannondale Factory Racing                                  4.19
10 Mathias Flückiger* (Swi) Trek World Racing                                     4.30
11 Stéphane Tempier (Fra) TX Active Bianchi                                       4.35
12 Florian Vogel (Swi) Scott-Swisspower MTB-Racing                                4.43
13 Martin Gujan (Swi) Cannondale Factory Racing                                   4.49
14 Jaroslav Kulhavy (Cze)                                                         5.07
15 Moritz Milatz (Ger) Multivan Merida Biking Team                                5.14
16 Christoph Soukup (Aut) Merida Biking Team                                      5.24
17 Ivan Alvarez Gutierrez (Spa) Giant Italia Team                                 5.45
18 Rudi Van Houts (Ned) Multivan Merida Biking Team                               5.51
19 Jochen Kass (Ger) Multivan Merida Biking Team                                  5.54
20 Liam Killeen (GBr) Trek World Racing                                           5.58
21 Alexis Vuillermoz* (Fra) Lapierre International                                6.15
22 Oliver Beckingsale (GBr) Giant Mountain Bike Team                              6.24
23 Todd Wells (USA) Specialized Factory Racing                                    6.30
24 Hector Leonardo Paez Leon (Col) TX Active Bianchi                              6.42
25 Cédric Ravanel (Fra) Lapierre International                                    6.58
26 Ruben Ruzafa Cueto (Spa) Orbea                                                 7.15
27 Carlos Coloma Nicolas (Spa) MSC Bikes                                          7.22
28 Inaki Lejarreta Errasti (Spa) Orbea                                            7.45
29 Samuel Schultz (USA) Subaru-Gary Fisher                                        8.22
30 Geoff Kabush (Can) Team Maxxis-Rocky Mountain Bicycles                         8.56
31 Jürg Graf (Swi) Felt International MTB Team                                    9.57
32 Andrea Tiberi (Ita) TX Active Bianchi                                         10.17
33 Pierre Geoffroy Plantet (Fra) Lapierre International                          10.28
34 Marc Colom (Fra)                                                              10.47
35 Sergiy Rusenko (Ukr) ISD Cycling Team                                         10.51
36 Connor McConvey* (Irl) Felt International MTB Team                            10.55
37 Jiri Friedl (Cze) Merida Biking Team                                          11.06
38 Robert Mennen (Ger)                                                           11.07
39 Dries Govaerts* (Bel) Lingier-Versluys Team                                   11.11
40 Emil Lindgren (Swe) Felt International MTB Team                               11.13
41 Daniel Mcconnell (Aus) Torq Performance Nutrition                             11.26
42 Cristian Cominelli* (Ita) TX Active Bianchi                                   11.31
43 Yader Zoli (Ita) Torpado-4US                                                  11.46
44 Lukas Kaufmann* (Swi)                                                         11.48
45 Umberto Corti (Ita) Team CBE Tecnoimpianti A.S.D.                             12.01
46 Ludovic Dubau (Fra)                                                           12.05
47 Silvio Bundi (Swi) Giant Mountain Bike Team                                   12.27
48 Guillaume Vinit* (Fra) Team Scott Valloire Galibier                           12.39
49 Adam Craig (USA) Giant Mountain Bike Team                                     12.45
50 Hannes Metzler (Aut)                                                          12.59
51 Bjorn Brems (Bel) Team Saeco                                                  13.09
52 Balz Weber (Swi) DS-Rennsport                                                 13.37
53 Milan Spesny (Cze) Ceska Sporitelna MTB                                       13.48
54 Nicola Rohrbach (Swi) Central Ghost Pro Team                                  13.55
55 Juan Pedro Trujillo Hernandez (Spa) Cemelorca-Trek-Lorca Taller Del Tiempo    13.56
56 Roan Exelby (RSA)                                                                  
57 François Bailly Maitre (Fra) Team Scott Valloire Galibier                     14.09
58 Lachlan Norris* (Aus) Discovertasmania.com                                    14.51
59 Andrew Blair (Aus)                                                            14.57
60 Severin Disch* (Swi) Giant Mountain Bike Team                                 15.17
61 Dario Alejandro * Gasco (Arg) Massi                                           15.26
62 Frank Schotman (Ned)                                                          16.17
63 Michael Broderick (USA)                                                       16.28
64 Jan Skarnitzl (Cze) Giant Mountain Bike Team                                  16.49

Behind one lap

65 Fabien Canal* (Fra) Lapierre International                                         
66 Andreas Kugler (Swi) Felt International MTB Team                                   
67 Bas Peters (Ned)                                                                   
68 Chris Jongewaard (Aus) Trek-Brentjens Mountainbike Racing Team                     
69 Johnny Kritzinger (RSA)                                                            
70 Barry Wicks (USA) Kona                                                             
71 Renay Groustra (RSA)                                                               
72 Thomas Dietsch (Fra) Team Bulls                                                    
73 Maxime Marotte (Fra) BH-Suntour                                                    
74 Heiko Gutmann* (Ger)                                                               
75 Periklis Ilias (Gre) ISD Cycling Team                                              
76 Stefan Sahm (Ger) Team Bulls                                                       
77 Rene Tann (Ger)                                                                    
78 Nathan Haas* (Aus) Discovertasmania.com                                            
79 Alban Lakata (Aut) Topeak Ergon Racing Team                                        
80 Kashi Leuchs (NZl) Felt International MTB Team                                     
81 Matthys Beukes* (RSA)                                                              
82 Kris Sneddon (Can) Kona                                                            

Behind two laps

83 Karl Platt (Ger) Team Bulls                                                        
84 Frank Beemer* (Ned) Trek-Brentjens Mountainbike Racing Team                        
85 Charlton Durie* (Aus) Discovertasmania.com                                         
86 Marc Bassingthwaighte (Nam)                                                        
87 Craig Paul (RSA)                                                                   
88 Martin Fanger* (Swi) Giant Mountain Bike Team                                      
89 Alexander Gehbauer* (Aut)                                                          
90 Josef Kamler* (Cze) Ceska Sporitelna MTB                                           
91 Philip Buys* (RSA)                                                                 
92 Matous Ulman (Cze) Scott & Hagget MTB Team                                         
93 Joel Graf (Swi) Felt International MTB Team                                        
94 Erik Kleinhans (RSA)                                                               
95 Thomas Nicke (Ger)                                                                 
96 Brandon Stewart (RSA)                                                              
97 Ryan Sherlock (Irl)                                                                

Behind three laps

98 Max Knox* (RSA)                                                                    
99 Vivien Legastelois* (Fra) BH-Suntour                                               
100 Kristian Hynek (Cze) Scott & Hagget MTB Team                                      
101 Robert Gehbauer* (Aut) Multivan Merida Biking Team                                

Behind four laps

102 Raphael Gagne* (Can) Team Maxxis-Rocky Mountain Bicycles                          
103 Nathan Byukusenge (Rwa)                                                           
104 Hugo Caetane* (Mri)                                                               
105 Poloko Makara (Les)                                                               

Behind five laps

106 Orbert Chembe* (Zam)                                                              

Behind six laps

107 Trust Munangandu (Zam)   

* indicates under 23 riders

Teams

1 Multivan Merida Biking Team     81 pts
2 Specialized Factory Racing      70
3 Trek World Racing               55
4 Scott-Swisspower MTB-Racing     45
5 Orbea                           43
6 Cannondale Factory Racing       40
7 Topeak Ergon Racing Team        28
8 TX Active Bianchi               27
9 Massi                           24
10 Lapierre International         16
11 Merida Biking Team             15
12 Giant Italia Team              14
13 Giant Mountain Bike Team        9
14 MSC Bikes                       4
15 Subaru-Gary Fisher              2
16 Rocky Mountain - Maxxis         1

World Cup Standings after one event

Individual

1 José Antonio Hermida Ramos (Spa) Multivan Merida Biking Team                  250 pts
2 Julien Absalon (Fra) Orbea                                                    200
3 Burry Stander* (RSA) Specialized Factory Racing                               160
4 Christoph Sauser (Swi) Specialized Factory Racing                             150
5 Wolfram Kurschat (Ger) Topeak Ergon Racing Team                               140
6 Nino Schurter (Swi) Scott-Swisspower MTB-Racing                               130
7 Jean-Christophe Peraud (Fra) Massi                                            120
8 Lukas Flückiger (Swi) Trek World Racing                                       110
9 Roel Paulissen (Bel) Cannondale Factory Racing                                100
10 Mathias Flückiger* (Swi) Trek World Racing                                    95
11 Stéphane Tempier (Fra) TX Active Bianchi                                      90
12 Florian Vogel (Swi) Scott-Swisspower MTB-Racing                               85
13 Martin Gujan (Swi) Cannondale Factory Racing                                  80
14 Jaroslav Kulhavy (Cze)                                                        78
15 Moritz Milatz (Ger) Multivan Merida Biking Team                               76
16 Christoph Soukup (Aut) Merida Biking Team                                     74
17 Ivan Alvarez Gutierrez (Spa) Giant Italia Team                                72
18 Rudi Van Houts (Ned) Multivan Merida Biking Team                              70
19 Jochen Kass (Ger) Multivan Merida Biking Team                                 68
20 Liam Killeen (GBr) Trek World Racing                                          66
21 Alexis Vuillermoz* (Fra) Lapierre International                               64
22 Oliver Beckingsale (GBr) Giant Mountain Bike Team                             62
23 Todd Wells (USA) Specialized Factory Racing                                   60
24 Hector Leonardo Paez Leon (Col) TX Active Bianchi                             58
25 Cédric Ravanel (Fra) Lapierre International                                   56
26 Ruben Ruzafa Cueto (Spa) Orbea                                                54
27 Carlos Coloma Nicolas (Spa) MSC Bikes                                         52
28 Inaki Lejarreta Errasti (Spa) Orbea                                           50
29 Samuel Schultz (USA) Subaru-Gary Fisher                                       48
30 Geoff Kabush (Can) Team Maxxis-Rocky Mountain Bicycles                        46
31 Jürg Graf (Swi) Felt International MTB Team                                   44
32 Andrea Tiberi (Ita) TX Active Bianchi                                         42
33 Pierre Geoffroy Plantet (Fra) Lapierre International                          40
34 Marc Colom (Fra)                                                              38
35 Sergiy Rusenko (Ukr) ISD Cycling Team                                         36
36 Connor Mcconvey* (Irl) Felt International MTB Team                            34
37 Jiri Friedl (Cze) Merida Biking Team                                          32
38 Robert Mennen (Ger)                                                           30
39 Dries Govaerts* (Bel) Lingier-Versluys Team                                   29
40 Emil Lindgren (Swe) Felt International MTB Team                               28
41 Daniel Mcconnell (Aus) Torq Performance Nutrition                             27
42 Cristian Cominelli* (Ita) TX Active Bianchi                                   26
43 Yader Zoli (Ita) Torpado-4US                                                  25
44 Lukas Kaufmann* (Swi)                                                         24
45 Umberto Corti (Ita) Team CBE Tecnoimpianti A.S.D.                             23
46 Ludovic Dubau (Fra)                                                           22
47 Silvio Bundi (Swi) Giant Mountain Bike Team                                   21
48 Guillaume Vinit* (Fra) Team Scott Valloire Galibier                           20
49 Adam Craig (USA) Giant Mountain Bike Team                                     19
50 Hannes Metzler (Aut)                                                          18
51 Bjorn Brems (Bel) Team Saeco                                                  17
52 Balz Weber (Swi) DS-Rennsport                                                 16
53 Milan Spesny (Cze) Ceska Sporitelna MTB                                       15
54 Nicola Rohrbach (Swi) Central Ghost Pro Team                                  14
55 Juan Pedro Trujillo Hernandez (Spa) Cemelorca-Trek-Lorca Taller Del Tiempo    13
56 Roan Exelby (RSA)                                                             12
57 François Bailly Maitre (Fra) Team Scott Valloire Galibier                     11
58 Lachlan Norris* (Aus) Discovertasmania.com                                    10
59 Andrew Blair (Aus)                                                             9
60 Severin Disch* (Swi) Giant Mountain Bike Team                                  8

Team

1 Multivan Merida Biking Team                 81 pts
2 Specialized Factory Racing                  70
3 Trek World Racing                           55
4 Scott-Swisspower MTB-Racing                 45
5 Orbea                                       43
6 Cannondale Factory Racing                   40
7 Topeak Ergon Racing Team                    28
8 TX Active Bianchi                           27
9 Massi                                       24
10 Lapierre International                     16
11 Merida Biking Team                         15
12 Giant Italia Team                          14
13 Giant Mountain Bike Team                    9
14 MSC Bikes                                   4
15 Subaru-Gary Fisher                          2
16 Team Maxxis-Rocky Mountain Bicycles         1