MTB index page for all MTB content
MTB World Cup XC, DH & 4X #1 - CDM
Pietermaritzburg, South Africa, April 10-12, 2009
Main Page Results Previous Race Next Race World Cup standings
Race 5 - April 11: Elite women cross country
Osl outdoes the world's best
By Rob Jones in Pietermaritzburg
Austria's 22 year old Elisabeth Osl
Photo ©: Rob Jones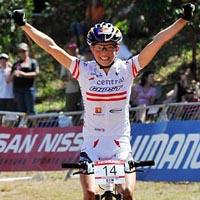 The women's race saw a new face at the front - Austria's Elisabeth Osl (Ghost), who had previously medaled in the junior ranks at the World Championships, but had never reached the podium in a World Cup event. Today was definitely her day, as she rode away from the field to finish over two minutes clear of Olympic bronze medalist Irina Kalentieva (Topeak Ergon). Norway's Lene Byberg (Specialized) made a late surge to take third.
Osl and American national champion Mary McConneloug (Team Kenda/Seven/NoTubes) took the lead on the first lap of the five lap race, and then Osl increased the pace, forcing McConneloug to drop back.
"I was first into the singletrack," said Osl "and I was thinking 'Come and catch me', but they never did."
They never did, because Osl clocked the fastest lap times for each and every lap of the race, with her first lap the only sub-19 minute lap of the race, and the rest sub-21 minutes.
"This was fantastic," exclaimed a tearful Osl afterwards. "I cannot believe it. I won a Swiss Cup race last weekend, but I never thought that I could win a World Cup! I changed my coach of six years over the winter, and my team. I spent more time working on my power and it has made a difference. I had nothing to lose, so I just rode my best."
Kalentieva also overtook McConneloug before the end of the first lap, who dropped back to join compatriot Willow Koerber (Subaru-Gary Fisher). Koerber soon drifted back, eventually finishing just off the podium in sixth place, but McConneloug continued to battle for third. However, the heat and fast early pace took their toll, with Byberg and world champion Marga Fullana passing her in the fourth lap.
Fullana had been expected to contest for the win, however, a crash early in the first lap derailed that plan.
"I did not go down in the crash," Fullana explained "but I was stuck behind it and then had to chase very hard in the first laps. But, I am happy to be on the podium here. For me, this is still part of building up for my main goal - the Madrid World Cup."
Byberg, who had a slow start, kept getting quicker through the race, recording the second fastest lap splits (behind Osl) for each of the last two laps, and moving to within 30 seconds of Kalentieva before backing off slightly in the final few kilometres. Byberg's third equals her best ever previous result at Mont Sainte Anne last year.
"My riding style is always to start a little slower, but today I started stronger than usual and was in the top six on the first lap. I needed to find the right pace, because you could really feel the heat. Once I got on Marga's wheel, I knew it was important to stay with her on the climbs, because she is really strong there. I didn't realize that I was so close to Irina, but it was just too short a distance to catch her for second."
Photography
For a thumbnail gallery of these images, click here
Images by Rob Jones/www.canadiancyclist.com
Images by Gary Perkin
Images by Sven Martin
Results
1 Elisabeth Osl (Aut) Central Ghost Pro Team                                   1.40.50
2 Irina Kalentieva (Rus) Topeak Ergon Racing Team                                 2.07
3 Lene Byberg (Nor) Specialized Factory Racing                                    2.46
4 Margarita Fullana Riera (Spa) Massi                                             3.58
5 Mary Mcconneloug (USA) Kenda/Seven/NoTubes                                      4.24
6 Willow Koerber (USA) Subaru-Gary Fisher                                         4.55
7 Katrin Leumann (Swi)                                                            5.11
8 Heather Irmiger (USA) Subaru-Gary Fisher                                        5.35
9 Petra Henzi (Swi) Fischer-BMC                                                   5.56
10 Janka Stevkova (Svk)                                                           6.07
11 Sabine Spitz (Ger) Central Ghost Pro Team                                      6.18
12 Adelheid Morath (Ger)                                                          6.36
13 Helene Marcouyre (Fra) BH-Suntour                                              7.01
14 Julie Bresset* (Fra) Breiz Mountain                                            7.20
15 Marielle Saner-Guinchard (Swi) Team Bikepark.ch                                8.15
16 Maja Wloszczowska (Pol) CCC Polkowice                                          8.34
17 Esther Süss (Swi)                                                              8.40
18 Blaza Klemencic (Slo) Felt International MTB Team                              8.48
19 Magdalena Sadlecka (Pol) CCC Polkowice                                         9.29
20 Laura Turpijn (Ned)                                                            9.47
21 Yolande Speedy (RSA)                                                          10.33
22 Anna Villar Argente (Spa) Massi                                               10.50
23 Githa Michiels (Bel) Team Saeco                                               11.35
24 Aleksandra Dawidowicz* (Pol) CCC Polkowice                                    12.35
25 Cécile Rode Ravanel (Fra) Lapierre International                              12.50
26 Rowena Fry (Aus) Discovertasmania.com                                         12.59
27 Sabrina Enaux (Fra) BH-Suntour                                                13.57
28 Gracie Elvin* (Aus) Discovertasmania.com                                      14.29
29 Caroline Mani* (Fra) Team Bikepark.ch                                         15.02
30 Eva Lechner (Ita) Colnago Cap Arreghini                                       16.33
31 Maaike Polspoel* (Bel)                                                        16.48
32 Kate Potter (Aus)                                                             17.06
33 Fiona Macdermid (GBr)                                                         17.42
34 Katherine O'Shea (Aus) Torq Performance Nutrition                             18.06
35 Melanie Spath (Ger)                                                           18.46
36 Inbar Ronen (Isr)                                                             19.21

Behind one lap

37 Nathalie Schneitter (Swi) Colnago Cap Arreghini                                    
38 Kathrin Stirnemann* (Swi)                                                          
39 Tania Raats (RSA)                                                                  
40 Sara Muhl (RSA)                                                                    

Behind two laps

41 Shawna Thunder (RSA)                                                               
42 Janneke Leask* (RSA)                                                               
43 Heletje Van Staden* (Nam)                                                          
44 Hilana Marais (RSA)                                                                
45 Ivonne Kraft (Ger)                                                                 

Behind three laps

46 Carmen Bassingthwaighte (Nam)                                                      

Behind four laps

47 Carla Freysen (RSA)        

* indicates under 23 riders

Teams

1 Central Ghost Pro Team          60 pts
2 Subaru-Gary Fisher              49
3 Massi                           39
4 Topeak Ergon Racing Team        35
5 CCC Polkowice                   34
6 Specialized Factory Racing      32
7 Fischer-BMC                     22
8 BH-Suntour                      22
9 Team Bikepark.ch                18
10 Breiz Mountain                 17
11 Felt International MTB Team    13
12 Team Saeco                      8
13 Discovertasmania.com            8
14 Lapierre International          6
15 Colnago Cap Arreghini           1            

World Cup Standings after one round

Individual

1 Elisabeth Osl (Aut) Central Ghost Pro Team                                    250 pts
2 Irina Kalentieva (Rus) Topeak Ergon Racing Team                               200
3 Lene Byberg (Nor) Specialized Factory Racing                                  160
4 Margarita Fullana Riera (Spa) Massi                                           150
5 Mary Mcconneloug (USA)                                                        140
6 Willow Koerber (USA) Subaru-Gary Fisher                                       130
7 Katrin Leumann (Swi)                                                          120
8 Heather Irmiger (USA) Subaru-Gary Fisher                                      110
9 Petra Henzi (Swi) Fischer-BMC                                                 100
10 Janka Stevkova (Svk)                                                          95
11 Sabine Spitz (Ger) Central Ghost Pro Team                                     90
12 Adelheid Morath (Ger)                                                         85
13 Helene Marcouyre (Fra) BH-Suntour                                             80
14 Julie Bresset* (Fra) Breiz Mountain                                           78
15 Marielle Saner-Guinchard (Swi) Team Bikepark.ch                               76
16 Maja Wloszczowska (Pol) CCC Polkowice                                         74
17 Esther Süss (Swi)                                                             72
18 Blaza Klemencic (Slo) Felt International MTB Team                             70
19 Magdalena Sadlecka (Pol) CCC Polkowice                                        68
20 Laura Turpijn (Ned)                                                           66
21 Yolande Speedy (RSA)                                                          64
22 Anna Villar Argente (Spa) Massi                                               62
23 Githa Michiels (Bel) Team Saeco                                               60
24 Aleksandra Dawidowicz* (Pol) CCC Polkowice                                    58
25 Cécile Rode Ravanel (Fra) Lapierre International                              56
26 Rowena Fry (Aus) Discovertasmania.com                                         54
27 Sabrina Enaux (Fra) BH-Suntour                                                52
28 Gracie Elvin* (Aus) Discovertasmania.com                                      50
29 Caroline Mani* (Fra) Team Bikepark.ch                                         48
30 Eva Lechner (Ita) Colnago Cap Arreghini                                       46
31 Maaike Polspoel* (Bel)                                                        44
32 Kate Potter (Aus)                                                             42
33 Fiona Macdermid (GBr)                                                         40
34 Katherine O'shea (Aus) Torq Performance Nutrition                             38
35 Melanie Spath (Ger)                                                           36
36 Inbar Ronen (Isr)                                                             34
37 Nathalie Schneitter (Swi) Colnago Cap Arreghini                               32
38 Kathrin Stirnemann* (Swi)                                                     30
39 Tania Raats (RSA)                                                             29
40 Sara Muhl (RSA)                                                               28
41 Shawna Thunder (RSA)                                                          27
42 Janneke Leask* (RSA)                                                          26
43 Heletje Van Staden* (Nam)                                                     25
44 Hilana Marais (RSA)                                                           24
45 Ivonne Kraft (Ger)                                                            23
46 Carmen Bassingthwaighte (Nam)                                                 22
47 Carla Freysen (RSA)                                                           21

Team

1 Central Ghost Pro Team                      60 pts
2 Subaru-Gary Fisher                          49
3 Massi                                       39
4 Topeak Ergon Racing Team                    35
5 CCC Polkowice                               34
6 Specialized Factory Racing                  32
7 Fischer-BMC                                 22
8 BH-Suntour                                  22
9 Team Bikepark.ch                            18
10 Breiz Mountain                             17
11 Felt International MTB Team                13
12 Team Saeco                                  8
13 Discovertasmania.com                        8
14 Lapierre International                      6
15 Colnago Cap Arreghini                       1