MTB index page for all MTB content
National Mountain Bike Series #1 (NMBS) - 1
Fontana, California, USA, March 27 - 30, 2008
Main Page Results Overall standings Previous Race Next Race
Race 17 - March 30: Elite Men Short Track
Wicks powers to Victory
By Dave McElwaine in Fontana, California
Barry Wicks (Kona) wins
Photo ©: Dave McElwaine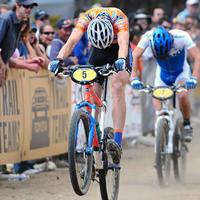 Former US National short track champion Barry Wicks (Kona) pulled off his first NMBS short track victory in a hard fought battle. Adam Craig (Giant) finished second, followed by the winner of Saturday's cross country race, Geoff Kabush (Maxxis).
On a course described by Ryan Trebon (Kona) as "a power course" that did not favor climbers but rather those with diesel engines who could keep the hammer down for twenty minutes plus two laps, Wicks pulled away from his rivals in the second lap. He was then joined by Craig in the final two laps. The pair remained at the head of affairs until the very end. A tough sprint was all that was able to separate them in the end.
How it unfolded
Geoff Kabush (Maxxis) was first off the start
Photo ©: Dave McElwaine

There was no clear favourite on the Bonelli Park starting line, with possible contenders including current U.S. national champion Ryan Trebon (Kona), Jeremy Horgan-Kobelski (Gary Fisher/Suburu), Craig, Barry Wicks (Kona), and Max Plaxton (Rocky Mountain) often shows early season speed.
Geoff Kabush got the hole shot as the huge men's field got around the first left hand turn without any crashes. Barry Wicks quickly powered past Kabush and led up the first climb at a blistering pace, followed closely behind by Kabush and Horgan-Kobelski.
During the first lap, Trebon decided to test his legs and went to the front. Unfortunately he and Sam Jurekovic (U23 National Team) slid out in a corner and crashed. Jurekovic was able to regain a good finishing position but Trebon was basically done for the day.
A long, dusty straightaway
Photo ©: Dave McElwaine

During the second lap Kabush took the lead from Wicks. After they swapped the lead several times, Wicks finally got away. Behind them Craig, who was sitting in fifth position, began pulling himself up the leader board. Plaxton was also on the move and seemed to be pulling away from those behind him.
With two laps to go, Craig expended a huge amount of energy and was able to bridge the gap to Wicks, while Kabush was less than 100 feet behind the pair as they began the final lap. Craig looked to be in trouble, desperately holding onto Wicks' wheel as he did all he could to try rid himself of his last remaining competitor for the title.
Rounding the final corner to the finish, it was Wicks who had the lead as they began sprinting for the line. Although Craig tried with all he had, Wicks was simply too strong, and he went on to claim his first NMBS short track title.
Kabush finished a strong third, followed by Ross Schnell (Trek / VW) who had moved up from riding much of the race in about ninth position. Plaxton was fifth, while rising star Jurekovic finished a creadible sixth.
Next weekend, the NMBS series moves on to Fountain Hills, Arizona.
Photography
For a thumbnail gallery of these images, click here
Images by Dave McElwaine / www.trailwatch.net
Results
1 Barry Wicks (USA) Kona                                0.24.56
2 Adam Craig (USA) Giant Mtb Team                          0.01
3 Geoff Kabush (Can) Team Maxxis                           0.06
4 Ross Schnell (USA) Trek/Vw                               0.12
5 Max Plaxton (Can) Rocky Mountain-Haywood                 0.18
6 Sam Jurekovic (USA) U23 National Team                    0.21
7 Troy Wells (USA) Tokyo Joes                              0.30
8 Mathieu Toulouse (Can) Team Maxxis                       0.34
9 Sam Schultz (USA) Subaru-Gary Fisher                     0.36
10 Jeremy Horgan-Kobelski (USA) Subaru-Gary Fisher         0.39
11 Liam Killeen (GBr) Specialized Factory Team             0.42
12 Cody Peterson (USA) Scott Bicycles                      0.43
13 Ryan Trebon (USA) Kona                                  1.00
14 Tim Allen (USA) Voodoo                                  1.02
15 Chance Noble (USA) Calif Giant Berryf Arms              1.07
16 Ryan Woodall (USA) Industrynine/Powerbar                1.08
17 Ricky Federau (Can)                                     1.10
18 Colin Cares (USA) U23 National Team                     1.10
19 Bryan Fawley (USA) Tx Tough/Hotel San Jose              1.14
20 Kris Sneddon (Can) Kona Les Gets                        1.18
21 Charles Pendry (USA) Inland - Btd                       1.21
22 Adam Morka (Can) 3 Rox Cycling                          1.28
23 Andy Schultz (USA) Kenda Titus Hayes                    1.33
24 Mike Phillips (USA) Alterra/Specialized                 1.37
25 Ignacio Torres (Mex) Turbo Bikes                        1.40
26 Travis Livermon (USA) Kobold Watch Comp                 1.40
27 Dana Weber (USA) Jax Bicycle Center                     1.41
28 Manuel Prado (USA) Sho-Air/Rock N Road                  1.45
29 Eric Salstrand (USA) Bicycle Haus/Oakley/Specialized    1.45
30 Matthew Hadley (Can) Xprezo                             1.46
31 Mitch Hoke (USA) Tokyo Jos                              1.51
32 Trevor Downing (USA) Devo                               1.57
33 Chris Peariso (USA) Adventure 212 /Titus                2.04
Lapped
34 Adam Snyder (USA) 3-D Racing                                
35 Derek Zandstra (Can) 3 Rox Racing                           
36 Emmanuel Valencia (Mex) Turbo                               
37 Stefan Widmer (Can) Rocky Mountain/Different Bike           
38 Martin Lazarski (Can) Rocky Mountain Different Bikes        
39 Paul Hanson (USA) Sobe Cannondale                           
40 Eric Ransom (USA) Team Tamarack Resort                      
41 Jeff Schalk (USA) Trek Vw- East                             
42 Sean Donovan (USA) Cytomax/Khs                              
43 Mitchell Peterson (USA) Mona Vie/Cannondale                 
44 Alex Ryan (USA) Land Rover/Cannondale                       
45 Kyle Douglas (Can) 3 Rox Racing                             
46 Mike Andres (USA) Trek/Vw West Coast Team                   
47 Yuki Saito (USA) Fuentes Design/Walt Works                  
48 Nat Ross (USA) Subaru-Gary Fisher                           
49 Ethan Gilmour (USA) U23 National Mtb Team                   
50 Lucas Livermon (USA) Inland Construction                    
51 Kenji Takeya (Jpn) Specialized Japan                        
52 Eric Batty (Can) Trek Bicycles Store Team                   
53 Brian Bain (Can) Cmc/Bow Cycle                              
54 Kevin Smallman (USA) Sobe Cannondale                        
55 Michael Lee (USA) Trek/Vw West Coast                        
56 Nigel Hill (USA) Trekvwwestcoast                            
57 Dylan Stucki (USA) Independent Fabrications`                
58 Daniel Sessford Blue Competiton Cycles                      
59 Travis Woodruff (USA) Bmc/Momentumendurance                 
60 Mcconnell Franklin (USA) Middlebury College                 
61 Matt Rotroff (USA) Btd/Inland Construction                  
62 Steve Kinney (USA) Steven K Sports                          
63 Michael Mooradian (USA) Spin Bike Shop                      
64 Colin Osborn (USA) Team Bikeparts.Com                       
65 Chad Wells (USA) 3D Racing                                  
66 Luke Pennington (USA) S & M Young Guns                      
67 Tim Olson (USA) Trek/Vw Westcoast                           
68 Chanoch Redlich (Isr) Citycyclingclub                       
69 Carl Decker (USA) Giant Mtb Team                            
70 Noah Holcomb Sobe Cannondale                                
71 Robert Marion (USA) Kenda Titus                             
DNF Shane Holliongshead (Can) Norco                            
DNS Bart Gillespie (USA) Monavie/Cannondale                    
DNS Dustin Wanstrath (USA) Tamarack Resort/ Scott Bikes