MTB index page for all MTB content
National Mountain Bike Series #1 (NMBS) - 1
Fontana, California, USA, March 27 - 30, 2008
Main Page Results Overall standings Previous Race Next Race
Race 16 - March 30: Elite Women Short Track
Gould takes two
Georgia Gould (Luna Women's MTB Team) takes the lead
Photo ©: Dave McElwaine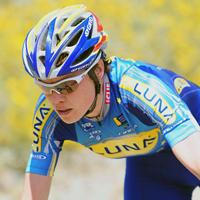 Georgia Gould (Luna Women's MTB Team) powered her way to an impressive victory followed by team-mate Katerina Nash, and a much improved Wendy Simms (Kona) to take the women's short track title, adding to the cross country title she took on Saturday.
Gould rode a tactically perfect race against the favorite Nash and the others. After bridging across to leader Simms in the first few laps, she slowed enough to let team-mate Katerina Nash make contact at the head of the race before unleashing an attack which neither could answer.
How it unfolded
The Bonelli Park course was dry and dusty despite morning showers. Riders were faced with a considerable uphill that included many whoops and highly banked turns that had been part of the 4X course the day before. They descended a fire road and hit two long, flat sections before reaching the start/finish area. This course has more climbing per lap than any other NMBS short track on the race circuit.
NMBS series short track defending champion Katerina Nash (Luna)
Photo ©: Dave McElwaine

Lining up on the front row among the favorites like Gould and Nash were formidable Gary Fisher/ Suburu team-mates Willow Koerber and Heather Irmiger, who often work together to whittle away the competition. Unknown quantities included Simms, Mical Dyck (Trek), Catherine Pendrel (Luna), and the young Emily Batty (Trek). Each of them had good performances in the cross country event, but had not yet been seen much in the short track.
Simms got off the line well and led up the first uphill section followed by team-mates Gould and Nash. Slowly Gould began to pull herself up to Simms but a considerable gap developed back to Nash. Behind them Dyck was riding alone, and further back there was absolute chaos in positions five through ten. Conditions were so dusty that spectators could barely see to identify the riders.
Kathy Sherwin (Sobe / Cannondale), with Heather Irmiger (Gary Fisher / Subaru) and others
Photo ©: Dave McElwaine

Gould eventually caught Simms before intentionally slowing the pace to allow her team-mate, Nash to bridge up to them, putting Simms in an almost impossible situation in which both Luna team-mates could work her over
Gould attacked first and quickly gained a gap. Behind her Simms led Nash as the gap grew bigger. With Gould gone, Nash attacked Simms and began her chase to Gould. At one point Nash closed the gap to about 30 feet, but Gould proved too strong as Nash was unable to make contact. Gould won by 100 feet over Nash.
Behind them Dyck basically rode a solo time trial, neither gaining nor losing much ground on those ahead of or behind her. Kathy Sherwin (Sobe/Cannondale), Willow Koerber (Gary Fisher/Suburu), Heather Irmiger (Gary Fisher/Suburu), and Lea Davison (Trek/VW) all had a shot at the last spot on the podium. In the last lap, Sherwin surged ahead to get onto her second podium of the weekend.
Wendy Simms (Kona) leads Katerina Nash (Luna)
Photo ©: Dave McElwaine

Of note was the performance of Simms, who clearly improved while racing cyclo-cross during the winter. After the race she said, "I had the legs, but not the tactical experience of the Luna women." Both Dyck and Simms were enjoying their first-ever short track podium experience.
Next week the NMBS series round two moves on to Fountain Hills, Arizona.
Photography
For a thumbnail gallery of these images, click here
Images by Dave McElwaine / www.trailwatch.net
Results
1 Georgia Gould (USA) Luna Womens Mtb Team         0.25.12
2 Katerina Nash (Cze) Luna Womens Mtb Team            0.07
3 Wendy Simms (Can) Kona                              0.12
4 Mical Dyck (Can) Trek/Terrascape Racing             0.12
5 Kathy Sherwin (USA) Sobe-Cannondale                 0.13
6 Willow Koerber (USA) Subaru-Gary Fisher             0.16
7 Heather Irmiger (USA) Subaru-Gary Fisher            0.18
8 Lea Davison (USA) Trek/Vw                           0.47
9 Chloe Forsman (USA) Luna Womens Mtb Team            0.55
10 Shonny Vanlandingham (USA) Luna Womens Mtb Team    0.56
11 Catherine Pendrel (Can) Luna Womens Mtb Team       0.59
12 Kelli Emmett (USA) Giant Mtb Team                  1.07
13 Jenna Zander (USA) Sobe Cannondale                 1.16
14 Judy Freeman (USA) Toughgirl Cycling               1.17
15 Heather Holmes (USA) Kenda/Titus/Hayes             1.20
16 Monique Sawicki (USA) Ellsworth                    1.27
17 Catherine Vipond (Can) Norco                       1.28
18 Carolyn Popovic (USA) Cicle/Bear Valley Bikes      1.38
19 Caitlyn Tuel (USA) Trek/Vw /Rocky Mountain         1.38
20 Nina Baum (USA) Sobe-Cannondale                    1.42
21 Emily Batty (Can) Trek Bicycle Store Toronto       1.49
22 Amanda Riley-Carey (USA) Kenda/Titus/Hayes         1.51
23 Amanda Sin (Can) 3 Rox Racing                      1.53
24 Danelle Kabush (Can) Luna Womens Mtb Team          2.13
25 Sue Butler (USA) Monavie/Cannondale                2.15
26 Emily Van Meter (USA) Sobe/Cannondale              2.16
27 Jamie Dinkins (USA) Devo                           2.28
Lapped
28 Sarah Maile (USA) Ventana Mountian Racing              
29 Maureen Kunz (USA) Lost Coast Brewery                  
30 Kimberly Flynn (USA) Vantaggio/Specialized             
31 Krista Park (USA) Kenda-Titus-Hayes                    
32 Theresa Richardson (USA) Sobe Cannondale               
33 Joy Duerksen (USA) Team Jose Ole                       
34 Kyia Anderson (USA) Ekho Hrm/Cannondale                
35 Mary-Ellen Ash (Can) Easton/Sugarcrm/Specialized       
DNF Melanie Mcquaid (Can) Bmc/Natures Path                
DNS Zephanie Blasi (USA) Kenda Titus Hayes