Recently on Cyclingnews.com
MTB index page for all MTB content
Results and Reports from the USA
Promoters wishing to submit results should send them to cyclingnews
Great Divide Race
July 18, 2004
Four finish Great Divide Race
Curiak wins, shatters course record
By John Weirath
Race winner Mike Curiak, somewhere in Colorado.
Photo ©: John Weirath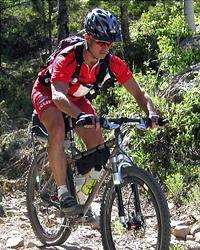 The inaugural Great Divide Race (GDR) ended today with four of seven starters finishing. 30 days, 4 hours, and 28 minutes after starting, competitor Matthew Lee arrived at Antelope Wells, New Mexico to claim fourth place.
While three racers were unable to complete the race due to injury or mechanical failure, the other four fought through what can only be described as the most brutally difficult mountain bike race on the planet. Paralleling and repeatedly crossing the Continental Divide, the route climbs over 225,000 feet as it traverses Montana, Idaho, Wyoming, Colorado, and New Mexico. Total GDR distance is 2,465 miles. The bulk of the route is on dirt and gravel jeep roads, with occasional stretches of pavement and singletrack.
Compounding the almost unthinkable difficulty of the event is the self-supported manner in which it is raced. Racers carry everything they need from survival gear, food, water, tools, spare parts, clothing, maps, and anything else they deem necessary to safely traverse the American Rocky Mountains. Support crews are not allowed.
All racers were treated to spectacular alpine and sub-alpine scenery, with temperatures ranging from a chilly 29 to a stupefying 107 degrees, not to mention typical mountain weather: rain, sleet, hail, snow, incessant lightning, punishing headwinds, miles of soft sand and unrideable mud, as well as innumerable encounters with deer, elk, moose, black bear, grizzly bear, pronghorn, bighorn, coyote, porcupine, wild horses, fox, and skunk.
Mechanical difficulties frustrated all racers, with problems ranging from malfunctioning odometers, seized bottom brackets, non-shifting derailleurs, broken pedals, frayed cables, broken racks, shredded tires, countless flats, and even a cracked frame.
Despite the inconceivable distances covered, with 10 miles to go Mike Curiak and Peter Basinger found themselves riding together. Incredibly, after 16 days and 2,465 miles they were never more than 5 hours apart. Curiak later recounted that, "Spending that much time chasing or attacking the same person is exhausting, mentally, because you're constantly running through all of the potential outcomes. I was unwilling to sprint against Pete, knowing I stood little chance of overcoming his 23-year old legs. So, with 10 miles to go I started a near-maximal time-trial." Near maximal indeed-in the last 10 miles Curiak was able to put 24 minutes of insurance between himself and Basinger, winning the race and knocking a whopping 52 hours off the course record.
Results

1 Mike Curiak           16 days, 57 minutes
2 Peter Basinger        16 days, 1 hour, 21 minutes
3 Jan Kopka             20 days, 21 hours
4 Matthew Lee           30 days, 4 hours, 30 minutes
DNF: Trish Stevenson, Gary Dye, Steve Fassbinder 
Local results 2004