MTB index page for all MTB content
NORBA Series #5 - E1
Durango, CO, USA, August 16-17, 2003
Main Page Results Previous Race Next Race
Race 3 - August 17: Short-track cross-country
McGrath and Sydor win in the mud
By Kristy Scrymgeour
Seamus McGrath (Haro-Lee Dungarees) broke away early in the race to score a solo victory in the rain.
Photo ©: Beth Seliga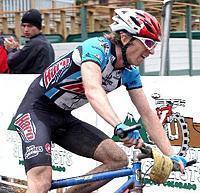 Seamus McGrath (Haro Lee Dungarees) and Alison Sydor (Trek Volkswagen) won the Short track events today in two very tactical and muddy races. Sydor won the event as a consequence of working for her teammate Sue Haywood and Seamus went out hard from the gun and soloed home.
Following an earlier storm that had already muddied the track the rain began again just two laps into the women's race today. Immediately the pace was on with Mary Grigson (Subaru Gary Fisher) leading the way and the field split into bits. After Grigson had done her part , a group of five formed including Katerina Hanusova (Luna Chix), Sydor, Haywood, Dara Marks (Sobe Cannondale) and Chrissie Redden (Subaru Gary Fisher).
The battle was on for the overall between Hanusova and Haywood for the overall series with Hanusova needing to beat Haywood by four places to take the lead. Hanusova attacked with two laps to go, a move which was covered by Haywood's teammate Sydor and she drove it to the finish with Sydor sitting on. Haywood chased hard but couldn't hold the pace and she ended up in the chasing group of three.
Sydor took the win in the two-up sprint at the end from Hanusova and took dangerous points away. Marks came in third followed by Redden, with Haywood taking fifth place in a very dramatic finish. Her fifth placing won her the overall series and the National Title as she collapsed over the line in exhaustion.
Allison Sydor (Trek/VW) powers to the front in the rain
Photo ©: Beth Seliga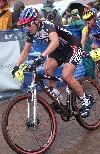 When she gained her breath back, she spoke with Cyclingnews about her exciting win. "I'm not sure if the others realized what was going on out there today and how close it was going to be for the overall. I'm really spent but I'm so excited. I'm really thankful to my teammate Alison (Sydor). She raced so hard for me today. It was a great race and really the first time I can remember the short track being so tactics. Today tactics were everything."
Hanusova was disappointed but optimistic about the future. "I felt good today but it's hard when it comes down to the last race. Unfortunately my teammate couldn't get up there today and I was there by myself trying to make sure I got in the right break. I'm also not very experienced at this type of racing so I'm happy with the result. The focus today was to beat Sue, but it didn't happen and now I am going to try for next year."
Race winner Sydor was also very happy with her win and for her teammate. "I enjoyed the race today, it was very tactical. I really wanted to help my teammate for the overall, so I was chasing breaks which put me in a position of being out in front."
In the men's race the tactics were just as exciting with Jeremy Horgan Kobelski (RLX Ralph Lauren) having to finish within two spots of McGrath to keep his lead in the overall. Unfortunately for Horgan Kobelski, McGrath was having one of those days. He attacked very early and had a bunch of five riders chasing. Yesterday's cross country winner, Ryder Hesjedal (Subaru Gary Fisher) attacked out of the group in an attempt to bridge but couldn't quite make it and eventually McGrath took the win in a solo effort from Hesjedal.
In the next group, Horgan Kobelski was racing for third place and a series win. With a lap to go Geoff Kabush (Kona Clarks) attacked and got a good gap on the group, but towards the line Horgan Kobelski was coming at him. It came down to the last corner where Horgan Kobelski tried to take the inside line and took it just that bit too hard, coming down and having to run his bike the 50metres to the line. He placed sixth and lost the series to McGrath. He was disappointed but in good spirits at the end.
Also fighting for his third place in the overall series was Paul Rowney (Sobe Cannondale) who raced today with a broken hand. He struggled with the power climbs but still managed to take 12th place and keep his third place overall in a typical Rowney fashion.
Cyclingnews caught up with McGrath after the race who was "psyched" with his win. "It was all about today and I did what I had to do. It was hard going from the start and holding it. I looked at the clock 10 minutes into the race and I didn't think I was going to make it. They were getting closer up till about 15 minutes, but after that I knew I could do it. I'm just really happy. I liked the course; it was technical and muddy and was some of the hardest racing, though I could have done without the stairs."
Second place getter Hesjedal was also pleased when he talked with Cyclingnews after the race "I was pretty topped after yesterday. It's hard coming from winning the cross country to back up for the short cross. My focus was yesterday but I'm happy that I could go hard after the effort. I enjoyed the race. I was great that it split up early, I like racing like that and it's great that Seamus won today."
Geoff Kabush commented on his tactics and Horgan Kobelski's unfortunate crash. "I have tried attacking early in the short track before and it doesn't work so today I was patient and settled into the group of four. I launched an attack late and thought I had it for third but then I heard Jeremy coming up on me, he just kept coming and coming and then he just took it so hard on the corner that he went down."
Although Horgan Kobelski missed out on winning the overall NORBA series, he still takes home the National Champions jersey for 2003.
Photography
Images by Beth Seliga/www.3catsphoto.com
Images by Kristy Scrymgeour
Results
Pro men                                                          
 
1 Seamus Mcgrath (Can) Haro Lee Dungarees                   25.42
2 Ryder Hesjedal (Can) Subaru-Gary Fisher                    0.04
3 Geoff Kabush (Can) Kona Clarks                             0.19
4 Chris Sheppard (Can) Haro Lee Dugarees                     0.22
5 Travis Brown (USA) Trek/Volkswagen                         0.23
6 Jeremy Horgan-Kobelski (USA) Rlx Ralph Lauren              0.24
7 Todd Wells (USA) Mongoose/Hyundi                           0.30
8 Doug Swanson (USA) Trek/Vw                                 0.40
9 Adam Craig (USA) Giant/Pearl Izumi                         0.43
10 Frank Mapel (USA) Specilized Usa                          0.45
11 Jimi Mortenson (USA) Specialized                          0.46
12 Paul Rowney (Aus) Sobe Cannondale                         0.57
13 Alan Obye (USA) Balance Bar/Devo                          1.02
14 Carl Decker (USA) Giant/Pearl Izumi                       1.05
15 Walker Ferguson (USA) Subaru - Gary Fisher                1.08
16 Peter Wedge (Can) Kona Clarks Factory Team                1.10
17 Carl Swenson (USA) Rlx Ralph Lauren                       1.11
18 Jay Henry (USA) Specialized Usa                           1.13
19 Brent Miller (Aus) Bianchi/Kenda                              
20 Ryan Trebon (USA) Krystal                                     
21 Anthony Colby (USA) Trek 505/Honey Stinger                    
22 Cody Peterson (USA) 3 D Easton                                
23 Brent Bookwalter (USA) Slingshot Factory Race Team            
24 Russ Tiles (USA) Sling Shot Fac Team                          
25 Michael Broderick (USA) Seven Cycles                          
26 Eric Jones (USA) Team Biogen                                  
27 Mike West (USA) Full Cyclery                                  
28 Barry Wicks (USA) Kona-Clarks Factory                         
29 Ben Moody (USA) Dried Plums/Orbitz                            
30 Bart Gillespie (USA) Biogen                                   
31 Nick Waite (USA) Team West Virginia                           
32 Matt Shriver (USA) 3D Racing/Easton                           
33 Ross Schnell (USA) Tokyo Joes/Mesa Orthopedic                 
34 Brian Astell (USA) Independent Fabrications                   
35 Perren Delacour (Aus) Yeti/ Rpm                               
36 Kevin Day (USA) Stein Eriksen Sport                           
37 Brad Van Orden (USA) Ritchey/Nova                             
38 Burke Swindlehurst (USA) Moots/Optygen                        
39 Duncan Meyers (USA) Soulcraft                                 
40 Nick Gould (USA) Santa Cruz/Honey Stinger                     
41 Erik Tonkin (USA) Team S&M/Kona                               
42 Todd Tanner (USA) Sobe Canno                                  
43 Adam Bucklin (USA) Dried Plum/Orbiz                           
44 Michael Janelle (USA) Tokyo Joes/Vail                         
45 Jacob Fetty (USA) Wv-Bonjovi                                  
46 John Foley (USA) Dried Plum                                   
47 Adam Snyder (USA) Tm Devo/Ba                                  
48 Wade Bootes (Aus) Trek/Volkswagen                             
49 Billy Holmes (USA) Colorado V                                 
50 Andrew Lee (USA) Ice Box Mtn Sports                           
51 Mitch Moreman (USA) Dean                                      
52 Douglas Ryden (USA) Team Blue                                 
53 Colin Rooney (USA) E-Caps/Ham                                 
54 Jerry Hutchinson (USA) Hillenbrand                            
 
Pro women
 
1 Alison Sydor (Can) Trek-Volkswagen                        24.31
2 Katerina Hanusova (Cze) Luna Women Mtb                     0.03
3 Dara Marks (USA) Sobe/Cannondale                           0.08
4 Chrissy Redden (Can) Subaru-Gary Fisher                    0.23
5 Susan Haywood (USA) Trek-Volkswagen                        0.24
6 Shonny Vanlandingham (USA) Luna Womens Mtb Team            0.24
7 Heather Irmiger (USA) Ritchey/K2                           0.30
8 Kiara Bisaro (Can) Gearsracing.Com                         0.35
9 Rhonda Quick (USA) Trek/Clif                               0.39
10 Willow Koerber (USA) Rlx Ralph Lauren                     0.40
11 Kerry Barnholt (USA) Sobe Cannondale                      0.43
12 Kim Anderson (USA) T-Mobile                               0.47
13 Mary Mcconneloug (USA) Seven Cycles                       0.57
14 Jimena Florit (Arg) Rlx Ralph Lauren                      1.05
15 Lanie Mason (USA) Cane Creek                              1.08
16 Susy Pryde (USA) Specialized                              1.08
17 Trish Sinclair (Can) Gearsracing.Com                      1.18
18 Jimena Florit (Arg) Rlx Ralph                             1.29
19 Dellys Franke (Aus) Rocky Mountain / Crystal Decisions    1.38
20 Sara Bresnick (USA) Dried Plums/Orbitz                    1.44
21 Kathy Sherwin (USA) Sobe Cannondale                       1.50
22 Karen Dewolf (Can) Dried Plums/Orbitz                     1.53
23 Lisa Matlock (USA) Ford Outfitters                            
24 Julie Emmerman (USA) Ritchey/K2                               
25 Tonya Laffey (USA) Mtbchick.Com/Cannondale                    
26 Megan Monroe (USA) Un Madison                                 
27 Jennifer Todd (USA) Sobe Cannondale                           
28 Sally Warner (USA) Biogen                                     
29 Annemarie Huisman (USA) Sobe/Cannondale                       
30 Judy Freeman (USA) Sobe/Cannondale                            
31 Alicia Mayer (USA) Orbea/Copper Canyon Lodges                 
32 Tara Llanes (USA) Giant Pearl Izumi                           
33 Becca Blay (USA) Team Dean                                    
34 Mary Rudy (USA) Us Air Force                                  
35 Lisa Peck (USA) Biogen                                        
36 Nicole Habay (USA) Speed Bikes                                
37 Kimberly Flynn (USA) Team Peggy                               
38 Lynn Ott (USA) Hutch                                          
DNF Mary Grigson (Aus) Subaru/Gary Fisher                        
DNF Nina Baum (USA) Lenz Sport                                   
 
Final overall standings
 
Men
 
1 Seamus Mcgrath (Can) Haro Lee Dungarees                     926 pts
2 Jeremy Horgan-Kobelski (USA) Rlx Ralph Lauren               912
3 Paul Rowney (Aus) Sobe Cannondale                           784
4 Geoff Kabush (Can) Kona Clarks                              766
5 Chris Sheppard (Can) Haro Lee Dugarees                      740
6 Ryder Hesjedal (Can) Subaru-Gary Fisher                     738
7 Todd Wells (USA) Mongoose/Hyundi                            728
8 Travis Brown (USA) Trek/Volkswagen                          682
9 Doug Swanson (USA) Trek/Vw                                  652
10 Carl Swenson (USA) Rlx Ralph Lauren                        622
11 Peter Wedge (Can) Kona Clarks Factory Team                 598
12 Ryan Trebon (USA) Krystal                                  580
13 Jay Henry (USA) Specialized Usa                            578
14 Jimi Mortenson (USA) Specialized                           574
15 Jeff Hall (USA) Salsa Cycles                               560
16 Adam Craig (USA) Giant/Pearl Izumi                         536
17 Alan Obye (USA) Balance Bar/Devo                           530
18 Cody Peterson (USA) 3 D Easton                             530
19 Barry Wicks (USA) Kona-Clarks Factory                      494
20 Andreas Hestler (Can) Rocky Mtn / Crystal Decisions        494
21 Michael Broderick (USA) Seven Cycles                       488
22 Walker Ferguson (USA) Subaru - Gary Fisher                 456
23 Nick Waite (USA) Team West Virginia                        456
24 Carl Decker (USA) Giant/Pearl Izumi                        440
25 Brent Miller (Aus) Bianchi/Kenda                           398
26 Russ Tiles (USA) Sling Shot Fac Team                       384
27 Frank Mapel (USA) Specilized Usa                           382
28 Eric Jones (USA) Team Biogen                               376
29 Brent Bookwalter (USA) Slingshot Factory Race Team         370
30 Ben Moody (USA) Dried Plums/Orbitz                         364
31 Bart Gillespie (USA) Biogen                                362
32 Kashi Leuchs (NZl) Maxxis/Trek                             340
33 Jeremiah Bishop (USA) Trek/Vw                              322
34 Mathieu Toulouse (Can) Gearsracing.Com                     314
35 Filip Meirhaeghe (Bel) Specialized                         310
36 Roland Green (Can) Trek/Volkswagen                         304
37 Matt Shriver (USA) 3D Racing/Easton                        238
38 Jose Adrian Bonilla (CRc) Costa Rica Olympic Team          210
39 Ricky Federau (Can) Gearsracing.Com                        208
40 Anthony Colby (USA) Trek 505/Honey Stinger                 190
41 Julian Hine (Can) Gearsracing.Com                          182
42 Perren Delacour (Aus) Yeti/ Rpm                            180
43 Brian Matter (USA) Hayes Brakes                            176
44 Derek Wilkerson (USA) Hillenbrand Racing                   168
45 Clint Muhlfeld (USA) Gary Fisher/ Hammer Gel Nutrition     152
46 Duncan Meyers (USA) Soulcraft                              146
47 Liam Killeen (GBr) Subaru/Gary Fisher                      118
48 Erik Tonkin (USA) Team S&M/Kona                            110
49 Ziranda Madrigal (Mex) Turbo                               104
50 James Van Toever (Can) Morati/Honeywell                    100
51 Mike West (USA) Full Cyclery                                98
52 Michael Janelle (USA) Tokyo Joes/Vail                       90
53 Kris Sneddon (Can) Kona Clarks Factory Team                 90
54 Ross Schnell (USA) Tokyo Joes/Mesa Orthopedic               86
55 Dan Swanson (USA) Nature Valley                             86
56 Jeremy Powers (USA) Ncc/Bikereg.Com                         86
57 Brian Astell (USA) Independent Fabrications                 84
58 Adam Bucklin (USA) Dried Plum/Orbiz                         84
59 Thomas Turner (USA) Sobe/Cannondale                         84
60 Christian Cuesta Navarrete (Mex) Team Morati/Honeywell      82
61 Kevin Day (USA) Stein Eriksen Sport                         80
62 Brad Van Orden (USA) Ritchey/Nova                           78
63 Jesse Rients (USA) Penn Cycles/Nature Valley                78
64 Deiber Esquivel Benavides (CRc) Costa Rica Olympic Team     78
65 Burke Swindlehurst (USA) Moots/Optygen                      76
66 Matt Pacocha (USA) Ritchey/K2                               76
67 Jorel Hendershot (USA) Sobe Cannondale                      74
68 Diego Garavito (Col) Estow-Clif Bar                         74
69 Nick Gould (USA) Santa Cruz/Honey Stinger                   72
70 Andrew Lee (USA) Ice Box Mtn Sports                         72
 
Women
 
1 Susan Haywood (USA) Trek-Volkswagen                         912 pts
2 Katerina Hanusova (Cze) Luna Women Mtb                      898
3 Chrissy Redden (Can) Subaru-Gary Fisher                     866
4 Mary Mcconneloug (USA) Seven Cycles                         768
5 Dara Marks (USA) Sobe/Cannondale                            728
6 Alison Sydor (Can) Trek-Volkswagen                          704
7 Jimena Florit (Arg) Rlx Ralph Lauren                        694
8 Willow Koerber (USA) Rlx Ralph Lauren                       672
9 Lanie Mason (USA) Cane Creek                                628
10 Trish Sinclair (Can) Gearsracing.Com                       616
11 Susy Pryde (USA) Specialized                               590
12 Shonny Vanlandingham (USA) Luna Womens Mtb Team            582
13 Dellys Franke (Aus) Rocky Mountain / Crystal Decisions     572
14 Sara Bresnick (USA) Dried Plums/Orbitz                     572
15 Kelli Emmett (USA) Hillenbrand Racing                      566
16 Karen Dewolf (Can) Dried Plums/Orbitz                      566
17 Kiara Bisaro (Can) Gearsracing.Com                         542
18 Kathy Sherwin (USA) Sobe Cannondale                        490
19 Jennifer Todd (USA) Sobe Cannondale                        488
20 Sally Warner (USA) Biogen                                  486
21 Tonya Laffey (USA) Mtbchick.Com/Cannondale                 472
22 Heather Irmiger (USA) Ritchey/K2                           464
23 Kim Anderson (USA) T-Mobile                                428
24 Lisa Matlock (USA) Ford Outfitters                         426
25 Nina Baum (USA) Lenz Sport                                 392
26 Mary Grigson (Aus) Subaru/Gary Fisher                      384
27 Tiffany Kenny (USA) Ford Outfitters                        382
28 Melanie Mcquaid (Can) Ford Outfitters                      380
29 Kerry Barnholt (USA) Sobe Cannondale                       374
30 Jamie Whitmore-Cardenas (USA) Felt Racing                  368
31 Rhonda Quick (USA) Trek/Clif Bar                           366
32 Alicia Mayer (USA) Orbea/Copper Canyon Lodges              342
33 Kimberly Flynn (USA) Team Peggy                            334
34 Julie Emmerman (USA) Ritchey/K2                            296
35 Barbara Howe (USA) G6                                      296
36 Sonia Lopez (Mex) Telcel-Speedbikes                        296
37 Annemarie Huisman (USA) Sobe/Cannondale                    262
38 Becca Blay (USA) Team Dean                                 244
39 Lisa Peck (USA) Biogen                                     242
40 Nicole Habay (USA) Speed Bikes                             232
41 Karen Matamoros Zungiga (CRc) Costa Rica National Team     222
42 Lesley Tomlinson (Can) Rocky Mt Crystal Decision           214
43 Lea Davison (USA) Team Devo/Balance                        208
44 Alison Dunlap (USA) Luna Women Mtb                         186
45 Dorothy Wong (USA) Kelly Bike Co                           178
46 Rachel Massey (USA) Ford Outfitters                        176
47 Judy Freeman (USA) Sobe/Cannondale                         170
48 Tara Llanes (USA) Giant Pearl Izumi                        162
49 Shari Hausbeck (USA) Trek-Vw/Rocky Mtn                     156
50 Becky Smith (USA) Southpark Cycles/ E Caps                 152
51 Gina Hall (USA) Clif Bar                                   116
52 Gretchen Reeves (USA) Rocky Mtn / Crystal Decisions        106
53 Jennifer Smith (NZl) Trek/Rocky Mtn Region                 104
54 Megan Monroe (USA) Un Madison                              100
55 Sonya Swartzentruber (USA) Jans/Trek                        98
56 Mary Rudy (USA) Us Air Force                                84
57 Lorenza Morfin (Mex) Turbo                                  84
58 Alisha Engel (USA) Central Coast Cycling                    80
59 Robin Mcgee (USA) Jackson Hole/Marmot                       78
60 Lynn Ott (USA) Hutch'S                                      76
61 Jody Koch (USA) Ford Outfitters                             76
62 Lacey Gonzalez (USA)                                        74
63 Leslie Gilmore (USA) Soulcraft                              72