MTB index page for all MTB content
NORBA Series #5 - E1
Durango, CO, USA, August 16-17, 2003
Main Page Results Previous Race
Race 4 - August 17: Downhill
Peat's crash doesn't stop him, Griffiths conquers
By Kristy scrymgeour
Rich Houseman (ITS/Santa Cruz) was the best American finisher in fifth place.
Photo ©: Beth seliga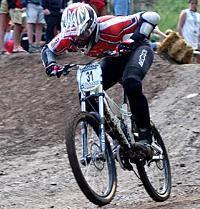 Fionn Griffiths (Foes Azonics) and Steve Peat (Royal Orange) won the downhill events at today's final event of the NORBA series, a race that was almost cancelled due to rain and a very wet course. The downhill course was a steep 1.6 miles and included three drop-offs and a gnarly rock section mid way down the course. In the practice earlier in the day a lot of the riders were crashing due to the slippery, wet track.
In the women's race Griffiths' fast time of 4'27" was enough to give her the win and the series overall. Coming in second today was Missy Giove, followed by Tracey Mosely. Former leader of the series Marla Streb came in sixth today losing the series title from Griffiths but still taking home the National Title.
Cyclingnews caught up with race winner Griffiths at the podium who was very happy with her Series win. "I liked the race today. I am from England and it's always wet so in a way I was actually hoping for rain today. I knew what I had to do this weekend. I knew I had to win so I'm happy with that."
Dave McLaughlin (Yeti/Oakley) got plenty of air coming down the track.
Photo ©: Beth seliga

Streb wasn't quite as happy. "I was disappointed but I executed what I was trying to do today and that was to ride a clean, conservative run. I was hoping Fionn would get second or less but it didn't work out like that. It was a slippery course out there today and I stayed on my bike and got 6th so I'm happy with that. I was really hoping for the overall but I got the National title so I'm happy with that."
In the men's race Steve Peat (Royal Orange) won the event despite his crash midway down the course. He was up in no time and finished the course in a time 3'42". Peat only competed in two NORBA events this year due to a crash at the first NORBA at Big Bear. "I chipped a bone at Big Bear and hurt my ankle. In fact I tweaked my ankle injury again in my crash today. I was happy with today though, I ride good in the wet," Peat said after skulling a bottle of champagne on the podium.
Coming in second behind Peat was Greg Minnaar who's placing put him on equal points with Chris Kovarik who placed third today. Minnaar took the series win today because his final result was better than that of Kovarik.
At the end of the day the overall series was filled with one South African and four Australians and it was 7th place in the overall series Eric Carter who took home the National Champion Title. "Seeing five non-Americans on the podium was a little disappointing but that's the way it is. Hopefully that will change next year and more young guys come through. I was happy with my ride today. The course was slippery and when it's like that, those younger guys just go so much faster. It's a shame about the weather, but that's mountain biking."
Photography
Images by Beth seliga/www.3catsphoto.com
Results

Pro men
 
1 Steve Peat (GBr) Royal Orange                            3.42.76
2 Greg Minnaar (RSA) Haro Lee Dungaree                     3.43.64
3 Chris Kovarik (Aus) Intense/Fox/Spy                      3.51.21
4 Cedric Gracia (Fra) Siemens Cannondale                   3.51.71
5 Rich Houseman (USA) Its/Santa Cruz                       3.52.64
6 Mick Hannah (Aus) Haro Lee Dungarees                     3.53.08
7 Colin Bailey (USA) Maxxis Tires                          3.55.15
8 Liam Panozzo (Aus) Santa Cruz                            3.55.31
9 Eric Carter (USA) Mongoose/Hyundai                       3.55.39
10 Bryn Atkinson (Aus) Iron Horse/Mad Catz                 3.55.48
11 John Kirkcaldie (NZl) Maxxis                            3.55.51
12 Nathan Rennie (Aus) Iron Horse/Mad Catz                 3.55.72
13 Julien Poomans (USA) Foes Azonic                        3.58.37
14 Curtis Keene (USA) Wtb                                  3.58.86
15 Ross Milan (USA) Yeti                                   3.59.49
16 Joel Panozzo (Aus) Wtb/Santa Cruz                       4.05.18
17 Todd Leduc (USA) Odi Southridge                         4.07.86
18 Dave Mc Laughlin (Aus) Yeti/Oakley                      4.08.61
19 Sam Hill (Aus) Madcatz/Ironhorse                        4.08.62
20 Jared Rando (Aus) Giant/Pearl Izumi                     4.08.83
21 Lars Tribus (USA) Chumba Wumba                          4.09.71
22 Chris Del Bosco (USA) Romic Oakley                      4.10.00
23 Jeff Evans (USA) Intense/Romic/Bolle                    4.10.83
24 Justin Havukainen (USA) Yeti/Oakley                     4.11.49
25 Bas De Bever (Ned) B1 Mountainbike                      4.11.54
26 Mathieu Laurin (Can) Balfa/Rock Shox                    4.11.83
27 Matt Timmerman (USA) Michelin                           4.12.27
28 David Klaassenvanoorschot (USA) Intense/Spy             4.12.44
29 Robin Baloochi (USA) Sobe Cannondale                    4.12.76
30 Henry O'Donnell (USA) Its/Santacruz                     4.16.21
31 Brian Long (USA) Final Cause Racing                     4.17.32
32 Andrew Neethling (RSA) Global Racing                    4.17.44
33 Luke Strom (Aus) Yeti/Zeal                              4.17.52
34 Adam Dussetor (Aus) Add Racing                          4.19.14
35 Eric Rasmussen (USA) Khs                                4.19.33
36 Aaron Chase (USA) Sobe/Cannondale                       4.19.50
37 Kain Leonard (USA) Astrix Sports                        4.19.62
38 Ryan Sutton (USA) Astrix                                4.19.72
39 Ben Cory (Aus) Tioga Orange                             4.19.97
40 Travis Collins (USA) Maxxis                             4.20.16
41 Kyle Ebbett (USA) Iron Horse/Madcatz                    4.20.94
42 Shaums March (USA) Red Bull/Chumba Wumba                4.20.98
43 Geoff Pendrel (Can) Balfa                               4.21.17
44 Christopher Odriscoll (USA) Azonic/Oakley               4.21.91
45 Aaron Peters (USA) Wtb/Superheros                       4.22.83
46 Will Clifford (Aus) Yeti/Dragon                         4.24.34
47 Judd De Vall (USA) Schwinn Usa                          4.25.11
48 Bernie Fredrick (USA) Lenz Sport                        4.25.45
49 Troy Heflin (USA) Fast Times Racing                     4.25.78
50 Will Corry (Ire) Norstar Foes                           4.27.02
51 Riley Donaldson (USA)                                   4.27.31
52 Matt Thompson (USA) Big Crank Racing                    4.28.26
53 Marc Fontaine (Can) Intense Canada/Truvativ/Maxxis      4.34.37
54 Nathan Rankin (NZl) Tioga Orange                        4.34.81
55 Alex Morgan (USA) Bcdbcd.Com                            4.36.47
56 Todd Bosch (USA) Chumba Wumba/ Bcg                      4.38.98
57 Karl Rogne (USA) Wtb/Eam/Karpiel                        4.39.78
58 Daniel Umland (USA) Odi Southr                          4.44.26
59 Dave Ziegman (USA) Big Crank Racing                     4.48.88
60 Lou Deangelis (USA) 10 10 Prod                          4.51.89
61 Seth James (USA) Gravity Wa                             4.54.59
62 Chris Rowen (USA) Great Adve                            5.07.46
63 Gene Hamilton (USA) Betterride                          5.13.56
64 Mike Moga (Rom) Big Crank                               5.42.55
65 Jamie Green (Aus) Giant Australia                       5.58.77
DNF Chris Van Dine (USA) Astrix/Hassle Free                       
DNF Orlando Martinez (Cub) Rotec Cycl                             
 
Pro women
 
1 Fionn Griffiths (GBr) Foes Azonic                        4.27.90
2 Missy Giove (USA) Foes                                   4.31.00
3 Tracy Moseley (GBr) Kona Clarks Fac Team                 4.35.30
4 Sabrina Jonnier (Fra) Intense                            4.37.00
5 Kathy Pruitt (USA) Luna                                  4.38.30
6 Marla Streb (USA) Luna Women Mtb                         4.39.10
7 Mio Suemasa (Jpn) Trek-Volkswagen                        4.49.60
8 April Lawyer (USA) Maxxis Tires                          4.52.20
9 Anka Martin (RSA) Turner/Honda                           5.24.90
10 Holly Kuhn (USA) Zoo York/Voodoo X/Eclipse              5.47.30
11 Dawn Bourque (USA) Dried Plums/Orbitz                   5.55.20
12 Leigh Fiedler (USA) Rapid Descent Racing                5.57.90
13 Gale Dahlager (USA) Astrix Poison Spider                5.58.20
14 Melissa Buhl (USA) Khs                                  6.07.40
15 Michelle Rivera (USA) Arrowlenz                         6.18.00
16 Emily Johnston (USA) Velocity Smith Troy Lee Designs    6.22.20
17 Lisa Myklak (USA) Astrix Sports/ Smith                  6.24.40
18 Tai-Lee Muxlow (Aus) Tioga Orange                       7.14.20
19 Kristina Martinez (USA) Rpm-Yeti                        7.31.70
20 Sara Johnson (USA) Intense Spy                          8.17.00
21 Jessica Vogt (USA) Team Rpm/Yeti                        9.03.60
 
Final overall standings
 
Men
 
1 Greg Minnaar (RSA) Haro Lee Dungaree                         820 pts
2 Chris Kovarik (Aus) Intense/Fox/Spy                          820
3 Sam Hill (Aus) Madcatz/Ironhorse                             722
4 Joel Panozzo (Aus) Wtb/Santa Cruz                            712
5 Nathan Rennie (Aus) Iron Horse/Mad Catz                      696
6 John Kirkcaldie (NZl) Maxxis                                 678
7 Eric Carter (USA) Mongoose/Hyundai                           664
8 Jared Rando (Aus) Giant/Pearl Izumi                          648
9 Rich Houseman (USA) Its/Santa Cruz                           636
10 Cedric Gracia (Fra) Siemens Cannondale                      584
11 Mick Hannah (Aus) Haro Lee Dungarees                        582
12 Colin Bailey (USA) Maxxis Tires                             574
13 Shaums March (USA) Red Bull/Chumba Wumba                    510
14 Todd Leduc (USA) Odi Southridge                             508
15 Julien Poomans (USA) Foes Azonic                            496
16 Bryn Atkinson (Aus) Iron Horse/Mad Catz                     494
17 Gary Houseman (USA) Its/Santa Cruz                          494
18 Chris Del Bosco (USA) Romic Oakley                          462
19 Lars Tribus (USA) Chumba Wumba                              458
20 Curtis Keene (USA) Wtb                                      452
21 Henry O'Donnell (USA) Its/Santacruz                         436
22 Dustin Adams (Can) Giant/Pearl Izumi                        436
23 Christopher Odriscoll (USA) Azonic/Oakley                   428
24 Bernie Fredrick (USA) Lenz Sport                            416
25 Ben Cory (Aus) Tioga Orange                                 408
26 Andrew Neethling (RSA) Global Racing                        404
27 Steve Peat (GBr) Royal Orange                               396
28 Aaron Chase (USA) Sobe/Cannondale                           396
29 John Waddell (Aus) Its/Santa Cruz                           390
30 Kirt Voreis (USA) Team Allride                              386
31 David Klaassenvanoorschot (USA) Intense/Spy                 382
32 Nathan Rankin (NZl) Tioga Orange                            378
33 Chris Van Dine (USA) Astrix/Hassle Free                     372
34 Aaron Peters (USA) Wtb/Superheros                           366
35 Fabien Barel (Fra) Kona Clarks Fac Team                     366
36 Robin Baloochi (USA) Sobe Cannondale                        354
37 Ryan Sutton (USA) Astrix                                    350
38 Mathieu Laurin (Can) Balfa/Rock Shox                        314
39 Matt Timmerman (USA) Michelin                               312
40 Dave Mc Laughlin (Aus) Yeti/Oakley                          290
41 Will Corry (Ire) Norstar Foes                               284
42 Jason Codding (USA) Team Tld/Turner/Honda                   284
43 Jeff Evans (USA) Intense/Romic/Bolle                        242
44 Peter Weir (USA) Hopey Dampers                              220
45 Matt Johnston (USA) Go Ride/Lost Art Tatto0                 214
46 Justin Havukainen (USA) Yeti/Oakley                         198
47 Eric Rasmussen (USA) Khs                                    198
48 Greg Smith (USA) Foes/Poison Spiders                        198
49 Judd De Vall (USA) Schwinn Usa                              192
50 Ross Milan (USA) Yeti                                       188
51 Eric Goss (Can) Giant/Troy Lee/Smith                        182
52 Waylon Smith (GBr)                                          176
53 Todd Bosch (USA) Chumba Wumba/ Bcg                          172
54 Travis Collins (USA) Maxxis                                 170
55 Luke Strom (Aus) Yeti/Zeal                                  168
56 Kyle Leduc (USA) Odi/Southridge                             164
57 Geoff Pendrel (Can) Balfa                                   162
58 Sven Martin (RSA) Turner Honda                              162
59 Will Clifford (Aus) Yeti/Dragon                             160
60 Jared Graves (Aus) Mad Cats Iron Hrse                       150
61 Liam Panozzo (Aus) Santa Cruz                               140
62 John Percy (USA) Karpiel Design                             134
63 Jamie Green (Aus) Giant Australia                           132
64 Kain Leonard (USA) Astrix Sports                            130
65 Hugo Donais (Can) Norco Factory                             126
66 Matt Thompson (USA) Big Crank Racing                        122
67 Derrick Nobman (USA) Intense/Racers Edge                    104
68 Bas De Bever (Ned) B1 Mountainbike                          102
69 Brant Lyon (Can) Giant Tm Canada                             92
70 Brian Long (USA) Final Cause Racing                          90
71 Sebastian Vasquez (Chi) Svracing/Cl/Scott                    88
72 Mike Jones (Can) Norco Factory Team                          88
73 Adam Dussetor (Aus) Add Racing                               84
74 George Ryan (USA) Be One Bikes                               84
75 Darrell Young (USA) Arrow Racing                             80
76 Dave Ziegman (USA) Big Crank Racing                          78
77 Karl Rogne (USA) Wtb/Eam/Karpiel                             76
78 Ian Richards (USA) Rpm/Yeti                                  74
79 Fred Belanger (Can)                                          72
80 Kyle Ebbett (USA) Iron Horse/Madcatz                         70
81 Jiro Nakamura (Jpn) Wtb                                      68
82 Lee Trumpore (USA) Transcend/Orange                          64
83 Sebastien Thauvette (USA)                                    62
84 Darren Brown (USA) Dh Zone/Intense                           60
85 Nicholas Jewett (Can)                                        60
86 Nicole Giancola (Can) Dm Cyclosport/Dhracer.Com              58
87 Byron Hills (USA) Fast Times Beyond Bikes                    58
88 Marc Fontaine (Can) Intense Canada/Truvativ/Maxxis           56
89 Troy Heflin (USA) Fast Times Racing                          54
90 Mark Weir (USA) Wtb                                          54
91 Diego Echeverria (Chi) Chile                                 54
92 Alex Morgan (USA) Bcdbcd.Com                                 52
93 Alan Crisp (Aus) Balfa                                       52
 
Women
 
1 Fionn Griffiths (GBr) Foes Azonic                            878 pts
2 Marla Streb (USA) Luna Women Mtb                             864
3 Tracy Moseley (GBr) Kona Clarks Fac Team                     820
4 Mio Suemasa (Jpn) Trek-Volkswagen                            770
5 Melissa Buhl (USA) Khs                                       698
6 Kathy Pruitt (USA) Luna                                      696
7 Dawn Bourque (USA) Dried Plums/Orbitz                        686
8 Sabrina Jonnier (Fra) Intense                                634
9 Anka Martin (RSA) Turner/Honda                               620
10 Holly Kuhn (USA) Zoo York/Voodoo X/Eclipse                  606
11 Leigh Fiedler (USA) Rapid Descent Racing                    600
12 Tai-Lee Muxlow (Aus) Tioga Orange                           582
13 Emily Johnston (USA) Velocity Smith Troy Lee Designs        570
14 Kristina Martinez (USA) Rpm-Yeti                            562
15 Jessica Vogt (USA) Team Rpm/Yeti                            530
16 Missy Giove (USA) Foes                                      514
17 Gale Dahlager (USA) Astrix Poison Spider                    506
18 Hiroko Inomata (Jpn) Foes/Credit                            386
19 Lisa Myklak (USA) Astrix Sports/ Smith                      354
20 Kristin Powers (USA) No Brakes                              334
21 Lisa Sher (USA) Chumba Wumba                                326
22 Tara Llanes (USA) Giant Pearl Izumi                         282
23 April Lawyer (USA) Maxxis Tires                             280
24 Claire Buchar (USA) Balfa Cycles                            264
25 Kathi Krause (USA) Avalanche/Arrow                          242
26 Allie Rau (USA) Velocity Racing                             232
27 Michelle Rivera (USA) Arrowlenz                             212
28 Bernardita Pizarro (Chi) Chile                              140
29 Maxine Irving (USA) Eco Lips                                132
30 Michelle Dumaresq (Can) Santa Cruz                          130
31 Caroline Milot (Can) Laferte Bike Shop                      128
32 Laura Johnson (USA) Bicycles Butler                         118
33 Patricia Loureiro (USA)                                     114
34 Sara Johnson (USA) Intense Spy                              112
35 Carrie Cleeton (USA) Foes/Azonic/Maxxis                     110
36 Carol Gibbs (USA) Bonebreakers                              110
37 Tammy Pickerrell (USA) Romic                                110
38 Laura Pochmara (USA) Rapid Descent Racing                   108
39 Paula Santerior (USA) Karpiel/Michelin                      100
40 Gina Barbosa (USA) Azonic / Specialized                      98
41 Ryoko Hattori (Jpn) Fumayokohama                             94
42 Darcy Turenne (Can) Kona/Smith/Luck Shoes                    92