MTB index page for all MTB content
NORBA Series #5 - E1
Durango, CO, USA, August 16-17, 2003
Main Page Results Previous Race Next Race
Race 2 - August 16: Mountain cross
Gracia and Jonnier take the win
By Kristy Scrymgeour
Sabrina Jonnier (Intense) won every heat on her way to the gold medal
Photo ©: Beth Seliga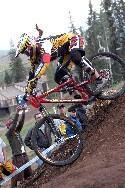 Cedric Gracia (Siemens Cannondale) and Sabrina Jonnier (Intense Fox) won today's final round of the NORBA series today on a course that was longer than normal. Jonnier's win allowed her to maintain the series lead for 2003, whilst in the men's race it was Eric Carter (Mongoose Hyundai) who took the series, placing third in today's race. Winning the series also makes Carter the US National Champion. Earning them the National Title in the women's event was Jill Kintner who placed second in the series behind Jonnier.
In a nail biting race, the men's race was head to head all the way down the mountain and very clean. Mike King took the lead immediately but Chris Kovarik (Intense Fox) took over on the first corner opening up a bike length on the others. Gracia trailed the whole run and passed on the inside around the very last corner to take the win. Kovarik came in second in front of Eric Carter and Mike King (Team Haro Dungarees).
Gracia commented on his last minute move after the race. "Chris was so far ahead of me I had no choice but to take the inside line. We know each other well and if was behind me he would have done the same thing."
In the women's event Jonnier got the best start from the gun and led the whole way down the 40 second run. Aneke Beerten (Willens Group) crashed early in the run putting herself out of contention and it was a fight for second between Fionn Griffiths (Foes Azonic) and Tai-Lee Muxlow (Tioga Orange). Griffith's took the race for second in front of Muxlow.
Photography
Images by Beth Seliga/www.3catsphoto.com
Results

Women
 
1 Sabrina Jonnier (Fra) Intense
2 Tai-Lee Muxlow (Aus) Tioga Orange
3 Fionn Grifiths (GBr) Foes Azonic
4 Anneke Beerten (Ned) Willens Group
5 Jill Kintner (USA) Fox Shox
5 Melissa Buhl (USA) Khs
5 Katrina Miller (Aus) Jamis Bicycles
5 Tracy Moseley GRB Kona Clarks Fac Team
9 Tara Llanes (USA) Giant Pearl Izumi
9 April Lawyer (USA) Maxxis Tires
9 Mio Suemasa (Jpn) Trek-Volkswagen
9 Holly Kuhn (USA) Zoo York/Voodoo X/Eclipse
9 Jessica Vogt (USA) Team Rpm/Yeti
 
Men
 
1 Cedric Gracia (Fra) Siemans Cannondale
2 Chris Kovarik (Aus) Intense/Fox/Spy
3 Eric Carter (USA) Mongoose/Hyundai
4 Mike King (USA) Team Haro Lee Dungarees
5 Rich Houseman (USA) Its/Santa Cruz
5 Nathan Rennie (Aus) Iron Horse/Mad Catz
5 Chris Powell (USA) Profile Racing/ Specialized
5 Wade Bootes (Aus) Trek/Volkswagon
9 Greg Minnaar (RSA) Haro Lee Dungaree
9 Mick Hannah (Aus) Haro Lee Dungarees
9 Gary Houseman (USA) Its/Santa Cruz
9 Jared Rando (Aus) Giant/Pearl Izumi
9 Nathan Rankin (NZl) Tioga Orange
9 John Kirkcaldie (NZl) Maxxis
9 Ross Milan (USA) Yeti
9 Colin Bailey (USA) Maxxis Tires
17 Chris Del Bosco (USA) Romic Oakley
17 Christopher Odriscoll (USA) Azonic/Oakley
17 Jason Codding (USA) Team Tld/Turner/Honda
17 Tom Oakes (USA) Trailmasters
17 Brian Schmith (USA) Mongoose/Hyundai
17 Henry O'donnell (USA) Its/Santacruz
17 Jeff Evans (USA) Intense/Romic/Bolle
17 Bas De Bever (Ned) B1 Mountainbike
17 Kyle Ebbett (USA) Iron Horse/Madcatz
17 Steve Peat (GBr) Royal Orange
17 Karl Rogne (USA) Wtb/Eam/Karpiel
17 Robin Baloochi (USA) Sobe Cannondale
17 Chris Van Dine (USA) Astrix/Hassle Free
17 David Klaassenvanoorschot (USA) Intense/Spy
17 Todd Bosch (USA) Chumba Wumba/ Bcg
17 Jon Watt (USA) Lenz Sport
 
Standings after 5 rounds
 
Women
 
1 Sabrina Jonnier (Fra) Intense                        755 pts
2 Jill Kintner (USA) Fox Shox                          690
3 Katrina Miller (Aus) Jamis Bicycles                  620
4 Tai-Lee Muxlow (Aus) Tioga Orange                    460
5 Melissa Buhl (USA) Khs                               460
6 Fionn Griffiths (GBr) Foes Azonic                    420
7 Tara Llanes (USA) Giant Pearl Izumi                  380
8 Marla Streb (USA) Luna Women Mtb                     340
9 Tracy Moseley GRB Kona Clarks Fac Team               320
10 Lisa Sher (USA) Chumba Wumba                        300
11 Mio Suemasa (Jpn) Trek-Volkswagen                   280
12 Jamie Lilly (USA) Khs Bicycles                      160
13 Holly Kuhn (USA) Zoo York/Voodoo X/Eclipse          160
14 Jessica Vogt (USA) Team Rpm/Yeti                    120
15 Kathy Pruitt (USA) Luna                             120
16 Hiroko Inomata (Jpn) Foes/Credit                    120
17 April Lawyer (USA) Maxxis Tires                      80
18 Claire Buchar (USA) Balfa Cycles                     80
19 Gale Dahlager (USA) Astrix Poison Spider             40
20 Maxine Irving (USA) Eco Lips                         40
21 Anka Martin (RSA) Turner/Honda                       40
22 Donna Fletcher (USA) Iron Horse                      40
23 Michelle Dumaresq (Can) Santa Cruz                   40
24 Emily Johnston (USA) Velocity Smith Troy Lee Designs 40
 
Men
 
1 Eric Carter (USA) Mongoose/Hyundai                   750
2 Mike King (USA) Team Haro Lee Dungarees              685
3 Chris Kovarik (Aus) Intense/Fox/Spy                  665
4 Gary Houseman (USA) Its/Santa Cruz                   400
5 Cedric Gracia (Fra) Siemens Cannondale               365
6 Chris Powell (USA) Profile Racing/ Specialized       360
7 Greg Minnaar (RSA) Haro Lee Dungaree                 360
8 Brian Schmith (USA) Mongoose/Hyundai                 220
9 Neal Wood UK Tioga Orange                            220
10 Robin Baloochi (USA) Sobe Cannondale                220
11 Nathan Rennie (Aus) Iron Horse/Mad Catz             200
12 David Klaassenvanoorschot (USA) Intense/Spy         200
13 John Kirkcaldie (NZl) Maxxis                        200
14 Wade Bootes (Aus) Trek/Volkswagon                   200
15 Rich Houseman (USA) Its/Santa Cruz                  180
16 Brian Lopes (USA) Hyundai/Gt                        180
17 Ross Milan (USA) Yeti                               180
18 Kirt Voreis (USA) Team Allride                      160
19 Colin Bailey (USA) Maxxis Tires                     160
20 Jared Rando (Aus) Giant/Pearl Izumi                 160
21 Fabien Barel (Fra) Kona Clarks Fac Team             120
22 Chris Van Dine (USA) Astrix/Hassle Free             100
23 Sam Hill (Aus) Madcatz/Ironhorse                    100
24 Dustin Adams (Can) Giant/Pearl Izumi                 80
25 Tom Oakes (USA) Trailmasters                         80
26 Mick Hannah (Aus) Haro Lee Dungarees                 80
27 Aaron Peters (USA) Wtb/Superheros                    60
28 Christopher Herndon (USA) Specialized/Cane Creek     60
29 Bas De Bever NER B1 Mountainbike                     60
30 Steve Peat (GBr) Royal Orange                        60
31 Nathan Rankin (NZl) Tioga Orange                     60
32 Jeff Evans (USA) Intense/Romic/Bolle                 60
33 Bryn Atkinson (Aus) Iron Horse/Mad Catz              60
34 Caile Noble (USA) Staats Bike                        60
35 Joel Panozzo (Aus) Wtb/Santa Cruz                    60
36 Darrell Young (USA) Arrow Racing                     40
37 Curtis Keene (USA) Wtb                               40
38 Christopher Odriscoll (USA) Azonic/Oakley            40
39 Andrew Neethling (RSA) Global Racing                 40
40 Dale Holmes UK Khs                                   40
41 Jared Graves (Aus) Mad Cats Iron Hrse                40
42 Travis Collins (USA) Maxxis                          40
43 John Waddell (Aus) Its/Santa Cruz                    40
44 Jon Watt (USA) Lenz Sport                            40
45 Jason Codding (USA) Team Tld/Turner/Honda            40
46 Chris Del Bosco (USA) Romic Oakley                   40
47 Brian Schroyer (USA) Rotec/Maxxis                    40
48 Todd Lyons (USA) Se Racing                           40
49 Henry O'donnell (USA) Its/Santacruz                  40
50 Ryan Sutton (USA) Astrix                             20
51 Lee Trumpore (USA) Transcend/Orange                  20
52 Mikey Day (USA) Staats Bikes                         20
53 Scott Sharples (Aus) Yeti                            20
54 Karl Rogne (USA) Wtb/Eam/Karpiel                     20
55 Matt Thompson (USA) Big Crank Racing                 20
56 Ben Cory (Aus) Tioga Orange                          20
57 Nate Adams (USA) Big Crank                           20
58 Todd Bosch (USA) Chumba Wumba/ Bcg                   20
59 Kyle Ebbett (USA) Iron Horse/Madcatz                 20
60 Erick Morningstar (USA) Youthcycling.Com             20
61 Shaums March (USA) Red Bull/Chumba Wumba             20
62 Bart Mcdaniel (USA) Dhz/Mrp/Dragon                   20
63 Waylon Smith (GBr)                                   20