MTB index page for all MTB content
NORBA Series #5 - E1
Durango, CO, USA, August 16-17, 2003
Race 1 - August 16: Cross-country
Hesjedal and Vanlandingham win solo
By Kristy Scrymgeour
Jeremiah Bishop (Trek/VW) looks ecstatic at his race, capping off a strong end of season.
Photo ©: Beth Seliga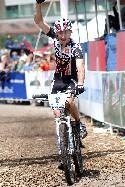 Ryder Hesjedal (Subaru Gary Fisher) and Shonny Vanlandingham (Luna Chix) won today's final round of the NORBA series in Durango Mountain resort, Colorado. Hesjedal's win confirms his win of the overall series with Jimena Florit (RLX Ralph Lauren) holding on to her lead placing 8th in today's race.
The race also determined the US National Champion as the first American man and woman in the series would take the title. Jeremy Horgan Kobelski (RLX Ralph Lauren) kept his second place in the overall series after his third placing today and is now the men's US Cross Country Champion and in the men's event. The women's US Champion is Mary McConneloug (Seven Cycles), who placed 16 in today's race and third in the overall series.
After a rainy night the steep hilly course was wet today but according to riders it was a great course. It consisted of a lot of climbing, lots of broken up areas and some good descents. The crowds were also huge, especially on the main climb.
In the men's race Hesjedal took off on the first main climb very early in the race and forced a very quick gap. By the end of the first lap he was over a minute in front of the chasers, Todd Wells (Mongoose Hyundai) and Hogan Kobelski. By the bottom of the climb on the last lap Ryder was basically unmatchable and the race behind was for second place.
Wells and Horgan Kobelski were caught by four others and it was on the last climb that attacks began to split up the main group. Walker Ferguson attacked and Jeremiah Bishop tried to go with him. "I knew it would be a race to the top of the climb and that if I could get there I would be able to gold them off" said Bishop after the race. Bishop made it to Ferguson and went by him to finish in second place. Horgan Kobelski finished in third place, ten seconds behind.
Cyclingnews spoke with Hesjedal who finished 1'07" in front of second place. "I just took it easy on the starting loop in the first lap and was happy to sit in there. It
Ryder Hesjedal (Subaru/Gary Fisher) pushed himself hard to score a crushing win in the last NORBA series race.
Photo ©: Beth Seliga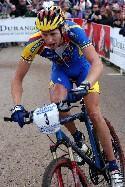 was when we hit the climb and I saw all the people screaming with the bells ringing that I got excited. I put it in the big ring and opened up a gap. I'm not sure what the mentality was behind me; maybe they just thought 'let him go', I'm not sure. It's a tough way to do it, taking off from seven minutes into the race but that's the way I like to race. I was confident and it was a great course with long climbs, lots of broken up areas and some good descents. I got into my rhythm and on the climbs and the descent was great for recovery. I just got a brand new bike which is very light so that really helped."
Ryder and most others now head to Europe for the World Championships which begin in Lugano, Switzerland on August 30. "I'm looking forward to it. It was encouraging to know that I could race this well at altitude. It gives me confidence going into the World Championships. That is the focus now, just to keep improving. It doesn't matter about the results of the race, as long as I know I am improving each time. It's not long now till the Olympics, so improvement is the key."
Fourth place in today's race and third in the overall NORBA series was Seamus McGrath who wasn't entirely happy with his race but looking forward to World Championships. "I wasn't really happy with my ride, but it was ok considering the altitude. Ryder took off right at the beginning and then there was a group of about 6 or 7 at the top of the second climb. I did a few attacks to soften some of the legs but it came down to the last climb and it all separated there. I'm looking forward to going to Europe now. It's really important for us as Canadians to do well there so we can qualify as many spots as possible for the Olympics next year. I'm totally psyched to go there. I always ride well at the end of the season.
One of the big stories of the year is second place getter Bishop. Riding this year for a regional team he has really risen through the ranks. Today he was disappointed at the end because he thought his second place had earned him the National title, not realizing that the title went to the first American in the series, not first American in today's race. His effort did move him from fourth American in the Series to second, however, just one spot from US Champion. He was excited by his race nevertheless when he talked with Cyclingnews after the race. "I was really surprised that there was such a big group of guys there in the last lap because there was really a lot of climbing in the course. On the last climb Walter Ferguson put in a big effort and I tried to go with him. Eventually I knew it would be a race to the top of the climb and that if I could get there I would be able to gold them off. Jeremy was breathing down my neck the whole time and it was like a drag race to the finish."
In the women's race the Luna Chix riders, Vanlandingham and Katerina Hanusova put the pressure on going up the first climb getting a good gap on the others. They worked together for a while before Vanlandingham edged away from her teammate holding a solo lead to the end of the race. Behind the field was spread out in ones and two's and Dara Marks (Sobe Cannondale) was sitting in third place.
It was in the final lap that Alison Sydor (Trek Volkswagen) started to pick up the place, passing both Marks and Hanusova in the last lap to take second place. Hanusova came in third place in front of Marks and Willow Koerber (RLX Ralph Lauren). The series leader Florit spent the day keeping an eye on her closet rival Chrissy Redden (Subaru Gary Fisher) and came in 8th, two places behind Redden but with enough buffer the keep the series lead. Mary McConnoloug who had really made a name for herself this year finished in 16th place and managed to keep her third place in the overall standings taking out the title for US Champion.
Cyclingnews spoke with a very smiley race winner Vanlandingham after the race. "I enjoyed today's course. I like sustained efforts so the long climbs were good for
Jeremy Horgan-Kobelski (RLX-Polo Sport) and Mary McConneloug (Seven Cycles) don their new 2003 National Champion's jerseys.
Photo ©: Beth Seliga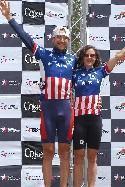 me. Of course I was getting tired by the end but in general I felt good all day. My teammate Katerina was climbing really well today so I just paced from her up the first climb and we got a gap. Later I put a bit of time into her and that was it. I am also from here so I had the advantage of the altitude. I've ridden this course a few times. You can't ride it too much because the climbs are so steep and it saps your legs but it's a great course."
Sydor was happy with her race, but also happy for Vanlandingham. "I am from Sea level, so coming here I didn't really know how I was going to feel. I'm glad the race was a little shorter than they have been this year, it really helped with the altitude.' I knew I couldn't kill myself on the first lap so when Shonny and Katerina went I let them go and went my own pace. I felt comfortable riding with Jimena for a while and then she went by me and then on the last lap I really started to feel good. By the top of the last climb I had caught Jimena and then Katerina and I was able to hold them off to the finish. "Shonny was definitely the favorite coming into this race. She has had great form recently and I think everybody is really happy that she got this big result."
This afternoon will see the battle for the Mountain Cross series and for Mountain Cross National Champion.
Photos
Images by Beth Seliga/www.3catsphoto.com
Results

Women
 
1 Shonny Vanlandingham (USA) Luna Women                1.30.46
2 Alison Sydor (Can) Trek-Volks                           1.27
3 Katerina Hanusova (USA) Luna Women                      1.46
4 Dara Marks (USA) Sobe/Canno                             2.11
5 Willow Koerber (USA) Rlx Ralph                          2.33
6 Chrissy Redden (Can) Subaru-Gar                         2.55
7 Mary Grigson (Aus) Subaru/Gar                           3.02
8 Jimena Florit (Arg) Rlx Ralph                           3.16
9 Kim Anderson (USA) T-Mobile                             3.19
10 Trish Sinclair (Can) Gearsracin                        3.31
11 Kiara Bisaro (Can) Gearsracin                          3.34
12 Kelli Emmett (USA) Hillenbran                          4.58
13 Karen Dewolf (Can) Dried Plum                          5.40
14 Heather Irmiger (USA) Ritchey/K2                       6.20
15 Karen Bockel (USA) Rona-Esker                          6.30
16 Mary Mcconneloug (USA) Seven Cycl                      6.31
17 Dellys Franke (Aus) Rocky Moun                         6.50
18 Jennifer Smith (NZl) Trek/Rocky                        6.56
19 Susan Haywood (USA) Trek-Volks                         7.42
20 Lanie Mason (USA) Cane Creek                           7.44
21 Gretchen Reeves (USA) Rocky Mtn                        8.24
22 Sonya Swartzentruber (USA) Jans/Trek                   8.35
23 Susy Pryde (USA) Specialize                            9.05
24 Julie Emmerman (USA) Ritchey/K2                       10.45
25 Nina Baum (USA) Lenz Sport                            11.01
26 Susan De Mattei (USA)                                 11.30
27 Lisa Matlock (USA) Ford Outfi                         12.46
28 Sara Bresnick (USA) Dried Plum                        12.48
29 Rhonda Quick (USA) Trek/Clif                          12.59
30 Jennifer Wilson (USA)                                 13.45
31 Heather Szabo (USA) Tokyo Joes                        15.08
32 Jennifer Todd (USA) Sobe Canno                        15.15
33 Judy Freeman (USA) Sobe/Canno                         15.19
34 Kathy Sherwin (USA) Sobe Canno                        15.29
35 Annemarie Huisman (USA) Sobe/Canno                    16.20
36 Robin Mcgee (USA) Jackson Ho                          16.37
37 Megan Monroe (USA) Un Madison                         16.40
38 Susie Fiore (USA) Dbc Americ                          16.46
39 Nicole Habay (USA) Speed Bike                         17.23
40 Shannon Gibson (USA) Crazy Cat                        18.30
41 Tonya Laffey (USA) Mtbchick.C                         18.59
42 Joan Orgeldinger (USA) Redhook                        19.11
43 Kristy Mantz (USA) K2                                 19.28
44 Teresa Eggertsen-Cooke (USA) Xmen                     19.46
45 Shari Hausbeck (USA) Trek-Vw/Ro                       20.33
46 Christina Wagner (USA) Team Tan/G                     21.59
47 Niki Gudex UAS Oakley/Syd                             22.22
48 Elena Felin (Fin) Sobe Canno                          23.47
49 Kimberly Flynn (USA) Team Peggy                       24.08
50 Josie Beggs (USA) Bolla Bian                          24.48
51 Sally Warner (USA) Biogen                             25.12
52 Lisa Peck (USA) Biogen                                26.04
53 Mary Rudy (USA) Us Air For                            26.54
54 Alicia Mayer (USA) Orbea/Copp                         30.39
DNF Kerry Barnholt (USA) Sobe Canno
DNF Alice Pennington (USA) Desalvo
DNF Becca Blay (USA) Team Dean
DNF Heidi Faller (USA) Titus
DNF Kasandra Cote (Can) Normandin
DNF Rebecca Cleveland (USA) The Bike H
 
Men
 
1 Ryder Hesjedal (Can) Subaru-Gar                      1.53.11
2 Jeremiah Bishop (USA) Trek/Vw                           1.07
3 Jeremy Horgan-Kobelski (USA) Rlx Ralph                  1.17
4 Seamus Mcgrath (Can) Haro Lee D                         1.45
5 Walker Ferguson (USA) Subaru - G                        1.58
6 Jay Henry (USA) Specialize                              2.19
7 Carl Swenson (USA) Rlx Ralph                            2.42
8 Travis Brown (USA) Trek/Volks                           3.14
9 Geoff Kabush (Can) Kona Clark                           3.30
10 Todd Wells (USA) Mongoose/H                            3.50
11 Adam Craig (USA) Giant/Pear                            5.15
12 Frank Mapel (USA) Specilized                           5.35
13 Carl Decker (USA) Giant/Pear                           6.36
14 Alan Obye (USA) Balance Ba                             7.09
15 Peter Wedge (Can) Kona Clark                           7.30
16 Eric Jones (USA) Team Bioge                            7.45
17 Chris Sheppard (Can) Haro Lee D                        7.58
18 Cody Peterson (USA) 3 D Easton                         8.00
19 Michael Broderick (USA) Seven Cycl                     8.02
20 Brent Miller (Aus) Bianchi/Ke                          8.46
21 Bryson Perry (USA)                                     9.04
22 Nick Waite (USA) West Virgi                            9.40
23 Matt Shriver (USA) 3D Racing/                          9.52
24 Brian Smith (USA) Trek/Rocky                           9.58
25 Neil Shirley (USA) Trek Vw We                         10.09
26 Barry Wicks (USA) Kona-Clark                          10.29
27 Anthony Colby (USA) Trek 505/H                        10.44
28 Doug Swanson (USA) Trek/Vw                            11.18
29 Ross Schnell (USA) Tokyo Joes                         11.29
30 John Osguthorpe (USA) Healthy Ch                      11.35
31 Burke Swindlehurst (USA) Moots/Opty                   11.46
32 Dave Wiens (USA) Rlx Ralph                            12.07
33 Charles Pendry (USA) Krystal/Nc                       12.34
34 Douglas Ryden (USA) Team Blue/                        13.09
35 Mitch Moreman (USA) Dean                              14.10
36 Brian Riepe (USA) Moots/Hone                          14.32
37 Nick Gould (USA) Santa Cruz                           14.50
38 Michael Janelle (USA) Tokyo Joes                      15.11
39 Andrew Lee (USA) Ice Box Mt                           15.21
40 Jason Jablonski (USA) Bolla/Bian                      16.20
41 Charlie Storm (USA) Cycling Sp                        16.38
42 Kevin Day (USA) Stein Erik                            16.41
43 Erik Tonkin (USA) Team S&M/K                          16.53
44 Jesse Swift (USA) Dean Bicyc                          17.25
45 Brent Bookwalter (USA) Slingshot                      17.28
46 Mike West (USA) Full Cycle                            17.34
47 Brian Astell (USA) Independen                         17.37
48 Cale Redpath (USA) Team Dean                          17.51
49 Perren Delacour (Aus) Yeti/ Rpm                       18.10
50 Cameron Brenneman (USA)                               18.39
51 Brad Van Orden (USA) Ritchey/No                       18.44
52 Daniel Doub (USA) Cycling Sp                          18.55
53 Spencer Paxson (USA) Disco Velo                       19.15
54 Micheal Lee (USA) Trek/Vw/Jb                          19.30
55 Amon Pease (USA) Trek/Vw Jbl                          19.36
56 Russ Tiles (USA) Sling Shot                           19.56
57 Nathan Phillips (USA)                                 20.16
58 Colin Rooney (USA) E-Caps/Ham                         20.30
59 Todd Tanner (USA) Sobe Canno                          20.53
60 Matthew Hadley (Can) Powbar Tea                       21.43
61 Matt Pacocha (USA) Ritchey/K2                         22.16
62 Adam Bucklin (USA) Dried Plum                         22.29
63 Clint Muhlfeld (USA) Gary Fishe                       22.34
64 Bart Gillespie (USA) Biogen                           22.58
65 Ben Moody (USA) Dried Plum                            23.20
66 Andy Guptill (USA) Windham Mt                         23.32
67 Grant Berry (USA) 3D Racing                           26.10
68 Jason Moeschler (USA) Giant Bicy                      26.43
69 Rob Scott (USA) Sobe/Canno                            27.02
70 David Timmons (USA) Rpm/Yeti                          27.34
71 Rodney Harding (Aus) Team Scott                       29.24
72 Duncan Meyers (USA) Soulcraft                         31.33
73 Dana Weber (USA) Sobe/Canno                           34.34
74 John Foley (USA) Dried Plum                           36.32
DNF Jimi Mortenson (USA) Specialize
DNF James Van Toever (Can) Morati/Hon
DNF Jeff Hall (USA) Salsa Cycl
DNF Ryan Trebon (USA) Krystal
DNF Paul Rowney (Aus) Sobe Canno
DNF Derek Wilkerson (USA) Hillenbran
DNF Jesse Rients (USA) Penn Cycle
DNF Christian Cuesta Navarrete (Mex) Team Morat
DNF Adam Snyder (USA) Tm Devo/Ba
DNF Josh Bezecny (USA) Sobe Canno
DNF Brian Narum (USA) Trek
DNF Billy Holmes (USA) Colorado V
DNF Damian Calvert (USA)
DNF Nick Hotchin NZ Santa Cruz
DNF Jacob Fetty (USA) Wv-Bonjovi
DNF John Macinnis (USA)
DNF Steve Kinney (USA) Steven K S
DNF Riley Donaldson (Aus) Australia
 
Standings after 5 rounds
 
Women
 
1 Jimena Florit (Arg) Rlx Ralph Lauren                     878 pts
2 Chrissy Redden (Can) Subaru-Gary Fisher                  820
3 Mary Mcconneloug (USA) Seven Cycles                      744
4 Willow Koerber (USA) Rlx Ralph Lauren                    722
5 Dara Marks (USA) Sobe/Cannondale                         710
6 Katerina Hanusova (USA) Luna Women Mtb                   710
7 Trish Sinclair (Can) Gearsracing.Com                     704
8 Susan Haywood (USA) Trek-Volkswagen                      688
9 Alison Sydor (Can) Trek-Volkswagen                       668
10 Karen Dewolf (Can) Dried Plums/Orbitz                   600
11 Dellys Franke (Aus) Rocky Mountain / Crystal Decisi     588
12 Kiara Bisaro (Can) Gearsracing.Com                      584
13 Kelli Emmett (USA) Hillenbrand Racing                   580
14 Susy Pryde (USA) Specialized                            578
15 Jennifer Smith (NZl) Trek/Rocky Mtn Region              548
16 Lanie Mason (USA) Cane Creek                            518
17 Shonny Vanlandingham (USA) Luna Womens Mtb Team         514
18 Gretchen Reeves (USA) Rocky Mtn / Crystal Decisions     488
19 Jennifer Todd (USA) Sobe Cannondale                     482
20 Mary Grigson (Aus) Subaru/Gary Fisher                   464
21 Heather Irmiger (USA) Ritchey/K2                        454
22 Kim Anderson (USA) T-Mobile                             450
23 Sara Bresnick (USA) Dried Plums/Orbitz                  450
24 Nina Baum (USA) Lenz Sport                              432
25 Lisa Matlock (USA) Ford Outfitters                      430
26 Tonya Laffey (USA) Mtbchick.Com/Cannondale              428
27 Elena Felin (Fin) Sobe Cannondale                       400
28 Jamie Whitmore-Cardenas (USA) Felt Racing               368
29 Kathy Sherwin (USA) Sobe Cannondale                     366
30 Robin Mcgee (USA) Jackson Hole/Marmot                   360
31 Melanie Mcquaid (Can) Ford Outfitters                   354
32 Niki Gudex UAS Oakley/Sydney Radiology/Shimano          346
33 Annemarie Huisman (USA) Sobe/Cannondale                 338
34 Josie Beggs (USA) Bolla Bianchi                         334
35 Sonya Swartzentruber (USA) Jans/Trek                    326
36 Shelly Whisenhant (USA) Velo Bella                      324
37 Barbara Howe (USA) G6                                   290
38 Julie Emmerman (USA) Ritchey/K2                         290
39 Kristy Mantz (USA) K2                                   272
40 Shari Hausbeck (USA) Trek-Vw/Rocky Mtn                  272
41 Tiffany Kenny (USA) Ford Outfitters                     258
42 Lesley Tomlinson (Can) Rocky Mt Crystal Decision        254
43 Sally Warner (USA) Biogen                               250
44 Amy Hunter-Dillinger (USA) Sobe Cannondale              246
45 Lea Davison (USA) Team Devo/Balance                     242
46 Heather Szabo (USA) Tokyo Joes                          242
47 Alison Dunlap (USA) Luna Women Mtb                      210
48 Rhonda Quick (USA) Trek/Clif Bar                        206
49 Karen Matamoros Zungiga (CRc) Costa Rica National T     200
50 Dorothy Wong (USA) Kelly Bike Co                        196
51 Sonia Lopez (Mex) Telcel-Speedbikes                     192
52 Erin Winter (USA) Sunshine Bikes                        188
53 Judy Freeman (USA) Sobe/Cannondale                      174
54 Kimberly Flynn (USA) Team Peggy                         168
55 Nicole Habay (USA) Speed Bikes                          160
56 Joan Orgeldinger (USA) Redhook                          146
57 Shannon Gibson (USA) Crazy Cat Cyclery                  132
58 Heidi Faller (USA) Titus                                132
59 Alicia Mayer (USA) Orbea/Copper Canyon Lodges           124
60 Karen Bockel (USA) Rona-Esker                           122
61 Kerry Barnholt (USA) Sobe Cannondale                    120
62 Karen Masson (Aus) Sobe/Cannondale                      120
63 Loreen Lightfield (USA) Goldys                          116
64 Susan De Mattei (USA)                                   100
65 Anne-Marie Jobin (Can)                                   98
66 Melissa Thomas (USA) Ritchey/K2                          96
67 Lorenza Morfin (Mex) Turbo                               94
68 Jennifer Wilson (USA)                                    92
69 Ann Grande (USA) Kona/Kenwood                            90
70 Sara Kylander-Johnson (USA) Ski Hut/Trek                 88
71 Megan Monroe (USA) Un Madison                            78
72 Susie Fiore (USA) Dbc America                            76
73 Alisha Engel (USA) Central Coast Cycling                 76
74 Lisa Ropke (USA) Sobe/Cannondale                         74
75 Nadine Petit (USA)                                       74
76 Linda Gabor (USA) Trek/Vw/Jbl                            74
77 Julie Sanders (Can) Oryx Promcle                         72
78 Rebecca Cleveland (USA) The Bike Hub                     70
79 Sheryl Loan (USA) Rtr                                    70
80 Ellen Carroll (USA) Clif Bar/Orbea                       66
81 Stella Carey (USA) Kelly Bike Company                    66
82 Lacey Gonzalez (USA)                                     64
83 Teresa Eggertsen-Cooke (USA) Xmen                        64
84 Lora Heckman (USA) Optic Nerve                           60
85 Christina Wagner (USA) Team Tan/Gravey Wheels            60
86 Jody Koch (USA) Ford Outfitters                          58
87 Marie-Helene Cote (Can) Record Team                      58
88 Kristi Lewis (USA)                                       56
89 Jessica Runyon (USA) Vellobella                          56
90 Becky Smith (USA) Southpark Cycles/ E Caps               54
91 Mathilde Hupin (Can) Wulf Bikes/Pear Izumi               54
92 Lisa Peck (USA) Biogen                                   52
 
Men
 
1 Ryder Hesjedal (Can) Subaru-Gary Fisher                  958
2 Jeremy Horgan-Kobelski (USA) Rlx Ralph Lauren            854
3 Seamus Mcgrath (Can) Haro Lee Dungarees                  814
4 Jeremiah Bishop (USA) Trek/Vw                            790
5 Carl Swenson (USA) Rlx Ralph Lauren                      644
6 Travis Brown (USA) Trek/Volkswagen                       634
7 Chris Sheppard (Can) Haro Lee Dugarees                   630
8 Geoff Kabush (Can) Kona Clarks                           612
9 Todd Wells (USA) Mongoose/Hyundi                         602
10 Adam Craig (USA) Giant/Pearl Izumi                      568
11 Michael Broderick (USA) Seven Cycles                    534
12 Jay Henry (USA) Specialized Usa                         526
13 Peter Wedge (Can) Kona Clarks Factory Team              510
14 Eric Jones (USA) Team Biogen                            508
15 Nick Waite (USA) Team West Virginia                     506
16 Carl Decker (USA) Giant/Pearl Izumi                     502
17 Jimi Mortenson (USA) Specialized                        490
18 Frank Mapel (USA) Specilized Usa                        480
19 Alan Obye (USA) Balance Bar/Devo                        464
20 Barry Wicks (USA) Kona-Clarks Factory                   460
21 Dave Wiens (USA) Rlx Ralph Lauren                       458
22 Charlie Storm (USA) Cycling Spoken Here                 430
23 Brent Miller (Aus) Bianchi/Kenda                        428
24 Walker Ferguson (USA) Subaru - Gary Fisher              428
25 Matt Shriver (USA) 3D Racing/Easton                     424
26 Mathieu Toulouse (Can) Gearsracing.Com                  424
27 Roland Green (Can) Trek/Volkswagen                      420
28 Andreas Hestler (Can) Rocky Mtn / Crystal Decisions     420
29 Cody Peterson (USA) 3 D Easton                          374
30 James Van Toever (Can) Morati/Honeywell                 374
31 Doug Swanson (USA) Trek/Vw                              360
32 Michael Janelle (USA) Tokyo Joes/Vail                   346
33 Jeff Hall (USA) Salsa Cycles                            346
34 Matt Pacocha (USA) Ritchey/K2                           334
35 Perren Delacour (Aus) Yeti/ Rpm                         332
36 Ryan Trebon (USA) Krystal                               326
37 Filip Meirhaeghe (Bel) Specialized                      310
38 Neil Shirley (USA) Trek Vw West                         304
39 Russ Tiles (USA) Sling Shot Fac Team                    304
40 Kashi Leuchs (NZl) Maxxis/Trek                          298
41 Charles Pendry (USA) Krystal/Nccc                       296
42 Julian Hine (Can) Gearsracing.Com                       292
43 Andrew Lee (USA) Ice Box Mtn Sports                     260
44 Ricky Federau (Can) Gearsracing.Com                     258
45 Paul Rowney (Aus) Sobe Cannondale                       256
46 Brian Astell (USA) Independent Fabrications             252
47 Troy Barry (USA) Jhmr/Marmot                            252
48 Micheal Lee (USA) Trek/Vw/Jbl                           242
49 Cameron Brenneman (USA)                                 236
50 Anthony Colby (USA) Trek 505/Honey Stinger              236
51 Bart Gillespie (USA) Biogen                             234
52 Chris Eatough (GBr) Trek/Vw                             230
53 Brian Smith (USA) Trek/Rocky Mtn Region                 222
54 Brent Bookwalter (USA) Slingshot Factory Race Team      198
55 Ben Moody (USA) Dried Plums/Orbitz                      188
56 Adam Bucklin (USA) Dried Plum/Orbiz                     184
57 Jason Jablonski (USA) Bolla/Bianchi                     182
58 Derek Wilkerson (USA) Hillenbrand Racing                180
59 Erik Tonkin (USA) Team S&M/Kona                         174
60 Kris Sneddon (Can) Kona Clarks Factory Team             166
61 Jesse Swift (USA) Dean Bicycles                         158
62 Clint Muhlfeld (USA) Gary Fisher/ Hammer Gel Nutrit     152
63 Jose Adrian Bonilla (Cos) Costa Rica Olympic Team       150
64 Amon Pease (USA) Trek/Vw Jbl                            150
65 Bryson Perry (USA)                                      146
66 Liam Killeen (GBr) Subaru/Gary Fisher                   144
67 Ziranda Madrigal (Mex) Turbo                            144
68 Jesse Rients (USA) Penn Cycles/Nature Valley            130
69 John Foley (USA) Dried Plums/Orbitz                     124
70 Christian Cuesta Navarrete (Mex) Team Morati/Honeyw     124
71 Matthew Hadley (Can) Powbar Team Elite/Maxxis           118
72 Cale Redpath (USA) Team Dean                            118
73 Rob Scott (USA) Sobe/Cannondale                         118
74 Diego Garavito (Col) Estow-Clif Bar                     116
75 Todd Tanner (USA) Sobe Cannondale                       116
76 Stefano Barberi (USA) Mapei                             108
77 Adam Snyder (USA) Tm Devo/Balance Bar                   104
78 Rodney Harding (Aus) Team Scott Usa/Panthers            102
79 Scott Keller (USA) Telcel/Speedbikes                    100
80 Aiden Lefmann (Aus) Sobe Cannondale                     100
81 Ross Schnell (USA) Tokyo Joes/Mesa Orthopedic            94
82 John Osguthorpe (USA) Healthy Choice/Guru's              92
83 Burke Swindlehurst (USA) Moots/Optygen                   90
84 Brian Matter (USA) Hayes Brakes                          88
85 Douglas Ryden (USA) Team Blue/Michelin                   84
86 Mitch Moreman (USA) Dean                                 82
87 Dan Swanson (USA) Nature Valley                          82
88 Brandon Ott (USA) Tailwind                               80
89 Brian Riepe (USA) Moots/Honey Stinger                    80
90 Nick Gould (USA) Santa Cruz/Honey Stinger                78
91 Thomas Turner (USA) Sobe/Cannondale                      78
92 Deiber Esquivel Benavides (Cos) Costa Rica Olympic       76
93 David (Tinker) Juarez (USA) Volvo Cannondale             72
94 Eric Atwood (USA) Ritchey/K2                             70
95 Shaun Lewis (Aus) Yeti Australia                         70
96 Dana Weber (USA) Sobe/Cannondale                         70
97 Kevin Day (USA) Stein Eriksen Sport                      68
98 Andy Guptill (USA) Windham Mtn Outfitters                66
99 Javier Puschel CHILE Chile                               66
100 Matthew Battin (USA) Bicycle Station                    62
101 Josh Bezecny (USA) Sobe Cannondale                      62
102 Francisco Corvalan (Chi) Cannondale Chile               60
103 Mike West (USA) Full Cyclery                            60
104 Craig Sandstrom (USA) Tomac                             56
105 Jean-Philippe Provost (Can) Oryx                        56
106 Benoit Simard (Can) Cycles Lambert                      54
107 Garnet Vertican (USA) Odi /Southridge                   52
108 Anthony Slowinski (USA) Prospect Farms                  50
109 Brad Van Orden (USA) Ritchey/Nova                       50
110 Daniel Doub (USA) Cycling Spoken Here                   48
111 Spencer Paxson (USA) Disco Velo                         46
112 Martin Lazarski (Can) Gearsracing.Com                   42
113 Jason Tullous (USA) Telcel/Speedbikes                   42
114 David Timmons (USA) Rpm/Yeti                            40
115 Jay Richards (USA) Maplag/Boo Koo                       40
116 Salvador Barriga Vidales (Mex) Turbo                    40
117 Andrew Freye (USA) Giant Bicycles                       38
118 Nathan Phillips (USA)                                   38
119 Colin Rooney (USA) E-Caps/Hammer Gel                    36
120 Edward Ceccolini Iii (USA) Titus/Max                    34
121 Kevin Brennan (USA) Bliss Racing                        32
122 Jeff Burnard (USA) Deschutesbrewer                      32
123 Brian Narum (USA) Trek                                  30
124 Edgar Garcia (Mex) Adventureos Team                     28
125 Edward Ceccolini (USA) Titus/Maxm                       26
126 Billy Holmes (USA) Colorado Velo                        26
127 Duncan Meyers (USA) Soulcraft                           20
128 Jeremy Trudel (Can) Le Yeti                             20
129 Grant Berry (USA) 3D Racing                             18
130 Jason Moeschler (USA) Giant Bicycles/Cytomax            16
131 Jeremy Powers (USA) Ncc/Bikereg.Com                      4
132 Derek Prechtl (USA) Bells Beer                           2