Recently on Cyclingnews.com
Tales from the peloton, 2008
The biggest moments of 2008: Five-to-one
With the podiums stashed away and the riders enjoying their holidays, as the season finally comes to a close, Cyclingnews' Greg Johnson and Les Clarke look back on season 2008 with fond memories and light hearts. Here's their top 10 biggest moments from the year that was 2008.
Rollin', rollin', rollin', CSC keeps on rollin'

It was yellow and white at Le Tour for Team CSC-Saxo Bank
Photo ©: Roberto Bettini

Big Bjarne Riis' boys did the Dane proud at this year's Tour de France - and it was a spectacle for all those who watched (unfortunately everyone in Germany missed it, as they tuned out in doping anger). While Carlos Sastre was the jewel, we're pushing the Spaniard slightly to one side and acknowledging his crown - Kurt-Asle Arvesen, Fabian Cancellara, Volodimir Gustov, Stuart O'Grady, Andy Schleck, Fränk Schleck, Nicki Sørensen and Jens Voigt.

With god only knows how many top 10 Grand Tour finishes to his name, but no victories, it was strategy and a team of solid engines that helped drive Sastre home, making it three Spanish Tour victors on the trot.

CSC-Saxo Bank showed its tactics on Stage 10, with a well-placed Cancellara in the break driving the troops hard towards the final climb up Hautacam after the team's big engines put the pressure on up Tourmalet. The day wound up well for the Danish squad, with Schleck of the Fränk variety landing second on general classification, one measly second behind Cadel Evans. More importantly Damiano Cunego and Alejandro Valverde had unintentionally given up their overall hopes.

That team work was belittled, however, when it came to Stage 17's L'Alpe d'Huez. Of its nine starters, five would work in sync to seal the team Tour victory - co-operation Silence-Lotto couldn't think to dream of. O'Grady, Voight and Cancellara dragged the race over the first two Hors Category climbs before the Schleck brothers covered the moves on the finale, launching Sastre into the final five kilometres and the history books.

Two stages wins, teams classification plus one white and one yellow jersey…we will see you next year folks.

The bigger they are...the harder they fall

Stefan Schumacher rides in yellow
Photo ©: Roberto Bettini

Stefan Schumacher's time trialling ability was a 'revelation' in this year's Tour de France. Victories in the Stage 4 and Stage 20 time trials confirmed his place as one of the stars of the 2008 edition.

Following his win on the penultimate stage, the German explained: "I am happy with myself. I had a good rhythm today and when we saw the circuit I knew it would be perfect for me - it was nearly the same type of circuit as Cholet."

Despite him suiting both time trial courses, Schumacher couldn't resist the temptation to use artificial means of gaining an advantage. It was revealed three months later that the German, who won two stages of the 2006 Giro d'Italia and is no stranger to controversy, used Continuous Erythropoiesis Receptor Activator (CERA) to win in Cholet and Saint Amand Montrond.

After his first Giro d'Italia stage win two years ago, talk in the press conference was of Schumacher's namesake and countryman, Michael. Seems poor Stefan took that a little too far and was chasing the former F1 ace's speed, albeit via the latest doping technology.

With Gerolsteiner now gone, Schumacher suspended and Bernard Kohl in the poo for the same substance, the 2008 Tour de France will most likely be remembered by Gerolsteiner manager Hans-Michael Holczer as the lowlight of his management career.

No French summer for Astana

Astana was left out in the cold by ASO this year
Photo ©: Jon Devich

Astana missed the 2006 Tour de France following revelations about involvement in Operacion Puerto, having been resurrected from the ashes of Manolo Saiz's Liberty Seguros squad. That same 'blue Phoenix' rode the 2007 Tour, and most cycling fans know how that story went. When Tour organiser Amaury Sport Organisation (ASO) decided it was a smart publicity move to exclude the team from this year's edition, there was hardly any need to explain why.

Yet there was uproar from fans and Astana management alike. 'How dare they leave us out of the Tour, we're the new Astana...' came the chorus. Yet Patrice Clerc, Christian Prudhomme and the rest of the Amaury Sport Organisation (ASO) crew made it clear: clean up the act, behave in 2008, and we'll let you back in.

It did little to quell the fire that raged in the man who was supposed to defend his title in this year's Tour - Alberto Contador. Launching a verbal tirade during stage three of the Challenge de Mallorca, Contador wasn't a happy little climber, telling the TV cameras and anyone else who would listen, "Astana... en el Tour!"

Prudhomme and Co. obviously weren't paying attention and despite an overall win in the Giro d'Italia Astana remained on the couch, so to speak, come July.

Never mind, Astana went on to prove a point by taking an overall one-two with Contador and Levi Leipheimer in the Vuelta a España, and it's probable that Johan Bruyneel's team will take its place in Monaco for the start of next year's Tour.

Moral of this story is that French people believe in the old adage of 'once bitten, twice shy'.

Riccò gets an escort…to jail

Riccardo Riccò was taken away from the start of stage 12 in Lavelanet
Photo ©: AFP

Saunier Duval's Ricardo Riccò chased his dream of emulating his idol Marco Pantani in 2008. A strong Giro d'Italia effort was followed by exciting bursts of acceleration during the Tour de France and it was thought a vibrant, if not cocky, new cycling star had been born.

Unfortunately the Italian followed in his compatriot's footsteps a little too closely, and Riccò was dragged from the Tour with smirk on his face and no fewer than three positive tests, as was later revealed. Chasing the mystic of a legend like Il Pirata, who was thrown out of the 1999 Giro for abnormal blood values, wasn't the best approach.

News of Riccò's positive test saw a backlash from his newly-converted fans, who were lured in by his relentless attacking style.

The youngster refuted the doping claims for weeks, displaying an eerie smirk as French police transported him to and from the courtroom. We're not sure he was still smiling when they threw him out at the border.

Riccò finally admitted to using EPO-CERA, then bizarrely said he expected more sympathy from prosecutors who gave him a two year suspension. While 18 months of his suspension was for using doping products, Riccò copped a bonus six month ban. Turns out his choice of doctor, the banished Carlos Santuccione, wasn't the best move either.
Forget Hammertime, it's Lancetime
Lance Armstrong (Mellow Johnny's)
Photo ©: Mike Gladu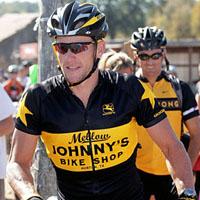 We can hear the groans already, but Lance Armstrong announcing his return to professional cycling comes in at number one. After nearly three years off in the wilderness dating movie- and even tweenie-stars, Armstrong is coming back for the cause - cancer awareness.
Love him or hate him, you can't help but admire a guy who doesn't let retirement get in his way of competing. And compete he did, winning at his first two races - Rocky Hill Roundup and Tour de Gruene.
Okay, okay, so it's no eighth Tour de France win, but even a legend like Armstrong has to start somewhere. Armstrong will make his big-time return in January when he tackles the Tour Down Under in Australia.
The American is showing old age hasn't made him set in his ways too, after he announced he'll make his Giro d'Italia debut at 37 years of age.
It's still unknown if Armstrong will reunite with his beloved Tour. He's worried about what might come should he tempt fate with the French fans and there's also a certain Spanish teammate at Astana who might be out to get him should he do well there.
All this is, of course, dependant on whether Astana gets a Tour start. It's something you'd think would be a certainty, but then again, we've thought that before…
Check out part one