Tales from the Peloton - December 03, 2003
On the road with Brioches La Boulangère and the brothers Beloki
French track star Marion Clignet falls under the spell
Joseba Beloki, three times a finisher on the podium of the Tour de France, continues to draw attention after his surprise move to France to join Brioches La Boulangère in 2004. At their first training camp in western France, French track star and Cyclingnews diarist Marion Clignet decided to join the gang from La Boulangère as she prepares for the 2004 Athens Olympic Games. As well as some good training under her belt, Marion had the chance to converse with the Spanish team leader as he embarks on a new page in his cycling career.
Joseba Beloki meets the gang
Photo ©: Marion Clignet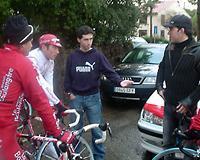 What better way to start your early season training than with a group of 20 or so young, motivated, and talented guys? About ready to begin my last season as a competitive cyclist, I drove myself to the Sables d'Olonne on the northwest coast of France where I was graciously welcomed by the Hotel Mercure of les Sables in order to participate in Brioche La Boulangère's first training camp of the new season. Not only was it their first training camp, but it was also the team's presentation to new recruits Joseba and Gorka Beloki. I showed up Monday afternoon for the first group ride as the Beloki brothers were just arriving by car from Spain and were already being smothered by TV cameras and radios. They would settle in and chat with the press as we rode an 85km circuit.
After the ride, I caught up with Jean René Bernaudeau (a four-time winner of the Midi Libre in the late 70s), fondly known as JR, the directeur sportif and founder of the team. JR's career began as a racer and from there he created a very strong Division 1 team called Vendée U, which now serves as a farm team for his professional cycling team La Boulangère. A friendly man and passionate cycling enthusiast who has had success by basing his work on honesty, JR explained to me that recruiting Beloki actually wasn't his idea.
"It was our sponsor Brioche La Boulangère's idea," JR explained. A passionate cycling fan himself, the owner of La Boulangère was looking for a way to boost the team's chance of spending some time in the yellow jersey. Seeing that Joseba had not yet been signed, he asked Bernaudeau to look into it.
"You know right off the bat whether or not you'll hit it off with someone. With Joseba it was just that."
- Brioche La Boulangère directeur-sportif Jean René Bernaudeau about his initial meeting with Joseba Beloki
"You know right off the bat whether or not you'll hit it off with someone," Bernaudeau added. "With Joseba it was just that. We met several times and each time I felt stronger about him coming on board. He's an honest, straightforward man who inspires loyalty in those around him. Our team structure is now set for the Tour and the Vuelta as well. Nothing else will change."
On Tuesday, we opted to leave in the morning as the team had their presentation and a communication seminar that afternoon and evening. I showed up at 9:30, said hi to all the guys on the team - a long procedure in France, because it is customary here that as a greeting you kiss someone on each side of the cheek. In the Vendée region, the tradition is four kisses, which means after 80 kisses(!), I presented myself to Gorka and Joseba explaining to them half in Italian and half in Spanish that I spoke Italian and English so we could probably try and understand each other. They smiled graciously and said hello and off we went. For most of the day I ended up riding next to Joseba who immediately put me under the spell. I guess I half expected to meet an uppity, pretentious Tour podium contender... not at all. Joseba Beloki is a motivated athlete who knows what he wants and above all is truly a nice person.
Happy to be here
Photo ©: M. Clignet

Joseba explained to me that his family loved cycling and took him to watch races as a child. In the Spanish school system cycling is part of the physical education program, so from nine years-old, he got to ride his bike at school! Joseba is now 30, his brother Gorka 26. He continued on through school and raced as an amateur for several years, doing very well. It was very difficult at the time to turn pro in Spain, so he didn't end up signing his first contract until he was 25.
We rode on at a steady pace covering the mostly flat but some rolling terrain of Vendée. I explained to Joseba that we were lucky because the region was known for rain and heavy winds, neither of which we were experiencing.
I asked Joseba about his accident and he explained to me that every doctor he saw had written him off. 'Your career as a professional athlete is finished,' they would say. 'Forget it, think of another career.'
The best gift Joseba could receive came four days after the accident: the birth of his daughter Azentsa, Gloria in Basque. That was the perfect treatment for his morale: he had to spend quite a few weeks lying down, but noticed he was recovering much faster than doctors had predicted. After several weeks of not moving much at all, he began physical therapy. He spent three weeks in a wheelchair before he could walk and two months before he could consider riding a bike.
He spent long hours working on regaining his flexibility and eventually moved on to aquagym sessions in the pool. Now fitted with a titanium rod in his leg, kept in place by five large screws, Joseba explained that last week as he went through security in the Milan airport all the alarms went off. He was searched again and again while he tried to explain to airport security that it was the titanium in his leg that sent off the alarms. Finally, after not finding anything on him, they seemed to understand (one of the drawbacks from his crash). Another frightening result was his elbow, which as I understood was broken, or shattered to be precise... but as we pedaled along he was at ease and really happy to be with his new teammates and back on his bike. I also sense a newfound motivation as do many athletes on their way back up the ladder from a crash or prolonged illness. He has wings.
I asked Joseba if it was difficult to leave Spain and why he opted for La Boulangère. "Spanish cycling is in trouble at the moment," he explained.
"With two teams managing to stay afloat thanks to last minute sponsors and one other in difficulty when JR called me, I was curious," he continued. "JR is honest and I really appreciate his philosophy on running a team. He has good strong values as a person and his team reflects that."
You guys go ahead...
Photo ©: M. Clignet
The team in any case accepted Joseba and Gorka immediately. No worries that the Belokis haven't started French lessons yet and the guys on the team don't speak Spanish... When there's a will there's a way, and everyone was able to communicate fine.
Young rider Sylvain Chavanel expressed his excitement with Beloki's arrival: "This can only help us all in our quest to improve as a team," Chavanel said. "I think his arrival will bring us all up a notch or two."
Didier Rous also said he was happy to have the Basque duo on board, as "they can only bring up the intensity of our work as a team. I also appreciate Joseba's willingness to teach the younger riders, they'll all improve tremendously being his team-mate."
Just to finish off the week for you. On Wednesday, the Beloki brothers were able to get a taste of the typical autumn weather in Vendée: rain so thick that wearing tights was almost useless and a nice wind coming from the coast meaning either way we had a tailwind going out. I looked at Joseba and his brother and said this is what the region is notorious for. We managed a pretty full on pace for 55 minutes thinking that if we rode faster, we'd get back faster, but when the directeur sportif says two hours, two hours it is. When we finally figured it out, we slowed down.
Now, I'm on my way back to Toulouse and Joseba is back off to his home in Vitoria to have a few standard X-rays on his elbow. The La Boulangère guys have all gone back to their home regions to get ready for the next camp. My season couldn't have started off in a better way!
Photography
Images by Marion Clignet
See also: 2003 Tour de France interview with Joseba Beloki; 2003 interview with Marion Clignet
More Cyclingnews features