An interview with Marion Clignet
Back on track: making a comeback after a two-year break
By Jeff Jones
French track legend Marion Clignet retired from racing in 2000, intending to become active as an advocate for women's sport. But after two years off the bike, and perhaps inspired by the other female champions she's encountered while working as a presenter for French TV, Clignet is returning to the velodrome at the Mexico World Cup.
Leaning towards a return to racing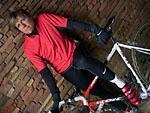 French multiple world track cycling champion Marion Clignet is to make a comeback to elite cycling this year. The talented Toulouse cyclist hung up her wheels in 2000, but told Cyclingnews that in her mind, she "never actually retired."
At a press conference held on March 11, 2003, at the health spa facility of Caleceo in her home town of Toulouse, France, Clignet announced that the Mexico round of the UCI Track World Cup will see her back on the boards, competing in the individual pursuit, points and scratch races.
Clignet held the world record in the pursuit for four years - from 1996 until the Sydney Olympics in 2000 - and has the Athens Olympics next year as her primary target to capture that elusive Olympic gold medal.
Clignet cited her desire to lift the profile of women's sport as one of her motivations to stop competing. "After Sydney and especially Manchester, I was hammered and disappointed that there weren't the structures necessary for women in cycling," she explained. "No recruitment of any sort, detection, et cetera. I consulted with a lot of other sportswomen while at the (Sydney Olympic) Games to see how they were progressing, whether they lived from their sports and so on. That's when I decided to create Womensport - an association that tries to improve the working conditions of female athletes in the region."
Announcing her decision at a press conference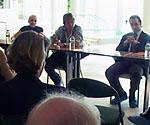 "My idea in the beginning was to try and get something going like the women's sports foundation (started by Billie-Jean King in the US), because they gave me my first real hand in cycling. I was given a travel and training fund grant that permitted me to race all across the US that year. A lot of women over here say their real problem is that because their sports aren't professional, they need to find jobs in their area that will also permit them to train and compete. We try to provide the contacts, or find them, between the two and put the word out that we're here."
Clignet has remained active during the last three years, although the bike was no longer the main focus of her training. "I still thought about competing, but first off I thought about taking a step back," she said. "I did other stuff, cross country skiing, adventure racing, mountain running, trained a bunch in the Pyrenees with a guy named Jaques Mir, whose sister was 1968 silver Olympic medalist in downhill skiing. He's an absolute nut, but a great physical trainer."
Marion and her new bike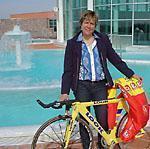 The cyclist has also been working as the presenter of a television program on Toulouse television called "Champion", which looks at the lives of female athletes. "That's going pretty well and is giving me good experience for something I could possibly do more of after cycling. We basically follow them around for the day, show them in training, at work and juggling everything they need to do to keep their heads above water and remain competitive in their chosen sports." Featured athletes have included cyclist Cathy Moncassin and swimmer Solenne Figues, as well as football players and kayakers.
Clignet has now secured sponsorship from Nike Europe, Look and Caleceo (a French health spa visited by many athletes for recovery). In the immediate future, her primary goal now is to have another shot at the Olympic Games in Athens in 2004. In 2000 she "only" won the silver medal in the individual pursuit, beaten by a flying Leontien Van Moorsel in Sydney. Now the recently turned 39 year old will make her return to the French track team in round 2 of the Track World Cup in Aguascalientes (Mexico) between March 21-23.
Olympic pursuit
Photo: © AFP
"My first race will be Mexico with France and from there we'll see...I am preparing a little bit differently - I've surrounded myself with a small group of very competent people who are helping me. The focus is on quality as opposed to quantity, due to my young age," she says wryly.
Off the bike, she says that "I'm working with the physical preparation coach of the Stade Toulousain Rugby Team, and it's an amazing plus - we've completely changed my lifting and added plyometrics and some other track and field techniques."
Interestingly, the club she has signed for (Club-Castelsarrasin) has Didier Rous' name on its jerseys. "Didier wants to create a 'farm team' for the future and this club is really into developing young riders, so it's a great match. Hopefully we can recruit young girls as well and give back what we've gotten out of cycling."
It wouldn't be the first time that Mario Clignet has come back: In 1998 she suffered from crippling arthritis, but just over a year later managed to win two world titles in Berlin. She also suffers from epilepsy, which was responsible for her taking up cycling in the beginning when she wasn't allowed to drive a car.
Clignet was born in Chicago to French parents (her father is an academic at an American university) and was prevented from driving a car by state authorities due to her condition - so she had to cycle to work and the cycling bug bit, particularly after she entered her first races in her early 20s
French coach Jacky Mourioux was quoted by AFP as saying, "I can only rejoice in this comeback. If she rediscovers the level she was at before her retirement, she is right in line for a medal in Athens."
Further reading