Marion Clignet's Olympic Diary
Entry Listings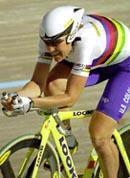 The World's best
Photo: © AFP
This is my typical week leading up to the Games...Wednesday morning, a 50km spin with two elite riders who live nearby. At the moment, I've opted to train and race with the men in Brittany because there are a lot of races and racers in the region...so I started last Saturday with regional level men after having spent 4 weeks on the track. The first races with them went well so I rode the next races with the national level men.
Wednsday evening we raced up and down the same avenue on a 1.6 km stretch with a 180 at each end. Great training for my pursuit starts. There were over 100 at the start and it went off fast. Hung in the front for the first 10 laps and then slid toward the back. Awesome workout! Thursday was more of the same - finished in the bunch and Friday we showed up as they were saying "on your marks..."
I was so stressed that I took off with two guys - we were joined by three others and put almost a minute on the field. with 31 laps to go I flatted and couldn't get a wheel change since I have 10 speed. Oh well it was a good ride.
My latest effort was Tuesday - 60km spin in the morning and in the late afternoon 100 km on a tough 4km circuit. A lot of wind - a hairpin turn into a climb 300m to the finish, false flat and descent. Redefined pushing myself above and beyond the call of duty and had a great time as well. I suffered miserably but was quite happy to finish. This weekend, two more national races and a crit on Wednesday.
Entry 2 - August 20: Suffering with the men
My program building up to the Games consists of racing hard with the men. As I was fresh off the track after French Nationals-Olympic Trials at the end of July, I opted to set up my camp in Brittany. That's where there are the most men's races are and the level of racing is excellent. To start off I raced at the regional level and all went well so to press a little harder on the accelerator I opted to try with the national men last Tuesday.
The course was a 3km circuit with a hairpin turn and climb to the finish followed by false flats, flats, a nice descent etc. To make a long story short I do believe I redefined my pain threshold and I certainly hope no one filmed the last 10 laps or took any pictures of me cause I was hurtin' for certain and it was visible on my face.
The last 3 laps were pure pain but I finished in the group logging in an excellent training day! The rest of the week I did most of my rides with some local pro's and Friday morning I took off for Plouay to see the World's time trial and road courses, since I was racing close by the following day. The time trial course is awesome and well, the road course is too but I'll see how I feel after Sydney!
This morning's menu consisted of a 5km hill climb time trial - a quite wicked affair first thing in the morning and the coffee beforehand was awful! I managed to ride an ok time considering...which put me in the middle of the pack. The guy I'm staying with took 3rd so the afternoon race was going to be tough! The first 20km were unbelievably painful - hill upon hill with false flats in between - the last 90km were on a 4km circuit with a long climb to the finish and a few rollers on the back side of the course.
I got dropped at km 11 but fought like hell, made some amazing faces and managed to get my arse back in the field on lap 2 of the circuit. I went to the front immediately since my buddy was off the front. Worked like hell for 13 laps and succumbed the last 7 and I'd say really hurt the last 3! I think if anyone asked me name, birthdate, etc at the finish I'd have been incapable of answering...toast is the word. Well, drove home happy and hope to make it through tomorrow's painful adventure - another national men's race!
Entry 3 - August 27: Under the weather
All in all had a pretty good week though am feeling a bit under the weather as they say. Started to feel a bit bronchial on Thursday after catching a bit of a chill on a morning ride. Wednesday night raced an evening crit with he national men - 43 km/h up one side and down the other: a great speed work-power session. I raced however on a borrowed bike because I discovered that my steering tube which I thought was pitted for the last month was fine - I've been racing on a broken fork! You can imagine how I thanked my stars when I saw the mechanic pull out the fork and show me the fracture - especially after the men's races I've been doing clocking descents up to 85kph!
Anyway borrowed his bike and it was great for the affair: yesterday, Sunday was the final of the Fonde Finisterienne - a challenge on the national men's circuit in Brittany. The final was 110 km over a 5km hilly circuit with a climb into a heavy cross-wind that did hurt thank you! The race took off from the gun with attacks left, right and center, so I stayed at the front all day and finished really well! a great day with amazingly no rain. So, all's well here - looking forward to getting to Sydney!
Entry 4 - September 6: Welcome to the Village
Got in fine Monday evening and am really happy to stay in the village. I feel much more at home in Australia than I did in Atlanta - perhaps because Atlanta is not the place I'd like my French team mates to remember the U.S. from....there are much nicer cities and chunks of land over there.
Anyway - got in around 8pm on Monday after the usual 22 hour flight and was relieved by how fast and organized the check in procedure was. Everyone was really happy to help and we made through baggage check, accreditations, etc. and got to the village at around 9:30 - record time. By the time I figured out how to log on etc. it was about 11 pm.
Tuesday morning went to the cafeteria for the first time - a huge dining hall with everything an athlete needs plus a McDonalds [Editor's note...nah]. It's huge so there's hardly any waiting time and once again a lot of smiling faces. This village experience is new for me because in the past it was never convenient for us to stay in the village so we rented a hotel close to the track and formed our own French village. The Olympic village does seem a bit more magic - you see everyone from everywhere and the stadiums are all next door.
Today we made it to the velodrome which reminds me quite a bit of Manchester. The wood is nice and seemed happy to see us as well so...all for now out to hit the road for a bit!
Cheers, Marion
p.s. I'll be on the tube tomorrow evening live
Entry 5 - September 10: Frozen
Howdy from the village where at last the sun is/was shining. Tuesday and Wednesday were sunny with gale force winds and Thursday was cold with wind rain etc.
In the velodrome itself, oddly enough the heat doesn't rise. Apparently they've opened the roof for the time being to ventilate motor fumes from the dernys...which causes the track itself to be about 2 degrees colder than in the changing areas and thus making it pretty cold. A good source told me today though that there would be heat soon so...
As for our road rides, we've had to be creative cause theres not much in terms of country roads. We've done a little cyclocross but finally managed to find a nice park or two to ride around in. And as for jet lag I'd say this is day one of feeling almost normal or as close to it as I'll ever come anyway.
Cheers, Clingon
Entry 6 - September 14: Wonderland
Finally a well deserved rest day. I kinda feel like a kid in wonderland here in the village. Last night at the table next to me was Sergei Bubka and one table over was Gustavo Kuerten...the people who work the village are awesome and believe it or not I have no complaints,about the village.
As for the track its still cold but the times are getting faster and faster so now .......SHOWTIME!
See y'all soon, Clingon
Entry 7 - October 5: Silver reflections
After our 24 hour flight to Paris only 24 minutes remained for me to switch airports and catch a plane to Toulouse. I had no clue where my passport was and the first thing that came to mind was to show the frontier control my medal - he was so enthralled he let me through with a hand shake and smile!
Once in Toulouse I had no house because I've rented mine for the year to help pay my Olympic preparation expenses, so I went to stay with some friends in Albi, where I re-attacked an intensive training program with Manchester in full view!
Everyday I run into friends who ask me if I'm disappointed in my silver medal, etc etc etc.....and yes, at first I was, in lieu of my time and that just two days before I was breaking all of my previous training times, which would have put me on a 3.29 pace.
Race day I found myself without the zap and punch one needs for a pursuit. Why? Got to Sydney early but not early enough, which didn't permit me to adapt to the time change the way I should have in order to recuperate. But then, in retrospect...
Now, when people ask I tell them - I won a gold medal because some awesome friends of mine from Sydney showed up at the velodrome to cheer me on and they were there - win or lose before and after... they even told me they were thrilled to watch my race which almost upset me at first because I wanted them to see me race on fire...but hey they're great buds and worth more to me than a gold medal. Besides, I've been told the silver goes better with my eyes...
Cheers,
Clingon