Karen Kurreck reports
Entry Listings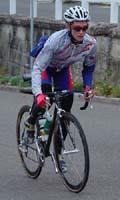 Photo: © cyclingnews
Entry 1 - September 23 - Life in the Olympic Village
Entry 2 - September 26: First Olympic experience
Entry 3 - October 3: End of the Olympics
September 23 - Life in the Olympic Village
This isn't a race report since I haven't raced yet but people have been asking how I am doing. I am at the Olympics - I can hardly believe it!! So far it has been quite busy and this is my first time writing emails. Just about anything you would ever need is here in the Olympic Village. There is a travel agency, a movie theatre, a library, a souvenier shop, an Internet shop, a hair salon and more I haven't even seen yet. The whole village was just built and I heard they are going to sell all the apts. and make it a regular subdivision when the Olympics are over.
Countries are grouped together. The US women's cycling team (road, track, mountain bike) which is a total of 9 riders has 1 apt. along with 2 coaches and a mechanic. Each room has 2 beds and there are 3 bathrooms. There is a kitchen/living room area with white plastic lawn chairs for furniture. This is more than made up for by the TV with live feeds all day long from all the different events. Different sports are on different channels and they show every competition in full. No ads, no "Up Close and Personals". It is really awesome. It is almost better than going to see the events which usually requires complicated bus rides.
The cafeteria is amazing. I have never seen anything so big in my life. It is open 24 hrs a day and has a seating capacity of 3500! There are all different kinds of foods to suit any diet or culture. There are tons of stations and servers so you almost never have to stand in line. There are recycle bins for everything - plastic, paper, trays and silverware and there is always someone watching to make sure you put the right stuff in the right bin. People watching is a favorite pastime there. They could snap a photo and use it as is for an Addidas ad poster! It is fun to try to guess what sport people are in from looking at them. The biggest thing that strikes me is how many really big people there are here! There are also some really small people but they are a minority. Some sports are obvious but others I never realized how big the athletes were. I walked into the village behind the men's water polo team the other day and I think my eye level was about half way up their backs - they were huge!
There is even a laundry service here - you get 2 mesh bags - one for lights, one for darks. Put dirty clothes in and take it to a center and pick it up about half a day later. Speaking of laundry, this morning I went to pick mine up and Lenny Kreizelberg (sp?) was right in front of me in line. The whole US team has these warmup suits to wear n the podium and the jackets are white. Lenny's had some stains on the sleeve and collar that looked a lot like makeup. My guess is a tearful mom was the cause! He was very apologetic and wanted to know if the laundry staff could possibly help him out. They were thrilled to!
Being a former gymnast, I really wanted to see some of the gymnastics. I was lucky enough to get tickets to both the men's and women's all around finals. Athletes can get free tickets to any other event, but it is on a sign up basis and there is a limited supply. For the men's event, I happened to sit next to a group of Italians. Their cell phones were ringing all the time despite the sign outside that you were supposed to turn your mobile phones off before entering. I guess they couldn't read English!
For the women's event, Romania made a sweep and took all the medals. The other half of their team was in the stands right behind me. They would scream at the top of their lungs every time one of their teammates was up. They all have kind of high pitched voices to begin with so my ears were a bit sore by the end of the night!! Watching was like watching a 3 ring circus - it was hard to follow who was winning or when the top gymnasts were up.
Security is pretty tight here. It started when I was met going into customs at the airport by a female police officer. She guided me all the way through customs and baggage check where we were picked up by Olympic staff. The US and Israel are the only countries to have police security at the airport. Every time we enter the Olympic village we have to go through metal detectors and put our bags through X-Ray machines. I had to do the same when entering the gymnastics venue.
Every athlete and staff member gets a credential that you have to show everywhere you go. It hangs around your neck and we wear them all the time. Some people collect pins and pin them all along the credential strap. The number of Olympic staff personnel is amazing. There are 3 or 4 in every entrance way and bus stop in the village. They are always friendly and upbeat and even if they have probably answered your question 1000 times already, they answer it again for you with a smile. In general, the atmosphere around the village is suprisingly relaxed and I think a lot of it has to do with the basic easy going attitude that most Australians seem to have. Even the security people are friendly and polite.
Training on a bike in Sydney is pretty near impossible. There is so much traffic and none of the streets have shoulders. Drivers are pretty crazy - they don't even seem to think about stopping until after the light has turned red...They drive on the left side of the road here and it is hard to remember which way to look when crossing streets! The official training venue for road cycling is a National Park outside of town. There is a 40km hilly loop there that we ride on. It is really nice but the only problem is that it is a 1+ hour bus ride to get there.
I went to see the road and TT courses yesterday. The TT is very technical: 60 turns in 30km! The road course is similar but with an extra leg down to the coast and back up the main climb. The course isn't marked and is not that easy to find but when we got near the start finish area, there were a couple of local cyclists that offered to show us the course. I got the feeling that they have spent a lot of time the past week just hanging out around the course and taking whatever teams show up around it. I couldn't really do anything at speed because of all the traffic and part of the TT course is on 1-way streets going the wrong way. I was able to get a good feel for it though. The RR will not be a field sprint, I can almost guarantee, but it is not a pure climbers course either. It could be good for our team. The climb is steep but only about 1 km long.
This afternoon, I had to go for a drug test: both blood and urine. They have short notice drug testing here where they tell you you are selected and then you have 24 hours to go to the test center. They are testing 30-40 athletes per day. The blood test is the one which is suppposed to detect EPO use.
September 26 - First Olympic experience
My first Olympic experience was rather short. My race was over at 12km! I crashed with 2-3 other girls on the first lap. It was just a stupid nervous pack crash where someone swerved, someone hit their brakes and I had nowhere to go. I was in the front half to front third of the pack at the time. I was OK and went back to get my bike and I saw both my bottles were gone. I spent a few sec. looking for them since I knew there was no feeding allowed for the first 50km. They were nowhere to be seen. I got on my bike and tried to get going again but my brake was rubbing because my front wheel was out of true. I stopped again and tried to loosen the brake but it didn't help. I asked for a new wheel from neutral support but they were slow in getting to me and then they couldn't get the new wheel to work with my brakes for awhile either. I am sure I was stopped for at least 1 1/2 min.
The pack was nowhere in sight when I got going again and there is no team caravan to help here either. I was chasing by myself and the pack was going fast right from the start as is normal for really big one day races. I think I got as close as 30-40 sec. to the pack but that was it. After a lap, I knew it was no use. I did one more lap just for training and to practice the turns for the TT and see what gears I would want for the TT at speed when I was tired.
My legs felt fine the first time up the climb in the race, but it is hard to say after only 1 lap. At least I get another chance on with the TT on Sat. The race got pretty miserable after I pulled out. I watched the rest on TV. It started to rain and there were lots more crashes. 2 Italians, Alessandra Cappellotto and Roberta Bonanomi went each went down hard.
I think the rain might have helped to hold the field together a bit. The race actually ended in a field sprint of 25-30 riders! Typically the strongest climbers who would normally try to get away are not so good at cornering or descending, especially in the rain. The course was quite technical and the hill was tough but not that tough. It was a little over 1km long in total, broken up into 2 steeper sections of about 500m each with a short gradual part in the middle. Going fairly hard out of the saddle, I was easily able to do it in a 39x21 when I was fresh. I would say it was very similar to the Manayunk Wall in Philly only about 1.5 times as long.
Pia Sundstedt (Finland) seemed to be the most aggressive rider in the race. She tried repeatedly to get away in the last couple of laps. She was away with Joanne Sommarriba for a bit early on in the last lap and took another strong flyer with about 2km to go but was reeled in by the Lithuanians. Leontien Van Moorsal took her 3rd medal and 2nd gold one of these games by winning the sprint with a perfect leadout from her teammate Mirjam Melchers. German Hanka Kupfernagel was 2nd and Lithuanian Diana Ziliute took Bronze. Anna Wilson was 4th. Petra Rossner hung on until the last lap when Sommarriba put in a final all out attack on the climb.
Mari's luck was no better than mine - she got a flat fairly early on and crashed herself while chasing back. Then when she got back to the pack, her shifting was messed up so she did a bike change in the S/F pit and then flatted the spare bike 1/2 a lap later. The only US finisher was Nicole, but I think she was about 22 min. behind the main pack.
Life goes on and now I am preparing for Saturday's TT. The weather is supposed to clear up by then. I was able to finally meet up with my family and friends who are here last night at the AT&T hospitality center which is located on "The Rocks" right by the Sydney Opera house. There is a center set up for the friends and family members of US athletes. It is really awesome - there is free lunch and dinner and the food is great. Since only credentialled athletes and staff can come into the Olympic Village or the cometition areas of the various venues it is difficult to get together with the people who came here to see me. At least they are having a good time sightseeing without me!
The Village seems to be clearing out slightly as athletes are going home. Today in the cafeteria I saw a man who was so tall he had to bend his head down to go through the doorway!!! The skinniest athletes I have decided are the Rhythmic gymnasts, especially the Bulgarians.
October 3 - End of the Olympics
I am writing this in the airport and my Olypmic experience is now over. I have mixed feelings about it. On the one hand, it has been a life long goal for me to be here and just to make the team was a personal accomplishment and took a tremendous amount of physical and emotional energy. There have been obstacles of various degrees to face almost daily for the last 8 years. On the other hand, the Olympics is really just a series of bike races (with a lot of media hype) and I come to bike races to win or at least to feel that I rode to the best of my ability. In that sense, the Games were a disappointment.
The TT course was mostly the same as the road course expect we skipped the main climb and there were some extra turns added in the middle section in Centennial Park. We did 2 laps of 15km each. All TTs are hard, because you are going flat out on whatever the course deals you, but this one was much more technical that any World's TT I have ever seen or done. There were a total of 60 turns! It was definitely a power course, not a "rhythm" course. You were constantly either turning and acccelerating or climbing or descending.
It was not really a hilly course, but there were only a couple of km that were actually flat. There was a long (2km or so) false flat/uphill section each lap that really sapped your energy. I tend to be more of a rhythm TT rider and prefer flatter courses so it was not particularly suited to me, but it was still most definitely a time trial and the strongest riders on the day took home the medals.
Each country had to qualify 1 or 2 spots to enter a rider and every rider was one of the top 2 time trialists of her country so in short, everyone here is good!! To achieve a result at the Olympic Games, everything, both physical and mental has to be right and that just wasn't the case for me on Saturday. I knew going in that I would need an awesome ride just to crack the top 10 and the ride of my life (the 2nd one!) to medal. I ended up finishing 16th place.
Times were very closely grouped from about 10th to 20th and I was sort of in the middle of that group, but I was a long way from the medals - I was about 2 1/2 min behind Leontien Van Moorsal who took her 3rd Gold and 4th medal of the Games and about 1:40 behind Bronze medalist Jeannie Longo who, at age 42, collected yet another Olympic medal. Mari Holden did the USA proud with the ride of her life and a Silver medal. Defending Olympic champ, Zulfia Zabirova finished 12th. Australia's Anna Wilson finished 4th for the 2nd time this week.
Our race was over in the morning, so Sat. afternoon and Sunday were really the first time I could get out and see the sights of Sydney and watch some other events without worrying about tiring out my legs. People who competed earlier on had a lot more time for this! I heard the bars and night clubs of Sydney have been rather full with Olympic athletes no longer in training! When Mari and I went to the cafeteria for breakfast at 5:45AM before the race, there were a few other women time trialists there and the rest were mostly people all decked out from a night on the town who were just coming home. We rode the bus with a Romanian coach who reeked of alcohol from 3 rows away!
I watched the men's TT for awhile and cheered for Lance and Tyler on their first lap. In the evening, I got a ticket to the track and field events. I got to see the Olympic Stadium for the first time and watched the finals in the men's 4x100 relay, women's 1500m, men's 5k, women's high jump and javelin throw. It was fun to be able to be part of the excitlement but as a relaxed spectator!
Yesterday I went with my family and friends to the Aquarium in Sydney which was really neat. In the evening was the closing ceremonies. 110,000 spectators filled the stands and tickets ranged from about $150 to close to $1000. I've never been to a Superbowl, but from what I hear, the Closing ceremonies of the Olympics are like a Superbowl halftime show times about 10. Most of you probably watched it on TV so I won't go into all the details. The athletes all marched in together with all the countries mixed together. Most teams wore casual attire (sweatsuits etc) instead of the official marching uniforms of the opening ceremonies. It was pretty cool to walk in and hear the tremendous roar of the crowd. The Americans seemed to be spread out all over the field in small groups of athletes from the same sport. Many of the other countries, especially the smaller ones tended to stay together. In fact, judging from this and also life in the Village, it seemed to me that in general, the US team had less interaction with each other across different sports than other countries.
We were all given a disposable flash camera as we walked in and the whole ceremony was a big photo opportunity. I felt kind of bad for this Chinese basketball player who must have been over 7 feet tall. Everyone wanted to take their picture with him. He put up with it, but he must have felt a little bit like a freak. Some of the gymnasts barely came up to his waist! It was also the beginning (or middle) of a big party for many athletes. I walked in next to a Danish handball player who had a gold medal around her neck (all the medalists wore their medals), a bottle of champagne in one hand and a cigarette in the other!!
This was my first (and last!) Olympics so I have nothing to compare it to, but Samarach, IOC president, declared it the best Olympics ever to a huge cheer from the Aussies. It seemed to me that others who have been to multiple Olympics agreed. The Aussies really know how to have a good time and make people feel welcome in their country and it really came through the last 2 weeks. I think a huge part of the success was due to the 50,000 volunteers that kept everything going. They all seemed happy and honored to be doing what they were doing even if some of the jobs couldn't have been much fun. They were cheerful even at the end.