2006 Cyclocross World Championships - CM
Zeddam, Netherlands, January 28-29, 2006
Race 1 - January 28: Juniors
The stairway to heaven
By Steve Medcroft
Boy Van Poppel (Ned) wins
Photo ©: Luc Claessen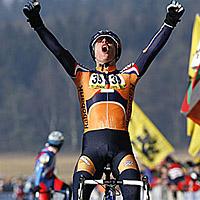 A new Elite Junior World Cyclo-cross champion was crowned Saturday afternoon in Zeddam, the Netherlands. 18 year-old Dutch National Champion Boy Van Poppel held off 18 year-old Slovakian National and European Champion Robert Gavenda and 17 year-old Belgian Tom Meeusen on a fast but challenging course.
The five-lap race started at 11:30am. Although recent temperatures had hovered above freezing, Mother Nature decided that the ground for cyclo-cross would be better off frozen solid for Saturday's race. Even the sandy section was more like a cement sculpture of sand than anything pliable and giving.
Weaving and twisting through the hilly forest above quiet Zeddam, course designers took racers up and over two man-made bridges, on an off-camber romp around a running Dutch windmill, and over two staircases. It was the tallest of the staircases that proved to be the decision maker in the race.
The junior men's podium
Photo ©: Luc Claessen

In early going, the pace was high but manageable; a lead group of nine riders stuck together through the first two laps. On the third lap, the three riders who would end up on the podium (and who had been the usual suspects on World Cup podiums all season), Van Poppel, Gavenda and Meeusen, found themselves with a twenty-meter gap at the top of the taller of two staircases.
"I didn't have any strategy in mind before the race started," Van Poppel, the son of sprinter Jean-Paul Van Poppel, said the post-race press conference. "But in other races, I have been faster than other riders up stairs. Because these were so long, I felt like I would have an advantage there."
An advantage he did; although the complete nine-man lead group recovered and stayed together through the middle of the race, Van Poppel launched his podium-mates clear once again over the stairs on lap four. This time, only American Bjorn Selander could stay close enough to get back on the lead group.
Bjorn Selander (USA) works hard
Photo ©: Luc Claessen
The four riders stayed together into the fifth and final lap but Van Poppel carried an almost flatland momentum up the forty-step incline the last time over it and gave himself twenty meters over Gavenda, fifty over Meeusen and popped Selander completely.
Meeusen, who had been touted as a favourite in both the Belgian National and European Championships but performed poorly, said that the fact that he was sitting on third at this point was satisfying to him. "I'm still learning how to deal with pressure," he said after the race. "When there are so many expectations on me, I haven't done so well but today (with everyone looking to other riders for their favourite) I felt like an outsider." A satisfactory position earned, Meeusen said he switched his attention from chasing Gavenda for second, and risking a loss of control, to holding on to what he had.
Slovakian Robert Gavenda
Photo ©: Luc Claessen

Managing the course carefully from there, race leader Van Poppel only needed to keep a safe amount of ground between himself and Gavenda to win. "I still didn't know for sure I had it though," he said. "It's a lottery; anything can happen and you can never be sure." Van Poppel drew the right numbers in this lottery though and as the pair rolled onto the finish straightaway, the young Dutch road and Cyclo-cross racer had enough time to raise both hands in celebration.
Gavenda and Meeusen maintained second and third respectively. 17 year-old Yannick Martinez (Fra) finished fourth. Selander, who came fifty-seventh in last year's race, finished 20 seconds behind for seventh place, just behind Sascha Weber (Germany) and David Menger (Czech Republic).
Photography
For a thumbnail gallery of these images, click here
Images by Luc Claessen/www.actiefotos.be
Results
1 Boy Van Poppel (Netherlands)                  38.03
2 Robert Gavenda (Slovakia)                      0.03
3 Tom Meeusen (Belgium)                          0.09
4 Yannick Martinez (France)                      0.14
5 Sascha Weber (Germany)                         0.20
6 David Menger (Czech Republic)
7 Bjorn Selander (United States Of America)
8 Mathias Flückiger (Switzerland)                0.37
9 Johim Ariesen (Netherlands)                    0.38
10 Sylwester Janiszewski (Poland)
11 Matteo Trentin (Italy)
12 Pascal Meyer (Switzerland)                    0.40
13 Jules Chabanon (France)                       0.49
14 Mitchell Huenders (Netherlands)               0.50
15 Lukas Prihoda (Czech Republic)                1.15
16 Jiri Polnicky (Czech Republic)                1.17
17 Ole Quast (Germany)                           1.19
18 Stephan Sprinke (Germany)                     1.22
19 Danny Summerhill (United States Of America)   1.25
20 Ondrej Vobora (Czech Republic)
21 Andrea Caimi (Italy)                          1.28
22 Yannick Tiedt (Germany)                       1.34
23 Anthony Lavoine (France)                      1.40
24 Tom Last (Great Britain)                      1.41
25 Alessandro Calderan (Italy)                   1.47
26 David Schloesser (Luxembourg)                 1.52
27 Ramon Sinkeldam (Netherlands)                 1.56
28 Remco Broers (Netherlands)                    1.57
29 Chance Noble (United States Of America)       2.05
30 Omar Sottocornola (Italy)                     2.18
31 Mike Bidniak (Canada)                         2.19
32 David Fletcher (Great Britain)                2.23
33 Yu Takenouchi (Japan)                         2.28
34 Dries Govaerts (Belgium)                      2.31
35 Alex Howes (United States Of America)         2.32
36 Hyldtoft Hansen (Denmark)
37 Marcel Meisen (Germany)                       2.36
38 Tomasz Domagala (Poland)                      2.38
39 Jonathan Mcevoy (Great Britain)               2.39
40 Dennis Vanendert (Belgium)                    2.39
41 Jan Pohan (Czech Republic)                    2.40
42 Stephen Adams (Great Britain)                 2.47
43 Nico Brüngger (Switzerland)                   2.52
44 Luc Hammer (Luxembourg)                       3.02
45 Piotr Antkowiak (Poland)                      3.14
46 Jakub Sibr (Slovakia)
47 Thomas Collinet (France)                      3.18
48 Pierre Kaeslin (Switzerland)                  3.27
49 Eder Barrenetxea (Spain)                      3.27
50 Konrad Jasik (Poland)                         3.42
51 Kenneth Van (Belgium)                         3.51
52 Morten Gregersen (Denmark)
53 Cristian Cominelli (Italy)                    3.53
54 Yudai Izawa (Japan)
55 David Lozano (Spain)                          3.57
56 Adrian Rodriguez (Spain)                      4.15
57 Ethan Gilmour (United States Of America)      4.16
58 Jon Izaguirre (Spain)                         4.49
59 Marian Simora (Slovakia)                      5.10
60 Tetsuya Fujioka (Japan)                       5.39
61 Pawel Szczepaniak (Poland)                    6.50
62 Lukas Winterberg (Switzerland)                7.10
DNF Joeri Adams (Belgium)
DNF Aurelien Duval (France)

Nations ranking

1 Netherlands                              24
2 Czech Republic                           37
3 France                                   40
4 Germany                                  40
5 United States of America                 55
6 Italy                                    57
7 Switzerland                              63
8 Belgium                                  77
9 Poland                                   93
10 Great Britain                           95
11 Slovakia                               107
12 Japan                                  147
13 Spain                                  160
14 Luxembourg                              70
15 Denmark                                 88
16 Canada                                  31