2005 Cyclo-cross World Championships - CM
St. Wendel, Germany, January 29-30, 2005
2004 Results Races Past Winners Start List
Elite Men: Bart Wellens going for a hat-trick
Wellens beats De Clercq in 2004
Photo ©: Chris Henry/Cyclingnews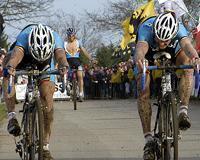 Although his 2004-2005 season hasn't been one of his better ones, Belgian Bart Wellens wants to pull off a hat-trick and win the elite men's World Cyclo-cross Championship for the third time in a row. Wellens has an impressive palmares at the World Championships, winning rainbow jerseys in the U23 division in 1999 and 2000 before winning in the elite championships in Monopoli, Italy and Pont-Château, France in 2003 and 2004. He described the parcours in St.Wendel, Germany as "a great course, lots of hills make it very demanding but also very quick. That suits me. Because it's so close to Belgium, it'll be almost like riding at home for me."
"I love cyclo-cross because it's so varied," admitted Wellens, who lives in Vorselaar near Antwerp. The days of cyclo-cross being confined to a winter outlet for 'pro' road racers are long gone. "Someone like Tom Boonen couldn't achieve anything in cross," Wellens points out, who trains with his fellow Belgian from time to time. "The amount of time and effort needed to be at the very top in cyclo-cross is enormous. You can't be successful on the roads as well."
At the start of the winter Wellens had to contend with various problems. Firstly there were disagreements with the sponsor and he switched teams, and rides now for Fidea. Then an infection affected his immune system and Wellens had to take a long break. He only came back to racing at the end of November and has been steadily improving since then. "I'm confident I can be in absolute top form by the time of the World Championships in St.Wendel," he said.
Could Wellens be the one to finally stop the onslaught of Sven Nys - who has never won the World Championships - this season?
Nys gets a head start
Riding during the 2004 World's
Photo ©: Luc Claessen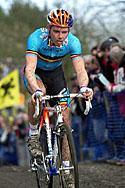 The big favourite for this Sunday's Elite Men's Cyclo-cross World Championships, Sven Nys (Belgium), has been training on the parcours in St. Wendel since Wednesday after fleeing his home in Belgium. Although Nys had planned to arrive just before the race, he chose to leave Belgium to avoid the fuss about his wife Isabel who is a model. In the lead-up to the World's, Isabel posed on the cover of P-Magazine, naked with a rainbow jersey painted on.
"Right away she was getting more questions from journalists than I was," said Nys. "I couldn't take all the fuss and escaped."
Nys is now living in the Olympic training centre in Saarbrücken, 45 km from the World Championship venue. "My room is quiet, I don't even have a television to distract me from preparations," said Nys, who is determined to become world champion on Sunday. He has won six World Cup races this winter and has a commanding lead in the cyclo-cross world rankings.
"It's my kind of course," was his delighted reaction after seeing it for the first time on Wednesday. There has been a lot of snow in St. Wendel in recent days and the course is covered with snow; it's frozen hard and is very fast. "I like fast and technically demanding courses. If I don't have some kind of mechanical problem in an awkward moment on Sunday, then I believe that, this time, I can do it," is the Belgian's confident prediction. "I feel as strong as I did in the 1999/2000 season when I had 21 wins. Now I hope that at last I can take the world title."
Nys has won two U23 world titles, and despite winning everything else on offer in elite cyclo-cross, the professionals' rainbow jersey has eluded him. One of his U23 titles was taken in Munich in 1997 and he also dominated the World Cup event in St. Wendel last year. "Germany is a happy hunting ground for me," said the 28 year-old.
In St.Wendel, Nys will aim to finish solo as doesn't want to risk being beaten in a sprint. His main rivals are from his own country: Erwin Vervecken, a World Cup winner in Koksijde, Sven Vanthourenhout, who won the World Cup event in Aigle and, of course, defending champion Bart Wellens.
Apart from the Belgians, the riders from the Czech Republic, the Netherlands, France and Italy also have hopes of winning the title. Italian Enrico Franzoi, Frenchmen John Gadret and national champion Francis Mourey, Czechs Zdenek Mlynár, Kamil Ausbuher and Zdenek Stybar and of course Dutch hope Richard Groenendaal. Germany's hopes will rest with Jens Schwedler (Stevens Cyclo-Cross), Steffen Weigold (Alpirsbach/Lamonta), Johannes Sickmueller (Hamburg/Harvestehuder RSV/Stevens Cyclo-Cross) and Fabian Brzezinski (Trebel/IGAS Wendland/Stevens Cyclo-Cross).
Women: Kupfernagel top favourite
Hanka Kupfernagel
Photo ©: CN

Hanka Kupfernagel is the big favourite for the women's Cyclo-cross World Championship this Sunday, January 30 in St. Wendel, Germany. The 30 year-old wants her third World Championship title after winning in 2000 and 2001. With that in mind, the rider from Thüringen has been training hard in recent months and is looking forward to the challenge with a lot of confidence.
"I've been refining my technique day after day and improved my running above all after specific training," said Kupfernagel, who believes she's in the best possible shape for the World Championships. "My big goal is the world title, of course."
There are three riders in particular who might stop her: the current world champion Laurence Leboucher from France, who has been keeping something back in international races so far, her teammate and national champion Maryline Salvetat or her Dutch colleague Daphny van den Brand, whom Hanka Kupfernagel describes as very ambitious. After her World Cup wins in Pijnacker and Milan, Van den Brand should be the German's biggest challenger.
Hanka Kupfernagel is hoping for a "home town advantage" in St.Wendel and the support of the many German spectators. Apart from Kupfernagel the German team for the World Championships is Sabine Spitz (Murg-Niederhof/Fusion), Birgit Hollman (Zugvogel Berlin), Nicole Kampeter (Endspurt Herford) and Susanne Juranek (RSC Oldenburg).
Weather: cold and snowy
The weather forecast for St. Wendel this weekend is for chilly temperatures with the possibility of more snow. Maximums for Saturday and Sunday are -5 and -3°C respectively.
Past Winners