An interview with Ryan Trebon, November 27, 2007
The next expatriate 'cross racer?
US Champion Ryan Trebon's first trip to Europe didn't turn out the way he had hoped, but the lanky Kona rider is hoping to make waves when he returns in December where an invitation to the Super Prestige series is waiting for him. Jackson Weber spoke with the talented rider about his goals for Cyclingnews.
Ryan Trebon
Cyclo-cross expert Ryan Trebon blasting New Jersey with double wins
Photo ©: Fj Hughes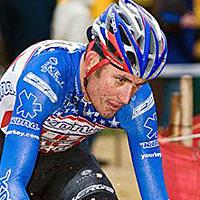 Born: March 5, 1981
Nationality: United States
Residence: Ventura, California, USA
Professional since:2004
Major results
2004 USGP Cyclo-cross series
2006 USGP Cyclo-cross series
2006 USA Cyclo-cross National Championships
2006 USA National Cross-Country Mountain Bike Championships
At the final day of this year's USA mountain bike national championships, there was a rumble echoing about the pits: 'Ryan Trebon is mad.' While his fellow racers may have been cracking jokes about his performance the day before (a DNF in the cross country race in which he was the defending champion), there was almost a foregone conclusion that the angered Trebon was going to win the short track race that day – and he did – viciously.
At 26 years old, Trebon is young, aggressive and does not even appear to have reached his complete potential. Perhaps fuelled by his scattered childhood in which he moved 15 times, Trebon is opinionated and passionate. When irritated or annoyed, he lets you know. "I try to control it, but sometimes I just lose it," explained Trebon in a moment of reflection. More importantly, he possesses a dogged determination to win everything in sight. "You gotta prove that you're the right person to be the national champion," stated Trebon with just a hint of emotion creeping into his voice.
Last 'cross season was "pretty good," according the rather humble Trebon. "I think I won like 80 percent of the races I did in the US and had my best European results too, with a 10th in a World Cup and ninth at a Super Prestige." Trebon won the mountain biking cross country national championship; he won the cyclo-cross national championship. For a guy who looks a bit like an emaciated scarecrow, he certainly acted like a steamroller when he was on two-wheels.
"I can race fast with it as is, but I really feel it when I go à bloc. And racing in Europe right now would be even harder than normal with 1.5 legs."
- Trebon on his left leg problems.
This year hasn't had quite the same luster as last. Mountain bike nationals witnessed him fail to defend his XC jersey – leaving him to 'settle' for the less prestigious short track title. In 'cross, while still obviously one of the strongest riders on the USA circuit, Trebon and his tall, scraggily companion, Barry Wicks, were finally challenged by the teaming of Jeremy Powers and Tim Johnson.
"Its weird because at the first USGP Barry and I were not riding well at all, and Jeremy and Timmy were going pretty fast," explained Trebon. "Having two of them versus the two of us makes things a little more difficult to control, because just as Barry and I work off each other, those guys are doing the same thing. So we can't rely on Jeremy to chase Tim or the other way."
Instead of a another season dominated by Kona's towering strong men, the early season only saw Trebon on top of the box once – Interbike's Cross Vegas. Then Trebon made an early trip to the season's first World Cup in Kalmthout, Belgium as part of his greater focus on Europe in an apparent need to seek out the greatest challenge possible.
Feeling exhausted
Photo ©: Brecht Decaluwé

At first, things looked good: "The races were new, but you kinda get used to the swing of things," said Trebon. "In the first race [the Grand Prix de la Région Wallonne] I got seventh." Unfortunately, things didn't go as planned. In the days leading up to the World Cup, something happened to Trebon's left leg. He still isn't sure what exactly went awry, but his mysterious leg injury cost him dearly, especially against the European competition. Trebon placed a disappointing 42nd.
The injury took him back to the United States sooner than he had hoped. "Well, right now the plan is to get whatever problem I have with my left leg fixed and working better," explained Trebon. "I can race fast with it as is, but I really feel it when I go à bloc. And racing in Europe right now would be even harder than normal with 1.5 legs." The injury also forced Trebon into unplanned time off, which isn't ideal given the brevity and severity of the 'cross season.
Trebon has recovered, mostly. Though the injury still isn't understood, his two recent wins at the New Jersey USGP races show he still has enough to beat whatever the USA racing scene has to offer. The issue of Europe is a different story. "I love racing in Europe but its hard – really hard," continued Trebon. "I think sometimes people don't quite grasp that fact."
Trebon on his trip to Europe
Photo ©: Stijn Vercaemer

Trebon further iterated the difficulties of racing in Europe: "One, the courses are so much more demanding than anything we race here, and it takes a couple of years to learn how to properly race a CX bike. Two, at least for me, I live, train, eat, sleep, hangout pretty much by myself over there. That's a hard thing to do for months on end, especially when the racing is so tough and you aren't getting the results you want. All you have to do is sit around and think about what the racing and there is no real escape from racing. But you can't forget the fact that those guys are just damn fast and the racing never really lets up. I have never had my legs ache so bad as after doing some of the heavy races over there."
Now as the season progresses, Trebon's two major goals for the season start to loom. "I am really looking forward to heading back [to Europe] in December," wrote Trebon. "But I have a ton of work to do before then... I would really like to defend my US Champs jersey in December and then head over to Europe and just be consistently good at all the races. Maybe pull something out at the Hofstade World Cup."
Given Trebon's ability to win, even while still hindered by his ailing leg, these goals have to be seen as very do-able. The larger question that remains is whether Trebon will be the next American 'cross racer to migrate over to Europe given the fact that his contract with Kona at the end of 2008 and the fact that he was already invited to race the entire Super Prestige series. Despite the European focus, Trebon's response to the query couldn't have been more American: "Oh yeah, for sure."
Photography
For a thumbnail gallery of these images, click here
Images by Jonathan Devich/

Images by Stijn Vercaemer
Images by Brecht Decaluwé/Cyclingnews.com
Images by Fj Hughes/www.fhughesphoto.com